Lululemon for Less: How to Buy Workout Clothes on a Budget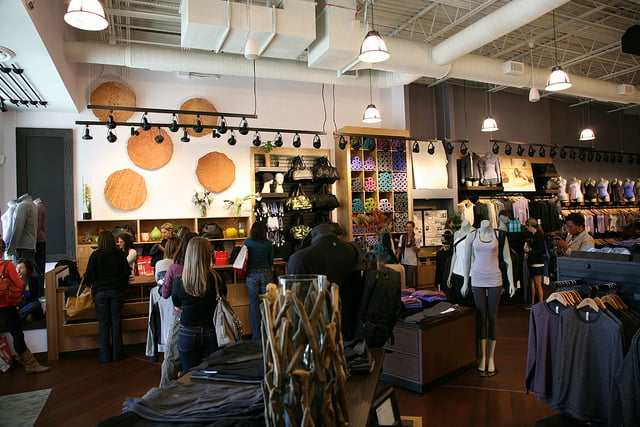 Looking good while working out shouldn't cause you to break a sweat — that's what exercising is for! While some people are happy just throwing on an old T-shirt and shorts they have stuffed in a drawer, other people have different fashion fitness needs. One of the best-known brands for fashionable fitness is Lululemon, but its clothing isn't exactly easy on the wallet.
Building a gym wardrobe doesn't differ from your everyday closet. There will be pieces you splurge on and times to save, both determined by what your level of activity and budget are. Not every piece of your yoga closet has to come from Lululemon — equally flattering, cute, and practical options exist elsewhere. To keep your workout on track and help you keep your wallet fat, here are ways to get the Lululemon look for less.
Tanks with a band at the bottom, like Lululemon's Flow & Go tank, totally have us sold. Not only will these tanks firmly stay in place as you contort your body during your session, but they minimize the unforgiving effects of yoga pants or tight shorts. Instead of highlighting any midsection problems, these tanks hide them. But they aren't only great for yoga: They can be worn for any workout. Try one out on a jog or at spin class, when you won't want to show the world every feature of your body in lycra-covered details. If you fall in love with the style, spending $64 per top will quickly rack up a big bill. A less-expensive option is the C9 by Champion Women's Cowl Neck Layered Tank, available at Target for $23.
As noted before, yoga pants can be really unforgiving. Made with material that stretches to fit any shape, the pants can create a dreaded muffin top effect or pinch in where wearers would prefer they did not. Thankfully, pants and shorts with high bands help to minimize this effect. The Skinny Groove Pant at Lululemon does just that and even has a pocket in the waistband! But the nearly $100 price tag is a bit steep. Victoria's Secret has a similar version – the Supermodel Pant – with a wide band and pocket for just under $70; Reebok's Slim Fit pants come in at $50 but sadly have no waistband pocket.
When it comes to your basic workout shorts, there is really little need to spend more than $50 on the Shake & Break shorts at Lululemon. The description says they are lightweight with two pockets and a liner. Lined shorts are great for any gym activity. Nike makes a pair that fits this bill, the DRI-Fit Pacer Running Short, and Under Armour has a pair too, the Escape Running Shorts. Both are lined, made of light materials, and have pockets for half the cost of the Lululemon shorts.
Tighter-fitting shorts, like Lululemon's Reverse Groove Short, come in handy for hot yoga classes, summer, cycling — basically any activity in which you're going to work up a serious sweat. The shorts are five inches in length, the same as Reebok's Compression Shorts. Again, with the Reebok shorts, there is no pocket like what is featured at Lululemon, but they will cost only $22 compared to $54. You lose an inch off the inseam with Under Armour's compression shorts, but you do gain a pocket for $25. All three shorts feature a wide waistband and a form of dry-fit technology.
Unlike shorts, pants, and tanks, you will not be spending much time in your jacket. It will get you to and from the gym or studio, but that is about it. This piece of workout clothing remains stubbornly expensive across most brands. The Nice Asana Jacket from Lululemon is available in an array of fantastic colors. It is long, has thumbholes, and is completely covetable, but also $118. A bit of money can be saved without sacrificing color choices or thumbholes with the Victoria's Secret Knockout Jacket, which ranges from $89.50 to $92.50. Adidas and Nike have lightweight jackets around $60, and for a half-zip that doubles as a running jacket, the GapFit pullover is in that price range, as well.
Other ways to save money on workout attire is to shop at stores like Marshalls and TJ Maxx. These stores are known for selling designer threads for less, and that extends to the workout world, too. Outlet shops are another place to find deals, and major brands like Nike, Under Armour, and Reebok will have this option. You can also look for end-of-season sales at sporting goods stores and even sales at Lululemon. The We Made Too Much page online features sales but can have a very limited selection.
Finally, even though Lululemon does not have a footwear line, at some point or another, sneakers will become a consideration. Shop around, looking for a pair that address your needs, like arch support. There are a number of great resources online when it comes to finding reviews. Runners World frequently ranks the top shoes for a given season, which can be more helpful than an online review that gave the shoe low marks because the color wasn't exactly what the buyer anticipated.
More From Wall St. Cheat Sheet: