6 Recipes For Perfect Soufflés You Can Make at Home
Soufflé. The word strikes fear into all aspiring and ambitious home cooks newly embarking on the mission to conquer the fickle dish. Will it rise? Will it fall? Will it liquify and scramble in the oven? It's happened. We don't talk about it. Soufflés don't have to be terrifying, though! Like anything else, there are a few helpful tips that will have you cooking up impressive sweet and savory soufflés in no time.
You'll want to whip the egg whites really well. If they're not properly whipped, they'll separate and cook into a rubbery, eggy mess. Also, treat the egg whites gently once they're whipped. You just put in all that effort to whip the whites perfectly, so don't ruin it by bashing them about with your spatula. Gently fold into the base to avoid crushing the airy network of bubbles that give the soufflé its rise. It's OK if the batter is a little streaky.
Give the soufflé something to climb. If it's a sweet soufflé, butter the sides of the dish and coat with granulated sugar. If it's a savory soufflé, butter the sides and coat with cornmeal or breadcrumbs. The texture provides traction.
Use baking dishes such as ramekins is recommended because their smooth, straight sides will help your soufflé rise.
A water bath will keep the temperature steady to keep the soufflés from overcooking. Because water only heats to 212 degrees Fahrenheit, it maintains a gentle, steady, evenly conducted heat. If a recipe calls for a water bath, use it.
Lastly, once the soufflés are in the oven, don't touch the door until it's time to take them out. The swift shift in temperature can and likely will cause the soufflés to fall. If you don't have an oven window, just have faith. Always remember, even if it falls, it will still be delicious. Now start baking, with these 6 recipes.
1. Chocolate Soufflé
Let's get to it, shall we? The chocolate soufflé. Whether it's for a date-night dinner, a small dinner party, or just any old dinner on any old night, a chocolate soufflé can't be beat. Though many soufflés are stabilized with flour in the batter, this recipe from Saveur is lighter, fluffier, and more delicate. It's also gluten-free!
Ingredients:
3 tablespoons of milk
5½ tablespoons sugar, plus more for dusting the soufflé dish.
4 ounces semisweet chocolate, coarsely chopped
2 egg yolks
3 egg whites
Confectioners' sugar for dusting
Directions: Preheat oven to 375 degrees Fahrenheit. Place milk and 4 tablespoons sugar in a small saucepan and stir over medium-low heat until sugar dissolves, about 45 seconds. Stir in chocolate and cook until melted, 1 to 2 minutes. Transfer to a glass or stainless steel bowl, cool for 5 minutes, then beat in egg yolks.
Beat egg whites in a nonreactive bowl until foamy, then sprinkle in remaining sugar, beating until stiff peaks form.
Butter a small soufflé dish no larger than 2½ inches deep with a 6-inch diameter, as the soufflé will not rise in a larger dish, or 3 to 4 smaller ramekins, then lightly dust with sugar.
Gently mix ⅓ of the egg whites into chocolate mixture, then fold in remaining whites, one-third at a time. Do not overmix.
Spoon batter into dish. Make sure oven rack is low enough to allow soufflé room to rise as much as 2 inches above the dish. Bake until puffed, about 25 minutes. Dust with confectioners' sugar and serve immediately.
2. Cheese Soufflé
This savory soufflé from Alton Brown via the Food Network is great for brunch, or as a meal served with a side salad. This recipe uses cheddar cheese, though you could replace it with just about any other cheese of your liking. It's a little more sturdy than the Saveur soufflé, so be sure to really whip those whites to stiff peaks to give it rising potential. The cream of tartar isn't essential, but it provides more stabilization to prevent collapse.
Ingredients:
Butter, room temperature, for greasing the dishes
2 tablespoons grated Parmesan
3 tablespoons butter
3 tablespoons flour
1 teaspoon dry mustard
½ teaspoon garlic powder
⅛ teaspoon kosher salt
1⅓ cups milk, hot
4 large egg yolks
6 ounces sharp Cheddar
5 egg whites plus 1 tablespoon water
½ teaspoon cream of tartar
Directions: Use room temperature butter to grease an 8-inch soufflé dish or 4 smaller ramekins. Add the grated Parmesan and roll around the mold to cover the sides. Cover with plastic wrap and place into the freezer for 5 minutes.
Preheat oven to 375 degrees Fahrenheit. In a small saucepan, heat the butter. Allow all of the water to cook out. In a separate bowl combine the flour, dry mustard, garlic powder, and kosher salt. Whisk this mixture into the melted butter. Cook for 2 minutes. Whisk in the hot milk and turn the heat to high. Once the mixture reaches a boil, remove from the heat.
In a separate bowl, beat the egg yolks to a creamy consistency. Temper the yolks into the milk mixture, constantly whisking. Remove from the heat and add the cheese. Whisk until incorporated.
In a separate bowl, using a hand mixer, whip the egg whites and cream of tartar until glossy and firm. Add ¼ of the mixture to the base. Continue to add the whites by thirds, folding very gently. Pour the mixture into the soufflé dish. Fill to ½-inch from the top. Place on an aluminum pie pan. Bake in the oven for 35 minutes.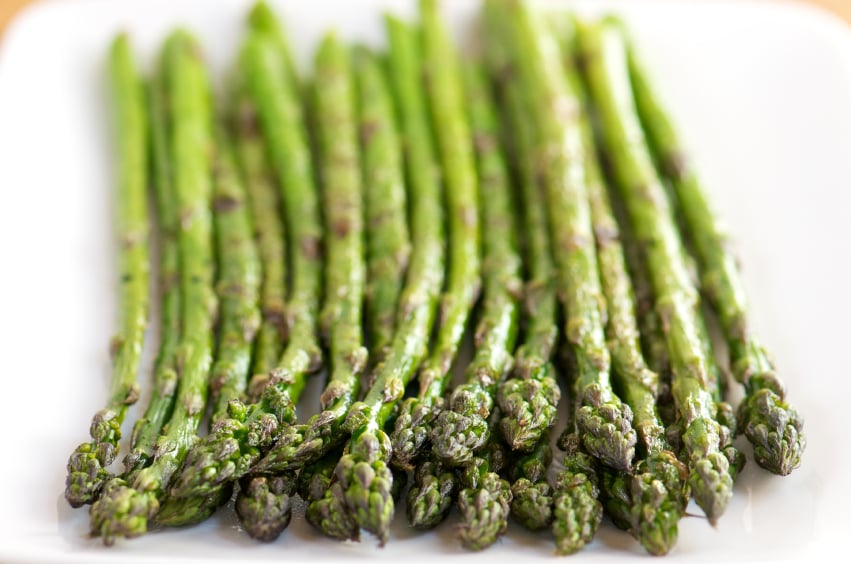 3. Asparagus Soufflé
We're not saying that you can't make this dish from Simply Recipes any time of year, but it's simply out of this world with tender, young spring asparagus. This soufflé uses cake flour in the base to allow for more tenderness than you'd get with a higher-protein all-purpose flour. Blanching the asparagus brightens the color of the soufflé and removes some of the bitterness of raw stalks.
Ingredients:
1 pound asparagus spears, bottom ends trimmed and discarded, thick spears peeled, spears cut into 1-inch pieces
Salt
¼ cup chopped shallots
1 clove garlic, chopped
1 teaspoon fresh thyme, chopped, or ½ teaspoon dried
4 tablespoons unsalted butter, divided, plus more for buttering ramekins
½ cup finely ground dry bread crumbs
3 tablespoons cake flour
1¼ cup whole milk
¼ teaspoon ground nutmeg
Pinch dry ground mustard
Pinch ground cumin
Pinch ground ginger
Freshly ground black pepper
½ cup grated Gruyere cheese
3 egg yolks, lightly beaten
5 egg whites
6 8-ounce ramekins
Directions: Preheat the oven to 400 degrees Fahrenheit and place a rack in the middle. Butter ramekins and coat with breadcrumbs, tapping out excess.
Blanch asparagus for 2 minutes in boiling salted water. Drain and shock in ice water to halt cooking.
Melt 1 tablespoon of butter in a saucepan over medium heat. Add shallots, thyme, and garlic, sauteing until soft but not browned. Remove from heat. Purée asparagus and shallot mixture in a blender. Measure out 1¼ cup of purée.
Over medium-low heat, melt 3 tablespoons butter in a medium sized saucepan. Add the cake flour and whisk to completely incorporate the flour into the butter, continue to stir for a couple of minutes until thick and slightly nutty. Do not let brown. Very slowly, drizzle in the milk to the mixture, whisking constantly. Stir in ½ teaspoon of salt, the nutmeg, cumin, mustard, ginger, and some fresh ground black pepper. Lower the heat to low and let cook for 15 minutes, stirring occasionally to keep the mixture from sticking to the pan. Remove from heat and stir in the cheese. Taste and adjust seasonings, then add in the egg yolks.
Prepare a water bath using a 9- by-13-inch baking dish with sides at least 2 inches tall and have boiling water at the ready. Add a pinch of salt to the egg whites and beat to stiff peaks. Mix ¼ of the mixture into the asparagus base to lighten, then fold the remaining egg whites in gently.
Fill ramekins up to ¼-inch from the top. Place in the baking dish and move the baking dish to the oven. Pour the boiling water into the baking dish so it comes halfway up the ramekins and close the oven. Bake for 10 minutes at 400 degrees Fahrenheit, reduce the heat to 350 and bake for about 15 minutes more, until puffed up and golden brown. Serve immediately.
4. Coconut Soufflé
Sweetened shredded coconut and coconut extract create tropical flavors in this delicate dessert from Eating Well. For full effect, use 2 tablespoons of melted virgin coconut oil instead of canola oil. To deepen the flavor of the coconut, toast it as the oven is preheating and let it cool slightly before adding it to the batter. This recipe makes 8 soufflés, so scale the recipe back if you're not having a party.
Ingredients:
3 tablespoons plus ½ cup sugar, divided
1 cup sweetened shredded coconut, toasted if desired
1½ teaspoons coconut extract
1½ cups low-fat milk
2 tablespoons unsalted butter
2 tablespoons canola oil
¼ cup white whole-wheat flour or all-purpose flour
4 large egg yolks, at room temperature
8 large egg whites, at room temperature
⅛ teaspoon salt
Directions: Position rack in lower third of oven; preheat to 375 degrees Fahrenheit. Coat eight 10-ounce ramekins or a 2½-quart soufflé dish with cooking spray or coconut oil. Sprinkle with enough of the 3 tablespoons sugar to generously coat the inside, tilting to evenly distribute; tap out excess. Place ramekins on a baking sheet.
Combine the remaining ½ cup sugar, coconut and coconut extract in a bowl. Heat milk in a small saucepan over medium heat until steaming. Melt butter and oil in a medium saucepan over medium-low heat. Whisk in flour and cook, whisking, for 2 minutes. Slowly whisk in the hot milk and cook over medium-low heat, whisking, until the mixture is the consistency of thick batter, 2 to 4 minutes. Transfer to a large bowl. Whisk in egg yolks, one at a time, until incorporated. Whisk in the coconut mixture.
Clean and dry a large mixing bowl and beaters, making sure there are no traces of oil. Beat egg whites in the bowl with an electric mixer on medium speed until foamy. Add salt; gradually increase speed to high and beat until shiny and stiff, but not dry. Using a rubber spatula, stir one-third of the whites into the egg-yolk mixture to lighten it. Gently fold in the remaining egg whites just until evenly distributed.
Spoon the batter into the prepared dishes. Bake until puffed and firm: 20 to 24 minutes for 10-ounce soufflés, 38 to 42 minutes for a 2½-quart soufflé. Serve immediately as soufflés will fall in about 2 minutes no matter how well-crafted.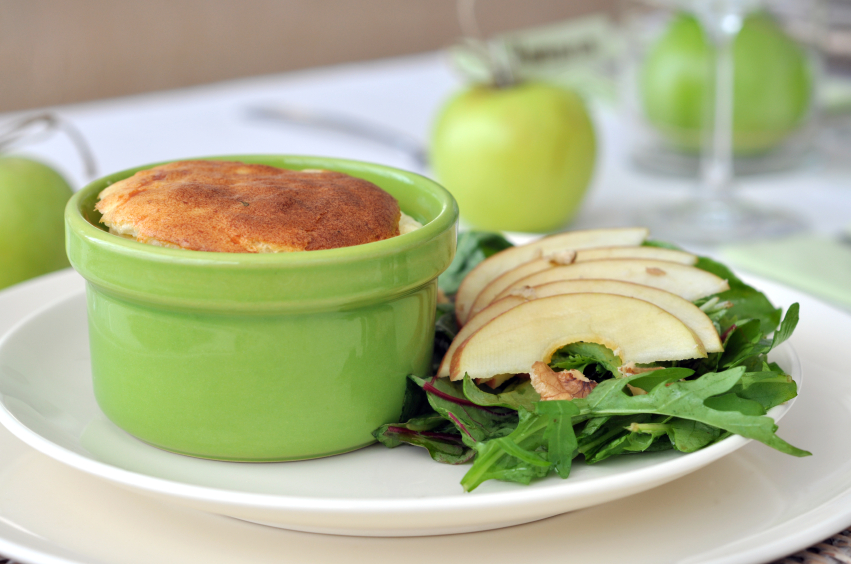 5. Ham, Leek, and Gouda Soufflé
These are a fabulous way to use up leftover ham and a fantastic meal all their own with just a simple salad on the side. Rather than coating the ramekins in breadcrumbs, Food & Wine uses grated Parmesan. If you don't have any, you can just use breadcrumbs.
Ingredients:
4 tablespoons unsalted butter, plus softened butter for brushing
¼ cup freshly grated Parmigiano-Reggiano cheese
¼ cup plus 2 tablespoons all-purpose flour
1½ cups milk
¾ teaspoon salt
¼ teaspoon cayenne
6 ounces diced ham
2 sliced leek whites sautéed in butter
6 large eggs, separated
5 ounces shredded aged Gouda
½ teaspoon cream of tartar
Directions: Preheat the oven to 400 degrees Fahrenheit and brush 8 1-cup ramekins with butter. Lightly coat the ramekins with 2 tablespoons of the Parmigiano-Reggiano and set them on a sturdy baking sheet.
In a medium saucepan, melt the 4 tablespoons of butter. Whisk in the flour and cook over moderate heat for 1 minute. Whisk in the milk and cook over moderately low heat until smooth and very thick, about 2 minutes. Stir in the salt and cayenne. Off the heat, whisk in the egg yolks. Let cool slightly. Transfer to a large bowl and stir in the Gouda, ham and leeks.
In a large bowl, using an electric mixer, beat the egg whites with the cream of tartar at medium-high speed until frothy. Increase the speed to high and beat until firm peaks form. With a rubber spatula, fold the egg whites into the soufflé base.
Spoon the soufflé mixture into the ramekins, filling them to ½-inch below the rim. Run your thumb inside the rim of each ramekin to help the soufflés rise evenly. Sprinkle the remaining Parmigiano-Reggiano on top and bake in the bottom third of the oven until the soufflés are puffed and golden brown, about 20 minutes. Alternatively, bake in an 8-cup soufflé at 375 degrees Fahrenheit for 40 minutes. Serve immediately.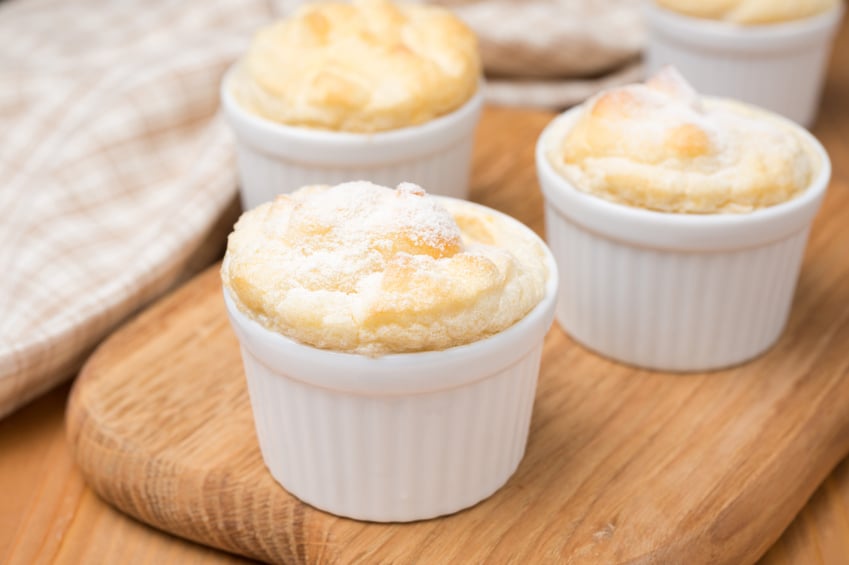 6. Grapefruit Soufflés With Ginger
Rather than use a heavy flavor, celebrate citrus' sweet flavors and bake these tangy grapefruit soufflés with a spicy kick from the fresh ginger to cut through the richness of an egg-based dessert. Martha Stewart uses even smaller 6-ounce ramekins for this recipe, but if you have 8-ounce dishes, increase the cooking time to account for the extra mass.
Ingredients:
Unsalted butter, room temperature, for ramekins
1¾ cups grapefruit juice from about 3 red grapefruits
1 tablespoon finely grated fresh ginger
½ cup granulated sugar, plus more for dusting
1 teaspoon finely grated red-grapefruit zest
5 large egg yolks, room temperature
2 tablespoons cornstarch
2 tablespoons all-purpose flour
¼ cup plus 2 tablespoons Greek yogurt
9 large egg whites, room temperature
Pinch of coarse salt
Pinch of cream of tartar
Confectioners' sugar, for dusting
Directions: Preheat oven to 350 degrees Fahrenheit. Butter six 6-ounce ramekins. Dust with granulated sugar, and refrigerate, uncovered.
Bring juice to a boil in a saucepan. Reduce heat, and simmer until reduced to 1 cup, about 12 minutes. Remove from heat, and stir in ginger. Combine ¼ cup plus 2 tablespoons granulated sugar and zest. Whisk in yolks, cornstarch, and flour, and then the juice mixture. Return to pan. Set over medium-high heat. Cook, whisking constantly, until thickened, 2 to 3 minutes. Let mixture cool, stirring occasionally, to room temperature. Stir in yogurt.
With a mixer fitted with the whisk attachment, beat egg whites on medium speed until foamy. Add salt and cream of tartar, and beat until soft peaks form. With machine running, gradually add remaining 2 tablespoons sugar, and beat until stiff, glossy peaks form. Gently fold in grapefruit mixture in 3 additions.
Divide mixture among prepared ramekins, and place them on a rimmed baking sheet. Bake until golden and puffed, 20 to 25 minutes. Dust with confectioners' sugar. Serve immediately.
More from Life Cheat Sheet:
Want more great content like this? Sign up here to receive the best of Cheat Sheet delivered daily. No spam; just tailored content straight to your inbox.