McDonald's, Starbucks, and Taco Bell Spar in Breakfast Wars
McDonald's (NYSE:MCD) has long been celebrated as the fast-food breakfast king, but now many rivals are looking to usurp its powers — and we're not talking age-old competitors like Burger King (NYSE:BKW) and Wendy's (NYSE:WEN). This time, Ronald McDonald is being forced to keep its eye on the likes of Taco Bell (NYSE:YUM) and Starbucks (NASDAQ:SBUX). Taco Bell and Starbucks clearly have their differences and don't necessarily go after the same consumer base; however, they still are similar in that they recognize an opening in the breakfast market space when they see one, and now, they're going for it.
It's not clear why, all of a sudden, two distinct companies have stepped up to take on McDonald's breakfast might, but it could have something to do with their understanding of the reality that the chain's popularity is dropping — and dropping fast. With same-store sales only rising 0.2 percent in 2013, McDonald's has a lot of work to do, and Taco Bell and Starbucks may see it as high time to surreptitiously feed its customers while it is too busy to put up a resistance.
Still, the question remains: can Taco Bell and Starbucks' new breakfast menus effectively rival the famed Egg McMuffin and Sausage Biscuits? Although teeming with fat and calories, there's a reason these items have gotten Americans out of their beds early for years, and it's still not a guarantee that breakfast consumers will be willing to trade in their McMuffins for Starbucks' baked goods, or Taco Bell's Waffle Tacos. Let's take a look at what these chains plan on, or already serving in the a.m., and see how they match up.
McDonald's
We already know the stars on McDonald's breakfast menu: the Egg McMuffin, Sausage Biscuit, and Egg White Delight McMuffin. The last is a late addition, but has proven to go over well with the calorie-conscious McDonald's customer who wants their breakfast, but wants a desirable waistline, too. There isn't much of a problem with the current McDonald's breakfast menu, except the reality that it cuts off too early, according to many. Consumers have long complained that the chain's breakfast window is too short, and a cut-off time of 10:30 a.m. keeps them from getting to the drive-thru.
But recent reports indicate that even that could change, as McDonald's executives are now reportedly evaluating the possibility of extending the chain's breakfast hours, thanks in part to the increasing number of competitors that are trying to take over breakfast. The company's spokespeople have explained time and time again that a longer breakfast would overcomplicate McDonald's kitchen and overwork its employees, but apparently, desperate times call for desperate measures.
Taco Bell
Next up, Taco Bell — a chain largely known for its (surprise!) tacos and more recently, Doritos Locos Tacos. Until recently, not many consumers considered the restaurant a breakfast chain, but Taco Bell shocked customers in late February when it announced the launch of its breakfast menu which now includes Waffle Tacos, A.M. Crunchwraps, and Cinnabon Delights. These items have been already tested at 850 restaurants for more than a year and a half, and will now be extended to nationwide restaurants where they will start be offered to customers at 7 a.m.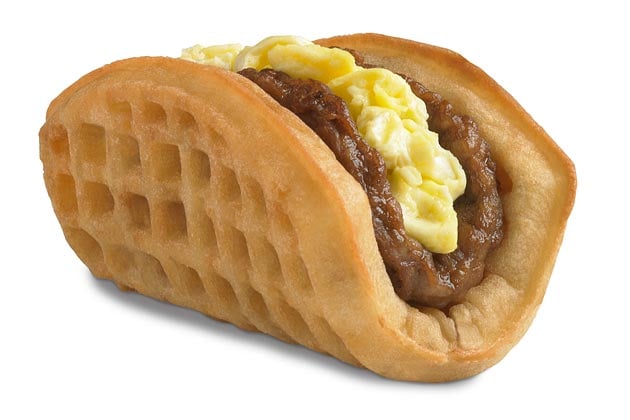 Waffle Tacos and A.M. Crunchwraps are obviously a far cry from McDonald's Sausage Biscuits, but it'll still be interesting to see how these new items go over with the public, especially the Millenials, because as highlighted by Forbes in a report last week, these menu offerings are expected to be especially appealing to Generation Y because they can be held in one hand, which is the preference of on-the-go Millenials. They also go well with the take-away culture prevalent in the mornings, and offer consumers a different fast-food breakfast option other than savory sandwiches.
Now, we'll have to wait until March 27 when we'll be able to get a better idea of Taco Bell prices and how well the breakfast items sit with consumers. Taco Bell has already partnered with Cinnabon and Seattle Best coffee to make its roll-out as successful as possible, but it'll still be interesting to see if Taco Bell can Live Mas in the morning.
Starbucks
Lastly, Starbucks — a company that knows a thing or two about how things are done in the morning. Starbucks isn't exactly new to the breakfast game, considering it has been serving bakery items and a select number of breakfast and lunch items for a while now, but the chain still reported recently that it is in the process of reinvorgating its breakfast menu with the help of baked goods launched under the La Boulange brand, and even this could help upset McDonald's business.
However, the thing about McDonald's and Starbucks' breakfast operations is that it sets itself apart from the other on account of two things: its prices, and its business strategies. McDonald's works to draw consumers to its drive-thru for its breakfast offerings, hoping to keep them around to interest them in some coffee; and Starbucks goes for the caffeine-addicted consumer, displaying its baked goods in arms reach in order to appeal to the time-constrained customer. See where the two deviate?
In addition, thanks to its success in the beverage market, Starbucks knows that its customers will pay the premium price for (good) coffee, and that's why it isn't worried about marketing premium prices for its food, too. It's not going after the cash-strapped consumers — it's just after the ones who are getting their coffee fix and are willing to pay extra money for the convenience and satiation of a Starbucks breakfast. That's why the chain believes it can get away with serving a Ham and Swiss Croissant, or Ciabatta with Vegetables, Egg, and Fontiago Cheese, both for $4.45.
But McDonald's is the opposite. Its low prices are the backbone of its success. Anything more than $1.60 for a Sausage Biscuit simply will not do — and don't even think about asking more than $1.80 for an Egg McMuffin. Customers just won't go for it, especially if it's the grumpy Millenials who wake up extra early for the already painfully short menu. Will these consumers go for McDonald's, Taco Bell, or Starbucks? We're not yet sure, but we're about to find out.
More From Wall St. Cheat Sheet: