5 Meat-Free Mediterranean Meals to Make for Breakfast
Following the Mediterranean Diet, which features foods eaten in Greece, Spain, southern Italy, and France, may lower your risk for certain diseases, improve your mood, boost your energy levels, and keep your heart healthy, according to WebMD. The diet emphasizes a wide variety of foods, including fruits, vegetables, beans, fish, whole grains, nuts, and olive oil. Because a Mediterranean-style diet recommends limiting meat consumption, vegetarians can easily adhere to the meal plan's guidelines, particularly when it comes to breakfast dishes. From breakfast pizza to olive-chia muffins, here are 5 meatless Mediterranean recipes to make for your morning meal.
1. Mediterranean Breakfast Pizza
Filled with several Mediterranean Diet-approved foods, including whole grains, spinach, tomato, and eggs, The Dr. Oz Show's Mediterranean breakfast pizza is perfect for weekday mornings. Place your ingredients on a pita, microwave for 1½ to 2 minutes, and you've got a healthy dish that will leave you feeling full and energized.
Ingredients:
1 whole-wheat flat bread pita
1 tablespoon low-fat cream cheese
1 teaspoon garlic
1 handful fresh baby spinach
3 thin slices of tomato
1 egg
Directions: Spread one side of pita with cream cheese. Put pita on a microwave-safe plate. Place a handful of spinach on top. Top spinach with tomato slices and garlic. Crack egg in the center of the pita. Microwave on high for 1½ to 2 minutes, depending on how you like your egg cooked.
2. Mediterranean Oatmeal
Tangy olives, rich feta cheese, and sun-dried tomatoes will deliver fresh Mediterranean flavors to your morning bowl of oatmeal. Shape's nutrient-rich recipe yields 1 serving. Mayo Clinic notes that following the Mediterranean Diet can reduce your risk of death from heart disease, cancer, Parkinson's disease, and Alzheimer's.
Ingredients:
½ cup oatmeal
1 cup vegetable stock
1 dash dried oregano
Pepper, to taste
1 tablespoon olive oil, divided
1 clove garlic, minced
¼ cup kalamata olives, sliced
¼ cup sun-dried tomatoes, packed in oil or reconstituted, chopped
¼ cup crumbled feta cheese
Directions: Combine oatmeal, stock, oregano, and pepper in a saucepan and cook over medium heat for 5 minutes, stirring occasionally. Heat ½ tablespoon oil in a pan over low heat. Add garlic, olives, and sun-dried tomatoes and sauté about 3 minutes, until tender. Top oatmeal with vegetable mixture, add feta, and drizzle with remaining oil.
3. Mediterranean Olive-Chia Muffins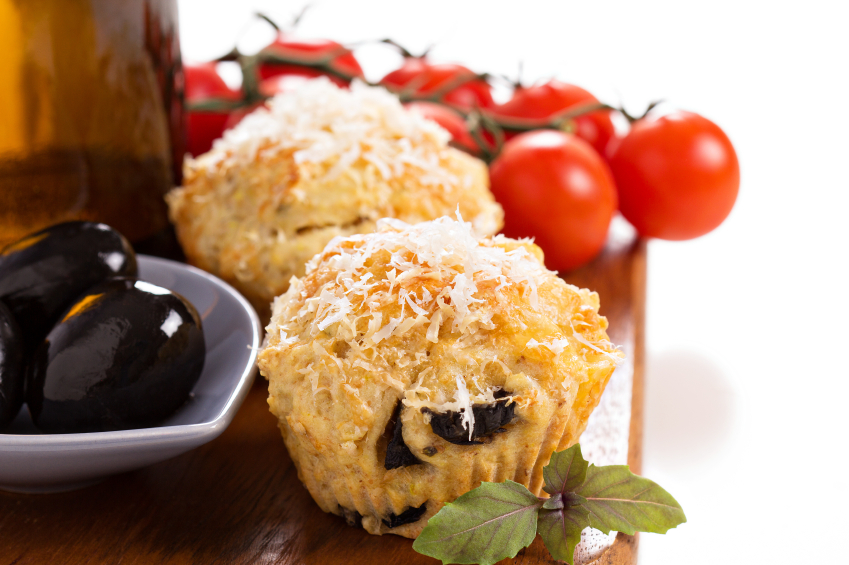 Superfoodista's savory muffins are chock-full of good-for-you ingredients, including tomatoes, chia seeds, olive oil, and eggs. These muffins are perfect for breakfast and also work well as a nutritious mid-afternoon snack; the recipe yields 6 servings.
Ingredients:
1 cup all-purpose or whole-grain flour
1 tablespoon baking powder
1 to 2 tablespoons chia seeds
1 egg, lightly beaten
¼ cup plus 2 tablespoons of olive oil
½ cup buttermilk
1 tablespoon grated Parmesan cheese
Olives, already un-pitted, cut small
Sun-dried tomatoes, julienned
1 teaspoon salt
Directions: Preheat the oven to 350 degrees Fahrenheit. Grease a muffin pan with nonstick cooking spray or line with paper liners.
Mix flour, baking powder, salt, and chia seeds to combine in a medium bowl. In a separate bowl, mix together the egg with olive oil, buttermilk, Parmesan, olives, and sun-dried tomatoes. Pour the flour, baking powder, salt, and chia seeds into a bowl. Pour wet inredients into dry and mix just to combine. Scoop batter into prepared muffin tin. Bake for 18 to 20 minutes, or until a toothpick comes out with a few moist crumbs attached. Let cool on a wire rack before serving.
4. Layered Mediterranean Breakfast Bake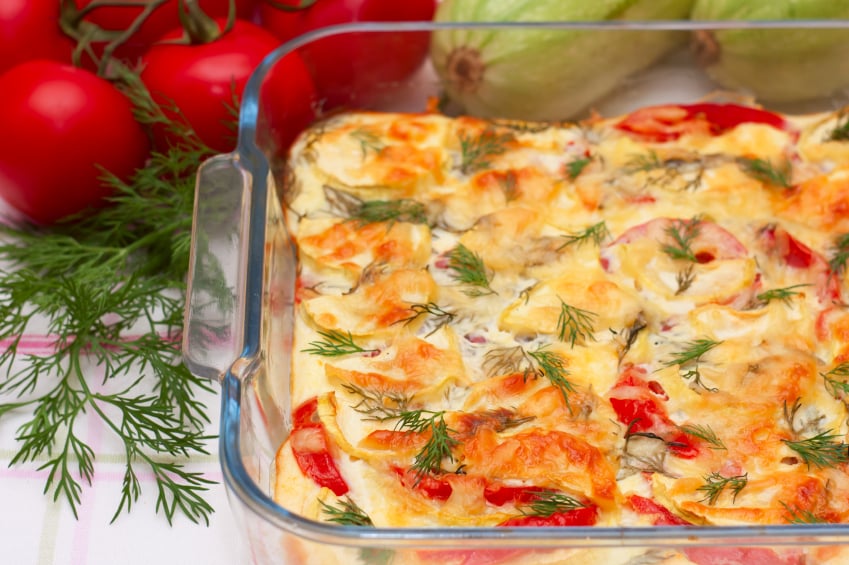 Runner's World's layered Mediterranean breakfast bake is filled with veggies, spices, tomatoes, and cheese, creating a hearty meal that's perfect for lazy weekend mornings. The recipe yields 4 servings. FitDay notes that tomatoes can ward off cancer, reduce your risk of heart disease, fight inflammation, and protect against DNA damage, so eat up.
Ingredients:
1 medium zucchini, coarsely grated
¼ teaspoon salt
1 teaspoon olive oil
1½ cups sliced scallions
1 clove garlic, minced
½ cup crumbled reduced-fat feta cheese
1⅓ cups part-skim ricotta cheese
½ teaspoon freshly ground black pepper
¼ cup slivered sun-dried tomatoes
4 large eggs
1 teaspoon salt-free Italian seasoning
1 (12-ounce) jar roasted red bell peppers, drained, rinsed, and cut into strips
½ cup shredded part-skim mozzarella cheese
1 tablespoon grated Parmesan cheese
Directions: Preheat oven to 400 degrees Fahrenheit. Place the zucchini in a small bowl and sprinkle with salt. Coat a 2½-quart baking dish with cooking spray. Heat the oil in a large nonstick skillet or a skillet coated with cooking spray over medium heat. Add the scallions and garlic. Cook for 2 to 3 minutes, or until tender. Add the feta and cook for 1 minute, or until almost melted. Transfer to a large bowl and stir in the ricotta and ¼ teaspoon black pepper.
Heat the skillet coated with cooking spray over medium heat. Squeeze extra moisture out of the zucchini, add the zucchini to the skillet, and cook for 2 minutes, stirring occasionally. Season with the remaining ¼ teaspoon black pepper and spread on the bottom of the baking dish. Top the zucchini with the ricotta mixture. Top the ricotta with the tomatoes. Whisk the eggs and Italian seasoning in a small bowl. Pour on top of the tomatoes. Top with the roasted peppers. Sprinkle with the mozzarella and Parmesan.
5. Mediterranean Smoothie
The Mediterranean Diet recommends eating plenty of fruits and vegetables each day. In addition, HelpGuide.org notes the meal plan emphasizes the importance of breakfast and suggests incorporating fruits, whole grains, and other fiber-rich foods into your morning meals. Skinny Ms.'s recipe adheres to several of those guidelines and packs plenty of nutritious foods into this Mediterranean smoothie. It's a nutritious and delicious way to start your day!
Ingredients:
2 cups loosely packed baby spinach
½-inch slice fresh ginger root
1 frozen banana
1 small mango
½ cup beet juice
½ cup skim milk or unsweetened almond milk
4 to 6 ice cubes
Directions: Add all ingredients to a blender and blend until smooth. Serve at once.