Meals to Make When You Have No Time to Go Grocery Shopping
Have you ever wondered what you were going to make for dinner only to open the pantry, fridge, and all of your cabinets only to realize there's no food in the house? Seriously — a couple wayward eggs and two pieces of bacon, half a jar of salsa, some flour, a few onions, and a couple potatoes that look like they're going to sprout. We've all been there. Don't reach for that takeout menu, though, and don't settle for cereal. Scour the deepest regions of your pantry and make one of these seven recipes (and then go grocery shopping tomorrow).
1. Southwestern Omelet
Omelets are great last-ditch meals. If you have a few eggs you can stretch with a few tablespoons of milk and absolutely anything in small pieces, you have an omelet. This one from Cooking Light via My Recipes uses that can of black beans you've had sitting around forever and the dregs of a jar of salsa you decided to save from the game over the weekend. If you have a big bunch of cilantro kicking around your fridge because no recipe ever uses a whole bunch of cilantro, throw it in too. If not, it's not a deal breaker here. Cheddar or monterey jack cheese are perfect additions, though even American would work in a pinch.
The original recipe calls for just using egg whites, but if there's nothing to eat, you should probably use the whole egg. It will feed up to 2 people.
Ingredients:
2 tablespoons chopped fresh cilantro
¼ teaspoon salt
3 large eggs
½ cup canned black or pinto or kidney beans, rinsed and drained
¼ cup chopped green onions
¼ cup shredded cheddar cheese
¼ cup salsa
Directions: Combine cilantro if using, salt, and eggs in a bowl and whisk. In another bowl, combine other ingredients.
Heat a medium nonstick skillet coated with cooking spray over medium heat. Pour egg mixture into pan; let egg mixture set slightly. Tilt pan and carefully lift edges of omelet with a spatula; allow uncooked portion to flow underneath cooked portion. Cook 3 minutes; flip omelet. Spoon bean mixture onto half of omelet. Carefully loosen omelet with a spatula; fold in half. Cook 1 minute or until cheese melts. Slide omelet onto a plate; cut in half.
2. Spicy Three-Bean Pantry Chili
If you have more beans and no eggs, try making this chili from Food Network specifically designed for times like these. Chili is highly customizable and open to hundreds of substitutions. This one uses two jars of salsa, but you could also use canned tomatoes and up the amount of chili powder. Tomato paste helps deepen the flavor of the chili, but if you don't have any, dump a tablespoon of soy sauce into the pot. Got a carrot or a bell pepper hanging out in your crisper? Dice it up and dump it in. The chipotle gives the chili a smoky heat, but you could throw in a drop of liquid smoke or some of your favorite hot sauce, instead. Get creative!
Ingredients:
3 tablespoons vegetable oil
3 tablespoons tomato paste
1 chipotle in adobo, smashed with a fork into a fine paste
3 tablespoons chili powder
1 teaspoon dried oregano
2 (16-ounce) jars mild salsa
3 (15-ounce) cans beans, such as kidney, black and pinto beans, or your preference, drained
1 (15-ounce) can hominy or corn, drained, or any frozen corn in your freezer
1 cup long-grain white rice
¼ cup cider vinegar
Directions: Heat the oil in a medium pot over medium-high heat. Add the tomato paste and cook, smearing and stirring constantly with a heat-proof spatula or flat-edged wooden spoon, until dark and aromatic, about 90 seconds. Add the chipotle, chili powder, and oregano, and cook, stirring, for 1 minute. Stir in the salsa and 1¼ cup water. Stir in the beans and hominy. Bring to a boil, reduce the heat to medium-low, cover and simmer for 25 minutes, stirring occasionally.
Meanwhile, cook rice according to package directions.
Remove the chili from the heat, stir in the cider vinegar and let stand 1 minute. Fluff the rice with a fork, divide it among 6 serving bowls and top with the chili. Serve with pickled jalapenos and tortilla chips, if you have them.
3. Bacon-Cheddar Twice-Baked Potatoes
If you have a couple russet potatoes lost somewhere in your pantry and a piece or two of uncooked bacon in your meat drawer, you're already most of the way to making these twice-baked potatoes from The Kitchn. Think of this recipe as a ratio; if you have one potato, you only need 1 or 2 pieces of bacon. If you have 8 potatoes, you're going to need 12 pieces of bacon. Other variations in place of bacon and cheddar are broccoli and mozzarella, goat cheese and spinach, shredded chicken and manchego, or ground turkey and swiss. Use what you've got.
Ingredients:
4 good-sized russet potatoes
6 strips thick-cut bacon, diced
1 large yellow onion, diced small
2 cloves garlic, minced
½ cup sour cream
1 cup sharp cheddar cheese, shredded
Salt
Pepper
Olive oil
Directions: Heat the oven to 425 degrees Fahrenheit. Line a baking sheet with aluminum foil.
Scrub the potatoes clean, rub them will olive oil, and sprinkle them with salt. Prick the potatoes a few times with the tines of a fork. Arrange them a little ways apart on the baking sheet. Bake for 50 to 60 minutes, until they are completely soft when pierced with a fork and the skins are dry.
While the potatoes are baking, begin preparing the filling. Warm a skillet over medium heat and cook the bacon until most of the fat has rendered and the bacon has crisped to your liking. Remove the bacon bits with a slotted spoon and drain on paper towels.
Pour off all but a teaspoon of the bacon fat. Cook the onions with a half teaspoon of salt until the onions are deep golden and caramelized. Stir in the garlic and cook for another thirty seconds. Remove from heat.
When the potatoes are cool enough to handle, slice them in half and scoop the insides into a medium-sized bowl. Leave a quarter inch or so of potato next to the skin. Mash the potatoes with the onions, garlic, bacon, sour cream, and about ¾ cup of the cheddar cheese. Give it a taste, and add more salt and pepper as you see fit.
Arrange the potato skins on the baking sheet. Divide the filling between all the skins and sprinkle the tops with the remaining ¼ cup of cheddar cheese.
Bake for another 15 to 20 minutes, until the cheese has melted and the peaks of the mashed potatoes are crispy. Serve straight off the baking sheet while still hot and bubbly. Leftovers will keep for up to a week.
4. Pantry Puttanesca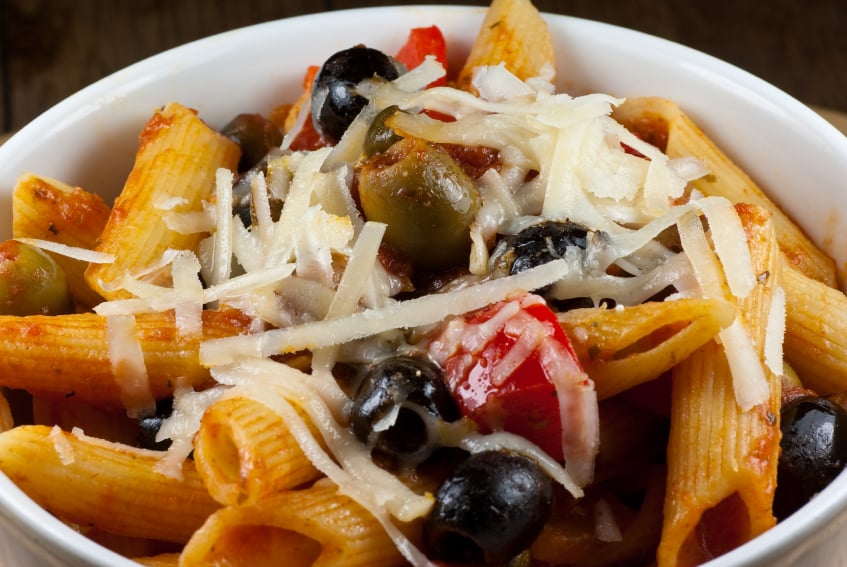 Is there anyone who doesn't have a random can of olives in the back of the pantry? This recipe is for the days when you've worked all the way back to that can. The anchovies are optional (you could throw in a dash of worcestershire sauce instead), as are the capers. This recipe from Martha Stewart uses penne, but you could use anything you have.
Ingredients:
Coarse salt
½ pound penne pasta
1½ teaspoons olive oil
2 cloves garlic, minced
¼ teaspoon crushed red-pepper flakes
3 anchovies, rinsed
One 15-ounce can whole tomatoes with their juices
1 tablespoon capers
¼ cup chopped pitted Kalamata olives
Freshly ground black pepper
Directions: Bring a large pot of water to a boil. Generously salt boiling water and return to a boil. Add pasta and cook according to package directions. Drain.
Meanwhile, heat oil in a medium skillet over medium heat. Add garlic, red pepper flakes, and anchovies, if desired, mashing with a wooden spoon. Cook, stirring, until garlic is fragrant, about 2 minutes.
Add tomatoes and their juice, breaking up tomatoes with hands. Stir in capers, if desired, and olives. Bring to a boil and immediately reduce to a simmer. Let simmer until thickened, 5 to 10 minutes. Add pasta to skillet and season with salt and pepper; toss to combine, and serve.
5. Sour Cream Pancakes with Maple-Pecan Butter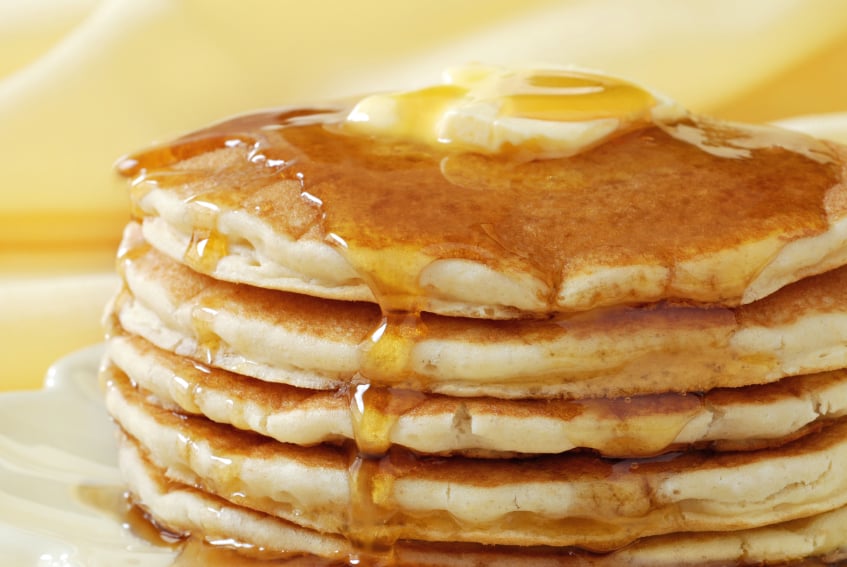 Pancakes are like a secret weapon. With pantry staples like flour, sugar, baking powder, and baking soda, the most variable ingredients are eggs and milk. Sour cream here makes the pancakes extra moist and tender, but you could substitute Greek yogurt or even ricotta if you have it. If you have a few handfuls of pecans or walnuts, use them to make the maple walnut butter.
This recipe from Country Living makes a lot of pancakes. If you don't have a full 3 cups of sour cream or a need for 24 pancakes, scale down the recipe.
Ingredients:
Pancakes
3 cups all-purpose flour
6 tablespoons sugar
1 tablespoons baking powder
1½ teaspoons baking soda
½ teaspoons salt
3 cups sour cream
1¾ cups milk
6 tablespoons unsalted butter, melted; plus more for skillet
3 large eggs, lightly beaten
Pure maple syrup, for serving
Maple-pecan butter
2 sticks unsalted butter, softened
½ cup pure maple syrup
⅓ cup pecans, finely chopped
Directions: Make the butter first so it has time to firm up again. In a medium bowl, using an electric mixer set on medium-high, beat all ingredients until combined. Divide mixture in half and spoon onto two 15 by 12-inch pieces of parchment paper. Roll butter, in parchment, into 1½-inch-thick logs; twist ends of parchment to seal. Refrigerate until ready to use or up to 2 weeks.
Next, start making the pancakes. In a large bowl, whisk together flour, sugar, baking powder, baking soda, and salt. In a medium bowl, whisk together sour cream, milk, melted butter, and eggs. Add wet ingredients to dry ingredients and whisk until just combined. Batter should have small- to medium-size lumps.
In a large skillet over medium-low heat, melt butter to coat pan. Working in batches, pour about ⅓ cup batter per pancake onto skillet, spacing each pancake about 2 inches apart. When bubbles appear around edges and bottoms are golden brown, flip pancakes and cook until other sides are golden brown, about 4 minutes total.
Serve warm with maple syrup and maple-pecan butter.
6. Tuna Risotto from the pantry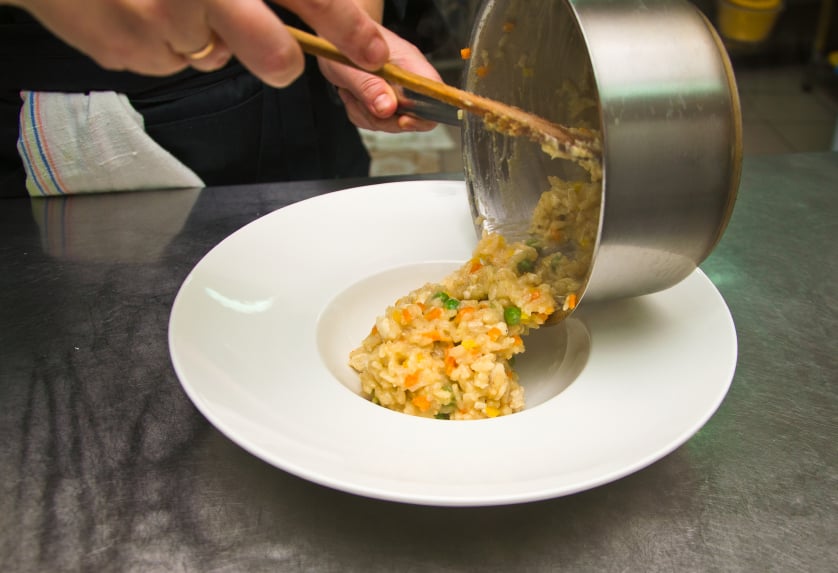 Venetian risotto is loaded with seafood. If you're not staring at a whole ocean of ingredients when you open the fridge, just grab a can of tuna and start making this risotto from The New York Times.
If you don't have arborio rice, don't fret; you can use any short grain rice. Although fat-bellied arborio is great for risotto, it's the particular balance of starches you want — and you can find them in normal short grain rice, too. The anchovies are also optional.
Ingredients:
2 (6.5-ounce) cans water-packed light tuna
7 cups chicken or vegetable stock
2 to 4 garlic cloves, minced
2 tablespoons olive oil
3 tablespoons minced flat-leaf parsley
½ cup minced onion
2 to 3 anchovy fillets, soaked for 15 minutes in water to cover, rinsed and finely chopped
1 (14 ounce) can tomatoes, drained and finely chopped
1½ cups Arborio rice
Salt and freshly ground pepper to taste
½ cup dry white wine, such as Pinot Grigio or Sauvignon Blanc
Generous pinch of saffron
1 cup thawed frozen peas
Directions: Drain the tuna over a bowl. Stir the tuna water into the chicken or vegetable stock. Taste and add more salt as needed for a well-seasoned stock. Break up the tuna in a bowl, and add to it 1 of the garlic cloves, 1 tablespoon of the olive oil, and the parsley. Set aside.
Bring the stock to a simmer in a saucepan and turn the heat to low.
Heat the remaining tablespoon of oil over medium heat in a large nonstick frying pan or wide saucepan and add the onion. Cook, stirring, until tender, about 5 minutes, and add the remaining garlic. Cook, stirring, for about a minute, until the garlic is fragrant, and stir in the anchovies and tomatoes. Cook, stirring, until the tomatoes have cooked down and the mixture is fragrant, 5 to 10 minutes. Season to taste with salt and pepper.
Add the rice and cook, stirring, until the grains of rice are separate and well coated with the tomato mixture, 2 to 3 minutes.
Stir in the wine and cook over medium heat, stirring constantly. The wine should bubble, but not too quickly. You want some of the flavor to cook into the rice before it evaporates. When the wine has just about evaporated, rub the saffron between your fingertips and stir in, along with a ladleful or two of the simmering stock, enough to just cover the rice. The stock should bubble slowly. Cook, stirring often and vigorously, until it is just about absorbed. Add another ladleful of the stock and continue to cook in this fashion, not too fast and not too slowly, adding more stock when the rice is almost dry, for 20 to 25 minutes. Taste a bit of the rice. It should taste chewy but not hard in the middle. Taste and adjust salt.
When the rice is cooked al dente, stir in the tuna mixture and peas and add another ladleful or two of stock and several twists of the peppermill. Stir for a couple of minutes, taste and adjust seasonings. The mixture should be creamy. Add a little more stock if it is not. Spoon onto plates or wide soup bowls and serve.
7. Rice Pudding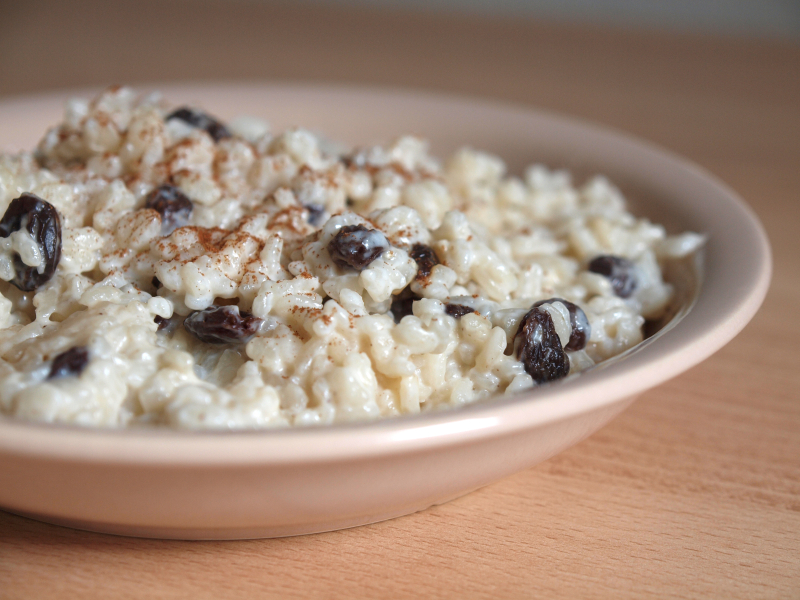 If a sweets craving hits you out of nowhere and you're out of ice cream, chocolate, and anything else to satisfy you without diving straight into a tub of sugar, put the spoon down for a second and pick up some rice.
This recipe for rice pudding from Food Network has raisins and lemon zest, but if you only have rice, cinnamon, a little butter, and some milk, you're golden.
Ingredients:
3 cups white rice, cooked
3 cups milk
⅔ cup sugar
2 tablespoons butter
½ cup raisins
1 teaspoon vanilla extract
Zest of 1 lemon, grated
1 teaspoon cinnamon, divided
Directions: Combine cooked rice, milk, sugar, and butter in a medium saucepan. Add raisins and vanilla. Cook for 25 minutes until most of the liquid is absorbed. Mix in lemon zest and ½ teaspoon of cinnamon. Spoon pudding into a serving dish and dust with remaining cinnamon. May serve chilled or at room temperature.