Pizza, Burgers, and Stir-Fries, Oh My! 6 Tasty Ways to Eat Tofu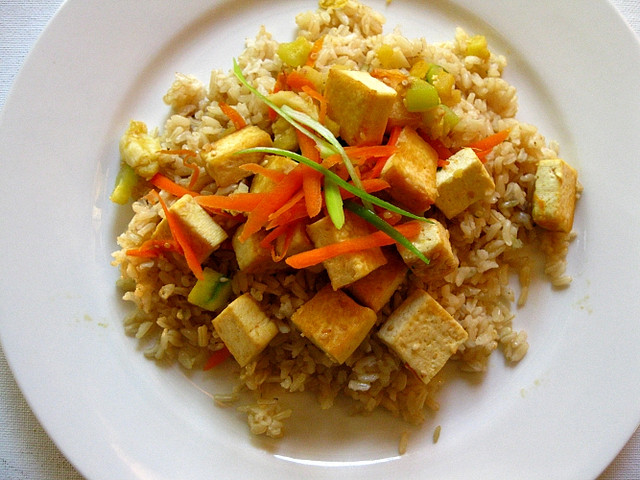 Tofu is downright scary to many people. The white blocks can be intimidating, and the explanation behind their prep and draining procedures is enough to make most mainstream eaters run for the hills. But the protein-packed bean curd is actually extremely versatile, adaptable, and easy to love. It's a great vehicle for a number of different flavors, and what's more, it has been shown to help lower bad cholesterol and even possibly lower the risk of cancer. Tofu is also a great source of protein, calcium, and vitamin E.
The secret to liking tofu is all in its preparation. No one is going to like the bean curd in its original form, but when seasoned, roasted, baked, or sautéed and thrown in soups, stir-fry meals, noodle dishes, burgers, and pizzas, tofu takes on a whole new story. Here are six completely different ways you can cook up your tofu. From tacos, to burgers, to stir-fry meals, to pizza, to steaks, the possibilities really are endless — and now you have no excuse not to try this versatile meat substitute.
1. Cashew Tofu and Broccoli Stir Fry
First up is an extremely easy and versatile tofu dish that many people think of when they imagine a nutrition-packed meal that tofu stars in. Stir-fry dishes are some of the easiest dinners you can get on the table on busy weeknights, and if you prepare this Cashew Tofu and Broccoli Stir Fry from Organic Gardening, you won't even have to turn on the oven. All you need to do to prep the tofu is press it for 20 minutes before you cook, and then it can go right into the skillet. Serve it over rice with your nuts and vegetables and you have a healthy and hearty meal.
Ingredients:
1 container (14 ounces) firm light tofu
2 tablespoons reduced-sodium soy sauce
2 tablespoons honey
1 tablespoon rice vinegar
1 teaspoon cornstarch
3 cups broccoli florets
3 teaspoons toasted sesame oil
1 red bell pepper, chopped
1 tablespoon minced fresh ginger
3 garlic cloves, minced
1/2 cup unsalted cashews
3 scallions, chopped
2 cups cooked brown rice
Directions: Place the tofu on a paper towel set on a dinner plate. Top with a second paper towel and another dinner plate. Place a can or other similar weight on the upper plate and leave for 20 minutes to press excess water from the tofu. Meanwhile, bring a medium pot of water to a boil. Combine the soy sauce, honey, vinegar, and cornstarch in a small bowl. Add the broccoli to the boiling water, return to a boil, and cook for 1 minute or until bright green. Drain and set aside.
Transfer the tofu to a cutting board and cut into 1/2- to 3/4-inch cubes. Heat 2 teaspoons of the sesame oil in a large nonstick skillet over medium-high heat. Add the tofu and cook, stirring occasionally, for 4 to 5 minutes, or until lightly golden. Transfer the tofu to a plate and set aside. Heat the remaining 1 teaspoon oil in the skillet. Add the pepper and cook, stirring occasionally, for 1 minute. Add the ginger and garlic and cook for 30 seconds, or until fragrant. Stir in the broccoli and tofu, and cook for 1 1/2 minutes, or until hot. Stir the soy sauce mixture to recombine and add to the skillet along with the cashews. Cook, stirring for 1 minute. Remove from the heat and stir in the scallions. Serve over the rice.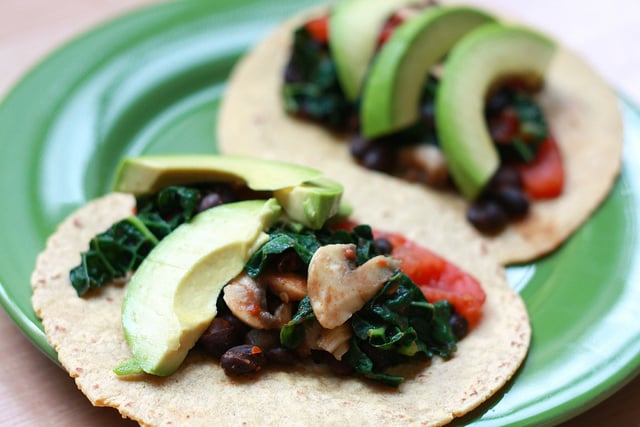 2. Tofu and Black Bean Tacos
Or, give your dinner a Mexican spin by making Tofu and Black Bean Tacos the next time a Mexican craving calls. If Chipotle can successfully market its tofu tacos, so can you, and with this recipe from Whole Foods, you're bound to make a winner for dinner. Once again, this recipe requires no oven, and the mouthwatering mixture of tofu, spices, garlic, and black beans comes together in no time. Who needs beef when you have tofu?
Ingredients:
1 (14-ounce) package extra-firm tofu, drained
1 1/2 teaspoon chili powder
1/2 teaspoon dried oregano
1/2 teaspoon ground cumin
1/2 teaspoon ground coriander
1/2 teaspoon fine sea salt
1 tablespoon extra-virgin olive oil
3 cloves garlic, finely chopped
3 green onions, finely chopped
1 (15-ounce) can black beans, drained and rinsed
12 corn tortillas, warmed
3 cups shredded green leaf lettuce
2 cups chopped tomatoes
1 1/2 cup shredded cheddar or Monterey Jack cheese
Directions: Put tofu, chili powder, oregano, cumin, coriander, and salt into a bowl and mash together with a fork. Set aside. Heat oil in a large skillet over medium heat. Add garlic and two-thirds of the green onions and cook until fragrant, about 2 minutes. Add tofu mixture and cook, stirring occasionally, until most of the moisture has evaporated, 10 to 12 minutes. Add beans and remaining green onions, stir well and cook until beans are heated through, about 2 minutes more. Spoon tofu mixture into tortillas, top with lettuce, tomatoes, and cheese and serve.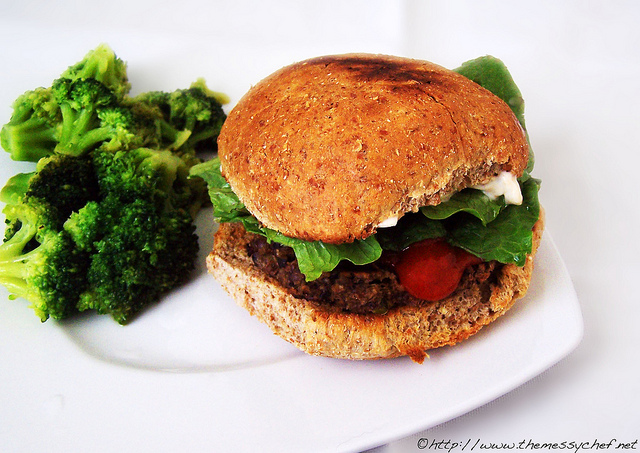 3. Toasted Almond Tofu Burgers
Tofu burgers are next. Yes, they exist. Thank Epicurious for this recipe. Toasted Almond Tofu Burgers will take any tofu naysayer and place them into the pro-tofu camp, and they might even convince some to choose bean curd burgers over beef burgers. Don't doubt them until you try them. They're that good.
Ingredients:
1 12-ounce package firm tofu, drained, patted dry, cut into 1-inch-thick slices
Nonstick vegetable oil spray
1/2 cup grated carrot
1/2 cup thinly sliced green onions
2 teaspoons minced peeled ginger
1 garlic clove, minced
1/2 cup almonds, toasted, finely chopped
1 large egg white, beaten to blend
4 teaspoons soy sauce
1 teaspoon oriental sesame oil
1 teaspoon sesame seeds, toasted
4 sesame seed buns, toasted
4 tomato slices
1 cup alfalfa sprouts
Directions: Wrap tofu in doubled dish towel. Place on work surface. Weigh down with a board topped with food cans or weights for 1 hour. Squeeze towel-wrapped tofu to extract as much liquid as possible from tofu. Transfer tofu to medium bowl. Using fork, mash into small pieces. Spray medium nonstick skillet with nonstick spray; place over medium heat. Add carrot, green onions, ginger, and garlic; sauté until slightly softened, about 3 minutes. Cool. Mix carrot mixture, almonds, egg white, soy sauce, sesame oil, and sesame seeds into tofu. Season with salt and pepper. Shape mixture into four 1/2-inch thick patties.
If grilling, spray grill rack with nonstick spray, then prepare barbecue (medium heat.) If sautéing, spray large nonstick skillet with nonstick spray and heat over medium heat. Lightly spray patties on both sides with nonstick spray. Place patties on grill or in skillet and cook until golden brown and heated through, about three minutes per side.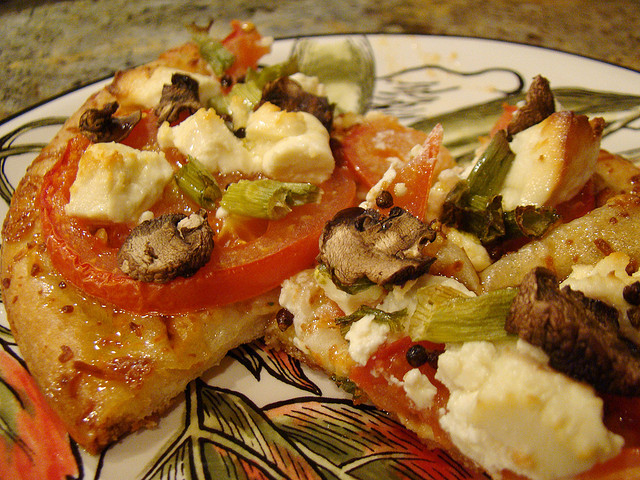 4. Thai Tofu Pizza With Spicy Peanut Sauce
Pizza Time! Thai Tofu Pizza from Foxes Love Lemons to be exact. Traditional Margarita pizzas can get boring after a while, but the flavor from Thai Tofu Pizza is one that never gets old. Sophisticate your palate and make this cosmopolitan pizza for dinner tonight. Your family members or dinner guests might complain at first, but once they take one bite out of this vegetarian pizza, their minds will be blown.
Ingredients:
Spicy Peanut Sauce
3 tablespoons peanut butter
1 tablespoon rice wine vinegar
1 tablespoon sambal oelek
1-1/2 teaspoons soy sauce
1-1/2 tablespoons extra virgin olive oil
Thai Tofu Pizza
1 teaspoon extra virgin olive oil
8 ounces firm tofu, drained, patted dry, and cut into 1/2-inch cubes
1/2 teaspoon curry powder
1 prepared whole wheat pizza crust
1 medium carrot, shredded
1 medium tomato, chopped
2/3 cup chopped pineapple
2 green onions, thinly sliced
1/4 cup bean sprouts
1 tablespoon chopped fresh cilantro
1 tablespoon chopped fresh mint
Juice of 1/2 lime
Directions: To prepare the spicy peanut sauce, in small bowl, whisk together peanut butter, vinegar, sambal oelek, and soy sauce. While whisking, slowly drizzle in oil until all oil is incorporated.
To make the pizza, preheat oven to 450 degrees Fahrenheit. Heat oil over medium-high heat in large nonstick skillet. Sprinkle tofu with curry powder, then add to skillet. Cook tofu 10 to 12 minutes or until golden brown; turning once with a spatula halfway through cooking. Place pizza crust on baking pan and spread with the spicy peanut sauce. Divide carrot, tomato, pineapple, and tofu over sauce. Transfer to oven; bake 10 minutes or until bottom of crust is golden brown. Remove pizza from oven; sprinkle with onions, bean sprouts, cilantro, and mint. Squeeze lime juice over pizza, cut into 8 slices, and serve immediately.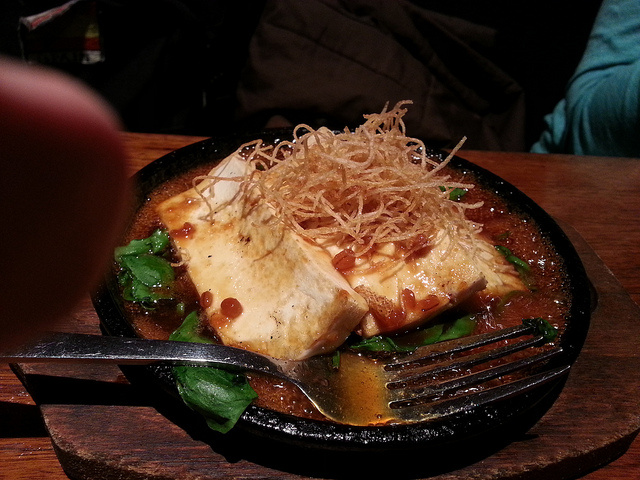 5. Tofu Steaks With Red Pepper-Walnut Sauce
Now we've covered pizza, tacos, burgers, and stir-fry dishes. What else could you possibly want? Steak! Tofu steaks exist and when marinated in red pepper-walnut sauce, they really are in all their glory. This recipe from Cooking Light paints tofu in the best light by marinating it before dipping it in flour and a panko mixture. Throw that tofu on a warmed skillet and then cook until browned. Your kitchen won't be warmed by extra oven temperatures, and everyone at the dinner table will be happy.
Ingredients:
1 (14-ounce) package water-packed reduced-fat extra-firm tofu
1/4 cup finely chopped fresh basil
1/4 cup water
2 tablespoons chopped fresh parsley
1 tablespoon chopped fresh thyme
2 tablespoons white wine vinegar
1 tablespoon Dijon mustard
1/4 teaspoon salt
1/2 teaspoon crushed red pepper
8 garlic cloves, minced
1/2 cup all-purpose flour
1/2 cup egg substitute
2 cups panko (Japanese breadcrumbs)
2 tablespoons olive oil
3 tablespoons chopped walnuts, toasted
1 (12-ounce) bottle roasted red peppers, drained
Directions: Cut tofu crosswise into 4 slices. Place tofu slices on several layers of heavy duty paper towels; cover with additional paper towels. Let stand 30 minutes, pressing down occasionally. Combine basil and next 8 ingredients (through garlic) in a large zip-top plastic bag. Add tofu to bag; seal. Marinate in refrigerator 1 hour, turning bag occasionally.
Place flour in a shallow dish. Place egg substitute in another shallow dish. Place panko in another shallow dish. Remove tofu from marinade, reserving remaining marinade. Working with one tofu piece at a time, dredge tofu in flour, shaking off excess. Dip tofu in egg substitute, allowing excess to drip off. Coat tofu completely with panko, pressing lightly to adhere. Set aside. Repeat procedure with remaining tofu, flour, egg substitute, and panko. Heat a large nonstick skillet over medium-high heat. Add olive oil to pan, swirling to coat. Add tofu to pan; reduce heat to medium, and cook for 4 minutes on each side or until browned. Remove tofu from pan, and keep warm.
Combine reserved marinade, walnuts, and bell peppers in a blender; process until smooth (about 2 minutes.) Pour bell pepper mixture into pan; cook over medium-high heat 2 minutes or until thoroughly heated. Serve with tofu.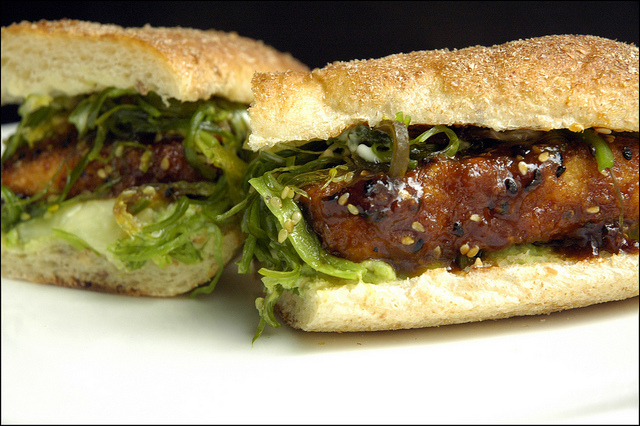 6. BBQ Tofu Sandwich
Lastly, a BBQ tofu sandwich. We told you tofu was versatile. Vegetarian BBQ might sound unappealing, but Eating Well will convince you otherwise with this recipe. Summer is just around the corner, meaning it's almost officially BBQ season. Welcome the favorite flavor and hotter temperatures with these protein-packed sandwiches. We promise neither your guests nor their waistlines will complain.
Ingredients:
1/4 cup thinly sliced onion
1 14-ounce package extra-firm or firm water-packed tofu, drained
1/8 teaspoon salt
1 tablespoon canola oil
1/2 cup prepared barbecue sauce
1 1/2 cups coleslaw mix or finely shredded cabbage
2 tablespoons low-fat mayonnaise
2 teaspoons red-wine vinegar
1/4 teaspoon garlic powder
Freshly ground pepper to taste
4 whole-wheat hamburger buns, toasted
4 dill pickle sandwich slices
Directions: Place onion in a small bowl, cover with cold water and set aside. Stand tofu on its long narrow side. Cut lengthwise into 4 rectangular slabs, each about 1/2-inch thick, and pat dry. Sprinkle with salt. Heat oil in a large nonstick skillet over medium heat. Add the tofu slabs (depending on the size of your pan, the tofu may slope up the sides a little.) Cook until browned on both sides, about 4 minutes per side. Reduce heat to low. Add barbecue sauce and carefully turn the tofu to coat with the sauce. Cover and cook for 3 minutes more.
Meanwhile, combine coleslaw (or cabbage), mayonnaise, vinegar, garlic powder, and pepper in a medium bowl. Drain the onion. To assemble sandwiches, place about 1/3 cup of the coleslaw (or cabbage) mixture on each bun and top with a tofu slab, a pickle slice, and a few onion slices. Spread any sauce remaining in the pan on the top buns.
More From Wall St. Cheat Sheet: