Plum Perfection: 8 Tasty Plum Recipes You Need to Try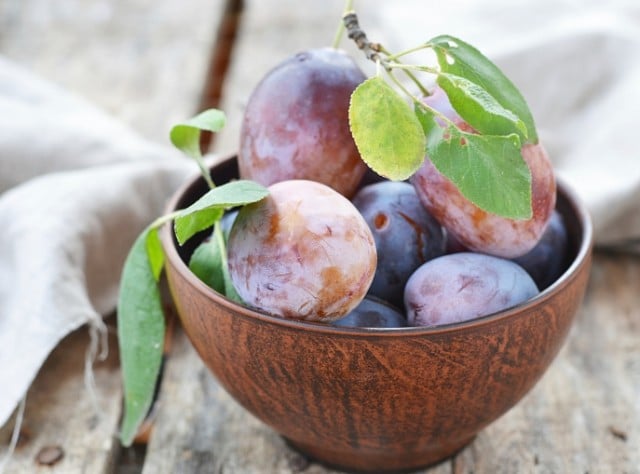 Plums are among the most underrated and underused of all fruits in the kitchen. They're the distant cousin of the ever-popular peach — and what they don't pack in size, they pack in deliciousness! This juicy, dark fruit is in season from May to October, meaning we still have ample time to make use of it in our culinary forays through autumn. The humble plum can work its way into any number of dishes, from duck breasts to pierogies to crumbles — and more! Try one of these 8 recipes in your kitchen to make the most of plum season.
1. Plum Salsa
This is a great summer salsa that combines sweet, spicy, and smoky notes. Plum salsa makes a light and delicious accompaniment to grilled pork or homemade tacos. If you prefer your salsa with more of a kick, try adding a dash of powdered cayenne or an additional habanero, serrano, or other pepper of your choosing. This recipe from All Recipes takes 1 hour and 15 minutes to complete and yields 12 servings.
Ingredients:
2 large tomatoes, diced
½ small red onion, diced
4 plums, pitted and diced
1 poblano chile pepper, seeded and finely chopped
8 sprigs fresh cilantro, chopped (optional)
1 teaspoon minced garlic
1 teaspoon lime juice
½ teaspoon salt
¼ teaspoon freshly ground black pepper
¼ teaspoon chili powder
Directions: Mix tomatoes, onion, plums, poblano chile pepper, cilantro, garlic, lime juice, salt, black pepper, and chili powder in a bowl; cover with plastic wrap. Refrigerate until flavors blend, at least 1 hour.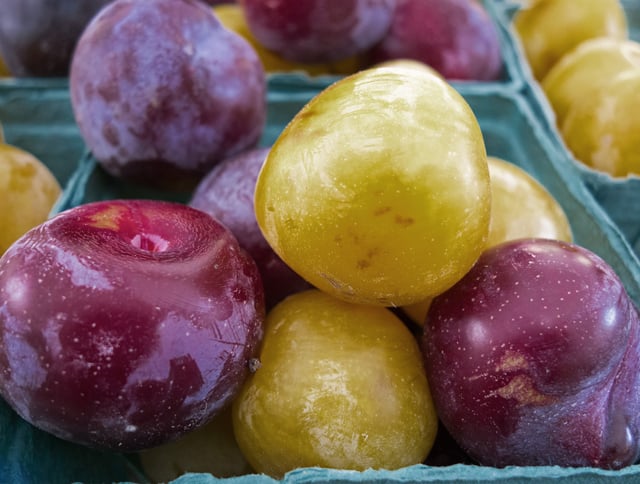 2. Plum Compote
Compote is a dessert originating in France, consisting of pieces of fruit soaked in sugar syrup. Spices are often incorporated to give the dish a unique flare. This recipe from Food & Wine features star anise, a complex spice with a taste reminiscent of licorice. Tart lemon juice and white wine play off the sweetness of the pears, making for a beautifully balanced dessert dish. This recipe takes about 30 minutes to complete and yields 4 servings. Try serving it along with a light butter cake or biscuits.
Ingredients:
1 ½ cups dry white wine
1 ½ cups water
½ cup sugar, more if the plums are tart
8 whole star anise
2 pounds red and/or black plums (about 9), halved and pitted
½ teaspoon lemon juice
Directions: In a medium stainless steel saucepan, combine the wine, water, sugar, and star anise and bring to a simmer over moderately high heat. Add the plums. Bring the poaching liquid back to a simmer and cook, partially covered, until the plums are just tender, 10 to 15 minutes. Pour the plums and their liquid into a glass or stainless steel bowl and let cool. Stir in the lemon juice.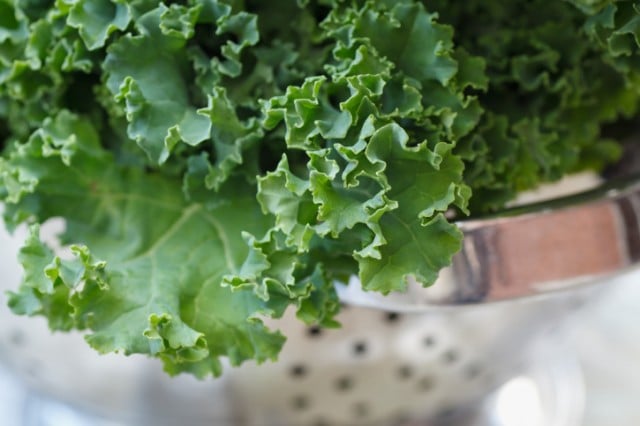 3. Grilled Kale Salad With Ricotta and Plums
This salad is great for summer and can even be enjoyed on its own as a main course. The light balsamic and olive oil vinaigrette's touch of honey tempers the sweet, tart flavor of the added plums. Ricotta makes a wonderful neutralizer for the two flavors. Being nestled among a bed of kale, this is not only a delicious dish — but heart-healthy, too. This recipe from Bon Appétit takes 20 minutes to complete and yields 4-6 servings.
Ingredients:
4 tablespoons extra-virgin olive oil, divided
3 tablespoons balsamic vinegar
2 teaspoons chopped fresh thyme
1 teaspoon honey
Kosher salt, freshly ground pepper
4 medium plums, halved, pitted, thinly sliced
12 large or 16 small curly kale leaves
¾ cup fresh ricotta
Directions: Whisk 3 tablespoons oil, vinegar, thyme, and honey in a medium bowl. Season vinaigrette to taste with salt and pepper. Add plums and toss to coat; transfer plums to a plate. Build a medium-hot fire in a charcoal grill, or heat a gas grill to high. Brush kale leaves with remaining 1 tablespoon oil; season with salt. Grill kale, turning once, until crispy and charred at edges, about 2 minutes. Transfer to a work surface; let stand until cool enough to handle. Remove large center stems with a knife and discard (just trim the tough ends from smaller, more tender kale stems.) Divide ricotta among plates; season with salt and pepper. Stir vinaigrette again. Tear larger kale leaves into pieces (leave smaller leaves whole). Place leaves in a large bowl and toss with some of the vinaigrette. Divide leaves among plates. Top with plums and drizzle some vinaigrette over.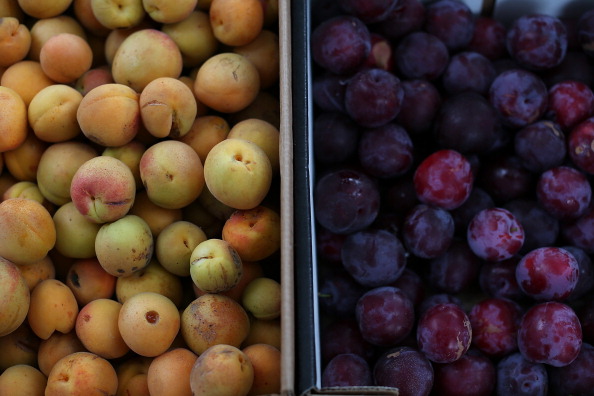 4. Plum Glazed Duck Breast
Duck breast is darker in appearance than chicken or turkey and is typically served with a sweet sauce or glaze. This recipe from Martha Stewart uses thyme, ruby port, and Szechuan peppercorns to achieve a distinctly flavorful taste. Plums offer the dish an added complexity, infusing the savory spiced duck with a pleasant sweet and tart taste. Recipe yields 4 servings and takes an hour to complete.
Ingredients:
½ cup sour cherry preserves
1 tablespoon Szechuan peppercorns
2 boneless whole duck breasts (about 1 pound each)
Salt and freshly ground black pepper
4 tablespoons unsalted butter
6 ounces red cherries, stemmed, pitted, and halved
4 red plums, pitted and cut into eighths
5 teaspoons sugar
1 teaspoon finely chopped fresh thyme
1 cup ruby port
2 tablespoons red wine vinegar
Directions: Preheat oven to 500 degrees Fahrenheit. Place sour cherry preserves in a food processor, and puree. Transfer puree to a small bowl, and set aside. Place peppercorns on a clean cutting board. Using the flat side of a heavy knife, press down on peppercorns until they are coarsely crushed, and set aside. Cut both duck breasts in half, and trim away any excess fat, leaving the skin attached to the breasts. Season both sides of duck breasts with salt and pepper. Spread 1 tablespoon pureed preserves on the flesh side of each breast; sprinkle with half of the crushed peppercorns.
Place duck breasts, flesh side down, in a medium oven-proof skillet. Spread 1 tablespoon pureed preserves on skin side of each breast; sprinkle with remaining crushed peppercorns. Place skillet in oven; roast until medium rare, 10 to 12 minutes. Remove from the oven; set aside in a warm place. Melt butter in large skillet over medium-high heat. Add cherries, plums, sugar, and thyme. Season with salt and pepper. Cook until sugar dissolves, 1 to 2 minutes. Add port. Strike a match, and carefully ignite port; cook until flame dies out. Add vinegar, and cook until juices thicken, 10 to 15 minutes. Remove from heat. Transfer duck to a serving dish, and pour fruit sauce over top. Serve.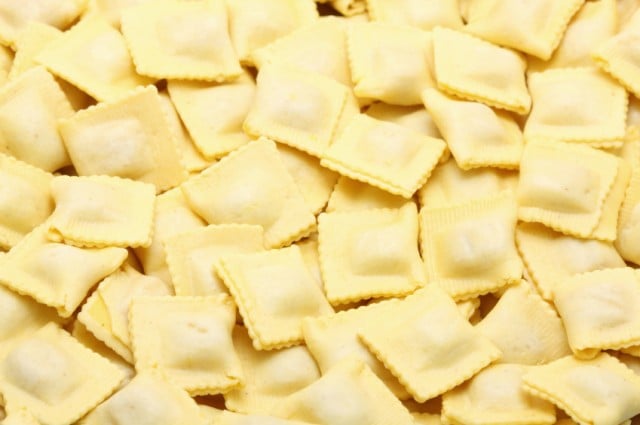 5. Plum Vareniki (Plum Pierogies)
With origins in Eastern and Central Europe, pierogi is typically a savory dish consisting of dough stuffed with potato and cheese. This variation on the classic dish consists of dough stuffed with a tart plum filling. This recipe comes from Natasha's Kitchen, taking about 2 hours to complete and yielding 6-8 servings. Serving sour cream alongside this treat will balance out the bittersweet flavor of the filling.
Ingredients:
⅓ cup buttermilk
½ tablespoon sour cream
1 cup warm water
1 large egg
1 teaspoon salt
3½ cups plus 3 tablespoons all-purpose, unbleached flour
1 pound sweet plums, thinly sliced
½ cup sugar
Directions: In the bowl of an electric mixer, whisk together ⅓ cup buttermilk, ½ tablespoon sour cream, 1 cup warm water, 1 large egg, and 1 teaspoon salt, just until well-blended. Using the dough hook attachment, add in 2 cups flour and mix on speed 2 until well incorporated. Add in the rest of your flour ½ cup at a time allowing each addition to become well incorporated before adding more. Allow the dough to mix for 15 minutes, then add more flour 1 tablespoon at a time until your dough no longer sticks to the sides of the bowl. Continue mixing another 5 minutes. Total mixing time from the time you first add flour is 20-25 min. Your dough will be elastic and feel sticky, but won't stick to your fingers.
Cover dough with plastic wrap until ready to use. Cut off about a gumball-sized piece of dough at a time and roll into a flat 3-inch circle sprinkling with flour as needed to keep the dough from sticking to your work surface or the rolling pin. Place two slices of your plum over half of your dough, being careful not to get plum juice on the edges of the dough or it won't stick together. Pour ½ teaspoon sugar over your plums (use more or less depending on how sweet/tart your fruit is). Bring the two sides together and pinch tightly to seal the edges. Transfer to a well-floured cutting board.
Bring 4 quarts of water to a boil and add ¾ tablespoon salt. Carefully place finished pierogies in boiling water. Add them in batches (maybe ¼ at a time). Wait for them to float back too the top and then give them another minute to cook. Pull them out with a slotted spoon and drain well. Drizzle sugar in between layers of cooked pierogies to keep them from sticking to each other. The sugar will melt over the hot pierogies and turn into a light syrup. Serve with sour cream or eat them as is.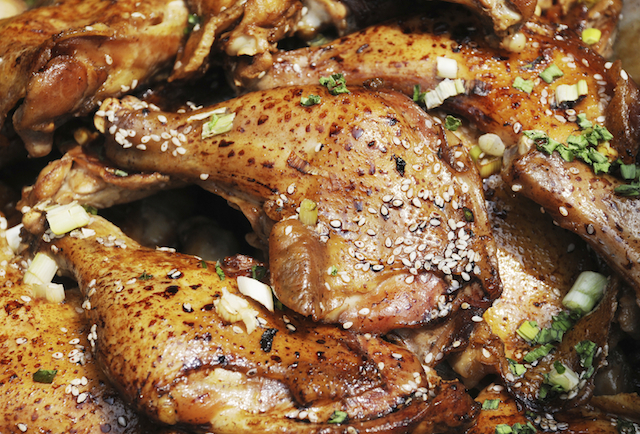 6. Plum Sauced Chicken Wings
This sweet spin on chicken wings will bring new meaning to the dish! The tart and tangy sauce makes a unique accompaniment to the savory flavors of broiled chicken. The plum sauce in this dish from Food Republic can be made and chilled up to 3 days in advance. Recipe takes 40 minutes to complete and yields 8 servings. Enjoy!
Ingredients:
1 (15-16-ounce) can whole unpitted purple plums
2 tablespoons bottled hoisin sauce
1 tablespoon frozen orange juice concentrate, thawed
1 tablespoon soy sauce
1 teaspoon fresh ginger, grated
¼ teaspoon
16 chicken drummettes (2 pounds)
2 teaspoons sesame seeds, toasted (optional)
Directions: Preheat the broiler. For sauce, drain plums, reserving liquid. Pit plums. In a food processor or blender combine pitted plums, reserved plum liquid, hoisin sauce, orange juice concentrate, soy sauce, ginger, and pepper. Cover and process or blend until nearly smooth. Transfer plum mixture to a saucepan. Bring to boiling; reduce heat. Simmer, uncovered, for about 15 minutes or until slightly thickened, stirring occasionally.
Place drummettes in a single layer on the rack of an unheated broiler pan. Broil 5 to 6 inches from the heat for 8 minutes. Brush with sauce. Turn and brush again. Broil for 6 to 8 minutes or until tender and no longer pink. In a small saucepan, bring remaining sauce to boiling. Transfer to a small bowl. Arrange drummettes on a serving plate. If desired, sprinkle drummettes with sesame seeds. Serve drummettes with sauce.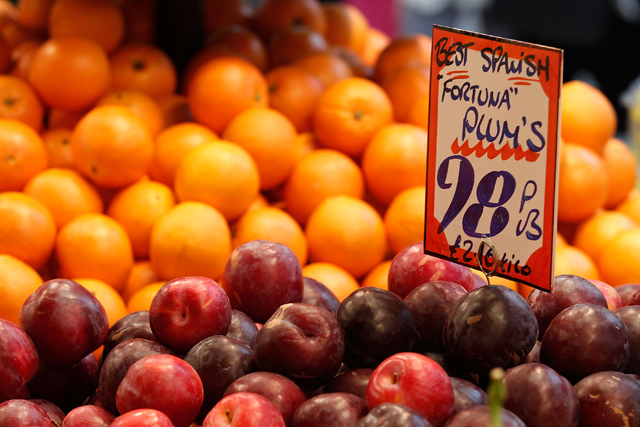 7. Plum Crumble
Plum crumble doesn't get as much love as apple crisps and cobblers, but it's equally as delicious! Using ripe plums is crucial for establishing the correct balance of sweetness and tartness in a good plum crumble. This recipe from The Kitchn yields a lot of oat crumble for the top — just the way we like it! Recipe takes about an hour and a half, including cook time, and serves 8 to 10 people.
Ingredients:
For the Crumble Top
1 cup all purpose flour
½ cup oat flour
1 cup rolled oats
¾ cup brown sugar
1 teaspoon cinnamon
¼ teaspoon nutmeg
¼ teaspoon sea salt
10 tablespoons unsalted butter, melted
For the Fruit
½ cup sugar
2 tablespoons cornstarch
1 teaspoon orange zest
9-10 plums, thinly sliced (yielding 6 cups)
½ teaspoon vanilla
Directions: Preheat the oven to 350 degrees Fahrenheit. Make crisp topping first by mixing the flour, oats, brown sugar, cinnamon, and salt together in a medium bowl. Pour in the melted butter and work it into the dry ingredients with your hands until the crumble topping begins to clump together and all of the ingredients are incorporated.
To make the fruit filling, combine the sugar, cornstarch, plums, orange zest, and vanilla in a bowl. With a rubber spatula, gently fold ingredients together until well combined. Spread the fruit evenly across a 9-inch square baking pan and sprinkle crisp topping generously on top. Place the dish onto a sheet pan to catch juices. Bake until juices are bubbling and top is crisp, about 50 minutes.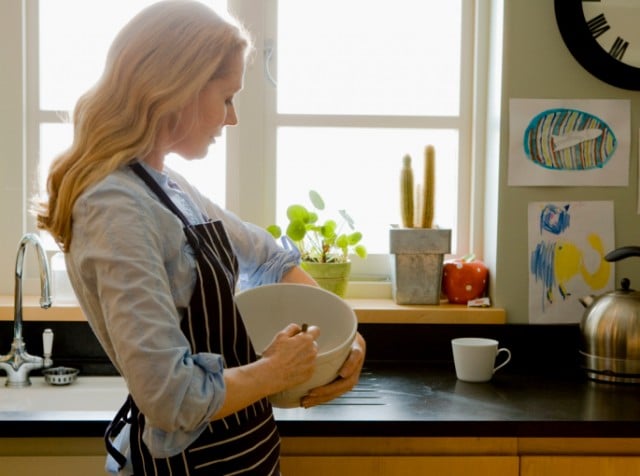 8. Roasted Plums With Ginger and Cream
This dish makes a wonderful finish to a summer meal. Roasting up plums is a quick and easy way to bring out their sweetness. The intense, bitter taste of ginger offsets the sweetness in this dish from Williams-Sonoma, and the plums are best served along with whipped cream — try it homemade! Recipe takes about 35 minutes to complete and yields 4 servings.
Ingredients:
4 plums, halved and pitted
2 tablespoons finely chopped crystallized ginger
1 tablespoon sugar
2 tablespoons water
Whipped cream for serving
Directions: To roast the plums, preheat an oven to 400 degrees Fahrenheit. Line a rimmed baking sheet with aluminum foil. Place the plums, cut side down, on the prepared baking sheet, spacing them at least 1 inch apart. Roast the plums until just tender and their juices begin to pool, about 10 minutes, depending on their ripeness.
To make the ginger syrup, meanwhile, in a small saucepan over medium heat, stir together the ginger, sugar, and water and bring to a gentle simmer. Cook until the flavors come together and the liquid becomes a light syrup, about 5 minutes. To finish the dessert, divide the hot plums among individual bowls or plates. Drizzle each serving with the ginger syrup, top with a dollop of whipped cream and serve immediately.
More From Life Cheat Sheet:
Want more great content like this? Sign up here to receive the best of Cheat Sheet delivered daily. No spam; just tailored content straight to your inbox.