Prepare Perfect Hard- and Soft-Boiled Eggs Using These 4 Recipes
Cooking the perfect boiled egg, be it hard or soft boiled, is something like the holy grail. There are so many little things that stand in the way of that perfect egg: the gray-green ring, the overcooked chalky yolk, the undercooked runny white, the craters that form when the egg shell just won't let go. It doesn't have to be this way. We're convinced that what you really need to cook a hard boiled egg is precision and confidence. There are actually a couple of ways to get the egg to the place you want it, and it's all about experimenting with what really works for you. First, we'll go over the different methods we suggest for cooking your boiled eggs, and then we'll share some of our favorite ways to use them for some really delicious practice.
The methods
The first method is the cold water method, which is the most common. Start by covering your eggs in 1½ inches of water and bring up to a boil. As soon as it boils, remove from heat and let the eggs "steep" until they're done: 10 minutes for hard boiled, 3 minutes for really soft.
If you are looking for a soft boiled egg, this method doesn't offer quite enough precision; it's difficult to catch the egg at the exact moment the water starts boiling to time it. For this, be brave. Get the water boiling first and gently lower the egg into the water with a slotted spoon. Don't drop the egg, because it will definitely crack. Remove the pan from the heat and immediately start your timer. For just-set whites and a really runny yolk, cook for 3 minutes. To achieve a fully hard-boiled egg, cook for 13. For everything in between, reference this photo from Bon Appétit to correlate doneness with timing. Shock the eggs in ice water when they're done cooking.
The last method is from Serious Eats: Steam your eggs. For this, you'll need a large pot with a steamer insert. By steaming your eggs, you cook them evenly with little chance of cracking, resulting in tender hard boiled eggs. To do this, fill a large pot with 1 inch of water. Place steamer insert inside, cover, and bring to a boil over high heat. Add eggs to steamer basket, cover, and continue cooking 6 minutes for soft boiled or 12 minute for hard. Serve immediately if serving hot. If serving cold, immediately place eggs in a bowl of ice water and allow to cool for at least 15 minutes before peeling under cool running water.
1. Potatoes with Soft Eggs and Bacon Vinaigrette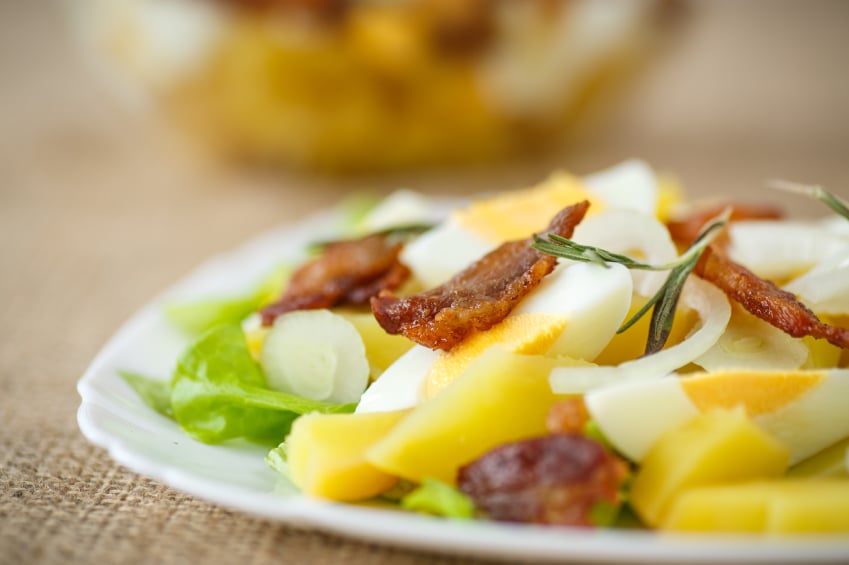 This, at its core, is a warm and mostly deconstructed potato salad meets salade Lyonnaise. It is a departure from what most of us think of when we're imagining a potato salad, but let's get one thing straight: This recipe from Smitten Kitchen may change everything you think you know about "salads." It's a great dinner on the slightly lighter side and an awesome lunch on the slightly heftier side. It's perfect for spring, and it's the perfect way to practice (and reap the rewards of) medium-soft boiled eggs.
Ingredients:
1½ pounds fingerlings, or small red or yukon gold potatoes
4 large eggs
¼ pound frisee, or another sturdy but wispy lettuce
6 ounces slab bacon or thick-cut bacon slices
2 tablespoons finely chopped shallot
3 tablespoons red wine vinegar
½ teaspoon smooth Dijon mustard
2 ounces crumbled blue cheese, or more to taste
Directions: In a large saucepan, cover potatoes with cold water, set a timer for 25 minutes, and bring to a boil. Once boiling, reduce to a simmer. Cook until tender but not falling apart, checking occasionally. Drain and when cool enough to touch, but still hot, halve lengthwise and arrange cut side up on a platter.
Meanwhile, cook the eggs. Bring medium saucepan of water to a boil. Lower eggs into it and boil for five to six minutes. Drain and rinse egg briefly under cool water until cool enough to handle and carefully peel, because the egg inside is so soft, Deb recommends chipping off smaller pieces at a time and running it under water as needed so you don't accidentally rip it open. Set aside.
Begin to prep your salad by tearing frisee into bite-size pieces and put in a large bowl.
Right before you're ready to serve everything, make vinaigrette. If using slab bacon, cut lengthwise into ¼-inch thick slices, then ¼-inch thick sticks; if using bacon slices, just cut them crosswise into ¼-inch sticks. Cook bacon in a heavy skillet over moderate heat, until bacon is ¾ as crisp as you'd like it to get. Add shallots, and cook for 1 minute more. Whisk in red wine vinegar and Dijon and let simmer for 10 seconds. Immediately pour ¾ hot dressing over potatoes and last ¼ over frisee in bowl, tossing the lettuce to combine evenly. Season both with salt and pepper.
To finish, top dressed potatoes with peeled eggs and use a knife to cut them into quarters, so they break open over the potatoes. Season cut eggs with salt and pepper again, sprinkle potato dish with blue cheese. Serve with frisee on the side or on top.
2. Herb and Radish Deviled Eggs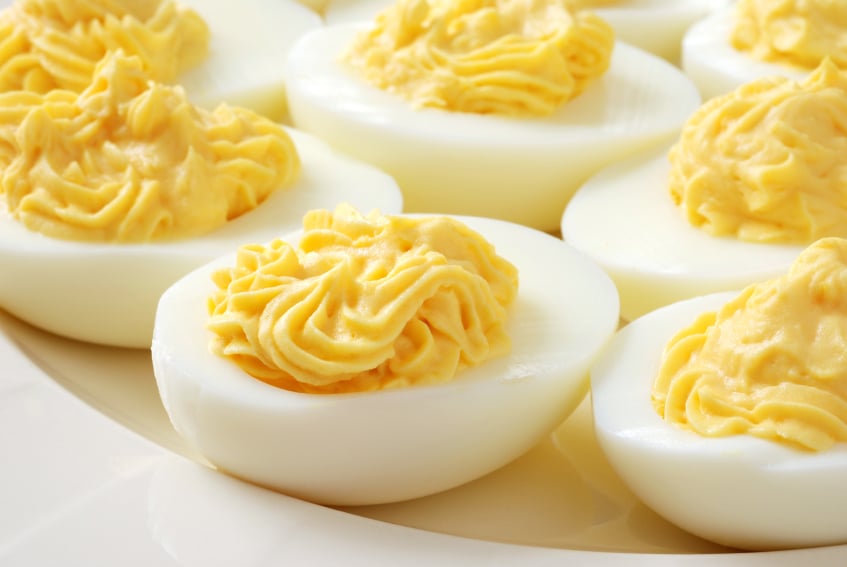 These deviled eggs from Joy the Baker are extra-special. They have a crispness from the dill, the chives, and the radish that keeps them feeling fresh, even if you think you can't handle eating another deviled egg. Practice perfect peeling with these sunny snacks.
Ingredients:
1 dozen large eggs
½ cup mayonnaise
2 teaspoons Dijon or whole grain mustard
2 teaspoons yellow mustard
½ teaspoon Worcestershire sauce
3 tablespoons chopped fresh chives, plus 1 tablespoon more for garnish
2 tablespoons chopped fresh dill
Salt and pepper to taste
Thinly sliced radishes, for garnish
Paprika for garnish
Directions: To make the eggs, fill a large pot with water about 5-inches high and bring water to a rolling boil over medium heat. Take the eggs out of the refrigerator just as the water comes to a boil and use a large spoon to lower the eggs, one at a time, into the boiling water. After a few eggs, the water will cool and stop boiling. Keep adding eggs. It will start to simmer again. Once the last egg is added, set your timer for 13 minutes. Use the large spoon to gently stir the eggs around the pot just a bit.
Prepare a large bowl with cold water and ice cubes.
After 13 minutes, remove from the heat and spoon each egg out of the boiling water and into the ice bath. Allow to sit for 5 minutes until cool to the touch. Crack eggs and return to the water.
Peel the eggs. Rinse them off to remove any shell bits. Pat the eggs dry. Slice the eggs vertically and carefully spoon out the yolks into a medium bowl or the bowl of a food processor fitted with a blade attachment. Place the egg white halves of a baking sheet or serving platter.
Add mayonnaise and mustards to the egg yolks. Mash and stir with a fork or blend until smooth in a food processor. If using a food processor, transfer mixture to a medium bowl and stir in Worcestershire sauce, chives, and dill. Stir. Season to taste with salt and pepper.
Spoon about 2 heaping teaspoons into each egg white. Top with more chives, dill, thinly sliced radish, and a sprinkling of paprika just before serving. Eggs are best within two days of preparing. Serve chilled.
3. Shoyu Ramen
Ramen is not something that comes together quickly, but it's not hard, either. It takes three days and a trip to the Asian market, but it's worth it. This ramen from Bon Appétit is maybe one of the best soups you'll ever make at home, and it's definitely a recipe for major bragging rights. The medium-boiled egg is an important addition to the soup, and a stellar chance to show off your egg skills.
Ingredients:
Dashi and Tare
2 pieces dried kombu
½ cup reduced-sodium soy sauce
2 tablespoons dry sake
1 tablespoon mirin
Pork and Stock
1½ pounds boneless pork shoulder
Kosher salt and freshly ground black pepper
2 tablespoons vegetable oil
2 pound chicken necks, backs, and/or wings
1 pound pork spareribs
2 bunches scallions, chopped
2 carrots, peeled, cut into pieces
1 head of garlic, halved horizontally
1 (1-inch) piece ginger, peeled, sliced
¼ cup bonito flakes
Ramen and Garnishes
3 large eggs
6 (5-ounce) packages fresh thin and wavy ramen noodles or six 3-ounce packages dried
½ cup fermented bamboo shoots
6 scallions, thinly sliced
3 toasted nori sheets, torn in half
Chili oil, toasted sesame oil, and shichimi togarashi for serving
Directions: Two days ahead: For the dashi, combine kombu and 4 quarts cold water in a large bowl. Cover and let sit at room temperature at least 8 hours and up to 12 hours. For the tare, combine soy sauce, sake, and mirin in a small bowl; cover and chill.
One day ahead: Season pork shoulder with salt and pepper. Roll up and tie with kitchen twine at 2-inch intervals. This helps keep the meat intact while cooking and makes for round, compact slices.
Heat oil in a large, heavy pot over medium-high heat Cook pork shoulder, turning, until brown all over, 10 to 12 minutes. Add chicken, spareribs, scallions, carrots, garlic, ginger, and bonito flakes. Remove kombu from dashi; discard. Add as much kombu dashi as will fit in pot once liquid is boiling; reserve remaining dashi. Bring to a boil, reduce heat, and simmer, skimming the surface occasionally and adding remaining dashi as liquid reduces, until pork shoulder is tender and stock has reduced to about 2 quarts, 2½ to 3 hours.
Remove pork shoulder from stock and let cool. Wrap tightly in plastic and chill until ready to use, which will make meat easier to slice. Strain stock through a fine-mesh sieve into another large pot or a large bowl or container; discard solids, including ribs and chicken. Cover and chill.
The day of the meal, bring a medium pot of water to a boil. Carefully add eggs one at a time and boil gently for 7 minutes. Drain eggs and transfer to a bowl of ice water to stop cooking; let cool. Peel; set aside.
Remove string and thinly slice pork; cover and set aside.
When ready to serve, bring stock to a simmer; it should be very hot. At the same time, cook noodles in a large pot of boiling water according to package directions until al dente; drain.
Just before serving, divide noodles among 6 deep bowls. Top with sliced pork, placing it off to one side. Add tare to hot stock and ladle over pork to warm through; stock should come up just to the level of the noodles.
Place a small pile of bamboo shoots next to pork. Halve eggs and place next to the bamboo. Place a small pile of sliced scallions next to egg. Tuck half a sheet of nori between side of bowl and noodles so it's just poking out.
Serve ramen with chili oil, sesame oil, and shichimi togarashi.
4. Grilled Halibut Salad Niçoise
Though the traditional French salad is made with tuna, this version from Eating Well is made with grilled halibut for a little twist on the usual. It's another way to add extra heft to a salad with the simple power of a good hard-boiled egg.
Ingredients:
Vinaigrette
1 medium clove garlic
¼ teaspoon salt
5 tablespoons extra-virgin olive oil
6 tablespoons fresh orange juice, plus more to taste
¼ cup white-wine vinegar or red-wine vinegar
1 tablespoon Dijon mustard
Salad
1½ pounds red potatoes, scrubbed and halved
1¼ pounds green beans, trimmed
Juice of 1 large lemon
2 tablespoons extra-virgin olive oil
½ teaspoon salt, divided
1 pound Pacific halibut or striped bass
¼ teaspoon coarsely ground pepper, plus more to taste
1 large head Boston lettuce
1½ cups grape tomatoes
3 hard-boiled eggs, peeled and cut into wedges
¼ cup sliced pitted black Niçoise or Kalamata olives
¼ cup finely chopped fresh parsley
Directions: To prepare vinaigrette, peel the garlic and smash with the side of a chef's knife. Using a fork, mash the garlic with ¼ teaspoon salt in a small bowl to form a coarse paste. Whisk in 5 tablespoons oil. Add 6 tablespoons orange juice, vinegar and mustard; whisk until well blended. Taste and whisk in up to 4 tablespoons more juice to mellow the flavor; season with more salt, if desired. Set aside at room temperature.
To prepare salad, bring 1 inch of water to a boil in a large saucepan fitted with a steamer basket. Add potatoes; cook until tender, 10 to 15 minutes. Remove to a cutting board. When cool enough to handle, slice and place in a shallow bowl. Drizzle with ⅓ cup vinaigrette; set aside.
Add beans to the steamer basket; cook until bright green and just tender, 4 to 6 minutes. Rinse in a colander with cold water until cool. Drain well. Place in a medium bowl and toss with 2 tablespoons vinaigrette.
Combine lemon juice, 2 tablespoons oil and ¼ teaspoon salt in a sturdy zip-top plastic bag; shake until the salt dissolves. Add fish and marinate for up to 20 minutes while you ready the grill.
Preheat grill to medium-high for 10 minutes, then reduce heat to medium.
Drain the fish and pat dry with paper towels. Season with the remaining ¼ teaspoon salt and ¼ teaspoon pepper. Oil the grill rack. Grill the fish, turning once, until browned and just cooked through, 4 to 5 minutes per side for halibut; 3 to 4 minutes per side for bass.
Arrange lettuce leaves on a large serving platter. Arrange the fish, either whole or flaked into large chunks, potatoes, green beans, and tomatoes on top. Drizzle with the remaining vinaigrette. Garnish with eggs, olives, parsley, and pepper to taste.
 More from Culture Cheat Sheet: