7 Restaurant-Style Ravioli Recipes That You Can Make Yourself
A plate full of stuffed, flavorful ravioli is a perfect dinner dish whether you're looking for a weeknight, family-friendly meal or a recipe you can serve while entertaining guests. Sausage, cheese, spinach, and mushrooms are a few of the tasty ingredients you can use to create a mouthwatering pasta dish everyone will enjoy. From sausage and broccoli raab to a herbed ricotta filling, these 7 ravioli recipes are guaranteed to create pasta perfection.
1. Sausage and Ricotta Ravioli with Pesto Sauce
This is a pasta lover's dinner dream come true. AllRecipes.com's dish combines fresh pesto flavors with a hearty sausage and ricotta filling for a savory supper treat.
Ingredients:
1 large white onion, quartered
3 cloves garlic
¼ cup extra-virgin olive oil, plus 5 tablespoons, or more as needed
5 (3 ½ ounces) Italian sausage links, casings removed
2 ½ cups ricotta cheese
1 tablespoon paprika
1 teaspoon cayenne pepper
1 (16 ounce) package wonton wrappers
1 egg, beaten
⅓ cup pine nuts
2 cups chopped fresh basil
1 dash balsamic vinegar
2 cloves garlic
Salt and pepper, to taste
Directions: Place onion and 3 cloves of garlic in a food processor. Process while drizzling in ¼ cup of olive olive, until smooth. Set aside. Heat a large skillet over medium-high heat and stir in the sausage. Cook and stir until the sausage is crumbly, evenly browned, and no longer pink, about 10 minutes. Drain and discard any excess grease. Stir in onion mixture, reduce heat to medium, and cook, stirring occasionally, for 5 minutes.
Remove from heat. Pour mixture into the food processor along with the ricotta cheese. Process until smooth, streaming more olive oil as necessary. Stir in paprika and cayenne, and season with salt and pepper to taste. Spoon about 1 tablespoon full of the sausage mixture onto the center of one wonton wrapper. Brush the edges of the wrapper with the egg, then fold the wrapper into a triangle, sealing the edges tightly.
Place ravioli on a baking sheet sprayed with cooking spray. Repeat until all the wonton wrappers have been filled. Cover and refrigerate the ravioli until ready to cook. Meanwhile, place the basil and pine nuts in a clean food processor. Pulse 4 or 5 times, then add 2 garlic cloves. Pulse 2 or 3 more times, then process until smooth while slowly adding in 5 tablespoons of olive oil. Stir in the balsamic vinegar, and season to taste with salt and pepper.
Fill a large pot with lightly salted water and bring to a rolling boil. Once the water is boiling, stir in the ravioli. Cook uncovered, stirring occasionally, until the ravioli float to the top and the filling is hot, 3 to 4 minutes. Drain well in a colander set in the sink. Place ravioli in a large bowl and toss with 4 to 5 tablespoons of pesto.
2. Sausage and Broccoli Raab Ravioli with Roasted Tomato Sauce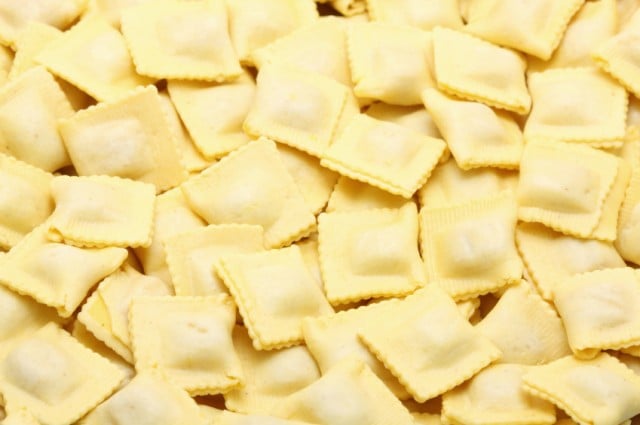 Fine Cooking's recipe is oozing with sausage, mozzarella, and broccoli raab, and coated in a light and spicy tomato sauce. You can't go wrong with this rich ravioli dish, which yields about 30 ravioli.
Ingredients:
Sauce
4 pounds fresh plum tomatoes (about 22), quartered
3 medium red onions (about 1 pound total), very coarsely diced
16 cloves garlic, peeled and crushed
2 to 3 fresh jalapeños, quartered
1 tablespoon dried oregano
½ cup extra-virgin olive oil
Salt and freshly ground black pepper to taste
Filling
½ pound (about ½ bunch) broccoli raab
2 tablespoons extra-virgin olive oil
½ pound sweet Italian sausage (casings removed), crumbled into bits
1 small clove garlic, chopped
¼ teaspoon crushed red chili flakes
Salt and freshly ground black pepper, to taste
1 ¼ ounce grated Pecorino Romano cheese (½ cup)
¼ pound smoked or regular mozzarella, cut into ¼-inch dice
1 pound ravioli pasta dough
1 large egg yolk, lightly beaten
Semolina flour or fine cornmeal to dust the pan
Grated Pecorino Romano cheese, for garnish
Directions: To make the sauce, heat the oven to 450 degrees Fahrenheit. In a nonreactive roasting pan, combine the tomatoes, onions, crushed garlic, jalapeños, and oregano. Add the olive oil, salt, and pepper, and toss. Roast, stirring occasionally, until the onions and tomatoes are soft and slightly charred, about 1 and ½ hours. Let the mixture cool and then pass it through a food mill fitted with a medium blade, or through a medium-meshed sieve, to remove the seeds and cores. The sauce may be slightly chunky. If you want it smoother, purée it in a blender or food processor. Taste for salt and set aside.
To make the filling, boil about 4 cups salted water in a pot, add the broccoli raab, and parboil for 2 to 3 minutes. Drain, but reserve ¼ cup of the cooking water. Chop the broccoli raab into very small pieces. Heat the olive oil on medium high in a heavy-based frying pan. Add the sausage, breaking it up with a spoon into very small pieces. Add the garlic, red chile flakes, broccoli raab, salt, and pepper. Add the ¼ cup of reserved broccoli raab cooking liquid and simmer until the sausage is cooked and the broccoli raab is tender, about 4 minutes. There should be no more than 2 tablespoons liquid left in the pan. Transfer to a bowl and let cool. The cooled mixture should be moist but not wet, so if there's excess liquid in the bowl, drain it off. Mix in the 1 and ¼ ounce Pecorino and the diced mozzarella.
To roll out and stuff the pasta dough, divide the ravioli dough into four equal pieces. Wrap three in plastic and return to the refrigerator. Flatten the fourth piece of dough with your hand, and run it through the widest setting on your pasta machine twice. Set the rollers to the next narrower setting. Pass the dough through twice. Continue notching down by one setting and passing the dough through two times. As the dough lengthens and thins, it will bunch up under the machine. Rectify this by gently lifting it out and folding it neatly behind the machine. When you can just see the shape and shadow of your hand through the dough sheet, stop rolling. You may not need to go to the narrowest setting.
Cut the sheet in half crosswise and trim the sides to make two neat rectangles, one slightly larger than the other. On the smaller sheet, spoon mounds of 1 to 2 teaspoons of the filling, leaving ½ to ¾ inch between each mound. Brush a little beaten egg yolk on the dough around each mound of filling. Lay the second sheet of dough on top, draping it gently over the mounds without stretching it. Starting at one edge, gently press around the filling to push out any air pockets and seal the sheets. Cut the pasta in between the mounds to form individual squares or circles with a scalloped pastry wheel or a ravioli stamp.
Press on the mounds a bit to slightly flatten them and on the edges to confirm the seal. Roll out, fill, and cut any remaining dough the same way. When ready to serve, bring a pot of salted water to a boil. Gently slide the chilled or frozen ravioli into the water and cook until they float and are tender, 3 to 5 minutes. Meanwhile, reheat the roasted tomato sauce. Taste for salt and pepper. If the sauce is too thick, add a little water from the pasta pot. Drain the ravioli and toss with the sauce. Spoon onto a large serving platter or individual plates, sprinkle with Pecorino, and serve.
3. Ravioli Filled with Porcini Mushrooms and Two Cheeses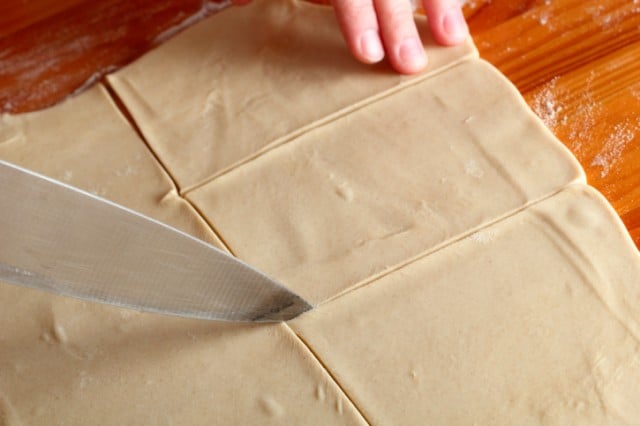 Mushrooms, Parmesan, mozzarella, garlic, and seasonings create the ultimate ravioli filler. Food Network's recipe, which yields 4 to 6 servings, will quickly become a family favorite.
Ingredients: 
1 ounce dried porcini mushrooms, soaked in 1 cup boiling water for 30 minutes
⅓ cup minced shallots
2 tablespoons olive oil
¼ pound fresh wild mushrooms, minced
Salt and pepper
2 garlic cloves, minced fine
6 ounces chopped mozzarella
¼ cup grated fresh Parmesan, plus extra for garnish
1 pound fresh pasta dough sheets
2 tablespoons unsalted butter
½ teaspoon salt
¼ teaspoon freshly ground pepper
1 cup heavy cream
2 tablespoons minced fresh parsley leaves
Directions: First, make the filling. Drain the dried mushrooms, reserving the soaking liquid, and mince. In a skillet cook the shallots in the oil over moderate heat, stirring until they are softened. Add the fresh mushrooms and salt and pepper to taste and cook the mixture, stirring, until it is dry. Add the dried mushrooms and the garlic, cook the mixture, stirring, until it is dry, and transfer it to a bowl.
Add the mozzarella, Parmesan, and salt and pepper to taste to the mushroom mixture, and stir the filling until it is well combined. To make the ravioli, trim the ends of the dough and cut the dough crosswise into 2 pieces, with 1 piece 1 and ½ inches longer than the other. Put a rounded teaspoon of the mushroom mixture in 2 rows on the shorter piece, spacing them about 1 inch from the edges and with their centers about 1 and ½ inches apart.
Brush the dough around the filling with water, put the longer piece of dough on top, and press it gently around the mounds of filling. With a fluted pastry wheel or knife cut the dough between the mounds. Arrange the ravioli in one layer on a baking sheet sprinkled with flour and let dry one hour. When ready to cook the ravioli, bring a large pot of salted water to a boil. Add ravioli and cook, stirring, for 5 minutes, or until it is just tender, drain it in a colander and transfer it to a large bowl. Then in a small saucepan melt the butter and add the butter to the ravioli, tossing to coat it well.
Transfer to serving dish. In another saucepan combine the heavy cream, ½ cup of the reserved mushroom soaking liquid, strained through a double thickness of rinsed and squeezed cheesecloth, and simmer the mixture, stirring occasionally, until it is slightly thickened. Season the sauce with salt and pepper to taste. Top the ravioli evenly with the sauce and sprinkle with the parsley and the Parmesan before serving.
4. Ravioli with Herbed Ricotta Filling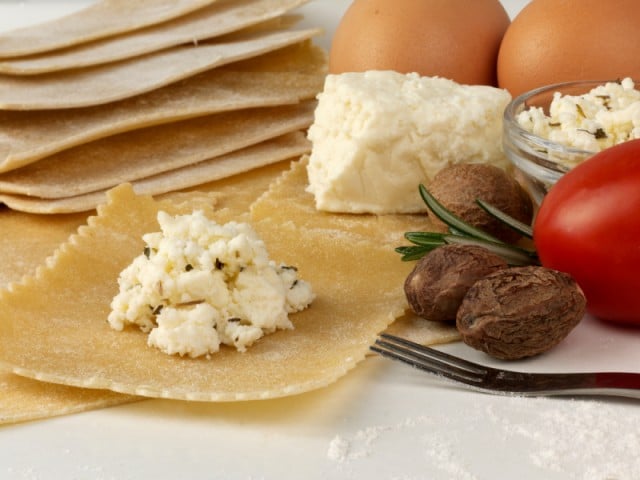 The real star of this Cooking Light recipe is the savory sauce, which includes extra-virgin olive oil, garlic cloves, fresh basil, and Parmigiano-Reggiano cheese. You can shape the pasta and freeze it up to a month before cooking, creating a delicious and easy-to-pull-together dinner.
Ingredients:
Ravioli
¾ cup (6 ounces) whole-milk ricotta cheese
¼ cup (1 ounce) grated fresh Parmigiano-Reggiano cheese
2 tablespoons finely chopped fresh basil
½ teaspoon grated lemon rind
¼ teaspoon freshly ground black pepper
1 large egg
6 quarts water
2 tablespoons fine sea salt
Sauce:
2 tablespoons extra-virgin olive oil
2 garlic cloves, minced
¼ cup chopped fresh basil
¼ cup (1 ounce) shaved fresh Parmigiano-Reggiano cheese
Directions: To prepare ravioli, place ricotta in a cheesecloth-lined colander; drain 30 minutes. Combine ricotta, ¼ cup Parmigiano-Reggiano, and next 4 ingredients (through egg), stirring until well-combined. Place one 15 x 3-inch classic pasta dough sheet on a lightly floured surface. Spoon 1 and ½ teaspoons filling mixture 1 and ½ inches from left edge in the center of sheet.
Spoon 1 and ½ teaspoons filling mixture at 3-inch intervals along the length of sheet. Moisten edges and in between each filling portion with water; place one 15 x 3-inch pasta sheet on top, pressing to seal. Cut pasta sheet crosswise into five 3 x 3-inch ravioli, trimming edges with a sharp knife or pastry wheel. Place ravioli on a lightly floured baking sheet, and cover with a damp towel to prevent drying.
Repeat procedure with remaining pasta sheets and filling mixture to form 20 ravioli. Bring 6 quarts water and salt to a boil in an 8-quart pot. Add half of ravioli to pot; cook 1 and ½ minutes or until no longer translucent. Remove ravioli from water with a slotted spoon. Repeat procedure with remaining ravioli.
To prepare sauce, heat oil in a large skillet over low heat. Add garlic to pan; cook 6 minutes or until garlic is tender. Remove from heat. Place 5 ravioli in each of 4 shallow bowls; drizzle each serving with 1 and ½ teaspoons garlic oil. Top each serving with 1 tablespoon basil and 1 tablespoon shaved Parmigiano-Reggiano. Serve immediately.
5. Chicken and Spinach-Filled Ravioli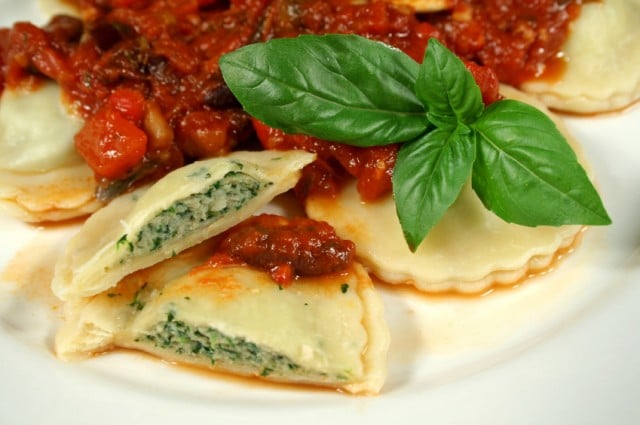 Cooks.com has created a recipe that is straightforward, easy, and uses flavorful ingredients such as spinach, cheese, chicken, and nutmeg. Top off this tasty ravioli with spaghetti sauce and Parmesan cheese for a wholesome and hearty dinner.
Ingredients:
Dough
4 eggs, well beaten
¾ cup water
3 ¾ cup flour, sifted
1 ½ teaspoon salt
 Filling
1 cup (4 ounces) ground cooked chicken
1 (8 ounce) can spinach, well drained and chopped
3 tablespoons butter, melted
3 tablespoons Parmesan cheese
¼ teaspoon salt
⅛ teaspoon ground nutmeg
Dash of pepper
Directions: To make the dough, combine eggs and water in a large bowl. Add 2 cups sifted flour and 1 and ½ teaspoons salt; beat well. Gradually stir in about 1 and ¾ cups sifted flour to make moderately stiff dough. Turn out on lightly floured surface and knead until smooth and elastic, 8 to 10 minutes. Divide into 2 parts.
Cover and let rest 10 minutes. Roll each part of dough out to 16 x 12-inch rectangle. Cut in 2-inch squares. Combine chicken, spinach, and melted butter. Stir in cheese, salt, nutmeg, and pepper. Place 1 teaspoon filling on one 2-inch square of dough. Moisten edges of dough with water and top with second square; seal well with tines of fork.
Repeat with remaining filling and dough. Set aside to dry for 1 hour, turning once. Cook ravioli in large kettle of rapidly boiling salted water for 7 to 8 minutes or until tender. Rinse in cold water and drain well. Place in bowl and pour spaghetti sauce over it. Sprinkle with Parmesan cheese.
6. Beef Ravioli with Fresh Tomato Sauce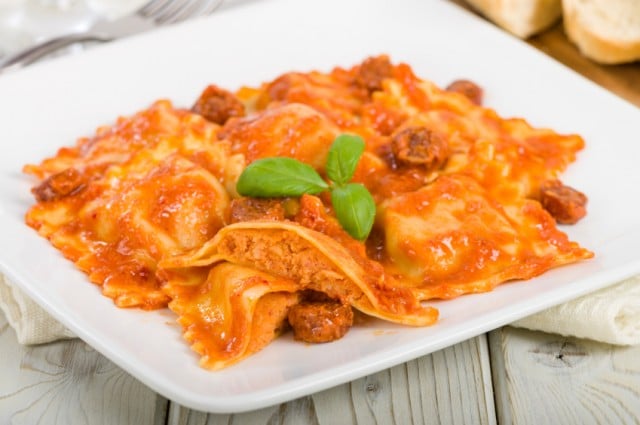 Simplicity is the key to this Williams-Sonoma recipe, which yields 6 servings. The filling consists of onion, carrot, celery, red wine, beef sirloin, cheese, bread crumbs, and seasonings, which pairs perfectly with the rich and flavorful tomato sauce.
Ingredients:
Filling
2 tablespoons unsalted butter
1 small yellow onion, chopped
½ cup finely chopped carrot
½ cup finely chopped celery
¾ pound ground beef sirloin
¾ teaspoon sea salt
¼ teaspoon freshly ground pepper
½ cup dry red wine
2 eggs, beaten
½ cup grated Parmigiano-Reggiano cheese, plus more for serving
¼ cup fine dried bread crumbs
Pasta
Sauce:
¼ cup olive oil
4 garlic cloves, minced
1 ½ pound plum tomatoes, peeled, seeded and chopped
Sea salt and freshly ground pepper, to taste
Handful of fresh basil leaves
Directions: To make the filling, in a fry pan over medium heat, melt the butter. Add the onion, carrot, and celery and sauté until golden, 10 to 15 minutes. Add the beef, salt, and pepper. Cook, stirring and breaking up the meat with a wooden spoon, until the meat is no longer red and its juices have evaporated, about 10 minutes. Add the wine, bring to a simmer and cook until the wine evaporates, about 2 minutes.
Remove from the heat and let cool slightly. Scrape the beef mixture into a food processor and pulse until chopped. Add the eggs, ½ cup cheese, and bread crumbs, and pulse just until blended. Scrape the mixture into a bowl, cover and chill for at least 1 hour or up to overnight. Lightly flour a rimmed baking sheet.
Make the pasta dough, then divide and roll out each piece into a sheet that is one-sixteenth-inch thick. Cut each pasta sheet into strips 4 inches wide. Layer the strips on the prepared baking sheet, spacing them so they don't touch and separating each layer with a lightly floured kitchen towel. Fill and cut the ravioli.
You can cook the ravioli immediately or cover with a kitchen towel and refrigerate until ready to cook. They will keep for up to 3 hours; turn them several times during that time so that they do not stick. To make the sauce, in a fry pan over medium-low heat, warm the olive oil. Add the garlic and cook, stirring frequently, until golden, about 1 minute.
Add the tomatoes, raise the heat to medium and bring to a simmer, stirring occasionally. Reduce the heat to low, season with salt and pepper, add the basil leaves and simmer until the tomatoes thicken into a light sauce, about 7 minutes. Keep warm. Meanwhile, bring a large pot three-fourths full of water to a rolling boil.
Add the 2 tablespoons salt, then add the ravioli and stir gently. Cook, stirring occasionally and adjusting the heat so the water simmers gently, until the ravioli rise to the surface and are al dente, 3 to 4 minutes. Using a large slotted spoon, divide the ravioli among warmed plates. Spoon the sauce over them, dividing it evenly, and serve immediately.
7. Homemade Four Cheese Ravioli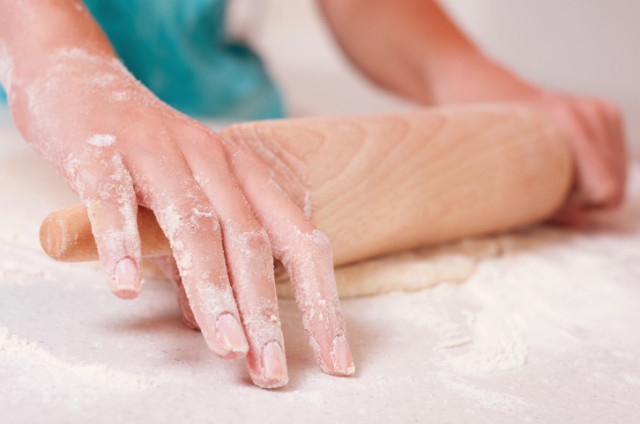 AllRecipes.com's four cheese ravioli will rival any restaurant pasta dish. The creamy ravioli filling is topped off with a rich pesto-Alfredo cream sauce, which consists of garlic, basil pesto sauce, heavy cream, Parmesan cheese, and marinara sauce. The recipe yields 20 ravioli.
Ingredients:
Dough
2 cups all-purpose flour
1 pinch salt
1 teaspoon olive oil
2 eggs
1 ½ tablespoons water
Filling
1 (8 ounce) container ricotta cheese
1 (4 ounce) package cream cheese, softened
½ cup shredded mozzarella cheese
½ cup provolone cheese, shredded
1 egg
1 ½ teaspoons dried parsley
Pesto-Alfredo Cream Sauce
2 tablespoons olive oil
2 cloves garlic, crushed
3 tablespoons prepared basil pesto sauce
2 cups heavy cream
¼ cup grated Parmesan cheese
1 (24 ounce) jar marinara sauce
Egg Wash
Directions: Mound the flour and salt together on a work surface and form a well. Beat the teaspoon of olive oil, 2 eggs, and water in a bowl. Pour half the egg mixture into the well. Begin mixing the egg with the flour with one hand; use your other hand to keep the flour mound steady. Add the remaining egg mixture and knead to form a dough. Knead the dough until smooth, 8 to 10 minutes; add more flour if the dough is too sticky. Form the dough into a ball and wrap tightly with plastic. Refrigerate for 1 hour.
While the dough is resting, prepare the ravioli filling. Combine the ricotta cheese, cream cheese, mozzarella cheese, provolone cheese, egg, and parsley and mix well. Set the filling aside. Heat 2 tablespoons of olive oil in a skillet over medium heat. Add the crushed garlic and pesto sauce and cook for one minute. Pour in the heavy cream, raise the heat to high, and bring the sauce to a boil. Reduce the heat and simmer for 5 minutes. Add the Parmesan cheese and stir until the cheese melts. Remove the pan from the heat and keep warm.
Meanwhile, in a separate saucepan, warm the marinara sauce over medium-low heat. Preheat an oven to 375 degrees Fahrenheit. Beat the egg with the tablespoon of water to make the egg wash. Roll out the pasta dough into thin sheets no thicker than a nickel. To assemble the ravioli, brush the egg wash over a sheet of pasta. Drop the filling mixture on the dough by teaspoonfuls about one inch apart. Cover the filling with the top sheet of pasta, pressing out the air from around each portion of filling.
Press firmly around the filling to seal. Cut into individual ravioli with a knife or pizza cutter. Seal the edges. Fill a large pot with lightly salted water and bring to a rolling boil over high heat. Stir in the ravioli, and return to a boil. Cook uncovered, stirring occasionally, until the ravioli float to the top and the filling is hot, 4 to 8 minutes. Drain well. Grease a baking sheet. Place the cooked ravioli on the sheet pan and bake in the preheated oven until brown, about 4 minutes. To serve the ravioli, divide them among four warmed serving bowls. Drizzle the marinara sauce over the ravioli and then top with the cream sauce.