5 of the Most Difficult Dessert Recipes You Can Make
Everyone has a handful of sweets on their baking bucket list they are too intimidated to try. Homemade cinnamon buns, pumpkin rolls, and intricate lattice pies are just a few of the baked goods that cause even the most experienced chefs to sweat, but maybe it's time you face your foodie fears. Much of the intimidation surrounding certain desserts comes from misconceptions about them, and today, we're debunking those myths. In truth, it's actually quite easy to get your yeasted cinnamon buns to rise; cake baked on a sheet tray can be perfectly crafted into a roll; and pies can be made from scratch without provoking a meltdown. Here are 5 difficult dessert recipes that make for impressive treats. Everyone can bake anything as long as he or she puts their mind to it, and these food formulas guide you on your way.
1. Homemade Cinnamon Buns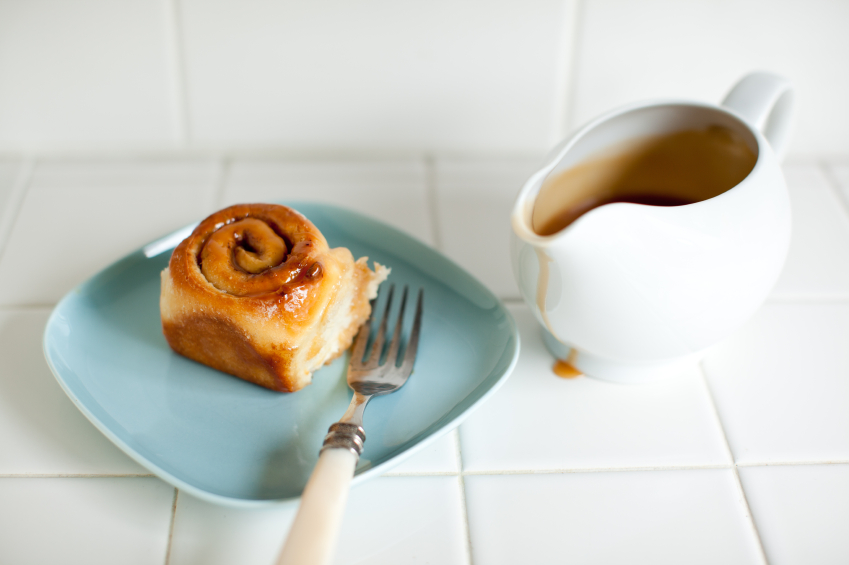 First up is a classic cinnamon roll recipe highlighted by Food Network. These warm rolls are the perfect thing to make ahead and then serve on a slow weekend morning. Many bakers are intimidated by yeast and the lengthy process it takes to boast your own homemade buns, but much to many people's surprise, the rolls are actually not as difficult as you'd expect, and dare we say (gasp!) easy. As long as you plan ahead and allow for adequate rising time, there really is no reason you can't master your own homemade cinnamon buns, and we can promise you'll enjoy the fruits of your labor.
Ingredients:
1 cup whole milk
1 (¼-ounce) packet active dry yeast (2½ teaspoons)
¼ cup plus ¼ teaspoon granulated sugar
4 tablespoons unsalted butter, melted, plus more for the bowl
1 large egg yolk
1½ teaspoons vanilla extract
2¾ cups all-purpose flour, plus more if needed
¾ teaspoon salt
½ teaspoon freshly grated nutmeg
Filling
All-purpose flour, for dusting
12 tablespoons unsalted butter, softened, plus more for the pan
½ cup granulated sugar
3 tablespoons ground cinnamon
Glaze
2 cups confectioners' sugar
⅓ cup heavy cream
4 tablespoons unsalted butter, melted
Directions: To make the dough, warm the milk in a medium saucepan over low heat until it reaches about 100. Remove from the heat and sprinkle in the yeast and ¼ teaspoon sugar (don't stir). Set aside until foamy, 5 minutes. Whisk in the melted butter, egg yolk, and vanilla.
Whisk the flour, the remaining ¼ cup sugar, the salt and nutmeg in the bowl of a stand mixer. Make a well in the center and pour in the yeast mixture. Mix on low speed with the dough hook until thick and slightly sticky. Knead on medium speed until the dough gathers around the hook, 6 minutes.
Remove the dough and shape into a ball. Butter the mixer bowl and return the dough to the bowl, turning to coat with butter. Cover with plastic wrap and let rise until doubled, 1 hour 15 minutes.
Roll out the dough, fill, and cut into buns. Butter a 9-by-13-inch baking pan; place the buns cut-side down in the pan, leaving space between each. Cover with plastic wrap and let rise until doubled, 40 minutes. Preheat the oven to 325 degrees Fahrenheit.
Bake the buns until golden brown, about 35 minutes. Cool in the pan 15 minutes. Meanwhile, make the glaze by sifting the confectioners' sugar into a bowl, then whisking in the cream and melted butter. Transfer the buns to a rack and spoon the glaze on top while still warm.
2. Pumpkin Roll
If this pumpkin roll recipe from Eat Live Run doesn't appease your appetite, then we don't know what will. Everyone stresses over the rolling step of dessert rolls, the recipe developer behind these rolls points out, but it doesn't matter if your filling oozes or your cake rips a bit. Things are going to taste delicious regardless. Instead of relying on grocery store desserts, make one of your own and perfect this pumpkin roll. Your guests will be impressed, your taste buds will be satisfied, and you'll never be intimidated by a daunting dessert again.
Ingredients:
3 eggs, room temperature
1 cup granulated sugar
⅔ cup pumpkin
3/4 cup all-purpose flour
1.5 teaspoons pumpkin pie spice
1 teaspoon vanilla extract
1 teaspoon lemon juice
1 teaspoon baking powder
½ teaspoon salt
Cream Cheese Frosting
8 ounces cream cheese, room temperature
4 tablespoons soft butter
1 cup powdered sugar
1 teaspoon vanilla extract
Directions: Preheat the oven to 350 degrees Fahrenheit. Beat the eggs and sugar together with a Kitchen Aid on maximum high speed for about ten minutes. When done, the mixture will be very thick and very, very pale. Add the lemon juice, vanilla, and pumpkin and stir gently.
In another bowl, combine the flour, baking powder, salt, and pumpkin pie spice. Fold the dry ingredients into the wet and mix just until combined. Pour the cake batter onto a sheet tray (or jelly roll tray) that has been greased and lined with wax paper. Spread out the batter evenly and bake for fifteen minutes, or until golden. Let cool on the pan for about ten minutes and start your frosting.
Whip the cream cheese and butter together on medium speed for three minutes or until creamy looking. Add the powdered sugar and vanilla and whip on high for another six to eight minutes. Set aside. After you have cooled the cake for a few minutes, turn over the sheet pan and gently peel off the wax paper. Spoon the frosting on top of the cake and spread out. Starting at the far edge, roll up the cake. Wrap in plastic wrap and chill in the fridge for about an hour before serving.
3. Baklava
Switching lanes a bit, we're highlighting this recipe for baklava from The Pioneer Woman because, as Ree promises, "Baklava is yummy … but it's yummiest when it's homemade. And it doesn't have to be my home that makes it. It can be anyone's home." You heard it from her: you can master the Middle Eastern nut-filled pastry, too. You just have to step up to the plate. Instead of only ordering this dessert out at restaurants, challenge yourself to make it on your own. It's the perfect Saturday or Sunday afternoon activity, and it's one that reaps sweet rewards.
Ingredients:
1 package phyllo dough
4 cups chopped walnuts or pecans
1 teaspoon cinnamon
1½ stick butter, melted
2 cups honey
½ cup water
½ cup sugar
3 teaspoons vanilla extract
Directions: Remove phyllo dough package from freezer and place in the fridge for 24 hours to thaw. Remove from fridge 1 hour before using. When working with the phyllo dough, only remove the sheets you immediately need, keeping the other sheets covered in plastic wrap, then a damp cloth. Toss together the chopped walnuts and cinnamon. Set aside.
Preheat oven to 350 degrees Fahrenheit. Thoroughly butter a rectangular baking pan. Make sure the sheets of phyllo will generally fit the pan. If they're much bigger, just trim them with a sharp knife. Butter the top sheet of phyllo with melted butter, then grab it and the unbuttered sheet below it. Set the two sheets in the pan, buttered sheet face down. Press lightly into the pan. Repeat this twice more, so that you have six sheets of phyllo in the pan, three of the sheets buttered.
Sprinkle on enough walnuts to make a single layer. Butter two sheets of phyllo and place them on top of the walnuts. Add more walnuts, then two more buttered phyllo sheets. Repeat this a couple more times, or until you're out of walnuts. Top with 4 more buttered phyllo sheets, ending with a buttered top. Cut a diagonal diamond pattern in the baklava using a very sharp knife. Bake for 45 minutes, or until the baklava is very golden brown.
While the baklava is baking, combine 1 stick of the butter, honey, water, sugar, and vanilla in a saucepan. Bring to a boil, then reduce the heat to low.
When you remove the baklava from the oven, drizzle half the saucepan evenly all over the top. Allow it to sit and absorb for a minute, then drizzle on a little more until you think it's thoroughly moistened. You'll likely have some of the honey mixture leftover, which you can drink with a straw. Just kidding. Allow the baklava to cool, uncovered, for several hours.
4. Lemon Meringue Pie
Mad about meringue but too scared to make it in your own kitchen? Take this recipe for lemon meringue pie from Food Network and face your fears. It'll teach you exactly how to master the meringue topping, and also how to boil and cook your lemon filling. As long as you know how to recognize egg white peaks, you'll be good to go, and even if you don't, Alton has a video tutorial that will show you.
Ingredients:
4 egg yolks (reserve whites for meringue)
⅓ cup cornstarch
1½ cups water
1⅓ cups sugar
¼ teaspoon salt
3 tablespoons butter
½ cup lemon juice
1 tablespoon finely grated lemon zest
1 (9-inch) pre-baked pie shell
Meringue
4 egg whites
1 pinch cream of tartar
2 tablespoons sugar
Directions: Adjust the oven rack to the middle position. Preheat oven to 375 degrees Fahrenheit. Whisk egg yolks in medium size mixing bowl and set aside. In a medium saucepan, combine cornstarch, water, sugar, and salt. Whisk to combine. Turn heat on medium and, stirring frequently, bring mixture to a boil. Boil for 1 minute. Remove from heat and gradually, 1 whisk-full at a time, add hot mixture to egg yolks, and stir until you have added at least half of the mixture.
Return egg mixture to saucepan, turn heat down to low and cook, stirring constantly, for 1 more minute. Remove from heat and gently stir in butter, lemon juice, and zest until well combined. Pour mixture into pie shell and top with meringue while filling is still hot. Make sure meringue completely covers filling and that it goes right up to the edge of the crust. Bake for 10 to 12 minutes or until meringue is golden. Remove from oven and cool on a wire rack. Make sure pie is cooled completely before slicing.
Place egg whites and cream of tartar in the bowl of a stand mixer fitted with the whisk attachment. Beat egg whites until soft peaks form and then gradually add sugar and continue beating until stiff peaks form, approximately 1 to 2 minutes. Use to top lemon filling.
5. French Silk Pie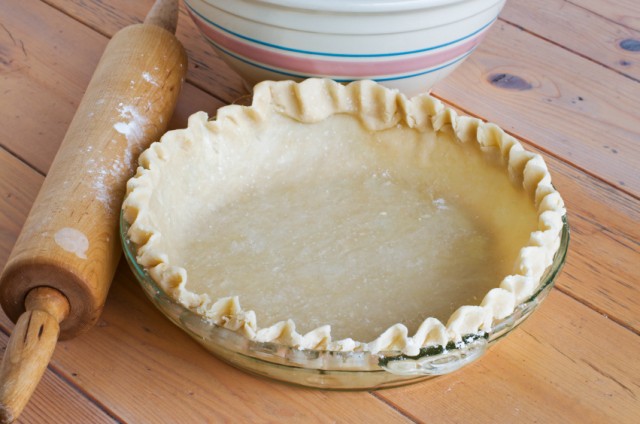 Speaking of eggs, that ingredient is the also the reason many steer clear of the French silk pie, even though the dessert appeals to many people's taste buds. Many bakers can't seem to wrap their heads around the idea of raw eggs in pie, but fortunately, this recipe from Brown Eyed Baker eliminates that fear, calling for the eggs to be heated to 160 degrees Fahrenheit, a temperature considered safe for consumption.
With that point of anxiety out of the way, now you really have no excuse not to whip up the velvety, no-bake pie. The pie crust is straightforward, and the filling couldn't be easier. Serve this at your next dinner party and give your guests a dessert they'll never forget.
Ingredients:
1¼ cups all-purpose flour
½ teaspoon salt
1 tablespoon granulated sugar
6 tablespoons unsalted butter, chilled, cut into ¼-inch slices
¼ cup solid vegetable shortening, chilled, cut into 2 pieces
2 tablespoons vodka, chilled
2 tablespoons ice water
Filling
1 cup heavy cream
8 ounces bittersweet chocolate, finely chopped
3 eggs
¾ cup granulated sugar
2 tablespoons water
1 tablespoon vanilla extract
8 tablespoons unsalted butter, at room temperature, cut into ½-inch pieces
Directions: To make the crust, process ¾ cups flour, salt, and sugar together in food processor until combined, about 2 one-second pulses. Add butter and shortening and process for 10 seconds. Scrape down sides and bottom of bowl with a rubber spatula and redistribute dough evenly around processor blade. Add remaining ½ cup flour and pulse until mixture is evenly distributed around bowl and mass of dough has been broken up, 4 to 6 quick pulses. Empty mixture into medium bowl.
Sprinkle vodka and water over mixture. With rubber spatula, use folding motion to mix, pressing down on dough until dough is slightly tacky and sticks together. Flatten dough into 4-inch disk. Wrap in plastic wrap and refrigerate at least 45 minutes (or up to 2 days).
Preheat oven to 425 degrees Fahrenheit. On a floured work surface, roll the dough into a 12-inch circle. Transfer the dough to a 9-inch pie plate and gently ease the dough into the pie plate. Leave any dough that overhangs the plate in place, wrap the dough-lined pie plate loosely in plastic wrap and refrigerate until the dough is firm, about 30 minutes.
Trim the overhang to ½-inch beyond the lip of the pie plate. Tuck the overhang under itself. Crimp the dough around the edges. Wrap the dough-lined pie plate loosely in the plastic and refrigerate until the dough is fully chilled and firm, about 15 minutes.
Line the chilled pie shell with a double layer of aluminum foil, being sure to cover the edges as well, and fill with pie weights. Bake until the pie dough looks dry and is pale in color, about 15 minutes. Remove the foil and the weights and continue to bake until the crust is a deep golden brown, 8 to 12 minutes longer. Transfer the pie plate to a wire rack and let the crust cool completely, about 1 hour.
To make the filling, pour the heavy cream into a large mixing bowl and whip on medium-low speed until foamy, about 1 minute. Increase the speed to medium-high and continue to whip until stiff peaks form, 2 to 4 minutes. Transfer the whipped cream to a small bowl and refrigerate until needed. Place the chocolate in a microwave-safe bowl and microwave on 50 percent power in 30-second increments, stirring after each, until completely melted and smooth. Set aside.
In a large, heatproof bowl, whisk together the eggs, sugar, and water. Beat the mixture on medium speed until pale yellow and thick, about 5 minutes. Set the bowl over a medium saucepan filled ½-inch of barely simmering water over low heat, and warm the mixture, stirring occasionally, until it reaches 160 degrees Fahrenheit on an instant-read thermometer. Remove the bowl from the heat and beat the mixture on medium speed until it is light and fluffy and cooled to room temperature, about 8 minutes.
Add the melted chocolate and vanilla extract to the cooled egg mixture and beat until incorporated. Beat in the butter, a few pieces at a time, until well-combined. Using a rubber spatula, fold in the whipped cream until no white streaks remain. Scrape the filling into the pie shell and refrigerate until set, at least 3 hours or up to 24 hours. Serve with fresh whipped cream. Leftovers should be stored in the refrigerator, covered, for up to 3 days.
More from Culture Cheat Sheet: