4 Recipes For Bakery Style Sweets You Can Make at Home
If you like to get creative, hate to be bored, and love to bake, chances are good that you've spent some time on Pinterest dreaming about the intricate baked goods you could make. There are so many super talented bakers on the Internet, and though there are also plenty of examples of how badly it goes when someone fails at replicating a baking project, there's no reason you can't test the waters. With the help of a muffin tin, mini lattice fruit pies are an easy stunner and help fill a dull afternoon. Piped chocolate designs to top cupcakes are a low risk, high reward outlet for creativity. If you mess up, melt it down and start over until it looks right to you.
When you find yourself with an urge to bake and a nagging boredom creeping in, make these 4 boredom-busting desserts. You'll be glad you had a baking project to focus on, and passing the time never tasted so good.
1. Decorated Sugar Cookies
There are a ton of different reasons to make decorated sugar cookies: it's winter, it's spring, it's a holiday, there's a sports game, a birthday party, a baby shower — you get the idea. The freedom to decorate each one differently or the determination to perfect one design are both encouraged in decorating sugar cookies, making them a great project for any bored baker. This is a royal icing recipe and frosting technique from The Little Epicurean that Maryanne makes into spring flowers, but you can really choose any shape and decoration you want. She uses little plastic squeeze bottles and Number 2 piping tips, but a zip-top bag with a small hole cut out of the corner can work just fine! For the sugar cookie itself, we recommend this one from Alton Brown at The Food Network.
Ingredients:
¼ cup meringue powder
½ cup warm water
4 cups powdered sugar, sifted
½ teaspoon vanilla extract
1 tablespoon light corn syrup
Directions: In a stand mixer, mix together meringue powder and water on low speed until frothy and soft peaks. Add sifted powdered sugar 1 cup at a time. Add vanilla and corn syrup. Mix at medium speed until fluffy and dense, about soft peaks. Color using gel paste.
Cover royal icing with plastic wrap, letting the plastic wrap touch the surface. Store in refrigerator until needed. Stir vigorously just before using.
Divide the icing into two groups: outlining/line work and flooding. The flooding icing will be looser, allowing it to create a smooth layer of icing to decorate over. To achieve this, add a teaspoon at a time to your royal icing until it is loose and pourable.
When decorating, draw an outline around the cookie. Let that set for a few minutes, then flood the inside with the pourable icing. It should naturally flow to the edges of the outlines. Once the flood work has dried, about 30 minutes to 1 hour, you can begin to decorate.
2. Fruit Tart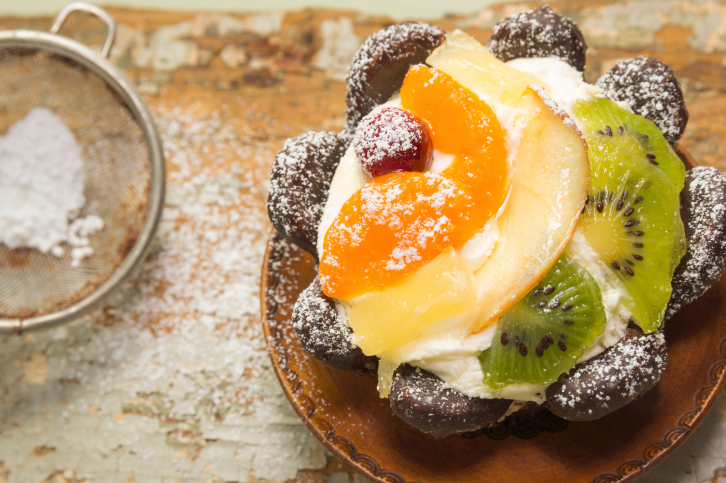 There are three distinct components to a fruit tart that require different skills: the tart shell and frangipane, the pastry cream, and the fruit. The tart shell and frangipane are baked, the pastry cream thickened on the stove, and the fruit creatively arranged on top. When you put the right time and attention into it, the results are truly stunning. Try your hand at it with this recipe from Fine Cooking.
Ingredients:
Tart Shell
10 tablespoons unsalted butter, cut into chunks and softened at room temperature
¾ cup confectioners' sugar, sifted
¼ teaspoons salt
Seeds scraped from ¼ vanilla bean, or 1 teaspoon vanilla extract
1 cup all-purpose flour
½ cup cake flour
1 large egg
Frangipane 
6 tablespoons unsalted butter, softened
6 tablespoons sugar
¾ cup finely ground almonds
1 tablespoon all-purpose flour
2 egg yolks
Pastry Cream
⅔ cup milk
Seeds scraped from ¼ vanilla bean, or 1 teaspoon vanilla extract
2 egg yolks
2 tablespoons sugar
1 tablespoons all-purpose flour
¼ cup heavy cream
Fruit
A mix of fresh, ripe fruit; try apricots, peaches, berries, apples, tropical fruits, or whatever's in season
Apple jelly, gently heated until runny
Directions: Add the butter, confectioners' sugar, salt, and vanilla to a food processor; process until soft, smooth, and well blended. Sift together the two flours. Add them and pulse just until incorporated. Add the egg and process again until smooth and creamy.
Scrape the dough onto a lightly floured work surface. Divide it and shape each half into a disk. Wrap each disk well in plastic wrap and chill for at least an hour. You'll only use one disk for this tart; freeze the other one for up to four months.
Let the dough rest at room temperature for 10 to 15 minutes so it softens slightly. Unwrap it and place it on a lightly floured work surface. Roll the dough into a round, using even pressure and turning the disk a quarter turn after each pass of the rolling pin. Flour the work surface and the dough very lightly as needed. Continue rolling until the dough is a shade more than ⅛-inch thick and very even.
With a docker or a sharp-tined fork, prick the entire surface of the dough. Gently roll the dough around the rolling pin and transfer it to a 9-inch tart pan. With the pricked side of the dough facing down now, unroll the dough round and drape it over the pan, taking care not to stretch it.
With your thumb, carefully push the dough down into the pan where the base and sides of the pan meet, and then push the dough carefully onto the sides of the pan, pinching to make neat, straight upper walls.
With a paring knife, trim off any overhang so the dough doesn't extend higher than the pan. Chill the lined tart pan for at least 1 hour.
Heat the oven to 325 degrees Fahrenheit. Cream the butter with an electric mixer until it's light and fluffy, about 5 minutes. Add the sugar and continue to cream well. Add the ground almonds, flour, and yolks, blending well after each addition. The mixture should be light and fluffy.
Put the frangipane in a pastry bag with a wide tip and pipe an even layer into the chilled tart shell.
Bake in the heated oven until the shell is thoroughly browned on the sides and the bottom and the frangipane is a deep gold, 40 to 50 minutes. Cool the tart, still in the pan, on a rack.
In a saucepan, heat the milk with the vanilla pod and seeds until it steams; let it steep, off the heat, for a few minutes. In a small bowl, whisk the egg yolks, sugar, and flour. Pour a bit of the hot milk into the yolks and whisk to blend.
Pour the yolk mixture into the rest of the milk and put the pan back on medium heat, whisking constantly and rapidly until the mixture boils; let it boil for 1 minute, still whisking, and then take it off the heat. Pour the pastry cream into a bowl; put a piece of plastic wrap directly on the surface of the cream and chill at least 1 hour. Beat the chilled pastry cream with a mixer or a wooden spoon until it's lighter, looser, and lump-free.
Whip the cream until it holds soft but definite peaks. Carefully fold the whipped cream into the pastry cream. Put the cream into a pastry bag with a wide tip and pipe an even layer into the shell.
Arrange the fruit in a pretty pattern, placing the pieces upright when possible. With a clean pastry brush, coat the fruit with a thin layer of the apple jelly to glaze.
3. Cupcakes with Piped Chocolate Decorations
Cupcakes are taken to a whole other level when they're topped with chocolate decorations. They look so much more polished and professional, and it gives you a chance to make art with chocolate! This recipe from Natasha's Kitchen makes moist chocolate cupcakes with chocolate Prague frosting, and has instructions for making the chocolate decorations. When it comes to the designs, you could free-hand it, doodle your own designs to trace under wax paper, or print out pre-made designs to trace under wax paper. The sky's the limit.
Ingredients:
Cupcakes
1½ cups all-purpose flour
¼ cup unsweetened cocoa powder
1 cup granulated sugar
1 teaspoon baking soda
½ teaspoon salt
1 cup warm coffee
1 tablespoon white vinegar
2 teaspoons vanilla extract
⅓ cup olive oil
Frosting
2 sticks of butter, room temperature
⅓ cup sweetened condensed milk
3 egg yolks
¼ cup water
⅓ cup semi sweet chocolate
Chocolate Designs 
½ cup chocolate of your choice
Directions: Whisk together 1½ cups flour, ¼ cup cocoa powder, 1 cup sugar, 1 teaspoon baking soda, and ½ teaspoon salt. In a separate bowl, mix together 1 cup coffee, 1 tablespoon vinegar, 2 teaspoon vanilla extract, and ⅓ cup olive oil.
Whisk the wet ingredients into the dry ingredients just until they come together.
Use an ice cream scoop to pour batter into your lined cupcake pan; They should be about ⅔ full. Bake 18 to 20 minutes on the center rack or until a toothpick comes out clean. Let cool in the pan 5 minutes and remove to cool on a rack.
In a small sauce pan, whisk together 3 reserved egg yolks, ¼ cup water, and ⅓ cup condensed milk.
Start heating the pan over low heat and gradually increase the heat until it's just letting off steam but not boiling. Whisk constantly until your mixture is the consistency of raw condensed milk. Remove the mixture from heat and immediately stir in ⅓ cup chocolate, whisking until smooth. Let your mixture cool off to room temperature.
In a separate bowl, beat butter on high speed for 5 minutes. Once chocolate is cooled to room temperature, add it to the butter and beat together for about 3 minutes. Pipe the frosting onto your cupcakes.
To make the chocolate designs, lay a sheet of parchment or wax paper on a flat surface. Melt ½ cup chocolate in the microwave or stovetop. Transfer your melted chocolate to your piping bag. Pipe your design onto your parchment paper. Let set and then press into cupcake frosting.
4. Mini Apple Pies
This recipe from Serious Eats results in seriously adorable and delicious mini apple lattice pies. Working with lattice can be difficult in any size, but these mini pies are luckily made more adorable by little mistakes, so no pressure! The recipe uses a standard-size muffin tin and makes 6 mini pies.
Ingredients:
1¾ pounds apples, washed, cored, and chopped into dime-size pieces
1½ tablespoons all-purpose flour
½ cup sugar
¼ teaspoon cinnamon
⅛ teaspoon salt
⅛ teaspoon nutmeg
⅛ teaspoon allspice
1½ tablespoons freshly squeezed lemon juice
½ teaspoon freshly grated lemon zest
1½ tablespoons unsalted butter
Directions: Make one recipe mini pie crust, then cut out and fit 6 circles into the muffin tin. Chill for 30 minutes. Adjust oven rack to middle position and preheat oven to 350 degrees Fahrenheit. Sprinkle the lemon juice over apple slices to prevent browning. Mix the flour, sugar, and spices together and add to the apple slices. Then add the lemon zest and butter, and mix.
Add the apple mixture to a baking dish and cover with aluminum foil. Bake for about 10 minutes. Remove foil, mix, and cool completely. Spoon the cooled apple filling into shells. Lay four strips of lattice horizontally over each mini pie, and four strips vertically. Trim the overhang of the lattice strips, then push the ends of the lattice into the edge of the shells.
Brush all exposed crust with cream or egg wash, and sprinkle liberally with coarse sugar. Bake pies for 20 minutes, then rotate and bake for 5 to 10 minutes, removing when they are very well browned.
After removing the mini pies from the oven, allow them to cool in the pan for 10 minutes. Place on a sheet pan and allow to cool completely.