5 Tasty Soup Recipes That Take Only 20 Minutes
As a general rule, every cook — amateur or professional — has a few cans of soup knocking around in his pantry, and these non-perishables are great to have on hand for last-minute lunches and dinners. A canned soup "makeover" can be as simple as adding a creative garnish (see PopSugar's advice) or experimenting with seasonings (Hungry Sam illustrates his trial-and-error process here).
Done the right way, the art of soup doctoring can yield some truly restaurant-worthy results. The next time your busy schedule makes cooking from scratch an impossibility, use any of the following five soup recipes to give those starter soups a flavor-loaded makeover — all in under 20 minutes!
1. Tomato Tortellini Soup
Are you tired of that same can of condensed tomato soup staring you in the face every time you open the pantry door? We've got an ideal solution for transforming that "blah" dish into something way better. Try preparing this tomato tortellini soup, shared by Linda Larsen of About Food's "Busy Cooks" series. Toss the soup into a pot, add in your tortellini and peas, then top off with cheese for a superb dish that's ready in just 15 minutes! The recipe yields 4 servings.
Ingredients:
2 (10-ounce) cans condensed tomato soup

1 (9-ounce) package frozen cheese tortellini or ravioli

1 cup frozen peas


½ cup grated Parmesan or cheddar cheese
Directions: Following the directions on the can, dilute the soup. Warm over medium heat until the soup boils, stirring frequently. Add tortellini and peas and bring to a simmer; cook 3 more minutes. The soup is done when the tortellini floats to the surface and is tender.
Garnish with Parmesan cheese and serve.
2. Mexican Chicken Noodle Soup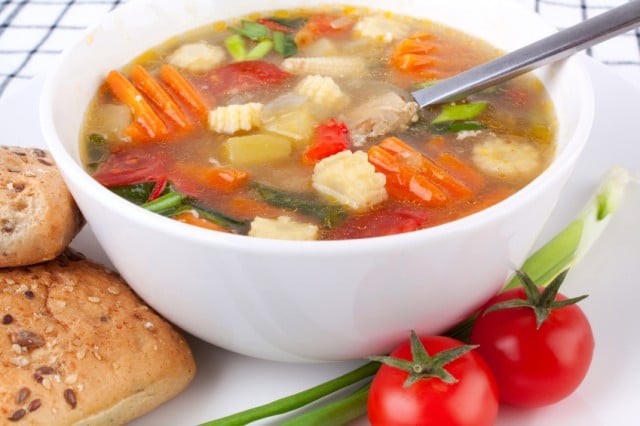 Give your standard chicken noodle soup a makeover with the help of sautéed red onions, garlic, carrots, and celery. For an exotic twist (and a bit of heat), add some Mexican-style guacamole seasoning along with a can of zesty Rotel diced tomatoes and green chiles. Leftover rotisserie chicken makes another excellent addition to this meal, boosting the protein content while simultaneously adding to the taste and texture of the dish. Finish off with some light seasonings and enjoy. This Mexican chicken noodle soup takes just 20 minutes to make and yields 6 servings.
Ingredients:
2 tablespoons red onion, chopped

1 large clove garlic, minced

1 carrot, chopped

1 rib celery, with leaves, chopped

1½ teaspoons spicy guacamole seasoning mix

1 can Rotel, undrained

1 family-sized can Campbell's Chicken Noodle Soup

½ tablespoon red pepper flakes, crushed


½ teaspoon freshly ground black pepper
Optional garnish

Chopped fresh cilantro

Crushed tortilla chips


Lime juice
Directions: Sauté onion and garlic in a large pot over medium heat until they start to soften, about 1 to 2 minutes. Add carrot, celery, and guacamole seasoning; cook until slightly softened, about 2 minutes.
Add Rotel, crushed red pepper, black pepper, soup, and 1 can of water. Increase heat to high and boil. Then reduce to a simmer. Add in leftover chicken. Simmer for at least 10 minutes. Serve and top with desired garnishes.
3. Bacon-Corn Chowder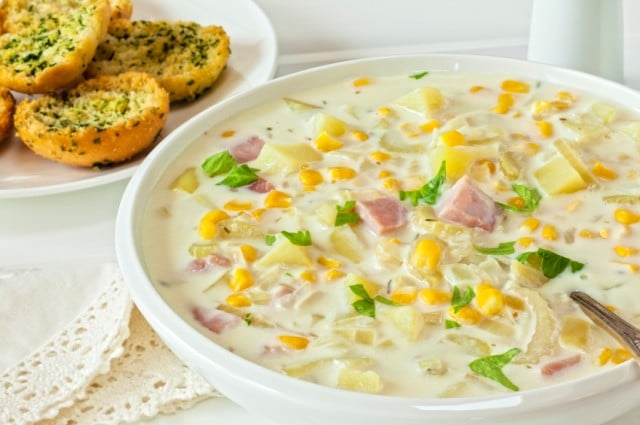 Four easy ingredients (plus oyster crackers) are all that's required to make this quick bacon and corn chowder by Real Simple. Give your cream of potato soup a makeover by combining it with milk of your preferred fat percentage (whole milk will result in a thicker, creamier dish; skim milk will yield a thinner consistency). Throw in a can of corn niblets and cook up with either ready-made or home-cooked bacon — 15 minutes later, you'll be seated at the table with a hot bowl of chowder just waiting to be eaten!
Ingredients:
4 slices ready-to-serve bacon

1 (10¾-ounce) can condensed Cream of Potato soup

1 cup low-fat or whole milk

1 (11-ounce) can corn niblets

Oyster crackers
Directions: Heat the bacon for 20 to 30 seconds in the microwave, and then set aside. In a saucepan, add the cream of potato soup, followed by milk and corn. Break up the cooked bacon into small pieces, then stir into the saucepan. Heat for 5 minutes or until the soup reaches a simmer. Serve with oyster crackers, if desired.

4. Parmesan Basil Tomato Soup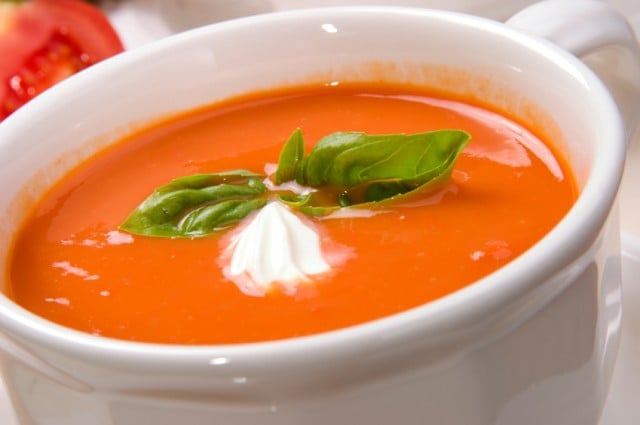 Still looking for a quick soup fix that strikes your fancy? Give this Parmesan-basil tomato soup from Allrecipes.com a whirl. Infuse the soup's tangy tomato base with sautéed onion and garlic, then add basil and rosemary (plus salt and pepper) to send the dish to elegant new heights. Garnish with Parmesan cheese for a warming, savory finish. If the results are thicker than your desired consistency, add a dash of water or milk. The recipe yields 2 servings and takes 20 minutes to make.
Ingredients:
1 tablespoon vegetable oil

¼ cup finely chopped onion

1 teaspoon minced garlic

1 (10¾-ounce) can condensed tomato soup

2 tablespoons grated Parmesan cheese

10 leaves fresh basil, chopped

½ teaspoon dried rosemary


Salt and ground black pepper, to taste
Directions: In a saucepan over medium-high heat, warm vegetable oil. Cook and stir onion and garlic until onion is tender, about 5 minutes. Stir in tomato soup, bringing to a boil. Add Parmesan cheese, basil, and rosemary. Season with salt and black pepper. Reduce heat to low and simmer for 5 to 10 minutes more.
5. Spicy Lentil-Sausage Stew
For a truly exciting twist on standard canned lentil soup, try The Oregonian's spicy lentil-sausage soup. This bold dish incorporates sautéed onions and leafy green lacinato kale (or spinach, if desired), plus diced tomatoes and green chiles for a comforting cold-weather meal. The dish also takes the Kitchn's soup doctoring advice into account, adding Italian sausages to enhance the stew's flavor while simultaneously "bulking up" the texture. The recipe yields 2 to 3 servings. If you prefer a dish without spiciness, replace the tomato-green chili mixture with tomato, basil, and garlic.
Ingredients:
2 teaspoons olive oil
½ cup chopped onion
1 bunch lacinato kale, washed and torn into small pieces, or 4 ounces fresh baby spinach
1 (19-ounce) can lentil soup
1 (10-ounce) can diced tomatoes and green chiles
2 fully cooked Italian sausages (about 8 ounces), sliced crosswise into coins
½ teaspoon dried Italian seasoning
Directions: Over medium heat, warm a medium saucepan. Add the oil, then the chopped onion, and cook until the onion is soft, about 3 to 4 minutes. Add the kale or spinach and cook until wilted, 1 to 3 minutes. Add the soup, canned tomatoes and green chiles, sliced sausage, and Italian seasoning. Bring soup to a simmer, cook 2 minutes, and serve.