Recipes Making a Second Meal Out of Leftover Pasta
It's easy to forget just how much pasta swells when it cooks, which means most of us end up with way too much of the starch for one meal. Throwing it out might be the easiest option, but that's such a waste of food and money. That doesn't mean you have to resort to nuking noodles in the microwave until they're flabby and bland, though. These six recipes take a variety of different pasta shapes and show you how to transform them into something completely different. They're also just as delicious as the first go-around was. When leftovers are this tasty, you might start cooking too much pasta on purpose.
1. Moroccan Pasta Salad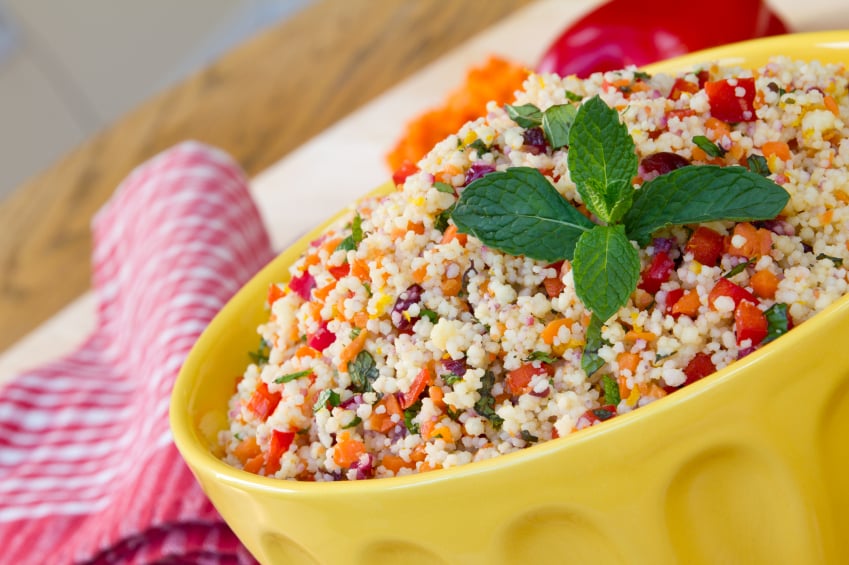 Often confused for a grain, couscous is actually a tiny pasta shape. It's perfect with some simply cooked fish or grilled chicken, but it's easy to end up with tons of extra. Give that plain pasta a complete makeover with this Moroccan-spiced side dish from Saveur. The starch will absorb all the flavors from preserved lemon, olives, ginger, cinnamon, and cumin. This recipe features carrot and onion for veggies, but you can use up anything from roasted cauliflower to wilted spinach. To turn it into a main dish, stir in some cooked chicken or beans.
Ingredients:
1 small onion, finely chopped
2 tablespoons fresh lemon juice
2 cups Israeli-style couscous, cooked, and cooled
1 medium carrot, finely chopped
½ cup green picholine olives, pitted, and chopped
½ cup preserved lemon, minced
½ teaspoon cinnamon
½ teaspoon cumin
½ teaspoon ground ginger
Salt and freshly ground black pepper
2 tablespoons chopped fresh parsley
Directions: In a large bowl, soak onion in lemon juice for about 5 minutes. Add remaining ingredients. Toss, and season with salt and pepper, to taste. Serve.
2. Spaghetti and Zucchini Pancakes
Reheated spaghetti is usually a mushy mess, but you can add tons of crispy texture by turning it into Real Simple's zucchini-flecked pancakes. Just cook some onion and zucchini, then mix them into the cooked pasta with some eggs and salty cheese. Divide the mixture into pancakes and fry in some olive oil until they're golden on both sides. A little bit of marinara, homemade or store-bought, completes the dish.
Ingredients:
8 ounces spaghetti, cooked, and cooled
¼ cup plus 1 tablespoon olive oil
1 onion, chopped
medium zucchini, grated
2 eggs, lightly beaten
¾ cup grated pecorino cheese
1 cup marinara sauce, warmed
Directions: Heat 1 tablespoon oil in a large skillet over medium-high heat. Add onion and zucchini, and cook until soft, 6 to 8 minutes.
Combine spaghetti, eggs, pecorino, and vegetables in a medium bowl. Season with salt.
Heat remaining oil in a large skillet over medium heat. Working in batches, cook ½-cup portions of mixture until golden and crisp, 3 to 4 minutes. Flip and cook until second side is browned, an additional 3 to 4 minutes. Serve with sauce.
3. Crustless Mushroom and Linguine Quiche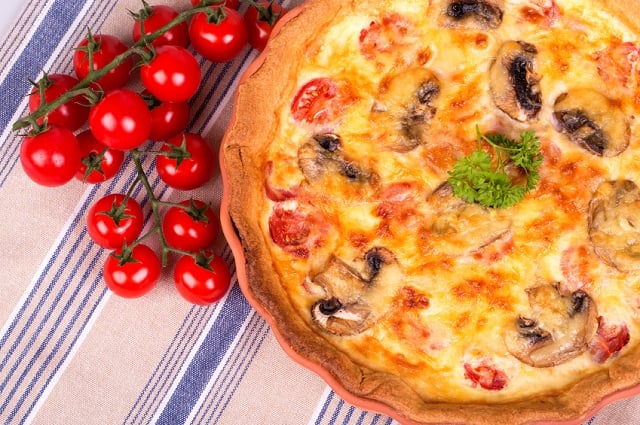 Richer than a frittata, quiche is a brunch favorite with a custard-like texture that's irresistible. Though it usually involves a complicated crust, the filling bakes just as well without a pastry lining. When you're stuck with leftover linguine, Epicurean Escapism by Ovenhaven's crustless quiche is the perfect way to use it up. Trim the pasta into smaller pieces and then drop into a pie plate. Mix together the eggs, milk, and flour. Add the tomatoes and mushrooms, then pour on top of the pasta. Sprinkle on some cheese, then bake for about 40 minutes. This dish is so elegant, you could even serve it to company. No one will suspect they're chowing down on leftovers.
Ingredients:
1 cup button mushrooms, sliced
2 medium tomatoes, chopped
½ cup grated mozzarella cheese
1 cup cooked linguine, cut into small pieces
1½ cups milk
⅓ cup flour
4 eggs
1 teaspoon salt
1 teaspoon paprika
Black pepper
Directions: Preheat oven to 350 degrees Fahrenheit. Line bottom of a greased 8-inch baking pan with linguine pieces.
Mix eggs, milk, and flour in a medium bowl to combine. Add mushrooms and tomatoes, and pour mixture into prepared pan. Gently jiggle pan to allow egg to settle to bottom. Sprinkle with cheese, and bake 35 to 44 minutes, until egg is set and top is golden.
4. Cheesy Tortellini Bake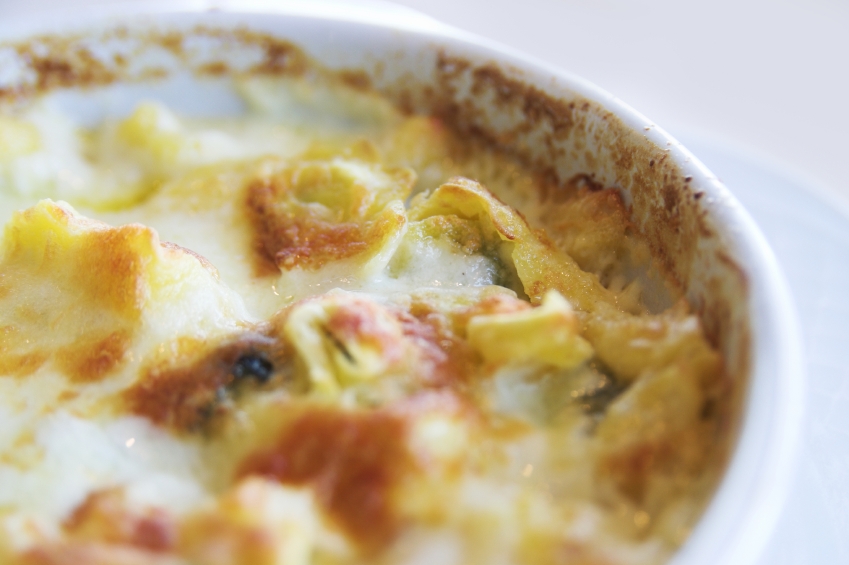 Filled with ham, broccoli, and a cheesy sauce, this pasta bake from Center Cut Cook is a one-dish meal that's perfect to make in advance for a busy weekday. Though this dish is fantastic as written, consider it a guide to use whatever is sitting in your fridge. Try using smoked turkey or rotisserie chicken. You can also swap in different cheeses and veggies. It also works just as well with meat tortellini.
Ingredients:
Casserole
1 pound cheese tortellini, cooked
4 tablespoons unsalted butter
4 tablespoons all purpose flour
½ cup heavy cream
1½ cups milk
½ teaspoon salt, plus more
½ teaspoon black pepper, plus more
2 cups shredded smoked Gouda cheese, divided
2 cups shredded sharp cheddar cheese, divided
1 pound ham, cut into small cubes
8 to 10 ounces cooked broccoli
Topping
3 tablespoons unsalted butter, melted
¾ cup panko bread crumbs
¼ cup shredded smoked Gouda cheese
¼ cup shredded sharp cheddar cheese
Directions: Preheat oven to 350 degrees Fahrenheit. Place tortellini in a large bowl. Set aside. Grease a 9-by-13-inch baking dish.
Melt 4 tablespoons butter over medium heat in a large nonstick skillet. Add flour, and whisk, allowing to cook for a few minutes. Slowly whisk in cream, then milk, continuing to whisk. Reduce heat to low, and slowly add 2 cups each of Gouda and cheddar. Add in ham and broccoli. Pour sauce over tortellini, stir to combine. Transfer to prepared baking dish.
In a small bowl, combine melted butter and panko for topping. Sprinkle in ¼ cup each Gouda and cheddar. Mix to combine. Sprinkle topping over casserole. Bake for 25 to 30 minutes, then broil for a few minutes, until topping is golden. Allow to cool slightly. Serve.
5. Fried Orzo with Leftovers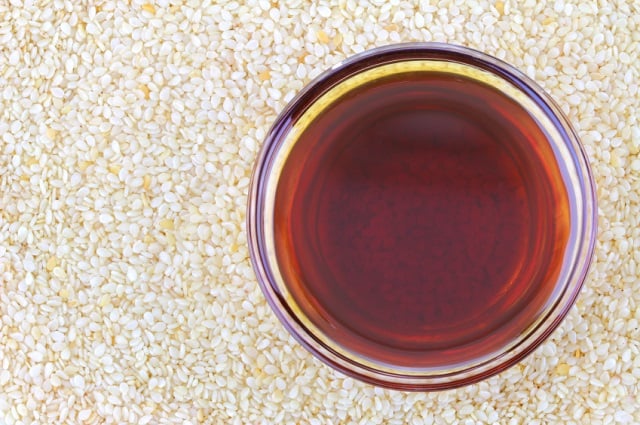 Fried rice is the clear way to use up leftovers of the white grain, but you can actually use cooked orzo in exactly the same way. This simple recipe from SheKnows shows you how to do it with just a handful of ingredients. First, scramble some eggs, then use the same pan to heat up some meat and veggies. Add the eggs and pasta to the mix, and season it with soy sauce and a little bit of sesame oil. In a few minutes, you'll have a completely satisfying meal.
When buying sesame oil, you might see a few different varieties. Make sure that the label says toasted to ensure you're getting the most flavorful product. You can even find versions infused with chiles if you like a kick. Try tossing in some fresh jalapeños if you like things really spicy.
Ingredients:
4 cups cooked orzo
Leftover cooked chicken and vegetables, chopped
½ cup frozen green peas
3 eggs, lightly beaten
1 tablespoon canola oil, divided
1 tablespoon toasted sesame oil
Soy sauce
Pinch of sugar
Salt
Freshly ground pepper
Directions: Heat sesame oil and half of canola oil in a large skillet over medium heat. Once shimmering, add eggs, and cook until just set. Remove eggs from pan.
Add remaining canola oil to pan, then add chicken, vegetables, and peas. Stir-fry mixture until warmed through, about 3 minutes. Add orzo and eggs. Cook for an additional 3 minutes, until hot. Season with soy sauce, sugar, salt, and pepper, to taste. Serve.
6. Spaghetti Pie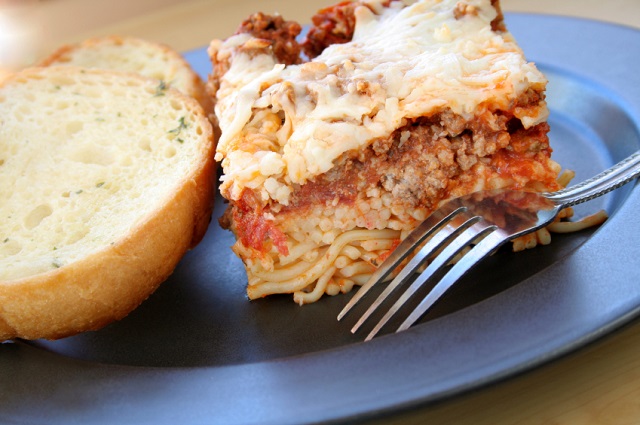 Turn spaghetti into a sliceable supper with this satisfying pie from Taste of Home. Cooked pasta forms a crust when mixed with egg whites and Parmesan cheese. A layer of cottage cheese offers a creamy texture, while a hearty meat sauce gives it some staying power. Top the dish off with some cheese, then bake until bubbling and melted. All you need is a simple salad on the side to complete a meal that will feed the whole family.
Ingredients:
1 pound ground beef
½ cup finely chopped onion
¼ cup chopped green pepper
1 cup canned diced tomatoes, undrained
1 (6-ounce) can tomato paste
1 teaspoon dried oregano
¾ teaspoon salt
½ teaspoon garlic powder
¼ teaspoon sugar
¼ teaspoon black pepper
6 ounces spaghetti, cooked, and drained
1 tablespoon unsalted butter, melted
2 egg whites, lightly beaten
¼ cup grated Parmesan cheese
1 cup cottage cheese
½ cup shredded mozzarella cheese
Directions: Preheat oven to 350 degrees Fahrenheit. In a nonstick skillet over medium-high heat, cook beef, onion, and green pepper over medium heat until meat is fully cooked; drain. Stir in tomatoes, tomato paste, oregano, salt, garlic powder, sugar, and pepper. Set aside.
In a large bowl, mix spaghetti with butter, egg whites, and Parmesan. Press into a greased 9-inch deep-dish pie plate, making sure to cover sides. Spread cottage cheese over noodles. Top with beef mixture. Bake 20 minutes. Sprinkle with mozzarella, and bake an additional 5 to 10 minutes, until cheese melts and filling is completely cooked. Let stand 5 minutes. Serve.