Easy Recipes Using Store-Bought Puff Pastry
Certain doughs, like puff pastry, are laminated. No, not coated in plastic, but in butter; layers of butter or other baking fats are incorporated in thin sheets to keep many layers of dough separate so they puff up and become flaky in the oven. While homemade can get you the best buttery flavor, it's also a total pain: It takes hours, rolling thickly folded chilled dough is hard, and a lot can go wrong. Luckily, we have the advantage of store-bought puff pastry!
When looking for puff pastry in the store, pay attention to the ingredient list. Brands like Dufour use butter to laminate the dough, while brands like Pepperidge Farm use shortening. Pepperidge Farm has the benefit of being lactose free and vegan, but it also doesn't have the decadent flavor of puff pastry made with butter; in fact, you can really miss out on flavor if you take something that's supposed to be made with layer upon layer of butter and replace it with flavorless vegetable shortening. Both brands have great attributes, though. A shortening pastry sheet has good lift in the oven and reliable flaking, and is perfectly acceptable for a recipe where it's not the star, the toppings are. A butter pastry sheet will have amazing flavor and is great for applications where the pastry truly matters, though the Serious Eats food lab crew found that it doesn't always bake evenly.
Pick up a couple boxes from your grocery store's freezer aisle and get cooking! Here are seven recipes for your puff pastry.
1. Spinach and Feta Puffs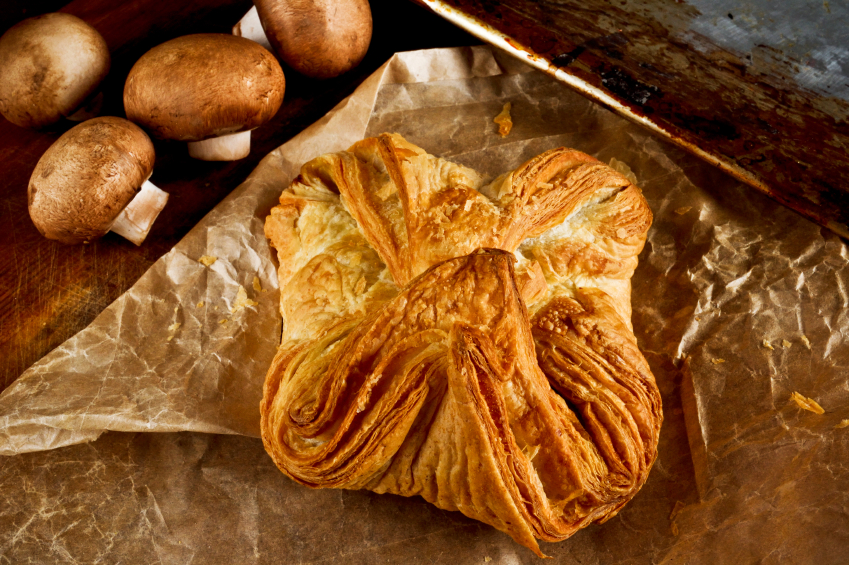 These little wrapped packages of spinach and cheese from Bon Appétit via Epicurious are extremely versatile. The puffs are baked in muffin tins to hold their purse-like shape during cooking, and different sized puffs in various muffin tins will produce different effects. In a mini muffin tin, they're perfect appetizers. In a regular muffin tin, they make a great addition to any brunch spread or a light lunch with a side of soup. They can replace both your vegetable side and dinner rolls in one fell swoop. In jumbo tins, these puffs become a vegetarian meal. Choose your own spinach and cheese adventure!
Ingredients:
1 (10-ounce) package frozen chopped spinach, thawed
½ cup crumbled feta
¼ cup minced onion
1 tablespoon olive oil
1 teaspoon chopped dill
1 teaspoon minced garlic
Kosher salt and freshly ground black pepper
2 large eggs
1 sheet frozen puff pastry, thawed, rolled out to a 12-inch square, kept chilled
Directions: Preheat oven to 400 degrees Fahrenheit. Squeeze spinach until dry, using your hands, forcing out as much water as possible. In a medium bowl, mix spinach and next 5 ingredients. Season with salt and pepper, to taste. Beat 1 egg to blend in a small bowl; fold into spinach mixture.
Cut puff pastry into 3 equal strips. Reserve 1 strip for another use. Cut each remaining strip into 3 squares, so you have a total of 6. Place a square in each muffin cup, pressing into bottom and up sides and leaving corners pointing up. Divide filling among cups. Fold pastry over filling, pressing corners together to meet in center.
Beat remaining egg to blend in a small bowl. Brush pastry with egg wash. Bake until pastry is golden brown and puffed, about 25 minutes. Transfer to a wire rack; let puffs cool in pan for 10 minutes. Run a sharp paring knife around pan edges to loosen; turn out puffs onto rack to cool slightly before serving.
2. Fresh Tomato and Cheese Puff Pastry Tart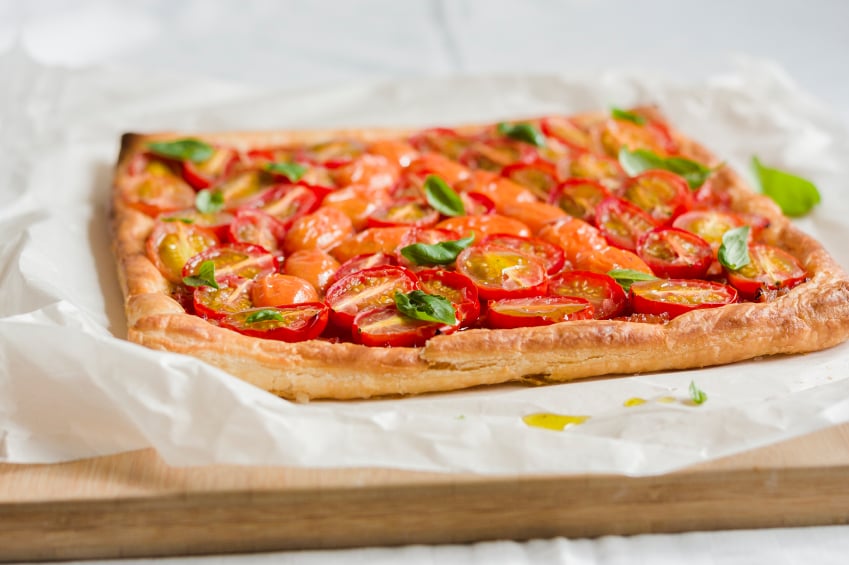 This tart from Chowhound is a low-fuss recipe. It's easy to throw together but comes out elegant and delicious. The syrupy glaze is a combination of bright acidity and balancing sweetness and perfectly rounds out the richness of the pastry and creaminess of the cheese. Make this as a light meal with a salad or a first course.
Ingredients:
1 (14- to 16-ounce) package frozen puff pastry, thawed according to the package directions
1 large egg, lightly beaten
2 tablespoons balsamic vinegar
1 teaspoon honey
¼ cup ricotta cheese
3 tablespoons goat cheese
Kosher salt
Freshly ground black pepper
1 pound grape and cherry tomatoes, halved
Directions: Preheat oven to 400 degrees Fahrenheit and arrange a rack in the middle. Line a baking sheet with parchment paper; set aside.
Cut the puff pastry into six 4-inch squares; place on the prepared baking sheet. Brush with a thin coating of egg, and then bake until golden and puffed, about 20 minutes.
Over medium heat in a small saucepan, bring the balsamic vinegar and honey to a simmer. Cook until reduced and syrupy, about 3 to 5 minutes; set aside.
In a medium bowl, place the ricotta and goat cheese, season with salt and pepper, and mix until evenly combined. Divide mixture evenly amongst the puff pastry squares and spread into an even layer. Divide the tomatoes over the cheese and season with salt and pepper. Drizzle with the vinegar reduction, and serve.
3. Nutella Croissants
These croissants contain three ingredients and take about 30 minutes to make. Puff pastry dough isn't quite as tender as true croissant dough, but it's about 1 million times easier to unfreeze a sheet of puff pastry than it is to make croissant dough, so these win. They're perfect right out of the oven when the Nutella is still molten, but they're just as delicious cooled into little flaky crescent-shaped packages of Nutella goodness. Whether they're destined to be a sweet breakfast, a little coffee break treat, or an adorable dessert, these croissants from Gimme Some Oven are a must-make.
Ingredients:
1 package store-bought puff pastry, thawed but still cool
¾ cup Nutella
1 egg plus 1 tablespoon of water, beaten
Directions: Preheat oven to 350 degrees Fahrenheit. Prepare a baking sheet by lining it with parchment paper or spraying with cooking spray.
Lightly flour a flat surface.  Spread out the puff pastry sheet so that it is flat. Roll out the puff pastry until it is smooth and even. Using a pizza cutter or knife, cut the puff pastry along the three folding lines into thirds. Then cut each long rectangle into two long triangles. You want six triangles total.
On the wide end of the traiangle, place about 1 tablespoon of Nutella, and use a spoon to spread it out just a bit over the triangle. Leave at least a ½-inch border all the way around the edges of the triangle. Then, beginning with the wide end of the triangle, roll the dough up into a croissant shape. Place on a baking sheet, and turn in the edges of the dough slightly to make a crescent shape.
Repeat with the remaining five triangles. Then repeat with the second sheet of puff pastry and remaining Nutella. In a separate bowl, whisk together the egg and one tablespoon of water until combined. Then liberally brush the egg mixture onto the top of each croissant.
Bake for 20 to 25 minutes, until the croissants are golden and flaky.
4. Puff Pastry Jalapeño Poppers
Rather than frying your poppers, do something way easier and a bit healthier: Wrap them in puff pastry and bake them. These jalapeño poppers from Rachel Schultz feature a mix of cheddar and cream cheese as well as bacon crumbles, which can be left out for vegetarian snacks. They're perfect for game days, parties, and days when you just need something to snack on.
Ingredients:
12 jalapeños, halved and seeds removed
1 box puff pastry, thawed
8 ounces cream cheese
½ cup bacon pieces
1 cup cheddar, shredded
4 cloves garlic
1 egg
Olive oil
Directions: Preheat oven to 400 degrees Fahrenheit. Drizzle olive oil on garlic cloves and wrap in aluminum foil. Roast in oven for 30 minutes.
Unfold thawed pastry sheet and roll into a 9-by-12-inch rectangle. Slice each sheet into 12 (3-by-3-inch) squares. You'll have 24 squares total. Mix together cream cheese, bacon, cheddar, and garlic in a large bowl. Spoon cream cheese filling into jalapeño halves.
Wrap pastry squares around stuffed jalapeños and arrange on a baking sheet. Whisk together egg and 3 tablespoons water. Brush egg mixture over poppers. Bake for 20 minutes.
5. Banana Tarte Tatin
The tarte tatin is a classic French dessert traditionally made with apples and puff pastry, reimagined here by Saveur with bananas. With the caramelized sugar and butter sauce and soft, sweet bananas, this dessert is like an upside-down bananas foster tarte. Use bananas that are ripe but not speckled for this recipe to avoid getting banana mush when you turn out the tarte at the end. To make this even easier, adapt the size of pastry to your favorite oven-proof pan and bake it straight in the skillet.
Ingredients:
¾ cup superfine sugar
4 tablespoons unsalted butter
1 teaspoon orange zest
¼ teaspoon ground cinnamon
4 to 5 firm-ripe bananas, halved lengthwise
1 (14-ounce) package frozen puff pastry, thawed
Vanilla ice cream, for serving
Directions: Arrange an oven rack in the top third of oven and preheat oven to 400 degrees Fahrenheit. In an 8-inch skillet over medium heat, cook sugar and butter, swirling skillet often, until mixture is deep golden brown, 8 to 10 minutes. Remove from heat and stir in orange zest and cinnamon; pour caramel mixture into a 7½-by-12-inch baking dish and spread to cover the bottom. Lay bananas cut side up over the caramel, cutting pieces as needed to fit in the baking dish.
Unfold puff pastry sheet over bananas, trimming edges of pastry to fit the dish, and tuck in the edges. Prick pastry sheet all over with a fork. Bake until pastry is puffed and golden brown and caramel is bubbling around the edges of the dish, about 30 minutes. Transfer baking dish to a rack and let cool for 2 minutes.
To serve, place a serving platter or baking sheet upside down over the baking dish and carefully invert tart onto platter or sheet. Cut tart into large squares and serve.
6. Parmesan Puff Pastry Straws
These cheese straws from Martha Stewart make great elegant party snacks as well as really fun snacks for kids. They're crispy and airy at the same time. This recipe makes a trio of parmesan straws: just cheese, cheese and poppy seeds, and cheese and cayenne.
Ingredients:
All-purpose flour, for surface
1 package puff pastry
1 large egg, lightly beaten
1 ounce Parmesan cheese, grated
¼ teaspoon coarse salt
½ teaspoon poppy seeds
½ teaspoon cayenne pepper
Directions: Preheat oven to 425 degrees Fahrenheit. Line 2 baking sheets with parchment.
On a lightly floured surface, roll puff pastry into a 12-by-16-inch rectangle. With the long side facing you, lightly brush bottom half of rectangle with some of the beaten egg. Sprinkle ¼ cup Parmesan and the salt on top half. Fold bottom half over top half. Gently roll dough to seal.
Cut rectangle lengthwise into thirds. Sprinkle remaining 1 tablespoon Parmesan on 1 strip, poppy seeds on another, and cayenne on remaining strip. Cut each strip lengthwise into eight ¼-by-16-inch strips.
Place strips to baking sheets, spacing 1 inch apart. Working with 1 strip at a time, hold each end with your fingers, and carefully twist strip in opposite directions, forming a spiral. Press ends of strips against parchment to prevent unraveling. Freeze or refrigerate until strips are very firm and cold, about 15 minutes.
Bake 1 sheet at a time, rotating halfway through, until straws are golden brown and cooked through, 12 to 14 minutes. Transfer straws to wire racks, and let cool.
7. Plum Tarts With Honey and Black Pepper
Considering that you probably have honey and black pepper in your cabinet, these rustic-chic tarts from Bon Appétit are a two-ingredient tart, requiring only puff pastry and stone fruit. Though this iteration calls for plums, you can also use peaches, nectarines, or apricots.
Ingredients:
1 sheet frozen puff pastry, thawed according to package directions
1 pound red plums, apricots, or peaches, pitted, cut into ½-inch wedges
¼ cup sugar
Freshly ground black pepper
1 tablespoon honey
Flaky sea salt
Directions: Preheat oven to 425 degrees Fahrenheit. Cut pastry into six 4-inch squares, place on a parchment-lined baking sheet, and prick all over with a fork. Top with plums, leaving a ½-inch border. Sprinkle with sugar; season with a few grinds of pepper.
Bake tarts, rotating pan halfway through, until edges of pastry are puffed and golden brown, 25 to 30 minutes. Drizzle with honey and sprinkle with salt just before serving.