4 Delicious Semi-Homemade Mexican Dinner Recipes
Mexican food is a favorite cuisine for many families, and luckily for the kitchen chefs of the house, it's easy to put on the table. Some Mexican recipes should be made from scratch, while others can enlist shortcuts that make them easier but just as appealing. Next time a Mexican craving strikes, and you're short on time, check out these four Mexican dinners that are only semi-homemade. They're easy, delicious, and in some cases, even nutritious.
1. Mexicali Enchiladas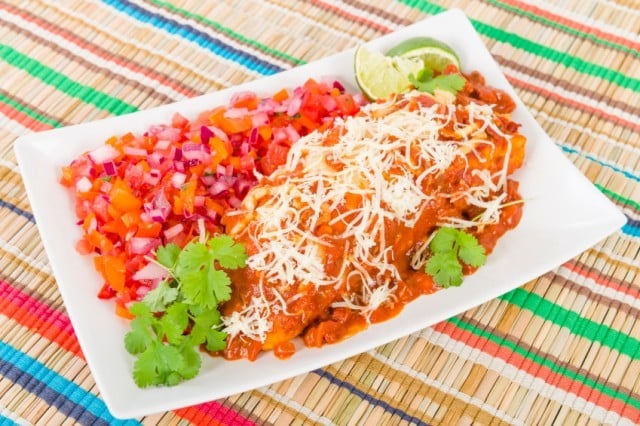 This enchilada recipe highlighted on Food Network will cure your Mexican craving fast but doesn't require a lot of grunt work. Buying your chicken breasts pre-cooked is key, and taking a shortcut with the enchilada sauce doesn't hurt either. Taking only 55 minutes to make, these enchiladas can be on the dinner table in no time, and they only require 15 minutes of prep time.
Ingredients:
1 package corn tortillas
2 cooked chicken breasts, chopped
3 bags shredded Mexican cheese blend
1 large yellow onion, diced
2 tablespoons cleaned and roughly chopped cilantro leaves
3 cans enchilada sauce, divided
Sour cream sauce
1 tablespoon butter
¼ cup chicken broth
Pinch ground cumin
1 teaspoon minced garlic
1½ cups sour cream
Pinch salt
Directions: Preheat oven to 400 degrees Fahrenheit. Wrap corn tortillas in wet paper towels and microwave for 45 seconds. Combine chicken, 1½ bags of cheese, onion, cilantro, and 2 cans of enchilada sauce in a large bowl, and mix well. Add the cilantro; stir to combine. Cover the bottom of a large baking dish with half of the remaining enchilada sauce.
Spoon mixture into tortillas, roll up and place seam side down in the baking dish. Cover the top with the other half can of the enchilada sauce and the rest of the cheese. Bake for 35 to 40 minutes. Serve with sour cream sauce.
To make the sour cream sauce, add butter to a saucepan over medium heat. While the butter is melting add the chicken broth, cumin, garlic, and sour cream. Whisk to combine; season with salt, bring to a boil and remove from the heat.
2. Beef and Bean Burritos
This recipe from Food.com takes only 15 minutes to prepare and is the result of easy shortcuts such as canned chili, refried beans, taco seasoning, and a prepackaged cheese blend. There's a time and a place for everything, but you should never be so short on time that you can't enjoy burritos.
Ingredients:
1 pound lean ground beef
1 small white onion
8 tortillas
15 ounces refried beans
15 ounces hormel chili
1 cup monterey jack and cheddar cheese blend
1 tablespoon taco seasoning
1 tablespoon extra-virgin olive oil
Directions: Preheat oven to 350 degrees Fahrenheit. In a nonstick skillet, heat the olive oil. Add diced onion to the skillet for a few minutes; don't let the onions get transparent. Add ground beef. When the meat is browned, add taco seasoning, following the package directions.
Spoon re-fried beans and taco meat onto each tortilla, and roll into burritos. Spray a 9-by-13 baking dish with nonstick cooking spray. Arrange burritos in the dish. Pour the chili over the burritos. Spread the cheese evenly over the top and place onto the top rack in the oven. Bake for 25 to 35 minutes.
3. Taco Salad with Homemade Tortilla Bowls
Our next highlighted recipe is a slightly healthier one, and it comes from Two Peas and Their Pod. Mexican food doesn't have to be diet-devastating and this recipe for taco salad proves it. Homemade tortilla bowls take greens and beans up a notch, and provide a fresh and healthy vehicle for your Mexican dinner.
Ingredients:
6 oven safe bowls
Cooking spray
6 burrito size flour tortillas
Shredded cheddar cheese, optional
Lettuce
Black beans, rinsed, drained, and heated
Tomatoes, diced
Green onion, chopped
Cilantro, chopped
Shredded cheese
Creamy Avocado Dressing
Directions: Preheat oven to 375 degrees Fahrenheit. Spray oven-safe bowls with nonstick cooking spray. Press a tortilla in each bowl. Place the bowls on baking sheets, and bake for 14 to 16 minutes. If you plan to use cheese, remove the tortilla bowls from oven 2 to 3 minutes before they are done baking. Sprinkle with cheese and return to oven. Allow cheese to melt before removing from the oven. Let tortilla bowls cool in bowls before removing. Add lettuce and assorted toppings into the bowls, serve, and enjoy.
4. Tortilla Casserole
We're concluding with a casserole found on Food Network. Tortilla Casserole is the easy Mexican dish of your dreams, and it tastes sophisticated even though it is simple. Enlisting corn tortillas, ground turkey breast, taco seasoning, and a handful of seasonings, this casserole comes together in no time and won't yield any sweat in the kitchen.
Ingredients:
8 corn tortillas
1¼ cups chicken broth, divided
2 tablespoons olive oil
1 cup frozen chopped onions
1 cup frozen chopped green pepper
1½ tablespoons minced garlic
1 package fresh sliced mushrooms
1 pound ground turkey breast
2 cups plain yogurt
1 can diced tomatoes
3 tablespoons fine flour
2 tablespoons chili seasoning
1 can artichoke hearts in water, drained and chopped
1½ cups organic shredded jack cheese
½ cup crushed baked tortilla chips
Directions: Preheat oven to 350 degrees Fahrenheit. Place tortillas in a pie plate with 1 cup broth. Turn occasionally so all tortillas are soaked; set aside. Add olive oil to a large nonstick skillet over medium-high heat. Saute onions, peppers, garlic and mushrooms for 5 minutes, until slightly browned. Add turkey and cook until turkey is cooked through.
Add ¼ cup chicken stock and remaining ingredients, except cheese and tortilla chips. Stir and bring to a boil. Reduce heat and simmer for 5 minutes. Place 4 soaked tortillas in the bottom of prepared baking dish, tearing to fit. Layer half of turkey mixture and half of cheese. Repeat layers. Top with crushed tortilla chips. Place in oven and bake for 30 minutes.