Say Yes to Yogurt: 6 Lightened-Up Desserts That Went Greek
Greek yogurt isn't only for breakfast — it's for dessert, too. Packed with protein, the thick, creamy dairy product has become a popular substitute in desserts, standing in for fats and creams to lighten up brownies, cakes, breads, and cookies. Subbing in yogurt for cream, mayonnaise, and other high-fat options can bring down the fat and calorie content of our favorite baked goods, and it can also boost their nutritional profiles. No wonder the tubs and cups are frequently sold out in grocery stores. Here are six recipes that many people are enlisting to incorporate yogurt into their desserts.
1. Greek Key Lime Pie
Greek yogurt is the star ingredient in Oikos's recipe for Greek Key Lime Pie, calling for one full cup of the dairy product, with no mention of any butter or cream. Now that warmer temperatures are blowing in, key lime pie is the perfect dessert to serve to guests and family members, and this version, with Greek yogurt, makes it even more bikini season-friendly. What's more, the pie requires no baking time, so you don't even have to worry about warming up your kitchen when the last thing you need is more heat. Do everyone a favor: skip the butter and cream in your next dessert and whip up this Greek Key Lime Pie instead. No one has to know they're that much closer to hitting their protein requirement for the day.
Ingredients:
5 egg yolks
1 cup Oikos Greek yogurt, vanilla
14 ounces sweetened condensed low-fat milk
1/4 cup lime juice or key lime juice
1 tablespoon lime zest
9-inch prepared graham cracker crust
low-fat whipped cream for topping
Directions: Preheat oven to 350 degrees Fahrenheit. Blend or whisk together the egg yolks, Greek yogurt, condensed milk, lime juice, and zest. Pour filling into graham cracker crust and bake for 15-18 minutes until set. Cool in refrigerator for at least one hour before topping with whipped cream and a slice of lime.
2. Lemon Poppy Seed Yogurt Cake
If you're not going to go lime, go lemon with this Lemon Poppy Seed Yogurt Cake from Eat Live Run. It just about screams spring, is full of fresh flavor, and even incorporates Greek yogurt to give the dessert an extra protein punch. No one is in the mood for heavy after-dinner sweets once the sunny season rolls around, and you'll crush every guest's fresh and fruity craving with this delightfully simple poppy seed yogurt cake.
Ingredients:
2 cups all-purpose flour
2 teaspoons baking powder
3/4 teaspoon salt
1/4 teaspoon baking soda
1 stick unsalted butter, room temperature
1 cup sugar
2 eggs
1 teaspoon vanilla extract
1 cup whole fat (preferably organic) yogurt
2 tablespoons poppy seeds
2 tablespoons fresh lemon juice and zest of 1 large lemon
For glaze
juice of 1/2 large lemon
enough powdered sugar to make a drizzle
Directions: Preheat oven to 350 degrees Fahrenheit. Butter and flour a bundt pan and set aside. In a mixing bowl, whisk together the flour, baking powder, baking soda, salt, poppy seeds, and lemon zest. Set aside. In another bowl, cream together the butter and sugar until light and fluffy. Add the eggs, one by one, followed by the vanilla and the lemon juice. Add dry ingredients along with yogurt and mix until a thick batter forms. Spread batter (it will be thick!) into your prepared pan. Place in oven and bake for 40-45 minutes, until golden and springy. Let cool 5 minutes in the pan before inverting on a cooling rack. Let cool completely while you make the glaze.
To make the glaze, simply mix together the lemon juice and powdered sugar until you have a drizzle. Carefully poke holes all over the cake with a fork, then spoon the drizzle on top, letting it down down the sides. Glaze will harden as it cools.
3. Carrot Cake Muffins
Thanks to Greek yogurt, carrot cake can be healthy, too. Simply sub in some yogurt and applesauce in place of butter, and you have a guilt-free treat on your hands. Add in carrots and you're practically serving up health food — another excuse to eat two! Reserve your butter-laden carrot cake for the winter months and try these lightened-up Carrot Cake Muffins from the Little Spice Jar this spring. Your tastebuds will be singing, and no muffin top will be springing.
Ingredients:
1 cup whole-wheat flour
1 cup all-purpose flour
2 teaspoons baking soda
1/2 teaspoon salt
1/2 tablespoon cinnamon
1/2 teaspoon ginger powder
3/4 cup coconut oil
1 cup light brown sugar, packed
1/2 cup apple sauce (no sugar added or unsweetened)
1/4 cup Greek yogurt (any fat amount, 1 percent or 2 percent)
3 large eggs, room temperature
2 teaspoon vanilla extract
2 cups carrots, finely shredded
1/2 cup shredded sweetened coconut
1/2 cup raisins
1/2 cup walnuts, chopped
1/4 cup oats
Directions: Put 2 racks in the center of the oven and preheat to 350 degrees Fahrenheit. Line cupcake baking pan with liners, sprinkle half the oats on the liners, and set aside. In a medium bowl, sift together whole-wheat flour, all-purpose flour, baking soda, cinnamon, ginger, and salt, and set aside. In a large bowl with a handheld or stand mixer on medium speed, combine the brown sugar and oil. Beat in the yogurt and apple sauce until fully combined, about 1 minute. Mixture will be gritty and thin.
Add the eggs one at a time, beating well after each addition. Mix in the vanilla. With a spatula, manually stir the dry ingredients into the wet ingredients until just combined and all flour pockets are gone — do not overmix. Fold in the finely shredded carrots, shredded coconut, raisins, and walnuts. Pour into prepared cupcake pans. Sprinkle the remaining oats on top. Bake for 20-23 minutes or until a toothpick inserted in the center comes out clean or with just a few crumbs.
4. Greek Yogurt Chocolate Chip Cake
You've probably heard of bakers incorporating sour cream into their tried-and-true recipes, but that ingredient, too, can be replaced by Greek yogurt, resulting in a dessert that is low in fat and high in protein, like this Greek Yogurt Chocolate Chip Cake from the Cake Mix Doctor. Not only does the recipe developer behind this sweet treat use yogurt for the cake dough, she also uses it in her buttercream frosting and still comes out with a mouth-watering result. Who needs fat when you have protein?
Ingredients:
For cake
1 package (15.25-26.2 ounces) chocolate cake mix
1 cup plain low-fat Greek yogurt
2/3 cup water
1/2 cup vegetable oil
3 large eggs
1 cup miniature semisweet chocolate chips
For garnish
1 cup fresh raspberries
1 teaspoon confectioners' sugar
For frosting
4 tablespoons butter, at room temperature
4 tablespoons low-fat or fat-free plain Greek yogurt
1 teaspoon vanilla
4 1/2 to 5 cups confectioners' sugar, sifted
Directions: For cake, place a rack in the center of the oven and preheat oven to 350 degrees Fahrenheit. Mist a 12-cup Bundt with vegetable oil spray and dust with flour. Shake the excess flour from the pan and set it aside. Place the cake mix, yogurt, water, oil, and eggs in a large mixing bowl and blend on medium speed until smooth, 1 to 1 1/2 minutes. Scrape the sides of the bowl and fold in the chocolate chips.
If desired, add a pinch of cinnamon or a 1/2 teaspoon almond extract to the batter and stir to combine. Pour the batter into the prepared pan and place the pan in the oven. Bake until the cake springs back when lightly pressed in the center, 50-55 minutes. Let the cake rest on a rack in the pan for 15-20 minutes, then run a knife around the edges, shake the pan to loosen the cake, and invert the cake onto a rack to cool completely, 30 minutes. Slice and serve with fresh raspberries and a dusting of confectioners' sugar.
For frosting, place the soft butter and yogurt in a large bowl and beat with an electric mixer on medium high until combined, 30 seconds. Add vanilla and 1 cup of the confectioners' sugar and beat on low until just combined. Add the rest of the sugar, 1 cup at a time, until well combined. Beat on high 1 minute to incorporate the sugar well. Cover and chill the frosting 15 minutes before frosting a cake. This thinly frosts a two-layer cake.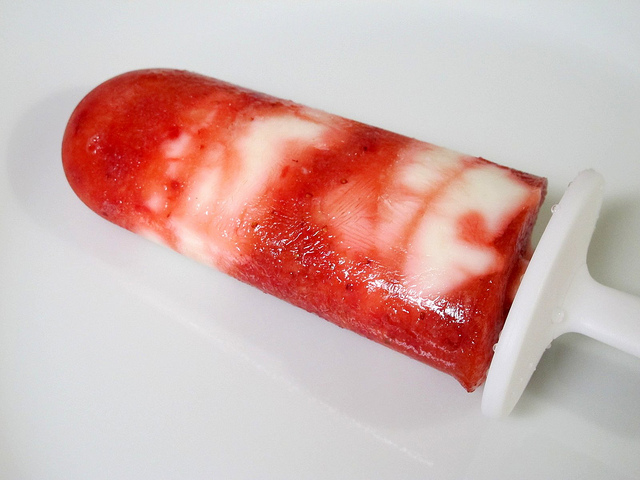 5. Frozen Yogurt Pops
Keep your oven off and go the no-bake route with these Frozen Yogurt Pops from Women's Day. At only 96 calories apiece, these brain freeze-inducing treats really are guilt free, and it's all thanks to the yogurt and strawberries that naturally sweeten them. Grab your popsicle molds and get to work: That yogurt in your refrigerator is just begging to be frozen.
Ingredients:
2 cups low-fat strawberry yogurt
1 tablespoon fresh lemon juice
2 tablespoons light corn syrup
2 tablespoons sugar, or to taste
2 cups fresh or frozen unsweetened strawberries
Directions: Have ready eight 3- to 4-ounce ice-pop molds and wooden ice-pop sticks. Purée yogurt, lemon juice, corn syrup, sugar, and 1 cup strawberries in a blender or food processor until smooth. Add remaining berries; pulse until mixture is puréed but still has tiny specks of strawberry. Pour into molds, cover with tops, and insert ice-pop sticks. Freeze 4-6 hours, until hard.
To serve: Remove tops from molds. Dip molds briefly in warm, not hot, water. Gently pull pops out of mold.
6. Greek Yogurt Cheesecake
Saving the best for last, we come to Greek Yogurt Cheesecake from Betty Crocker. This recipe proves that dreams really do come true, transforming a usually delightfully decadent dessert into a lightened-up one without compromising on taste. Substitute your butter for Greek yogurt, and you not only have a protein-packed after-dinner treat, you also have one that boasts a creamy texture unlike any other run-of-the-mill cheesecake you've ever tried. One bite of this cake is enough to prove that you won't ever miss the fat, and you might never go without Greek yogurt again. All hail the Greek gods of cheesecake.
Ingredients:
For crust
1 cup graham cracker crumbs
2 tablespoons butter, melted
For filling
3 packages (8 ounces each) cream cheese, softened
2/3 cup sugar
3 eggs
1 container (6 ounces) Greek fat-free honey vanilla yogurt
2 tablespoons all-purpose flour
For topping
2 cups quartered fresh strawberries
Directions: Heat oven to 300 degrees Fahrenheit. Spray 9-inch springform pan with cooking spray. In small bowl, mix crust ingredients. Press in bottom and slightly up side of pan. Refrigerate while making filling. In medium bowl, beat cream cheese with electric mixer on medium speed until smooth. Add sugar and eggs; beat on medium speed until smooth. Beat in yogurt and flour until blended. Carefully spread over crust in pan.
Place cheesecake in oven with pan of water on oven rack below it (to prevent cracking). Bake for 1 hour, 25 minutes to 1 hour, 30 minutes, or until center is set. Cool 30 minutes. Without releasing or removing side of pan, run metal spatula along side of cheesecake to loosen. Cover; refrigerate at least 3 hours until chilled. Remove side of pan; leave cheesecake on pan bottom to serve. Top cheesecake with strawberries. Store covered in refrigerator.
More From Wall St Cheat Sheet: