6 Seafood Soups and Stews to Make for Dinner
With a growing body of research supporting seafood's heart- and brain-protecting powers, it's a shame Americans don't eat more fish. Even crustaceans, which many once avoided for higher cholesterol levels, are a smart choice. In a 2010 study, researchers found daily shellfish consumption didn't negatively affect cholesterol levels.
In short, you should probably consider adding more fish and shellfish to your diet. While some shy away from seafood when they have a serious appetite, these proteins can be just as substantial as a bowl of beefy chili. See for yourself with these six seafood soups and stews.
1. Moroccan Fish Stew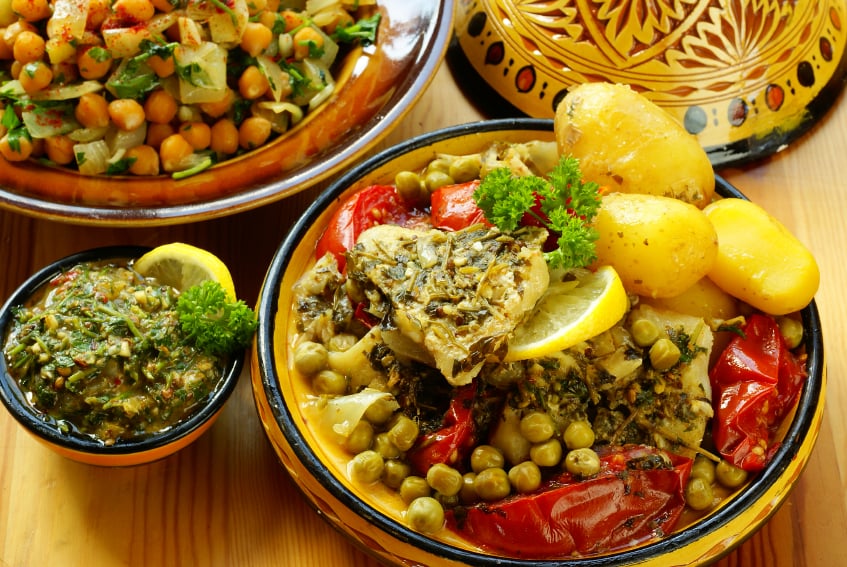 Wake up your taste buds with The Washington Post's North African-spiced seafood stew, adapted from a recipe in Simple, Honest Food. It's brimming with fish and chickpeas for plenty of satisfying protein while aromatics like ginger, cinnamon, and turmeric deliver a serious dose of flavor. This dish is also designed to be quick, making it a perfect weeknight meal.
Ingredients:
1 large onion, thinly sliced
1 (1-inch) piece ginger, peeled and minced
1 large garlic clove, crushed
1¼ pounds sin-on, firm white-fleshed fish fillets, patted dry with paper towels and cut into bite-size pieces
¼ cup sliced, skin-on almonds
4 teaspoons olive oil
1 teaspoon ground cumin
1 teaspoon ground turmeric
1 (3-inch) cinnamon stick
Pinch ground cayenne pepper
1 (14-ounce) can diced, low-sodium tomatoes
1 cup water
Salt
1 (14-ounce) can low-sodium chickpeas, drained
2 teaspoons honey
Freshly ground black pepper
Chopped flat-leaf parsley or cilantro
Directions: Heat a large, heavy-bottomed skillet over medium-low heat. Spread almonds in pan and toast for a few minutes, shaking, until fragrant and lightly toasted. Transfer almonds to a plate and let cool. Return skillet to burner and increase heat to medium.
Add oil to skillet, then add onion, stirring to coat. Cook for 5 minutes, stirring occasionally, until onion softens and becomes translucent. Add ginger, garlic, cumin, turmeric, and cinnamon stick. Stir and cook until fragrant, about 2 minutes.
Add cayenne, tomatoes, and water. Season with salt. Cook, stirring often, for 10 minutes. Gently stir in fish and cook, stirring occasionally, until fish is cooked, about 3 to 5 minutes.
Add chickpeas and honey. Season with pepper and more salt, if needed. Discard cinnamon stick and serve stew garnished with parsley and almonds.
2. Bouillabaisse, Simplified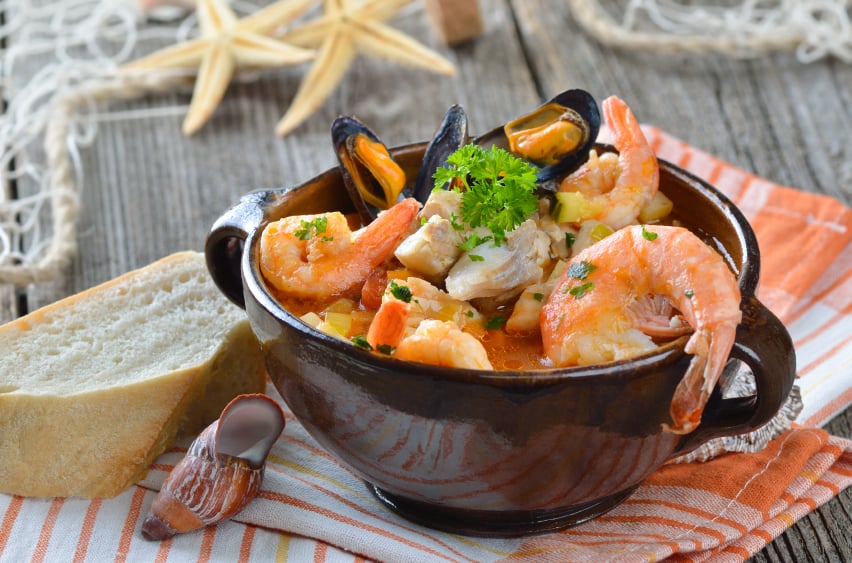 Gordon Ramsay once told an overly confident contestant auditioning for Masterchef it takes two days to make a truly great bouillabaisse. The results you get from this patient method might be fantastic, but that's a pretty demanding time commitment. Speed your way to the dish in a fraction of the time with Epicurious's easier seafood soup.
Seafood stock can be a little tricky to find, but many well-stocked supermarkets carry it. You also might want to try asking your local fish market if they make any in house. If both of these options fail, opt for bottled clam juice. It'll get you pretty close to the same flavor.
Ingredients:
2 tablespoons olive oil
2 garlic cloves, smashed
1 large onion, sliced
1 small fennel bulb, thinly sliced
1 large pinch saffron soaked in 2 tablespoons orange juice for 10 minutes
1 strip orange zest
1 (14-ounce) can whole peeled tomatoes
6 cups seafood stock or clam juice
Any combination of enough halibut, cod, tilapia, snapper, shrimp, crabmeat, clams, and mussels to feed 4 to 6 people
1 bunch flat-leaf parsley, chopped
Directions: Heat olive oil in a large, heavy pot over medium-high heat. Add garlic, onion, and fennel. Cook until just beginning to brown, 5 to 10 minutes. Add saffron, orange zest, tomatoes, and seafood stock. Bring to a boil and cook until vegetables are tender and liquid reduces by half, about 20 minutes.
Reduce heat to medium and add fish, but not shellfish. Cook for about 2 minutes. Add any shellfish and simmer about 4 minutes longer. Add crabmeat, if using, and simmer until all seafood is fully cooked, about 2 minutes longer. Garnish with parsley and serve.
3. Salmon Chowder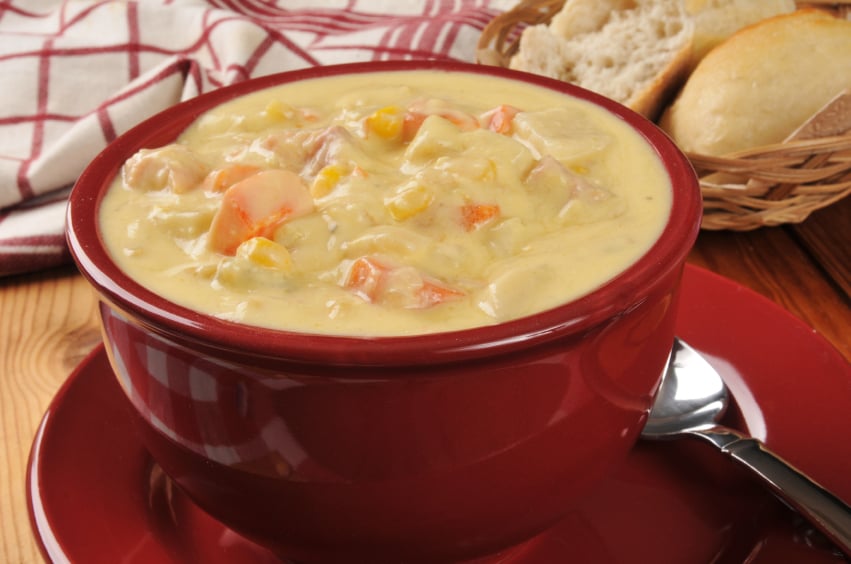 Clam chowder is a little bit polarizing. This is partially because there are a few different versions but also because some just don't care for the texture of clams. If you find yourself among those who don't love the little crustaceans, try making a creamy chowder with salmon. We like this speedy salmon soup from The Martha Stewart Show. It's made with mostly staple ingredients, so all you have to do is pick up a few things at the store.
Ingredients:
2 tablespoons unsalted butter
1 leek, white and pale parts only, halved, rinsed, and thinly sliced
1 red onion, quartered and thinly sliced
Salt and freshly ground white pepper
3 small Yukon Gold potatoes, peeled and cut into ¾-inch cubes
2 carrots, halved and thinly sliced
6 cups store-bought, low-sodium fish stock or Homemade Fish Stock
12 ounces skinless salmon, cut into ¾-inch cubes
½ cup heavy cream
1 tablespoon chopped fresh dill
Directions: Melt butter in a medium pot over medium-low heat. Add leek and onion and cook until soft, about 6 to 8 minutes. Season with 1 teaspoon salt. Stir in carrots and potatoes. Add stock and bring to a boil. Reduce heat to low and simmer until potatoes are nearly tender, 6 to 8 minutes.
Stir in salmon and simmer until cooked, about 3 minutes. Stir in cream and cook just until heated through. Stir in dill, ½ teaspoon salt, and ¼ teaspoon white pepper. Serve.
4. Red Chile Seafood Soup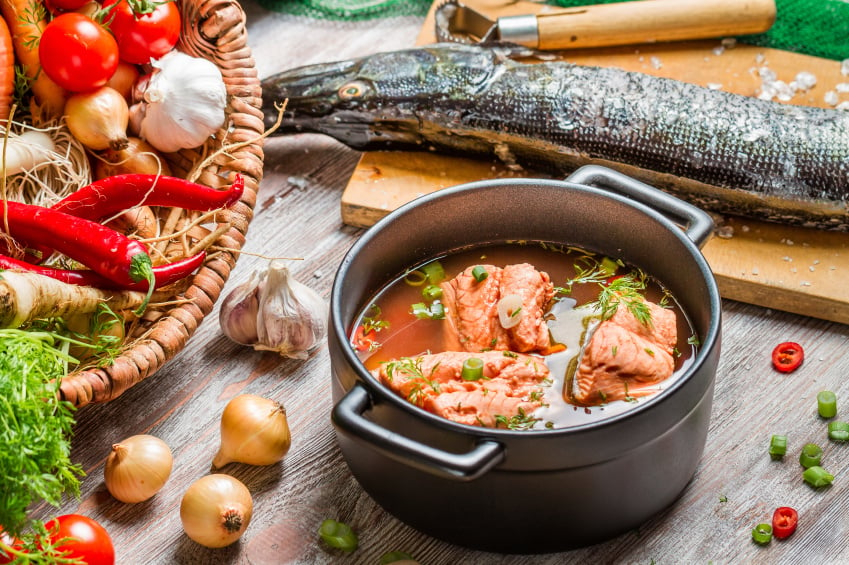 Most folks think of rich meats and hearty masa-based dishes when it comes to Mexican food, forgetting that many cities in the country rely heavily on fish. Taste what you've been missing with chef Rick Bayless's Red chile seafood soup. It has just enough richness from dried chiles to warm you up without overpowering the delicate flavor of the fish and mussels.
Ingredients:
2 tablespoons vegetable or olive oil
3 (¼-ounce) dried guajillo chiles, stemmed, seeded, and torn into large pieces
1 (15-ounce) can diced tomatoes in juice
1 large white onion, chopped into ¼-inch pieces
2 garlic cloves
6 cups chicken or fish broth
4 medium red or Yukon Gold potatoes, each cut into 8 pieces
2 large sprigs epazote (optional)
Salt
1 pound mussels, scrubbed and debearded, or 2 pounds clams
1 pound fish, such as halibut, mahi mahi, or catfish, cut into 1-inch pieces
½ cup roughly chopped cilantro
1 lime, cut into 6 wedges
Directions: Heat oil in a 5- to 6-quart soup pot over medium heat. Add chile and stir-fry until pieces smell toasty and fragrant, 30 seconds to 1 minute. Remove chile pieces with a slotted spoon, pressing against side of pot to extract as much oil as possible. Transfer chile pieces to a blender. Add tomatoes to blender.
Add ⅔ of onion and all of garlic to the pan and cook, stirring frequently, until golden, about 7 minutes. Add remaining raw onion to a strainer and rinse under cold water. Save for garnish. Transfer cooked onions and garlic to blender. Cover and blend until smooth.
Strain chile mixture through a medium-mesh strainer set over the pot. Return pot to burner and increase heat to medium-high. Cook, stirring frequently, until reduced and thick, about 6 minutes. Add broth, potatoes, and epazote. Bring to a boil, reduce heat to medium low, and simmer until potatoes are tender, about 15 minutes. Season with salt.
Increase heat to medium high and add mussels or clams and fish. Cook until mussels or clams open and fish is cooked, about 4 minutes. Serve garnished with cilantro, reserved onion, and lime wedges.
5. Jamaican Curried Shrimp and Mango Soup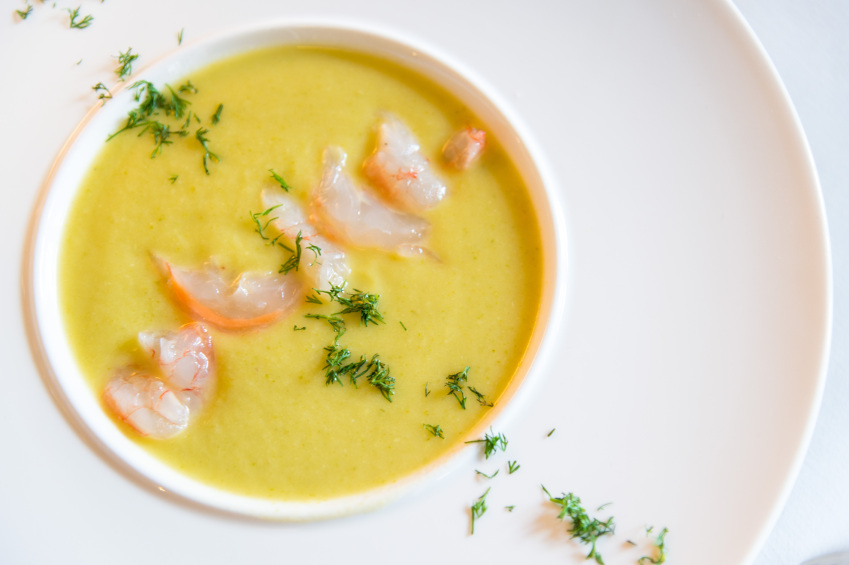 Even if you can't swing a winter vacation to the tropics, you can enjoy the same flavors with this shrimp, curry, and mango soup from Eating Well. This sweet and spicy dish comes together in just 40 minutes, but tastes like it's been simmering all day. Feel free to wilt in some of your favorite greens to get even more nutrients.
Mangoes can be a little tricky if you're not used to working with them. They have a large, oblong pit that can make slicing difficult and a tad dangerous. Alton Brown demonstrated a great method, which will help you get as much of the fruit as possible and still keep your fingers.
Ingredients:
1 tablespoon extra-virgin olive oil
1 large onion, chopped
2 celery stalks, sliced
4 garlic cloves, chopped
1 serrano chile, minced
2 tablespoons curry powder
1 teaspoon dried thyme
2 cups seafood broth or clam juice
1 (14-ounce) can lite coconut milk
3 ripe mangoes, diced
1¼ pounds (21- to 25-count) shrimp, peeled, and deveined
1 bunch scallions, sliced
¼ teaspoon salt
Directions: Heat oil in a Dutch oven or other heavy pot over medium heat. Add onion and celery. Cook, stirring occasionally, until beginning to brown, 3 to 5 minutes. Add garlic, chile, curry powder, and thyme. Cook, stirring constantly, for 30 seconds. Add broth, coconut milk, and mangoes. Bring to a simmer over medium-high heat. Reduce heat and simmer, stirring occasionally, for 5 minutes.
Purée 3 cups of the soup in a blender, being careful to avoid splashing. Return blended soup to the pot and return to a simmer. Add shrimp and cook until firm and pink, about 3 minutes. Stir in scallions and salt. Serve.
6. Easy Cioppino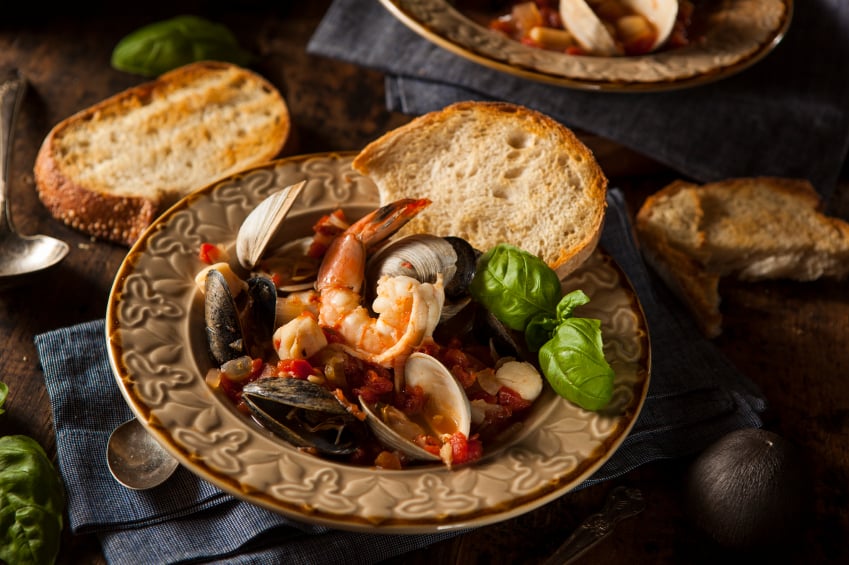 Many traditional recipes for cioppino take well over an hour, which isn't always practical. Serious Eats kept the taste of the original but turned it into a 20-minute recipe. With red wine, garlic, chile flakes, tomatoes, and loads of seafood, it's not lacking in any flavor. A slice of crusty bread is the perfect tool for mopping up all of the delicious broth.
Ingredients:
2 tablespoon extra-virgin olive oil, plus more
1 medium shallot, thinly sliced
Kosher salt and freshly ground black pepper
Pinch dried red chile flakes
1 teaspoon dried oregano
2 medium garlic cloves, minced
1 (28-ounce) can whole peeled tomatoes, or 8 to 10 fresh plum tomatoes, peeled, cored, and quartered
1 cup red wine
1 pound cockles or mussels, scrubbed
¾ pound flaky white fish, such as cod or flounder
½ pound scallops, side muscle removed
½ pound medium shrimp, peeled and deveined
½ cup loosely packed fresh parsley, chopped
1 lemon, cut into wedges
Country bread, toasted and drizzled with olive oil
Directions: Heat oil in a 12-inch skillet set over medium-high heat. When hot, add shallot and season with salt. Cook, stirring, until softened, about 2 minutes. Ad garlic, chile flakes, and oregano. Cook, stirring, until fragrant, about 30 seconds.
Stir in tomatoes and cook until tomatoes soften. Crush tomato pieces with a wooden spoon or potato masher. Stir in wine and bring to a simmer. Cook until beginning to thicken, about 8 to 10 minutes. Stir in seafood, cover, and cook until cockles or mussels open, stirring occasionally to break apart fish. Season with salt and pepper. Serve topped with parsley, additional olive oil, a lemon wedge, and toasted bread.