One-Pan Dinners for Parents Who Don't Have Time to Do Dishes
Dinner's on you tonight. But just because you're charged with feeding the family doesn't mean you have to spend the whole night in the kitchen. One-skillet meals are easy to prep — no need to try to keep the chicken warm while you wait for the veggies to cook — and make for easy clean up too, since you won't have a sink full of pans to wash. To save your sanity on busy weeknights, we've put together this list of seven easy, family-friendly recipes you can make in a single pan. And these are truly one-skillet meals. You won't need to dirty another dish to make rice or pasta, or turn on the oven to roast vegetables. Bon appétit!
1. Skillet Chicken Fajitas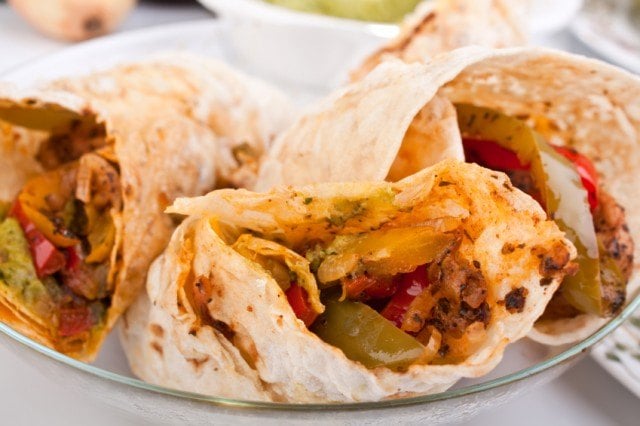 You can have kid-approved chicken fajitas on the table in 30 minutes or less with this recipe from Recipe Runner. Just cook the peppers, onions, and marinated chicken in a cast-iron skillet, then serve with tortillas or in lettuce cups for a crowd-pleasing meal.
Ingredients:
For the chicken
1 pound chicken breasts, sliced thinly
2 tablespoons fresh cilantro (or substitute parsley if you don't like cilantro)
2 teaspoons extra-virgin olive oil
1 teaspoon dried oregano
½ teaspoon hot sauce (optional)
½ teaspoon chili powder
½ teaspoon kosher salt
¼ teaspoon garlic powder
¼ teaspoon ground cumin
Juice of half a lime
For the peppers and onions
2 teaspoons extra-virgin olive oil
1 red bell pepper, thinly sliced
1 yellow bell pepper, thinly sliced
½ a yellow onion, thinly sliced
1 teaspoon chili powder
½ teaspoon kosher salt
Directions: Combine the chicken, cilantro, olive oil, oregano, hot sauce, chili powder, salt, garlic powder, and ground cumin a large bowl. Toss so that the chicken is fully coated with the marinade, then cover and refrigerate for 30 minutes.
Add 2 teaspoons of olive oil to a 12-inch cast iron skillet. Turn heat to high. Once the skillet is hot, add the peppers, onions, 1 teaspoon chili powder, and ½ teaspoon salt to the pan. Cook for about 4 minutes, until the peppers and onions have softened slightly. Remove from skillet and set aside.
Add 2 more teaspoons of olive oil to the skillet. Transfer the marinated chicken to the pan. Saute until meat is cooked through. Return the peppers and onions to the skillet. Season with the juice of half a lime. Cook for 1 minute more. Serve immediately with tortillas and preferred toppings. 
2. Skillet Ziti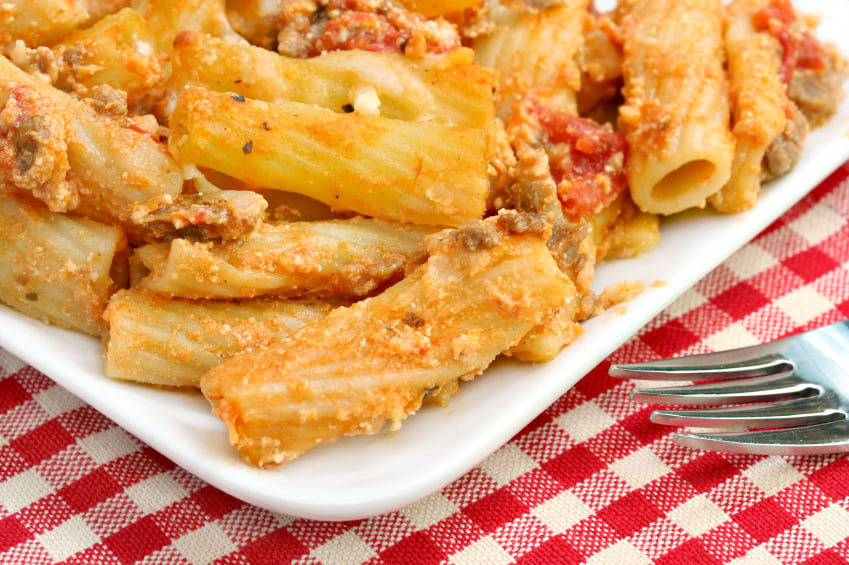 Love baked ziti but don't have time to wait for it to cook in the oven? This one-skillet ziti recipe from Damn Delicious delivers all the familiar flavors of this classic Italian comfort food with less fuss. The sauce and pasta all cook together in the same pot, so you can spend less time preparing dinner and more time enjoying it with your family.
Ingredients:
1 tablespoon olive oil
1 pound Italian sausage, casings removed
4 cloves garlic, minced
¼ teaspoon red pepper flakes, or more, to taste
Kosher salt and freshly ground black pepper, to taste
1 (28-ounce) can crushed tomatoes
12 ounces ziti pasta
¾ cup grated Parmesan cheese
½ cup heavy cream
1 cup shredded mozzarella cheese
¼ cup basil leaves, chiffonade
Directions: Warm the olive oil in a large skillet over medium-high heat. Add the sausage and cook for 3 to 5 minutes, until browned. (Break up any large chunks of meat as it cooks.) Add the garlic and red pepper flakes and stir. Cook for 1 minute, then season with salt and pepper to taste.
Stir in the crushed tomatoes. Bring to a simmer and cook for 8 to 10 minutes, until sauce starts to thicken. Stir in the pasta and 3 cups of water. Bring mixture to a boil, then cover and reduce heat. Simmer for 13 to 16 minutes, until pasta is cooked through.
Remove pan from heat and stir in the Parmesan cheese and heavy cream. Sprinkle on the mozzarella, cover, and continue to cook until the cheese has melted, about 2 minutes. Garnish with basil and serve immediately.
3. Mexican Skillet Pasta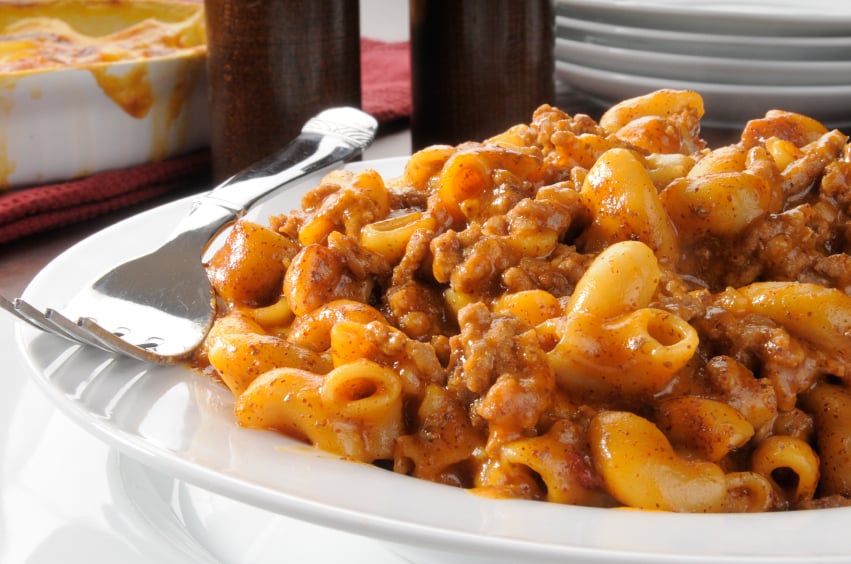 You won't have any trouble getting your kids to eat their dinner when you serve them this filling one-skillet dish. With hearty ground beef and fiber-rich kidney beans, plus salsa and corn, this 30-minute meal is perfect for busy parents who are short on time. Recipe from Julie's Eats and Treats.
Ingredients:
1 pound ground beef
2 cups salsa
1 (15-ounce) can tomato sauce
1½ cups water
2 cups uncooked elbow macaroni
1 (15.5-ounce) can corn
½ cup sharp cheddar cheese, shredded
Directions: Add the hamburger to a large skillet. Cook over medium-high heat until browned, about 5 to 7 minutes. Drain off fat.
Add the salsa, tomato sauce, and water to the skillet. Bring mixture to a boil. Add the macaroni pasta and the corn, stirring to combine. Reduce heat, cover, and simmer for 20 minutes, until macaroni is tender, stirring occasionally.
Sprinkle on the shredded cheddar cheese. Cover and let stand until the cheese melts, then serve.  
4. Stovetop Pan Pizza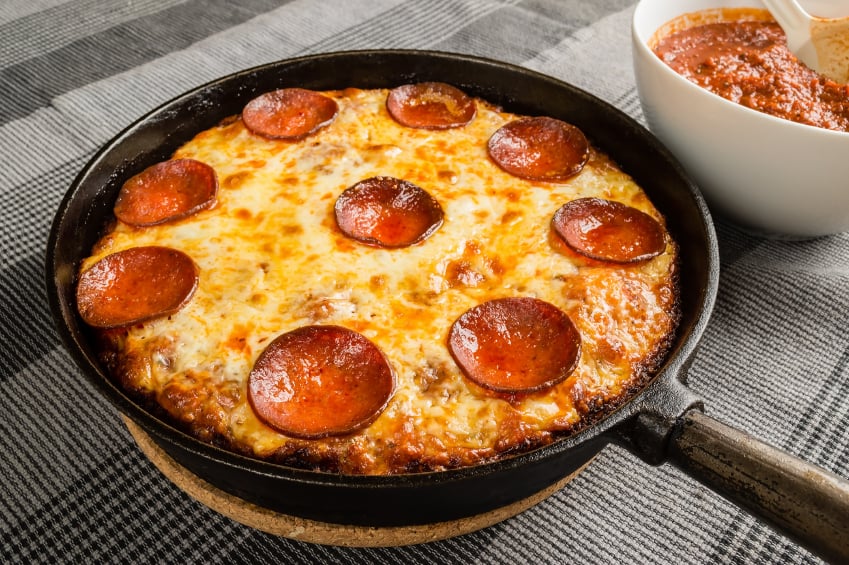 Forget delivery. If your family's clamoring for pizza, serve them this homemade skillet pizza. When you use convenience ingredients like store-bought dough and premade pizza sauce, you can have piping hot pizza ready in a matter of minutes. You'll need a 10- to 12-inch cast iron skillet with a lid to prepare this recipe from The Kitchn.
Ingredients:
1 pound store-bought or homemade pizza dough
1 to 2 teaspoons cooking oil
½ to 1 cup store-bought or homemade pizza sauce
1 to 2 cups shredded cheese
1 to 2 cups pizza toppings, such as diced onions, diced peppers, pepperoni, or cooked sausage
Directions: If using store-bought dough, remove it from the refrigerator and let it warm on the counter while you prepare the other ingredients. If using homemade dough, prepare according to your favorite recipe.
Shred the cheese and prepare homemade sauce, if using. If necessary, cook any raw toppings you'd like to put on the pizza. Arrange all the toppings so they're within easy reach of the stove.
Divide the pizza dough in half. Lightly flour a work surface and then press or roll the dough into a circle that's slightly smaller than the size of your skillet.
Place skillet on the stove and turn heat to medium-high. Add 1 to 2 teaspoons of cooking oil. Place 1 circle of pizza dough in the skillet and cook for 1 minute, until large bubbles start to form on the top of the dough. (Pop the bubbles if you like.)
Flip the pizza crust over with a spatula. Working quickly, cover the crust with a few tablespoons of sauce, cheese, and any other toppings you're using. Cover the pan and reduce heat to medium. Cook pizza for another 4 to 5 minutes, until the cheese has melted. You may need to adjust the heat to keep the bottom of the pizza from burning.
Remove pizza from the pan and let cool slightly. If you want lightly browned cheese, stick the pizza under the broiler for a minute or two. Repeat the process with the other circle of dough, then serve both pizzas.
5. One Pan Szechuan Fried Rice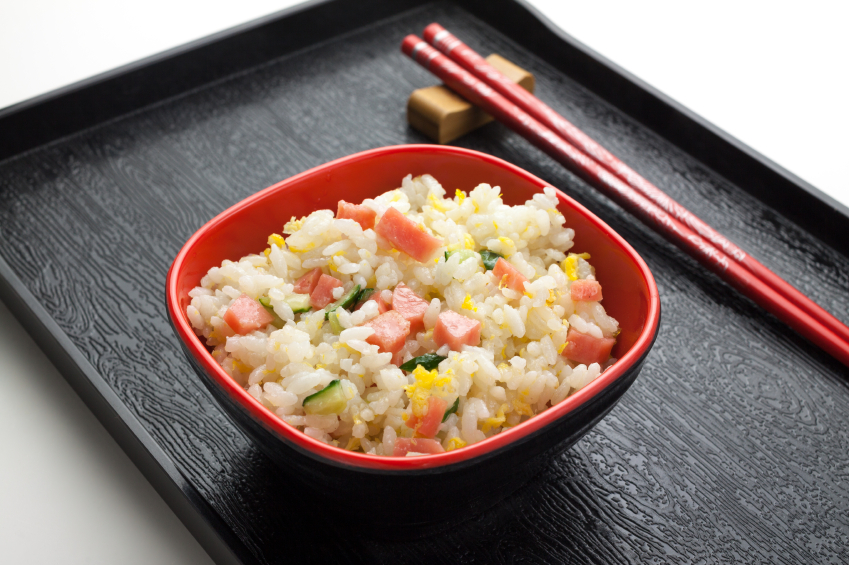 Fried rice is a classic one-pot meal, but most recipes instruct you to use leftover cooked rice, which you may not always have on hand. Fortunately, you can still enjoy homemade fried rice even if you don't have leftovers when you try this recipe from Pickled Plum. To prepare this dish, you'll cook the rice in the pan with the chicken and other ingredients for a dinner that's convenient to prepare but not short on flavor.
Ingredients:
1 tablespoons toasted sesame oil
¾ cup chicken broth
2 tablespoons soy sauce
1 tablespoon rice vinegar
½ tablespoon chili paste (such as sambal oelek)
2 tablespoons grapeseed oil
1 pound skinless, boneless chicken breast, chopped into bite-size pieces
2 garlic cloves, finely chopped
1 thumb-size piece of ginger, peeled and finely chopped
1 medium onion, finely chopped
1 red bell pepper, cored, seeded and finely chopped
1 zucchini, diced
½ cup long grain rice
Directions: Whisk together the sesame oil, chicken broth, soy sauce, and rice vinegar in a bowl. Set aside.
Add 1 tablespoon of grapeseed oil to a large, deep skillet. Heat over medium-high, then add the chicken and cook until no longer pink. Season with salt and pepper, remove meat from the pan, and set aside.
Add 1 tablespoon of grapeseed oil, along with the ginger, garlic, and onions, to the skillet. Cook for 2 to 3 minutes, until onions turn translucent.
Add the rice to the skillet. Stir constantly for 1 minute. Add the broth and soy sauce mixture and stir. Reduce heat to a simmer, cover pan, and cook for 12 minutes, stirring every 4 minutes to keep rice from burning.
Add the bell peppers, zucchini, cooked chicken, and 1 tablespoon water to the skillet and stir. Bring to a boil, then reduce heat to a simmer and cover. Cook for 6 to 8 minutes, until rice is tender.
Add the chili paste and season with salt and pepper. Stir well and serve immediately.
6. Skillet Mac and Cheese with Broccoli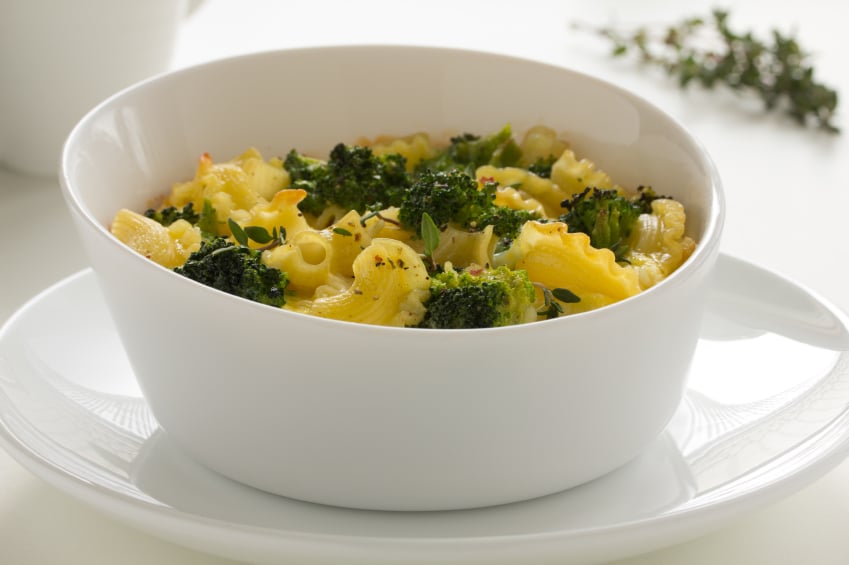 Whipping up a pot of creamy, homemade mac and cheese doesn't have to be difficult. This one-pan stovetop version is simple to prepare and also includes healthy broccoli, so you get some nutrients along with all that cheesy goodness. Recipe from Pink Parsley.
Ingredients:
4 cups water, plus more as needed
10 to 12 ounces broccoli florets, cut into bite-size pieces
Salt and pepper
3 tablespoons unsalted butter
3 garlic cloves, minced
¼ teaspoon red pepper flakes
1 (12-ounce) can evaporated milk
12 ounces macaroni or other pasta
¾ teaspoon cornstarch
½ teaspoon dry mustard
¼ teaspoon hot sauce
6 ounces extra sharp white cheddar, shredded (about 1½ cups)
6 ounces Monterey Jack cheese, shredded (about 1½ cups)
Directions: Add ½ cup water to 12-inch skillet and bring to a boil over medium-high heat. Add the broccoli and a pinch of salt, cover, and cook for about 5 minutes, until the broccoli is tender. Drain broccoli and set aside.
Wipe down the skillet. Melt 1 tablespoon of butter in the pan, then add the garlic and pepper flakes. Cook for about 1 minute, stirring constantly, until fragrant. Add 3½ cups water, 1 cup evaporated milk, ½ teaspoon salt, and the pasta, stirring to combine. Bring to a high simmer and cook, stirring frequently, until the pasta is tender and sauce begins to thicken, about 9 to 12 minutes.
In a bowl, whisk together ½ cup evaporated milk, cornstarch, mustard, and hot sauce. Stir into the pasta and sauce and simmer for another 2 to 3 minutes, until sauce thickens.
Remove pan from heat and stir in the cheeses, one handful at a time, until cheese has melted and the sauce is smooth. If the sauce is too thick, stir in a few tablespoons water. Stir in the remaining 2 tablespoons of butter and the broccoli, then season to taste with salt and pepper. Let sit for 5 to 10 minutes, then serve.
7. Pork Chops with Chard and White Beans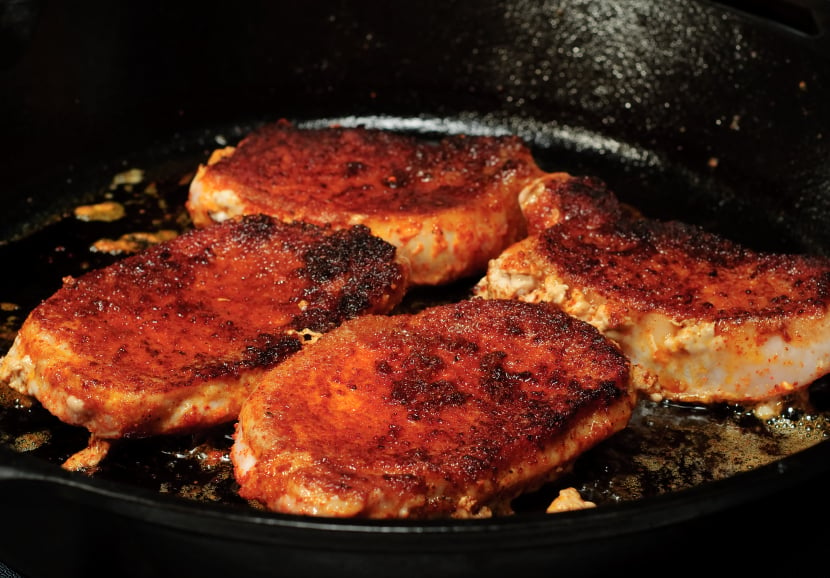 When you put them on the table, no one will guess that these pork chops with a side of Swiss chard and white beans all came out of the same pan. But this healthy 20-minute dinner really is that simple to prepare. Just pan-fry the chops and set aside, then quickly wilt the greens and warm the beans for a gourmet dinner without all the extra work. Recipe from Real Simple.
Ingredients:
2 tablespoons olive oil
4 boneless pork chops (¾ inch thick; about 1½ pounds total)
1 teaspoon paprika
Kosher salt and black pepper, to taste
1 bunch Swiss chard, stems thinly sliced and leaves torn into bite-size pieces (about 5 cups)
1 medium onion, chopped
1 (15½-ounce) can cannellini beans, rinsed
2 tablespoons red wine vinegar
Directions: Heat 1 tablespoon of the oil in a large skillet over medium heat. Season the pork with the paprika, ½ teaspoon salt, and ¼ teaspoon pepper and cook until cooked through, 3 to 5 minutes per side. Transfer to a platter and tent with foil. Reserve the skillet.
Heat the remaining tablespoon of oil in the skillet over medium-high heat. Add the chard stems and onion and cook, tossing occasionally, until softened, 3 to 5 minutes.
Add the beans, chard leaves, and ¼ teaspoon each salt and pepper and cook, tossing frequently, until the chard is wilted, 2 to 3 minutes more. Mix in the vinegar and serve with the pork.