Smart Snacks for a Post-Workout Treat
You've worked up a great sweat at the gym. You've showered, cleaned up, and are ready to head out and enjoy the rest of your day. But before you do, make sure you take a minute to have a post-workout snack. Eating after a workout is important – it helps to repair muscle tissues and replenish glycogen stores. Snack smart, though. Here's a list of some healthy and delicious options to have after your next workout.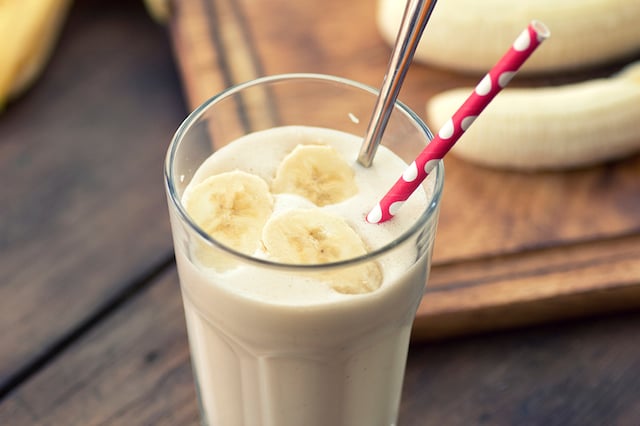 1. Protein Shake with Banana
After a tough workout, protein is a great way to refuel the body, especially in combination with a carbohydrate, says Fitness. An easy recipe includes two scoops of whey protein powder, water and one half of a banana, which equals about 250 calories.
2. Dates and Peanut Butter
"Slice open pitted Medjool dates (a large, sweet variety of dates) and slide a half-tablespoon of nut butter inside," according to Prevention. The fiber helps keep your blood sugar from spiking and helps stabilize energy levels. Just stick a few in a Ziploc bag, and you'll have an easy snack on hand.
3. Peanut Butter and Banana on Rice Cakes
"If you're craving something more substantial after a workout, a healthy peanut butter and banana sandwich will fit the bill. Instead of bread, smooth your peanut butter onto two brown rice cakes for extra fiber (without empty carbs)," Fitness says. Don't stress about the sugars in your banana, either. Post workout is one of the best times to eat a banana because it quickly replenishes your energy.
4. Kind's Maple Glazed Pecan & Sea Salt Bar
Many snack bars have everything you don't want to be putting into your body. That's not the case with Kind's, which has only five grams of sugar and no artificial sweeteners. It also has 6 grams of protein, 13 grams of carbs and 140 milligrams of sodium, which is a perfect amount to replenish what you've lost from sweat, Prevention writes.
5. Low-Fat Chocolate Milk
Ace Fitness writes that low-fat chocolate milk is one of the best-kept recovery secrets. It has a great protein to carbohydrate ratio, making it ideal for repairing muscle tissue. This is an ideal snack for endurance athletes – long-distance runners, cyclists, swimmers and triathletes.
6. Yogurt and Fresh Berries
Low-fat yogurt provides nearly 15 grams of protein, making it a great option for an after-workout snack. Mix in some fresh berries to give you some carb-driven energy, says Fitness, and you have a perfect post-workout snack.
7. Frozen Whole Grain Waffles Topped with Greek Yogurt and Almond Butter
"If you're a waffle lover and want to enjoy this treat guilt-free, there is no better time to eat this heavenly food than after a solid workout," writes Ace Fitness. Add 4 ounces of water-packed tuna on one slice of whole wheat bread and you've got a snack that provides the perfect protein and carb balance.
8. Pear and Sunflower Butter
Pears provide carbs and water, and sunflower butter provides vitamin E, a great antioxidant that can help reduce muscle damage from exercise, Prevention says. Not a fan of sunflower butter? Swap it out with peanut butter instead.
9. Turkey, Cheese, and Apple Slices
A great post-workout snack involves sliced deli turkey plus cheddar or American cheese, paired with a fruit, like an apple, grapes, pear or banana, says Men's Fitness. Fruit mixed with a protein is sure to keep your energy levels high.
10. Cheribundi Tart Cherry Relax
This drink is packed with an anti-inflammatory compound found in tart cherries, which has been shown to help soothe sore muscles, writes Women's Health. It has a natural dose of melatonin, which will also keep you feeling calm and relaxed post-workout.
More From Life Cheat Sheet: