Snack Attack? Whip Up These 5 Homemade Crackers
Polly want a cracker? Your kids probably do, but teeming with artificial ingredients and preservatives, store-bought crackers are sometimes not the best idea — that's where homemade alternatives come in. Not many people think to whip up their own salty snacks at home, but homemade crackers are surprisingly easy, and once you master them, you'll never go back to the cracker aisle of the grocery store again. Here are five recipes for homemade crackers. Whether you prefer salty, cheesy, wheat-y, or crispy, we're confident you'll find what you're looking for here. Sorry, Nabisco, there are some new cracker makers in town.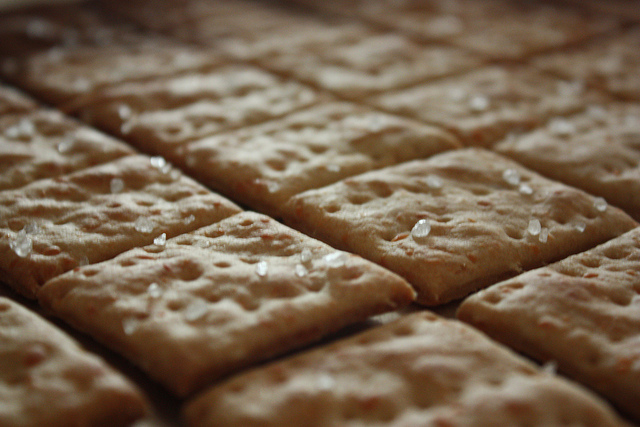 1. Homemade Wheat Thins
We'll start with Homemade Wheat Thins from Smitten Kitchen because almost everyone loves Wheat Thins, but not everyone likes preservatives. Make your own fresh batch of crackers by following these directions. Made of only five ingredients, you'll be feeding your family members a wholesome snack when you pass them a couple of these. The crackers are a treat you won't be able to resist, either.
Ingredients:
1 1/4 cups (155 grams) whole wheat flour
1 1/2 tablespoons (20 grams) sugar
1/2 teaspoon (3 grams) table salt, plus additional for topping
1/4 teaspoon paprika
4 tablespoons (55 grams) unsalted butter (cold is fine), cut into small bits
Directions: In a food processor, combine the flour, sugar, salt, paprika, and butter, pulsing the mixture until the butter is evenly disbursed in the crumbs. Drizzle in 1/4 cup (60 milliliters) cold water with the machine running; run it until the mixture begins to form a ball. Heat your oven to 400 degrees Fahrenheit. Either lightly grease baking sheets or line them with parchment paper.
Roll your dough out, half at a time, to a large, very, very thin rectangle-like shape on a well-floured counter. Did I mention you should roll them thin? Thinner than you even think necessary is best. Frequently check to make sure your dough isn't sticking; if it is, gently scrape a spatula underneath to lift it, then flour the counter again. Using a knife or pastry wheel, cut dough into about 1.5-inch squares. Dock crackers all over with a toothpick or pointy end of a thermometer.
Transfer crackers to baking sheets, spacing them only a little, as they really don't spread. Sprinkle with additional table salt if you'd like to approximate the salty exteriors of the store-bought crackers. Bake crackers until crisp and bronzed, about 5 to 7 minutes, but please a close watch on the first batch, as thinner crackers will bake faster and thicker ones will take longer.
Cool in baking pans on racks. Crackers will keep in an airtight container for a week (officially). You can also freeze them in an airtight container between sheets of waxed paper for a couple of months.
2. Gluten-Free, Vegan Graham Crackers
Graham crackers are next, and Honey Maid plays no part in this recipe. In fact, it comes from Oh She Glows, and there, Angela gives us the formula for constructing the perfect graham cracker that is both gluten-free and vegan. Angela writes, "After several trials, I'm happy to report that these crackers are authentic and crispy, made with wholesome flours, and are free of gums and strange ingredients commonly found in gluten-free baked goods," and we believe her. Next time you're making s'mores, a graham cracker crust, or a simple snack starring these crackers, turn to this recipe to bake up your own crispy goodness.
Ingredients:
Wet
3 tablespoons coconut oil (melt before using) or grapeseed oil
3 tablespoons blackstrap molasses
2 tablespoons almond milk
2 tablespoons pure maple syrup
1/2 tablespoon ground flax
Dry
3/4 cup and 2 tablespoons almond flour (not almond meal)
1/2 cup raw buckwheat groats, processed into a flour
1 cup gluten-free rolled oats, processed into a flour
5 tablespoons arrowroot flour
2 tablespoons Sucanat (or other granulated sweetener)
2 teaspoons cinnamon
1/2 teaspoon fine grain sea salt
1/2 teaspoon baking soda
1/8 teaspoon ginger
1/8 teaspoon nutmeg
Directions: Preheat oven to 350 degrees Fahrenheit and line a large baking sheet with parchment paper. In a small bowl, whisk together all the wet ingredients. Add the buckwheat groats and rolled oats into a high-speed blender and blend on high until a fine flour forms. In a large bowl, whisk together the dry ingredients.
Add the wet mixture to the dry mixture and stir well with a spoon until it comes together and there are no dry patches of flour left. Form the dough into 2-3 balls and place one at a time on a lightly floured, non-stick mat. Lightly flour a rolling pin (if necessary) and begin rolling out the dough until you have a rectangle that is about 1/8 inch thick. The dough will crack a bit, but this is normal. Cut the crackers into the shapes of your choice using cookie cutters, a pizza slicer/pastry slicer, or a knife to form the shapes you want. Place each piece onto the baking sheet, leaving half an inch between each. Poke a few fork holes into each cracker. Repeat with the remaining dough.
Bake for 10 minutes and then remove from oven and carefully flip each cracker with a spatula. Rotate the pan and return to the oven for 6-7 minutes longer, until golden. Carefully transfer crackers to a cooling rack for 15 minutes.
Store crackers in a glass jar or container on the counter or wrap up and freeze for later.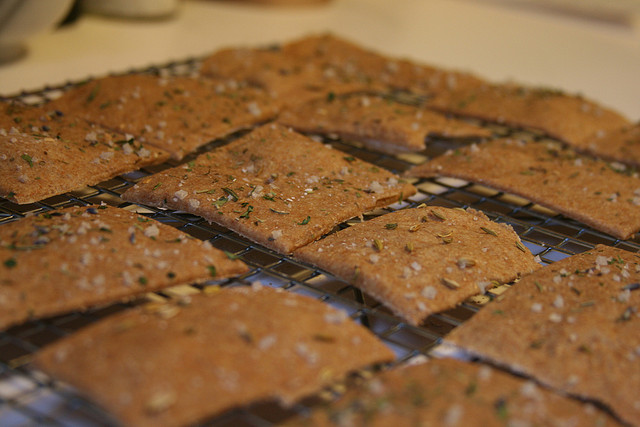 3. Parmesan and Thyme Crackers
Moving on to a more sophisticated cracker, we come to Parmesan and Thyme Crackers from Ina Garten. Requiring only six ingredients, this cracker recipe is perfect for the busy but health-conscious. Pull out your electric mixer and get cracking: These snacks are worth firing up your oven for.
Ingredients:
1/4 pound (1 stick) unsalted butter
3 ounces grated Parmesan
1 1/4 cups all-purpose flour
1/4 teaspoon kosher salt
1 teaspoon chopped fresh thyme leaves
1/2 teaspoon freshly ground black pepper
Directions: Place the butter in the bowl of an electric mixer fitted with a paddle attachment and mix until creamy. Add the Parmesan, flour, salt, thyme, and pepper, and combine. Dump the dough on a lightly floured board and roll into a 13-inch long log. Wrap the log in plastic wrap and place in the freezer for 30 minutes to harden. Meanwhile, preheat the oven to 350 degrees Fahrenheit. Cut the log crosswise into 1/4- to 1/2-inch thick slices. Place the slices on a sheet pan and bake for 22 minutes.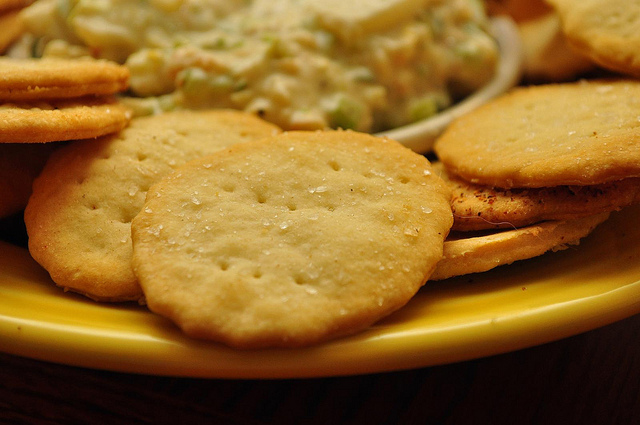 4. Cheddar Wafers
Cheese, please. Feed your cheesy cracker craving with these Cheddar Wafers from Eat Live Run. Processed Cheez Its are so last season — homemade cheese crackers are where it's at. Coming together in five minutes flat, these crispy snacks will help you satisfy your cheese craving the healthy way and remind you that cheesy goodness doesn't have to come in a box.
Ingredients:
1 stick butter, melted
2 eggs
1/4 teaspoon garlic powder
1/8 teaspoon cayenne pepper
1/4 teaspoon ground white pepper
1/2 teaspoon salt
1/2 cup grated sharp cheddar cheese
1 1/2 teaspoon baking powder
2 cups all-purpose flour
Directions: Preheat your oven to 350 degrees Fahrenheit. Whisk together the melted butter and eggs until creamy. Add the cheese and mix until combined. Add the baking powder, salt, white pepper, cayenne pepper, garlic powder, and flour, and mix well. Roll out dough onto a floured surface until it's a little less than 1/4 inch thick. Cut out small circles with cookie cutters and place onto a parchment paper-lined sheet tray. Bake for 20 minutes or until golden.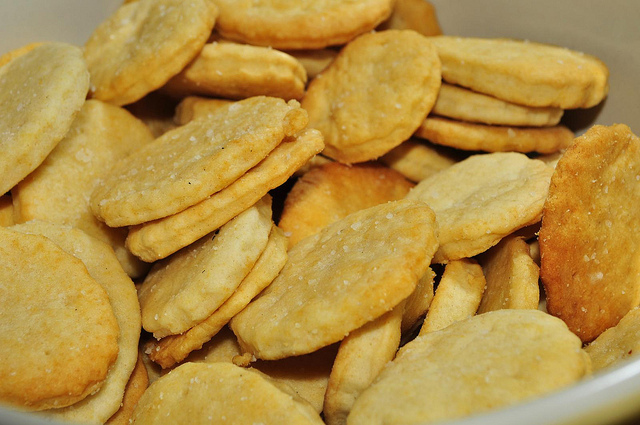 5. Homemade Ritz Crackers
Lastly, it's time to say goodbye to Ritz. The company's services are no longer necessary, as you can crank out the same crackers in your very own oven, sans the preservatives. Homemade Ritz crackers are the perfect vehicle for cheese, meats, dips, and dressings, and they only take 10 minutes to bake. Use this recipe from Cupcake Project and have at it. Snack time just got a whole lot healthier.
Ingredients:
2 cups all-purpose flour
3 teaspoons baking powder
1 tablespoons sugar
1/2 teaspoon and another 1/2 teaspoon salt for topping
6 tablespoons cold unsalted butter and 3 tablespoon unsalted butter, melted
2 tablespoons vegetable oil
2/3 cup water
Directions: Preheat oven to 400 Fahrenheit. Put the flour, baking powder, sugar, and 1/2 teaspoon of salt in the food processor. Pulse to combine. Add cold butter a few small pats at a time, and pulse to combine. Add vegetable oil. Pulse to combine. Add water a little bit at a time.  Pulse to combine after each addition.  The dough should start to form a ball. Roll dough out as thin as you can. Use cookie cutters to cut the dough out. Poke holes in the dough in the Ritz pattern or any pattern you like.  Keep in mind that the holes are not just decorative: they help the crackers bake correctly, so be sure to poke some.
Bake the crackers on a parchment or lined baking sheet for 10 minutes or until the crackers just begin to brown.While the crackers are baking, melt the remaining butter and mix in the remaining salt. As soon as you remove the crackers from the oven, brush them with the salty butter. Cool and eat!
More From Wall St. Cheat Sheet: