Snack Recipes That Are Healthier Than Processed Foods
When afternoon hunger leaves you longing for a snack, there's nothing better than something crispy and salty to tide you over until dinner. And while there are plenty of options at the store or vending machine, why not try making some of these treats at home? It's easy, fun, and even more delicious than anything from a bag or canister. Whether you're trying to be more mindful of what you eat, or just want to tackle a new challenge, these seven recipes will leave your taste buds completely satisfied.
1. Homemade Cheetos
These homemade cheetos from Well Floured are a great way to bring the cheesy, orange snack into your kitchen. With just six ingredients, it's hardly any more work than driving to the grocery store to pick up a bag. No mac and cheese lying around? You can purchase powdered cheese online.
Ingredients:
½ cup all-purpose flour
½ cup corn flour
½ teaspoon salt
4 tablespoons butter, cut into 1 tablespoon sized pieces
½ cup water
Powdered cheese, from a box of mac and cheese
Directions: Preheat the oven to 350 degrees Fahrenheit. Combine the flours and salt, and cut in the butter. Add the water, mixing until you have a firm dough. Knead a few times.
Roll small piece of dough into logs. Place logs on parchment-lined baking sheets. Bake for 10 minutes, turn over and bake another 5 to 8 minutes, until crispy, but not overly browned.
Place baked cheetos in a bag, tossing with cheese.
2. Homemade Wheat Thins
Somewhere between a cracker and a chip, these homemade wheat thins from Momables are equally as good smeared with peanut butter as they are alongside a sandwich. Need any more reason to bake up a batch? According to Live Science, eating whole grains could lead to a longer life.
Ingredients:
1¼ cups whole-wheat flour
1½ tablespoons sugar
½ teaspoon salt, plus extra for sprinkling
¼ teaspoon paprika
¼ cup butter
¼ cup plus 2 tablespoons water (more if too dry)
¼ teaspoon vanilla
Directions: Preheat oven to 400 degrees and line two baking sheets with parchment paper or silicone mat.
Whisk together flour, sugar, paprika and salt. Using a cheese grater, shred butter onto flour mixture. Using your hands, combine until thoroughly mixed.
In a small dish, mix together the water and vanilla. Pour liquid into the flour and butter mixture. Stir until it comes together. If the dough is dry, add a touch of water.
Split the dough in half. Roll out one half of the dough very thin. Cut into whatever shape you desire. Immediately after cutting, transfer the crackers onto lined baking sheets. Repeat as necessary. Sprinkle with more salt, if desired.
Bake for 8 to 10 minutes, watching closely, because they can burn quickly. Halfway through baking, rotate the pans to ensure even baking. Cool completely. Store in an air-tight container.
3. Crispy Kale Chips
Health food stores make an absolute killing when it comes to selling nutritious snack foods, but you can whip up a batch of Melissa D'Arabian's crispy kale chips for a lot less money. We think these crunchy goodies are perfect as is, but feel free to add in a pinch of red pepper flakes or some smoked paprika for even more flavor.
Ingredients:
1 head of kale, washed and thoroughly dried
2 tablespoons olive oil
Sea salt, for sprinkling
Directions: Preheat the oven to 275 degrees Fahrenheit. Remove the ribs from the kale and cut into 1½-inch pieces. Lay on a baking sheet; toss with the olive oil and salt.
Bake until crisp, turning the leaves halfway through, about 20 minutes.
4. Homemade Cool Ranch Doritos
For those who love the sensation of licking flavored powder off of their fingers, She Likes Food's homemade cool ranch doritos are the ultimate mid-afternoon munchies. These are perfect snacks for sharing with friends while watching some baseball, but you might want to keep them all to yourself.
Ingredients:
8 corn tortillas
1 to 2 tablespoons olive oil, or canola oil
1½ teaspoons nutritional yeast
¾ teaspoon paprika
½ teaspoon onion powder
½ teaspoon garlic powder
1 teaspoon dried chives
1 teaspoon dried dill
1 teaspoon dried parsley
½ teaspoon salt
Directions: Preheat oven to 350 degrees Fahrenheit.
Rub the dried dill, chives, and parsley together to break them down into smaller sizes. Add herbs and spices to a small bowl and mix.
Brush a small amount of oil on both sides of each corn tortilla. Stack the tortillas on top of one another and cut them into wedges. Place them in a single layer on a baking sheet and bake for approximately 12 minutes, flipping over halfway through. Once tortillas are crispy, take them out of the oven.
Add a little more oil, if necessary, to ensure that the seasoning sticks. Place tortilla wedges in a plastic container, paper bag, or bowl and pour seasoning over the top. Shake or mix until chips are coated with seasoning.
5. Pretzel Rods
Snacking purists will want to try their hand at making these pretzel rods from cookbook author Casey Barber. He forgoes the traditional method that uses lye, and instead boils the rods in a baking soda mixture. The process from rising to baking  is a little bit time intensive, but the results definitely pay off. Never made baked soda? Just pour the baking soda onto a cookie sheet and bake for about an hour in a 250 degree-Fahrenheit oven. This recipe can be found via Serious Eats.
Ingredients:
Pretzels
1½ cups unbleached all-purpose flour
1½ cups bread flour
1 teaspoon instant yeast (not active dry or rapid-rise)
2 teaspoons packed light brown sugar
½ teaspoon kosher salt
1 cup warm water
Cooking spray or vegetable spray
Poaching Liquid
8 cups water
½ cup baked soda
¼ cup packed light brown sugar
Topping
1 large egg whisked with 1 tablespoon water, for egg wash
2 tablespoons pretzel salt or coarse sea salt
Directions: In a large bowl, stir the flours, yeast, brown sugar, and salt together. Then stir in the warm water until dough forms. Transfer to a lightly floured surface, kneading for 5 minutes. Spray a large bowl with cooking spray or grease lightly with vegetable oil. Place the dough ball in the bowl and cover with a greased piece of plastic wrap. Let rise for 1 hour. The dough will have doubled in size. Line 2 baking sheets with parchment paper.
Transfer the dough to a floured surface; divide into 24 pieces. Roll each piece into a rope about 9 inches long and ½ inch wide. Put the ropes on the baking sheets and cover loosely with greased plastic wrap. Let rise for another 30 minutes.
Preheat the oven to 375 degrees Fahrenheit. Bring the 8 cups water to a simmer in a large, wide saucepan or Dutch oven over medium heat. Add the baked soda and brown sugar and stir until dissolved. The water will foam slightly. Gently drop the dough ropes into the simmering water, a few at a time, for 15 seconds. Remove the ropes and return them to the baking sheets. Brush with the egg wash and sprinkle with the pretzel salt or sea salt.
Bake for 30 to 35 minutes, until fully hardened, dark brown, and glossy, checking every few minutes after 30 minutes; switch the sheets between top and bottom racks halfway through. Transfer the baked pretzels to a wire rack and let cool completely. Store the pretzels at room temperature in an airtight container for up to a week.
6. Homemade Barbecue Potato Chips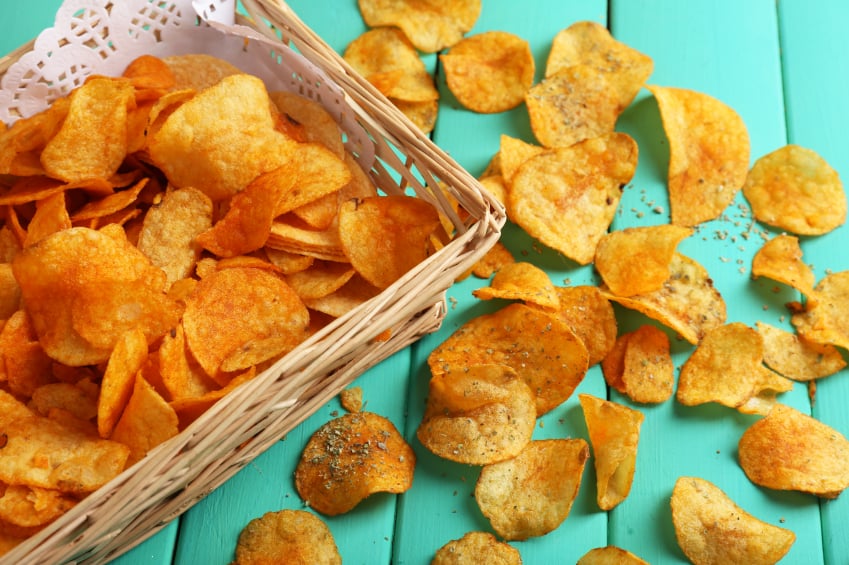 Some folks are ketchup people, some are barbecue sauce people. Anyone who's a fan of that sweet and smokey sauce will love these homemade barbecue potato chips from Taste of Home. Though the recipe calls for slicing the potatoes with a peeler, we like using a mandolin for the most consistent results.
Ingredients:
1 teaspoon paprika
½ teaspoon garlic salt
¼ teaspoon sugar
¼ teaspoon onion powder
¼ teaspoon chili powder
⅛ teaspoon ground mustard
Dash cayenne pepper
1 large potato, peeled
4 cups ice water
oil for deep frying
Directions: In a small bowl, combine the first 7 ingredients; set aside.
Using a vegetable peeler, cut potato into very thin slices. Place in a large bowl; add ice water. Soak for 30 minutes. Drain potato; place on paper towels and pat dry.
In an electric skillet, heat 1½ inches oil to 375 degrees Fahrenheit. Fry potato slices in batches for 1 to 2 minutes or until golden brown, turning once. Remove with a slotted spoon; drain on paper towels. Immediately sprinkle with seasoning mixture.
Store in an airtight container.
7. Homemade Goldfish Crackers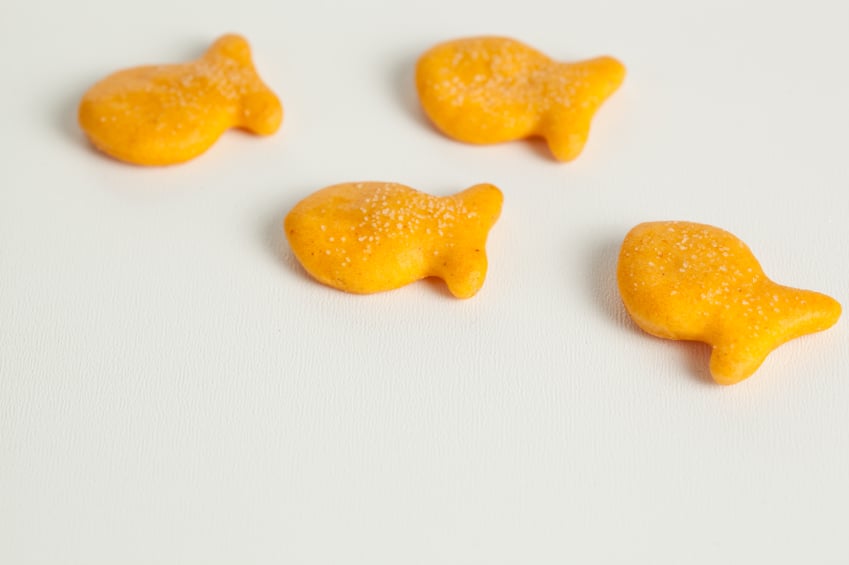 All kids, and kids at heart, adore cheesy fish-shaped crackers. They're tasty, crunchy, and super fun to float on a bowl of tomato soup. To make snack time a little more special, whip up a batch of Tasty Kitchen's homemade goldfish crackers. Although you can cut these crackers into any shape, we love the nostalgic look of the tiny fish.
Ingredients:
8 ounces sharp cheddar cheese, shredded
4 tablespoons butter, made into cubes
1 cup flour
¾ teaspoons salt
2 tablespoons cold water
Directions: In a food processor, pulse everything except water together. The dough should resemble coarse sand. Pulse in water, 1 tablespoon at a time. Remove dough from the processor. Cover in plastic, and chill for 20 minutes.
Roll out the dough and cut into desired shapes. You can use a toothpick to make the eyes and smile, if desired. Place on a parchment lined cookie sheet. Bake at 350 degrees Fahrenheit for about 15 minutes, or until crispy.