Step Into a Storybook: 6 Stunning European Castles You Can Visit
Blame Disney movies, the Brothers Grimm, or William and Kate, but castles and royalty cast an enchanting, mysterious appeal. Bastions of old world glamour, many of the world's most beautiful castles have been opened to take advantage of a public eager to explore the sumptuous ways of the past.  Great for tourism, the palaces, fortresses, châteaux, and elegant living quarters house culture, history, and over-the-top architecture. For a small sampling of what can be discovered with a royal travel itinerary, here are six of the Europe's most awe-inspiring castles.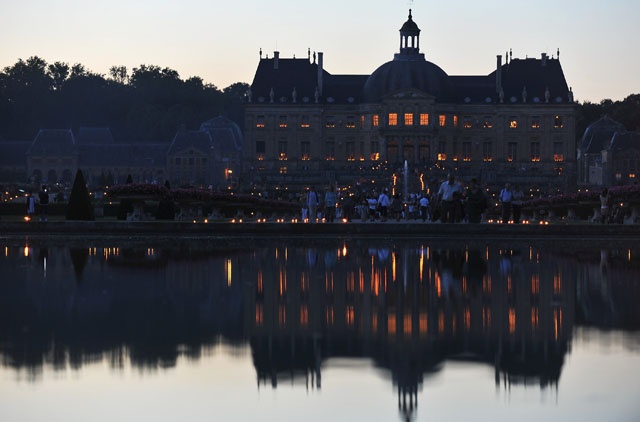 1.

Vaux-le-Vicomte

, France
At the ripe old age of 26, Nicolas Fouquet, a 17th century French Parliamentarian, purchased the fief of Vaux-le-Vicomte, which came with a castle. By 1661, twenty years after the purchase, Fouquet had crafted a masterpiece with help from Louis Le Vau (the first architect of Versailles), famed painter Charles Le Brun, and landscape gardener André Le Nôtre. Sadly, this was also the year Fouquet became the target of a plot, and was imprisoned, Vaux-Le-Vicomte's website explains. With Fouquet safely imprisoned, King Louis XIV invited himself to its belongings, including tapestry, orange trees, books, and rugs. The castle (or château) would change hands a few times, eventually falling into a state of neglect. Thankfully, in July of 1875, Mr. Alfred Sommier snatched the estate in a private auction, and he and his inhabitants have been restoring it ever since. Now, visitors can enjoy the beauty of Vaux-Le-Vicomte magnificently lit by candles, saunter through the gardens, or visit the Horse and Carriage Museum for 16.50 euros ($22.32.)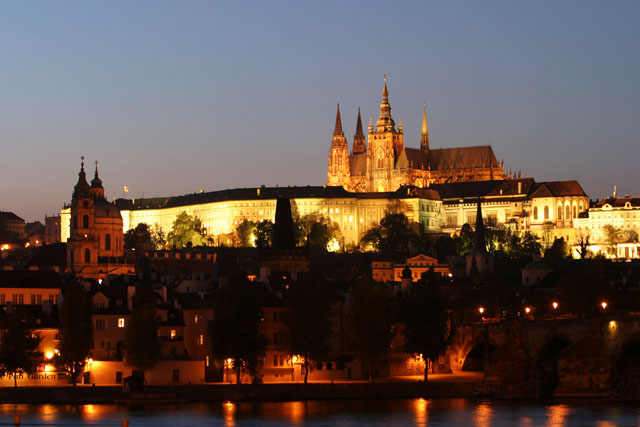 2. Prague Castle, Czech Republic
Surround yourself with culture, history, and politics by stepping inside the immense Prague Castle in the Czech Republic. According to the Castle's history, it was likely founded in 880 by Prince Bořivoj of the Přemyslid Dynasty. As the centuries passed, rulers enhanced the medieval fortress of clay and stones, adding courtyards, halls, a basilica, and other features. As a result, it covers almost 70,000 square meters and is in the Guinness Book of World Records for being the "largest coherent castle complex in the world." It counts among its holdings the crown jewels, relics and documents of previous Kings, and various works of art. Ticket prices for this UNESCO World Heritage site vary based on which circuit you purchase, from 40 Czech Republic Koruna up to 350, or about $2 to $17.25.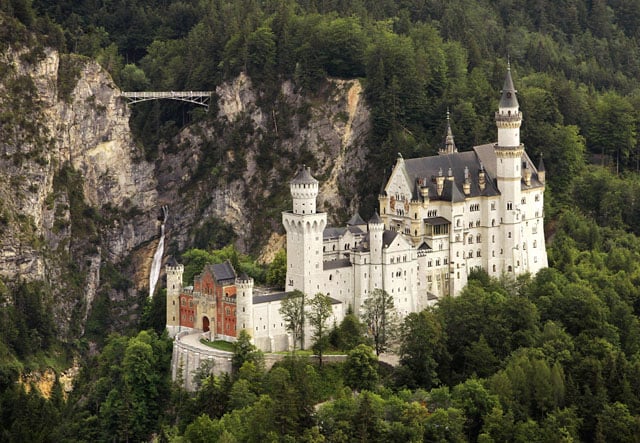 3. Neuschwanstein Castle, Germany
"It is my intention to rebuild the old castle ruin of Hohenschwangau near the Pöllat Gorge in the authentic style of the old German knights' castles." It was his intention, and became a reality. Neuschwanstein Castle's website states that Ludwig II, King of Bavaria, spoke those words to Richard Wagner in 1864. He described the plans for the future Neuschwanstein Castle, a dwelling with "several cosy, habitable guest rooms with a splendid view of the noble Säuling, the mountains of Tyrol, and far across the plain." Situated in a location that was "one of the most beautiful to be found, holy, and unapproachable," the castle retains these qualities 150 years after Ludwig uttered them. Today, over 1.4 million people pay a visit to "The Fairytale King's" castle, a folkloric visit that costs 12 euros ($16.23).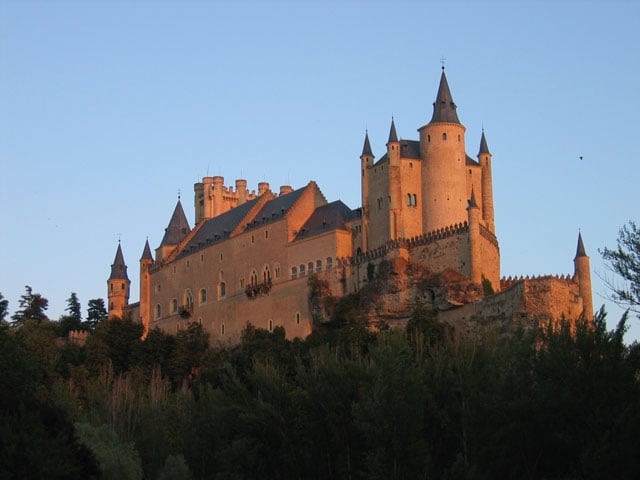 4.

Alcázar

 de Segovia, Spain
Rumored to have served as Walt Disney's inspiration for fairytale castles, Lonely Planet states that the present-day Alcázar de Segovia occupies the site of the historic fort and castle. An online brochure provided by the Alcázar says the earliest written record for the castle is from the early 12th century. However, a devastating fire in 1862 halted history in its tracks. Restoration began in 1882 and was completed in 1896. Although not exactly the same as the castle that Frommers states was the favored residence of Castilian monarchs during the medieval period, the Hall of Monarchs is a site to see. If you're feeling adventurous, you can climb the treacherous steps of a tower to a room originally intended as a prison that boasts panoramic views of Segovia, all for 5 euros ($6.76.)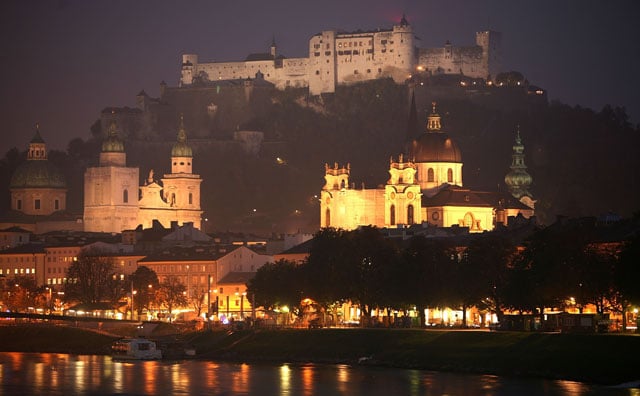 5. Hohensalzburg Castle, Austria
Hohensalzburg Castle commands a view of the city of Salzburg that is unparalleled and is the city's main tourist attraction according to Hohensalzburgcastle.com. Building began in 1077, and the castle was expanded between 1495 and 1519. Impressive in terms of longevity, the castle has another point of pride; from its inception, it has never been conquered — a mark of distinction that few other Austrian castles can claim. Inside are the medieval princes' rooms and a fortress museum. Salzburg's tourism office describes rooms with detailed Gothic carvings, and artwork that can be viewed in the Golden Hall and Golden Chamber. Fittingly for the city that is the birthplace of Mozart, you can also catch concerts in the courtyard throughout the year. Admission fees range from about 5 euros to just under 20, depending on the package purchased (approximately, $6-$27.)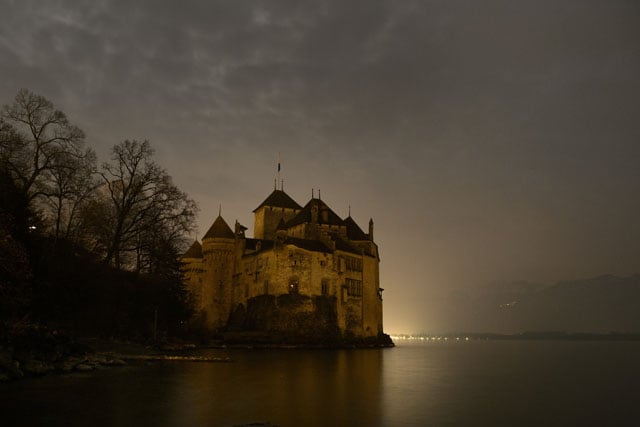 6. Chillon Castle, Switzerland
Perched on the shores of Lake Geneva and nestled at the foot of the Alps, you'll find Chillon Castle in Switzerland. With natural resources like that forming the backdrop for this castle, it is easy to understand why it refers to itself as an "architectural jewel." The first known reference to the castle occurred in 1150, when it was under the control of the Counts of Savoy. Throughout its history it changed hands, was occupied by forces during revolutions, served as a storage space, and inspired writers like Rousseau and Lord Byron. Visitors can sample wine from the castle's vineyard, tour underground rooms that are architecturally similar to Gothic cathedrals, visit the chapel or spend time in the courtyards. From June to October, there is an additional feature visitors can capitalize on. Visitors can rent a stretch of hidden beach for an event, celebration, or cookout. Entrance is generally around 12.50 Swiss Francs, or about $13.
More From Wall St. Cheat Sheet:
Want more great content like this? Sign up here to receive the best of Cheat Sheet delivered daily. No spam; just tailored content straight to your inbox.