Storage Solutions: 8 DIY Ideas for Getting Organized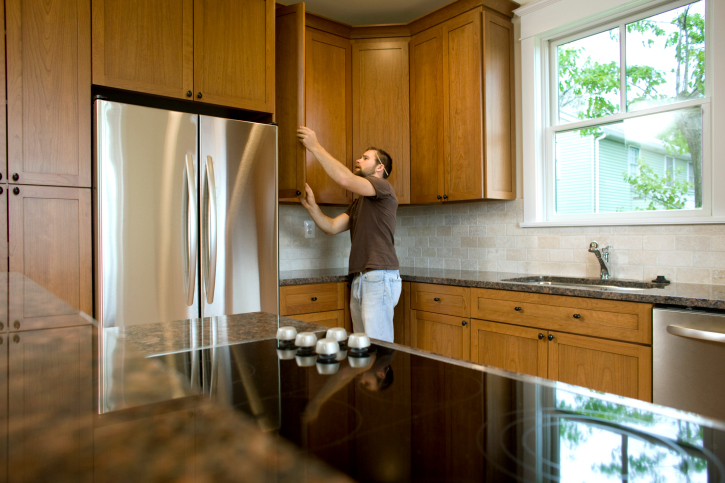 Sometimes, there just isn't enough space. Papers get strewn about the house, kids' clothes become piled heaps on the floor with toys scattered around, and measuring cups are lost in drawers. Thankfully, the Internet is full of crafty people creating solutions to such problems. Instead of going out and buying storage solutions, check out the following eight do-it-yourself options that will get you organized and create more space.
Hidden cabinet storage
A simple place to start is to organize some of the paper in your kitchen. Clearing up clutter has a way of making even the smallest spaces look bigger, and whether it is phone numbers, business cards, dentist appointments, or recipes, these scraps of information have a way of multiplying. Young House Love has a solution: a hidden cork board in your cupboard. Just pick up cork board tiles, push pins, and adhesive strips–which probably come with the boards.
All you need to do is buy as many cork board tiles as you want and use the adhesive strips to affix them to the inside of your cupboard doors. There, you can pin away, placing your grocery lists or any other reminders right inside your cupboards so you always know where they are.
Not in need of organizing paper? Your cupboards can be used for organizing measuring cups and spoons, too, thanks to Infarrantly Creative and hanging organizers made with 5-gallon paint sticks, which you can pick up for free at a hardware store. Other supplies you'll need are measuring cups and spoons, ¾-inch cup hooks, four wood screws, spray paint and primer, miter box and saw, fine sanding sponge, and an electric drill and drill bits.
The miter box and handsaw are used to cut the handles of the sticks off, and the sticks are then sanded and spray painted. Using an electric drill, holes are pre-drilled to keep the wood from splitting. Next, the sticks are drilled into the cupboard, and then the ¾-inch cup hooks are screwed into place, spaced properly so that everything has room to hang.
Under-the-bed storage
Under-the-bed storage is something that you can buy, but if you have the materials around — or are just feeling crafty — you can make your own version, too. Better Homes and Gardens placed wheels on vintage suitcases so they easily slide out from under the bed. First, 1-inch-thick blocks of wood are glued to the bottom of the suitcase, and the wheels are then fixed to the wood with screws.
Others, like Liz On Call, repurposed old drawers for added storage that fits under the bed. She began by painting and decorating the old drawers she found in her garage. Once they were dry, four swivel casters were added to the bottom of each drawer. This was the smallest size available, because the wood is not very thick and short screws needed to be used. In the existing holes on the front of the drawer, drawer pulls were attached to make it even easier to pull out from under the bed. Her version was used for kid's toys but can also be viewed as an extension of your dresser, a place to store shoes, or just about anything you want.
Desks with storage
Martha Stewart calls her iteration a colorful crafting table for the kids, but it could also be a homework station — or, with a slight variation, as a home-office desk. For the kids, the space is created using two six-cube storage units, a hollow-core door, enough oilcloth to cover the door, a heavy-duty staple gun, grosgrain ribbon, a hot glue gun, four L-brackets and screws, and a drill. You can also use coordinating fabric cube storage bins.
To make the table, spread out oilcloth, right side down, on a flat surface. Center door on top of oilcloth. Starting in the center of one side, wrap oilcloth around to back of the door and staple in place. On the opposite side of the door, directly across from the first staple, pull oilcloth taut over the back of the door and staple in place.
Repeat for the two remaining sides of the door, making the oilcloth taut in the center from four directions. Continue stapling from the center points outward, about every 3 inches. At each corner, fold one side neatly under the other and staple in place.
Use hot glue gun or fabric glue to attach grosgrain ribbon over staples, all the way around underside of door. Place covered door on top of two evenly spaced storage units.Tip: The units can be placed on their sides for a lower children's table. Screw L-brackets to underside of door and backs of storage units to hold in place.
For the adult variation of the same table, use bookcases for the legs to increase your storage space. This desk used 30-inch-square bookcases, which are the perfect height and the same width as a standard-size door. Sawhorses can also be used, but you'll lose the added shelving of the book cases.
To make the desk, prime and paint the bookcases, and top with a door finished in the same color. If space is tight (and you can't find a ready-made door in your desired length), custom-order the size you need at a home-supply store. To give the desk a finished, cohesive look, add a few details: line the back of the shelves with sheets of marbled paper (secured with double-sided tape), and hot-glue a ribbon around the edge of the desktop and leather cord across the shelves.
Clothing
Smile and Wave has a solution for storing kid's clothes or costumes so they can easily reach them: a garment rack. This neatly hangs clothes, does not take up much room, and is perfect if you're short on drawer space.
To make it, you'll need four 1-inch by 3-inch 6-foot poplar boards, three ½-inch by 48-inch poplar dowel rods, a drill with ½ and ⅛-inch bits, two screw eye hooks, 2 feet of chain, wire cutters, pliers, a hand saw (or miter saw), pencil, tape measurer, protective eye wear, gloves, cardboard, 80 grade sand paper, primer, and paint (optional).
First, measure 4.5 inches up and mark across all four boards. Then, measure back down 2.5 inches from your line and mark a dot in the center of each board. Repeat at the opposite end of each board. Next, saw across your lines (very carefully and with protective gear).
Carefully drill a hole at each end of each board where you made a mark. Sand your boards, making sure to sand down around the holes and the saw cuts. Wipe with damp paper towel. Insert rods and make sure they fit. The rods should fit snugly in the wood but still be able to adjust with pressure. If you'd like a fixed rack, cover the ends of the rods with wood glue before inserting them through the boards.
You'll want to take the rods out and pre-drill a hole with an ⅛-inch bit about 12 inches up from the bottom of two boards. Screw in your screw eye hooks. Put rack back together. Use wire cutters to cut your chain to desired width, and pliers to attach one end to each screw eye hook. This will keep your rack from sliding too wide if it's loose or if your toddler wants to hang from it like a monkey.
If you'd like to paint your rack, one layer of white primer in either a spray paint or acrylic paint is suggested. Remove screw eye hooks. Let dry according to manufacturer's directions. Follow with two coats of your color of choice. Once dry, reattach your screw eye hooks and enjoy.
Cake stand storage
This is another organizing solution that can serve kids or adults. The Crafting Chicks were inspired by the tiered cake stands at Pottery Barn and wanted a much cheaper, DIY version. To make a three-tiered cake stand that can then hold crafting supplies, snacks, or cakes you'll need three old cake pans, two candlesticks, E6000 glue, and spray paint. The candlesticks were rolled in spray paint, and after they dried, the E6000 glue was used to stick them to the cake pans. The top candlestick was glued upside-down, which helps to mask the fact that they are candlesticks. When you're finished, you'll have three places to put all your odds-and-sods, jewelry, or whatever else needs a place to be stored but still easily accessed.
This last idea isn't so much a way to get organized or gain more storage, but it will give you a new use for all those plastic Easter eggs that end up collecting dust most of the year. Real Simple says they can be used year-round to pack snacks in — perfect for kid's lunches. It's a cute, fun way to pack food, and it can also save money. You'll be using plastic eggs you already own instead of buying resealable plastic bags.
More From Wall St. Cheat Sheet: