6 Easy Rice Recipes That Make the Perfect Side Dishes
Globally grown, almost every culture has at least one way to prepare rice. By The Nibble's calculation, there are over 40,000 different varieties available for people all around the world to use daily when cooking. Rice can be quickly prepared, giving your meals a time-saving component. It absorbs flavors and spices, so you can alter its taste to pair with the rest of your plans, as well as your favorite seasonings. As far as side dishes go, it doesn't get much better than that — so why not test out one of these six recipes tonight?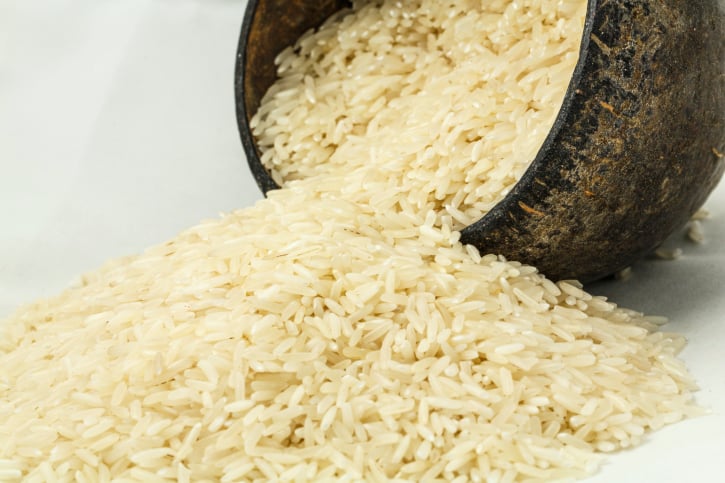 1. Gluten-Free Coconut Ginger Rice
Sweetened with coconut, make this Betty Crocker rice dish when you need a gluten-free side. To toast coconut, spread the flakes evenly on a baking sheet and place it in an oven preheated to 350 degrees for 5 to 7 minutes, or until it is golden brown; stir occasionally. You'll have enough rice for about 8 servings.
Ingredients:
2½ cups reduced-sodium chicken broth
⅔ cup reduced-fat (lite) coconut milk (not cream of coconut)
1 tablespoon grated ginger root
½ teaspoon salt
1⅓ cups uncooked regular long-grain rice
1 teaspoon grated lime peel
3 medium green onions, chopped (3 tablespoons)
3 tablespoons flaked coconut, toasted
lime slice
Directions: Heat broth, coconut milk, ginger root, and salt to boiling in 3-quart saucepan over medium-high heat. Stir in rice. Heat to boiling; reduce heat. Cover and simmer about 15 minutes or until rice is tender and liquid is absorbed; remove from heat. Add lime peel and onions. Fluff rice, lime peel, and onions lightly with a fork to mix. Garnish with coconut and lime slice.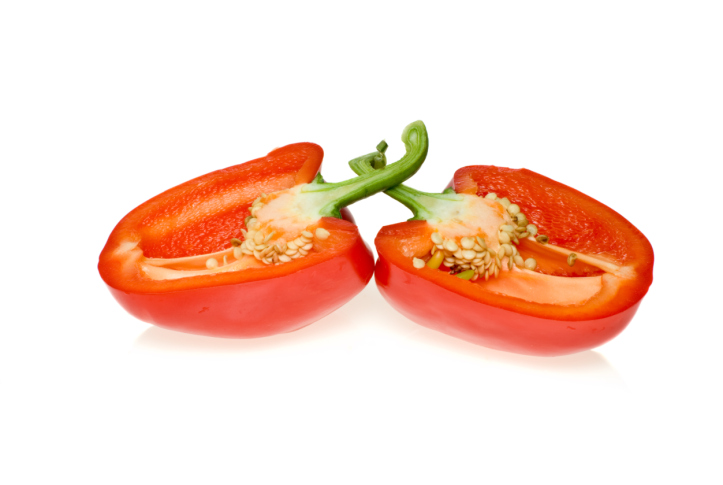 2. 
Roasted Red Peppers Stuffed with Kale and Rice
Instead of just spooning rice onto the plate, use Eating Well's fancier (and tastier) way to present your side dish. The stuffed red peppers will serve 6 and are ready in about an hour. You can substitute the kale for other greens such as spinach or collards.
Ingredients:
Peppers
3 medium red bell peppers
1 tablespoon extra-virgin olive oil
¼ teaspoon salt
Freshly ground pepper, to taste
Filling
8 ounces kale, (6 cups lightly packed), trimmed
1 tablespoon extra-virgin olive oil
1 medium onion, chopped
½ cup chopped red bell pepper
2 cloves garlic, minced
¾ cup cooked short-grain brown rice
½ cup freshly grated Parmesan cheese
¼ cup toasted pine nuts, divided
1 tablespoon lemon juice
¼ teaspoon salt
Freshly ground pepper, to taste
Directions: To prepare peppers: Preheat oven to 400 degrees Fahrenheit. Halve peppers lengthwise through the stems, leaving them attached. Remove the seeds. Lightly brush the peppers outside and inside with oil; sprinkle the insides with salt and pepper. Place, cut-side down, in a 9-by-13-inch baking dish. Bake until peppers are just tender, 10 to 15 minutes. Let cool slightly. Turn cut-side up.
For the filling, bring 2 cups salted water to a boil in a large wide pan. Stir in kale, cover and cook until tender, 10 to 12 minutes. Drain, rinse under cold water; squeeze dry. Finely chop. Heat oil in a large nonstick skillet over medium heat. Add onion and chopped bell pepper; cook, stirring often, until onion is golden, 6 to 8 minutes. Add garlic and cook, stirring, for 30 seconds. Stir in the kale. Remove from the heat and let cool slightly. Stir in rice, Parmesan, 2 tablespoons pine nuts, and lemon juice. Season with salt and pepper. Divide the filling among the pepper halves. Sprinkle with the remaining 2 tablespoons pine nuts. Add 2 tablespoons water to the baking dish. Cover the peppers with foil and bake until heated through, 15 to 20 minutes. Uncover and bake for 5 minutes more. Serve hot.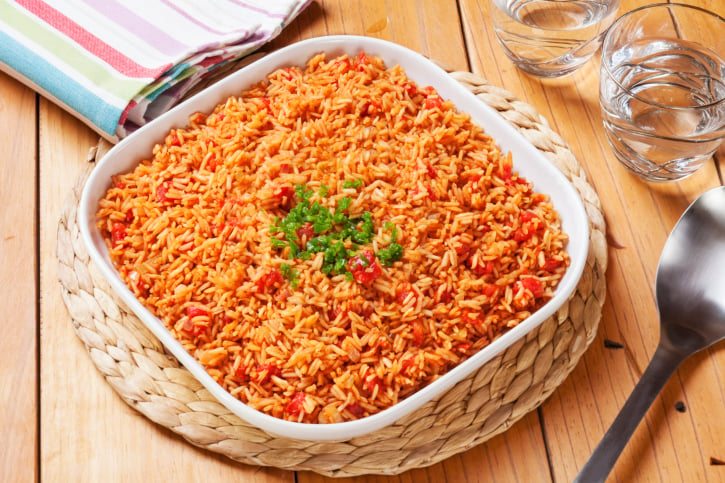 3. Mexican Rice
If you always serve rice and beans alongside your favorite Mexican meals, switch things up a bit with Food.com's Mexican rice. It is recommended that if you cannot find fresh tomatoes, you should use canned instead. It will yield 8 servings.
Ingredients:
12 ounces tomatoes, very ripe and cored
1 medium white onion
3 medium jalapenos
2 cups long grain white rice
⅓ cup canola oil
4 minced garlic cloves
2 cups chicken broth
1 tablespoon tomato paste (optional if using canned tomatoes)
1½ teaspoons salt
½ cup fresh cilantro, minced
1 lime
Directions: Adjust rack to middle position and preheat oven to 350 degrees Fahrenheit. Process tomato and onion in processor or blender until pureed and thoroughly smooth. Transfer mixture to measuring cup and reserve exactly 2 cups. Discard excess. Remove ribs and seeds from 2 jalapenos and discard. Mince flesh and set aside. Mince remaining jalapeno. Set aside.
Place rice in a fine mesh strainer and rinse under cold running water until water runs clear — about 1½ minutes.Shake rice vigorously to remove excess water. This step removes the starch from the rice so it will not stick. Do not skip this step.
Heat oil in heavy bottomed ovensafe 12-inch straight sided saute pan or Dutch oven with tight fitting lid over low-medium heat about 2 minutes. Drop a few rice grains in and if they sizzle then it is ready. Add rice and fry stirring until rice is light golden and translucent, about 6 to 8 minutes. Be careful that the oil doesn't get too hot too fast or the oil will splatter.
Reduce heat to medium, add garlic and two minced jalapeños and cook , stirring constantly until fragrant, about 1½ minutes. Stir in broth, pureed mixture,tomato paste, and salt. Increase heat to medium high, and bring to a boil. Cover pan and transfer pan to oven to bake until liquid is absorbed and rice is tender, 30 to 35 minutes. Stir well after 15 minutes. Stir in cilantro, minced jalapeno to taste, and pass lime wedges separately.
4. Vegetable Fried Rice
Like Mexican rice, fried rice is a restaurant favorite. You can try your hand at making vegetable fried rice at home with Cooking Light's recipe. It yields four 1-cup-sized servings, is ready in under 20 minutes, and would pair well with a pork dish.
Ingredients:
2 teaspoons dark sesame oil
¾ cup sliced shiitake mushrooms
½ cup matchstick-cut carrots
½ cup sliced green onions
2 teaspoons bottled minced garlic
¼ teaspoon pepper
4 cups chilled cooked brown rice
1 large egg, lightly beaten
2 tablespoons low-sodium soy sauce
1 tablespoon water
3 tablespoons dry white wine
⅓ cup frozen green peas
Directions: Heat sesame oil in a large nonstick skillet over high heat. Add mushrooms and next 4 ingredients; stir-fry until tender. Add cooked rice; stir-fry 2 minutes. Push rice mixture to sides of pan, forming a well in center. Add egg to center of pan, and let cook 30 seconds; toss with rice, and stir-fry until egg is cooked. Stir in soy sauce and remaining ingredients; cook until thoroughly heated.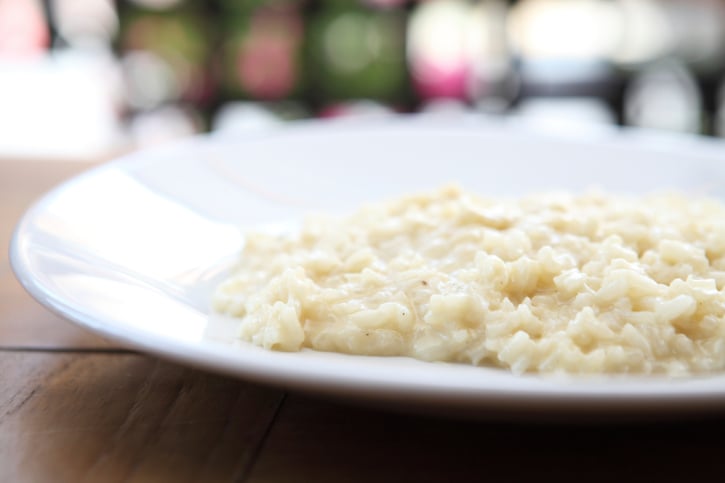 5. Oven Baked Risotto
Creamy and cheesy, risotto can be a lot of effort. To save your arms the work of having to stir your risotto on the stove top, use Martha Stewart's method and bake your rice-based dish instead. It serves 4 and is ready in about 40 minutes, with a scant 15 minutes of prep work.
Ingredients:
1 tablespoon olive oil
¼ cup finely chopped onion
¾ cup Arborio rice
¼ cup dry white wine, (optional)
2 to 2 ¼ cups hot water
½ cup homemade or low sodium canned chicken stock
¾ teaspoon coarse salt
⅛ teaspoon freshly ground pepper
1 tablespoon unsalted butter
¼ cup freshly grated Parmesan cheese
2 tablespoons finely chopped fresh flat-leaf parsley, (optional)
Directions: Preheat oven to 425 degrees Fahrenheit. In an ovenproof saucepan or Dutch oven, heat oil over medium-high heat. Add the onion and cook, stirring, until translucent, 2 to 3 minutes. Add the rice and cook, stirring to coat the grains with oil, about 1 minute.
Stir in the wine and cook until it has completely evaporated, about 1 minute. Stir in 1½ cups water, the stock, salt, and pepper. Bring to a boil. Cover, transfer to the oven, and bake, until most of the liquid has been absorbed by the rice, 20 to 25 minutes. Remove from oven. Stir in ½ to ¾ cup water, the butter, cheese, and parsley. Serve immediately.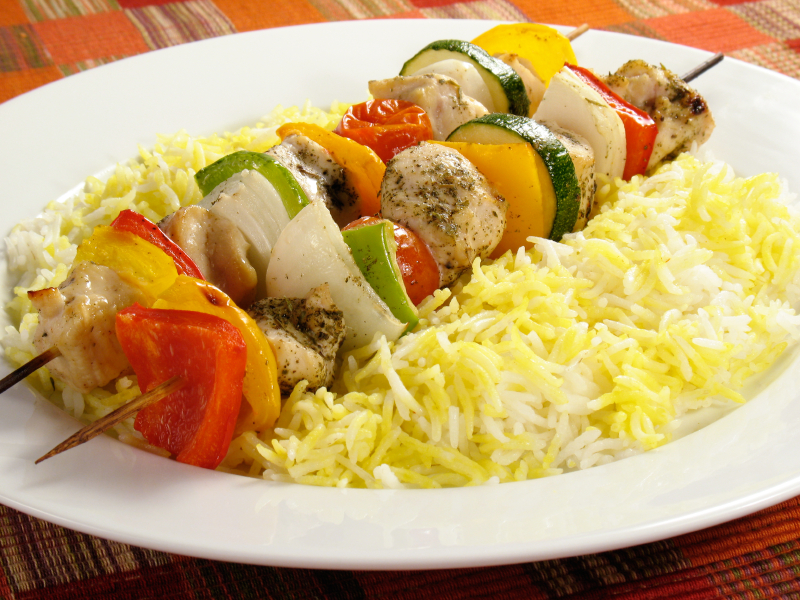 6. Saffron Rice Pilaf
Saffron threads, Food.com explains, will retain flavor longer than ground saffron will. To get the most out of the spice, crush the threads immediately before you plan on using them. Follow this guideline when you make the saffron rice pilaf from Gourmet found on Epicurious.
Ingredients:
¾ teaspoon crumbled saffron threads
2 tablespoons boiling-hot water
⅓ cup olive oil
1 cup slivered almonds (4 ounces)
1 very large onion, chopped (3 to 4 cups)
3 cups white basmati rice (19 ounces)
4½ cups water
1 cup dried currants (4 ounces)
Directions: Soften saffron in hot water (2 tablespoons) in a small bowl. Heat oil in a 5-quart heavy pot over medium-high heat until it shimmers. Fry almonds, stirring frequently, until golden, about 3 minutes. Transfer with a slotted spoon to paper towels to drain.
Fry onion in oil remaining in pot, stirring occasionally, until golden brown, 15 to 20 minutes. Transfer half of onion to a bowl. Add rice to onion in pot and cook, stirring, until fragrant, about 2 minutes. Add water (4½ cups), saffron mixture, 1½ teaspoons salt, and ½ teaspoon pepper and bring to a simmer. Reduce heat to low and cook, covered, until water is absorbed and rice is tender, 18 to 20 minutes.
Let rice stand, covered, off heat 5 minutes. While rice stands, stir almonds and currants into bowl with onion. Fluff rice with a fork and serve with almond mixture spooned on top.
More from Life Cheat Sheet:
Want more great content like this? Sign up here to receive the best of Cheat Sheet delivered daily. No spam; just tailored content straight to your inbox.