3 Last-Minute Gift Ideas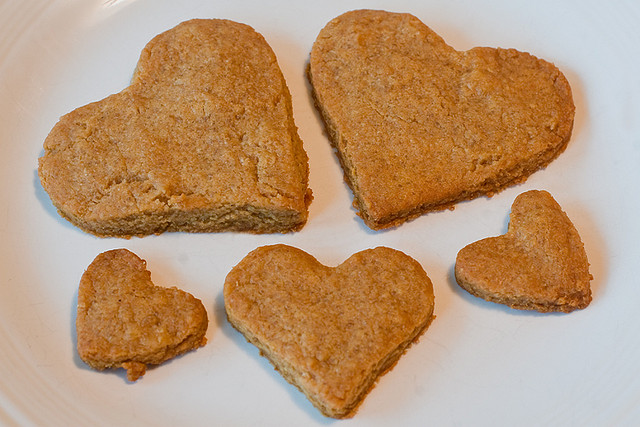 For some, Valentine's Day is one word: stressful. Though the day is supposed to be about love, it easily escalates with the pressure to perform, buy the write gifts, cook the right dinner, and say the right things — but it doesn't have to be that way. Valentine's Day doesn't have to break your budget, and you don't necessarily have to buy the most expensive things. Many times, loved ones just want to know that you care, and that's where these inexpensive, yet charming gifts come in. They show your thoughtful side while not robbing the bank.
There are a number of routes you can go when buying Valentine's Day gifts while trying to stay out of the dog house, and today we're highlighting a couple different ways you can go this February 14. You can bake, you can craft, you can buy, or you can plan. Each of our ideas keep your tight budget in mind, and they are also sure to earn you the seal of approval once the clock strikes 12 and Valentine's Day is finally over.
For the Bakers: Peanut Butter Whole Wheat Blondie Hearts
One of the easiest way to win over someone's heart is winning over their stomach. Yes, you heard that right. Making a baked good for someone is an inexpensive, yet thoughtful way to show someone you care, as you can easily say that your dessert was baked with love and really mean it. Of course, there's also pressure to impress in the kitchen, but whether you take on a complex dessert or go with a simple no-bake cake, your valentine is likely to be pleased — especially if your present involves chocolate. Here's a recipe for Peanut Butter Whole Wheat Blondie Hearts via Sally's Baking Addiction that will melt just about anyone's heart, especially your loved one's.
Ingredients:
3/4 cup creamy peanut butter
1/3 cup melted coconut oil
1/2 cup loosely-packed light brown sugar (or dark brown sugar)
1/4 cup milk
2 teaspoons vanilla extract
1 cup (126 grams) whole wheat flour
1/4 teaspoon salt
1/2 teaspoon baking powder
1/3 cup (42 grams) peanuts
1/3 cup (60 grams) dark or semi-sweet chocolate chips
Chocolate Drizzle
1/4 cup (45 grams) dark or semi-sweet chocolate chips

1 teaspoon creamy peanut butter
Directions: Preheat oven to 350 degrees Fahrenheit. Line an 8-inch baking pan with aluminum foil or parchment paper, making sure there is enough overhang on the sides to easily remove the blondies. Set aside. In a large bowl, mix together peanut butter, oil, and brown sugar until smooth. Whisk in the milk and vanilla. Add the flour, salt, and baking powder. Mix until combined. Use your arm muscles — the batter will be very thick. Transfer batter to baking pan and press it into place using the back of a spatula. Sprinkle the top with peanuts and dark chocolate chips, pressing them gently into the batter.
Bake for 22 to 25 minutes, until the edges are just barely browning. The top will look very soft. Remove from oven and cool completely before slicing into squares or hearts. The first batch I made two years ago, I cut into the blondies too early and they all crumbled. Be sure to cool for at least 3 hours or overnight (preferred) before cutting.
To make the drizzle, melt chocolate chips and peanut butter together. Drizzle over cut blondies. Blondies stay fresh in an airtight container for up to one week at room temperature.
For the Crafters: Personalized Valentine's Day Tea Cups & Saucers
Of course, you can always buy your loved one a mug or special plate this Valentine's Day so they always think of you when they're drinking or eating off your gift, but you also personalize that glassware so your present is extra special, and extra inexpensive. But who's counting?
Pen N' PaperFlowers Studio & Design highlighted the idea for this craft that has been floating around Pinterest for a while now, and the mastermind behind the blog, Jennifer Kirkland, explained the step-by-step process of personalizing love mugs and plates for little to no cost, conveniently making all parties happy.
Steps to perfect the gift:
1. Buy oven safe plain teacups and saucer from HomeGoods, Wal-Mart, or any retail store.
2. Using a black Sharpie, write your favorite sentiments, love notes, or quotes on cups and glassware.
3. Make the design permanent by baking your mugs at 30 minutes at 350 degrees to let it set.
4. Enjoy!
If customizing a mug or baking your loved one a dessert isn't really your thing, here's an idea for you: speakable necklaces. Since some gift givers feel more comfortable buying rather than making or baking, these charming necklaces may say exactly what you're thinking, but what you're not ready to say. One of the top trends this year are rectangle bar frontal necklaces, and this new company hits the nail on the head by taking the necklaces and then carving words onto them.
Speakable is constantly coming out with new collections, and right now, they have their Valentine's- themed jewelry for sale, so you better get it while it's hot and still available. This gift is affordable, but still doesn't look cheap, and it'll look chic on just about any Valentine.