Winter Wellness: 10 Tips To Stay Fit During the Holidays
The mercury may be falling, but there is no reason heart rates can't rise as winter sets in. Every year, the media bombards us with stories making the claim that as the sun sets earlier and earlier, fitness regimes suffer because men, women, and children allegedly forgo venturing out into the frozen tundra, something they need to be doing to combat holiday weight gain.
In 2000, a study appearing in the New England Journal of Medicine called common claims of gaining five pounds unsupported. Instead, it found a gain of one pound during the season each year that is retained each year. The same year, The Nutritional Review released a study saying a normal-weight person gains about 0.8 pounds on average, and five pounds or more of weight gain in the season was seen in 14 percent of the overweight and obese individuals participating in the study. However, for all groups, the holiday period accounted for 51 percent of an individual's weight gain.
There is some cause for concern, but thankfully, there are plenty of ways and reasons to workout — indoors or outdoors — once the temperature starts to drop. So what if the sun is shining a little less? Find out ways to stay active this winter.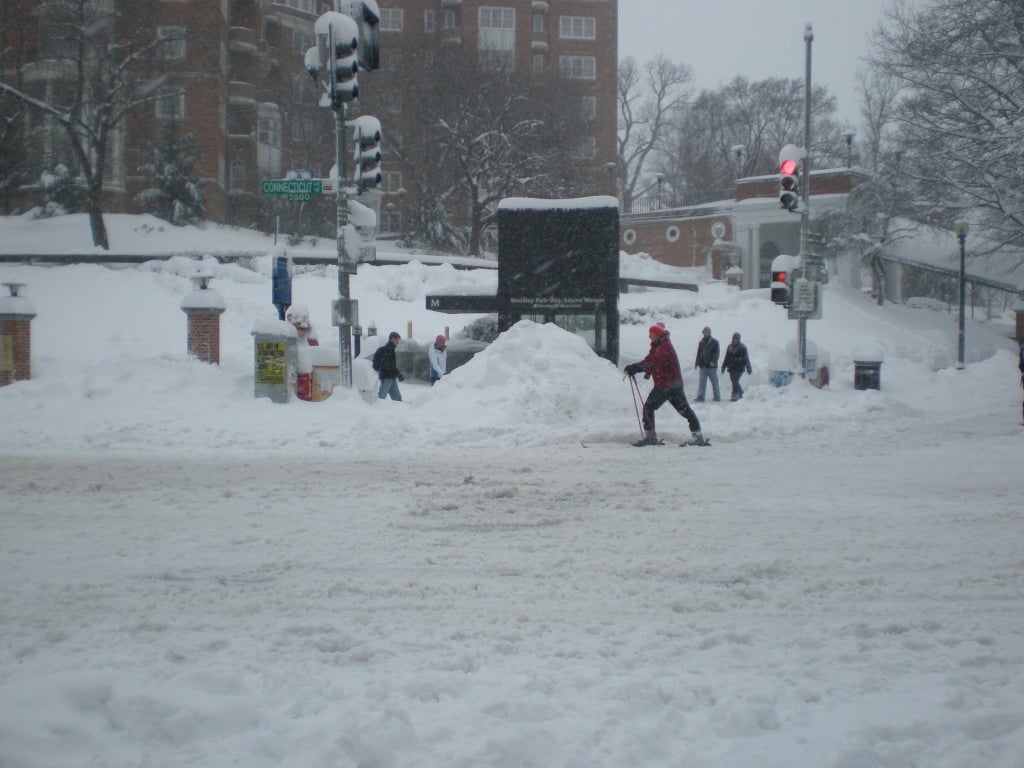 1. Cross-Country Skiing
Findings involving cross-country skiers are flabbergasting. Researchers in Sweden and at Ball State University evaluated two groups of healthy men in their 80s. The men in each group were capable of preforming fitness tests to the point of exhaustion. The evaluation of the tests showed that the cross-country skiers had about twice as much cardiovascular and muscle fitness as the non-skiers.
In addition to long-term health benefits, cross-country skiing is a total body workout, with the arms being a major component. In all, it is a great way to work out biceps, triceps, thighs, calves, and your rear end.
2. Ice Skating
Healthline.com, an online health publication, discussed the health benefits involved in zooming around on the ice. As an aerobic workout, skating helps improve circulation and raise your heart rate. The balance required to stay standing and moving on the ice helps tone thigh, calf, and abdominal muscles while building strength and endurance and, over time, flexibility.
3. Snowboarding
Using your calf muscles, quadriceps, and hamstrings to navigate your way downhill may not be the only health boost snowboarding bestows. Dr. Jonathan Chang at Pacific Orthopaedic Medical Group in Alhambra, Calif., says "the thrill of shredding the powder is good for your mental health."  Studies have further shown that outdoor exercise helps reduce anxiety. Chang says the steeper hills provide better workouts, but cautions any potential snowboarders from getting in over their heads.
4. Sledding
Who said it was just for kids? Sledding can burn up to 450 calories per hour, mostly done by trudging uphill, sled in tow. It also gets you outside, reaping the benefits of outdoor activity, Vitamin D from the sunshine, and is a family or group-friendly activity.
5. Tennis
Moving indoors now for those who may detest the snow and cold, Tennis is a great way to burn calories, and thanks to indoor courts, can be enjoyed all year round. The Cleveland Clinic cites research that tennis can improve heart health by lowering blood pressure. You can take lessons with an instructor to improve your game, or you can find an opponent and split the cost to rent the court. For the more competitive, see if there is a local league to join, or check out the United States Tennis Association website for their league information.
6. Swimming
While you're digging out the tennis balls and racquet from summer storage, consider pulling out that bathing suit as well. Like tennis, swimming can be done year round at an indoor facility. The CDC reports swimming helps reduce the risk of chronic illness and can improve the health of people who have diabetes or heart disease. Reports have also shown that people find it easier to workout longer in the water than on land, and experience less muscle or joint pain.
7. Cycling At a Spin Class
For those not fortunate enough to live in a year-round, temperate climate, a spin class can keep fitness goals on track when snow tracks start to form. Spin classes are a great way to start a routine since they are held regularly. Spinning is a low impact cardiovascular activity, and creates an energy-high by increasing endorphins while toning lower-body and core muscles.
8. Joining the Gym
Hitting up the gym has benefits year round, and promotional pricing is often offered around the holidays. Even if it isn't, the internet is full of tips and tricks on getting the best deal — like seeing if the local college gym is a cheaper option, or joining ahead of the holiday rush. After becoming a member, you can see if fitness training is offered, or use a variety of workouts to keep from getting in a workout rut.
9. Jumping Rope, Or Other At-Home Activities
For the truly homebound, stuck in by a winter storm perhaps? There are still plenty of options to keep moving, like jumping rope. Dr. Peter Schulman, an associate professor, Cardiology/Pulmonary Medicine, University of Connecticut Health Center says, "It strengthens the upper and lower body and burns a lot of calories in a short time." If this aerobic activity isn't your speed, there are now hundreds of fitness videos and guides online to chose from, making exercise accessible anywhere — even at home.
10. Shoveling Snow
Okay, not the most fun winter weather activity out there, and certainly one people aren't fond of, but it does have some health benefits. But for the snowed in, it's a necessity. Whether making your escape or part of your daily toil, shoveling snow The University of Vermont explains, is a high intensity workout that uses all of your muscles. So kick up the snow and your heart rate.
Don't Miss: The Housing Market: Comeback or Crisis?