7 Sweet or Savory Soufflés to Make Now
Described as lightly baked cakes that are made with egg yolks and beaten egg whites, soufflés create elegant breakfasts, dinners, and desserts that can be sweet or savory. To ensure you make a perfect soufflé, Cooking Light suggests lightly coating your dishes with cooking spray and adding a coarse ingredient, such as sugar or breadcrumbs, to provide proper traction.
Make sure you separate your egg whites carefully and beat them until they form medium peaks. Finally, Cooking Light recommends gently incorporating the egg whites into your heavier base by lightly pushing down and pulling the custard mixture up and over the whites. Ready to create decadent dishes worthy of any meal? Here are seven soufflé recipes to try today.
1. Blueberry Breakfast Soufflés
Filled with blueberry pie filling, zesty lemon peel, and gingersnap cookies, Taste of Home's Blueberry Breakfast Soufflés are an indulgent way to start your day. You can even make your soufflés in the microwave, ensuring you have a low-maintenance morning meal that only requires 20 minutes of prep time. The recipe yields 8 servings.
Ingredients:
1 can (21 ounces) blueberry pie filling
1 teaspoon grated lemon peel
5 eggs, separated
⅓ cup crushed gingersnap cookies (about 10 cookies)
2 tablespoons sugar
½ teaspoon pure almond extract
½ cup sliced almonds
Confectioners' sugar and maple syrup
Directions: In a small bowl, combine pie filling and lemon peel; transfer to a greased 9-inch deep-dish pie plate. In a large bowl, combine the egg yolks, crushed cookies, sugar, and extract; set aside. In a large bowl with clean beaters, beat egg whites until stiff peaks form. Fold into cookie mixture. Spread over filling; sprinkle with almonds. Microwave, uncovered, at 50% power for 12 to 15 minutes or until topping is set. Let stand for 5 minutes before serving. Sprinkle servings with confectioners' sugar and drizzle with syrup.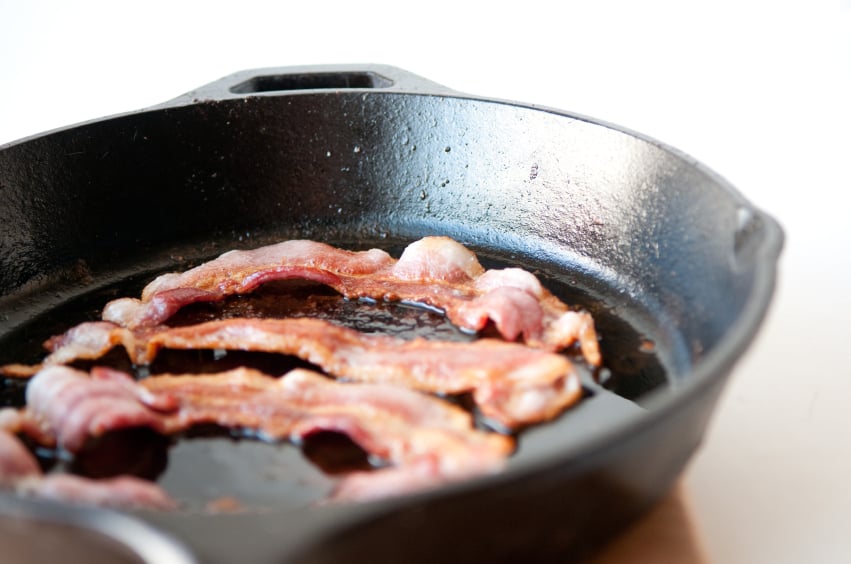 2. Bacon Breakfast Soufflés
Bursting with cheese and bacon, Pillsbury's recipe shows off the soufflé's savory side. Thanks to refrigerated crescent dinner rolls, you'll be pleasantly surprised at how easy it is to prepare this dish. It yields 4 servings and requires 30 minutes of prep time.
Ingredients:
1 can (8 ounces) refrigerated crescent dinner rolls
8 slices bacon (about ½ pound)
8 eggs
¼ cup whipping cream
⅛ teaspoon pepper
1 tablespoon butter
¼ cup diced red bell pepper
1 cup shredded Colby-Monterey Jack cheese blend (4 ounces)
Directions: Heat oven to 375 degrees Fahrenheit. Grease 4 muffin cups with shortening or cooking spray. Separate dough into 4 rectangles; firmly press perforations to seal. Place 1 dough rectangle in each cup, with ends of rectangle hanging over sides of cups; lightly press dough in bottoms of cups and ¾ of the way up 2 sides of cups. In a 10-inch skillet, cook bacon over medium heat until crisp; drain on paper towels. Crumble bacon; set aside.
In a medium bowl, beat 7 of the eggs, the whipping cream, and pepper with wire whisk until well blended; set aside. In the same skillet, heat butter over medium-high heat just until butter begins to sizzle. Cook red pepper in butter for 1 to 2 minutes, stirring constantly, just until tender. Pour egg mixture into skillet. With nylon spatula, begin to pull thin layer off bottom of skillet toward center. Repeat as you work your way around pan. Continue to gather cooked portion in center of skillet until about half of the egg mixture is set.
Immediately remove from heat; stir in half of the bacon and cheese. Working quickly, spoon partially set eggs into muffin cups. Top with remaining bacon and cheese. Fold 2 overhanging dough ends over egg mixture, pinching to secure. In small bowl, beat remaining egg with fork. Brush over tops of soufflés. Bake 18 to 20 minutes, or until golden brown. Cool 5 minutes; carefully remove soufflés from cups.
3. Cheese Soufflé
Food Network's Cheese Soufflé works wondrously as a satisfying side or a light dinner dish. The recipe yields 5 servings. If you're looking for something to serve alongside your soufflé, we suggest making Smitten Kitchen's Grilled Bacon Salad With Arugula and Balsamic.
Ingredients:
Butter, at room temperature, for greasing the soufflé
2 tablespoons grated Parmesan
1½ ounces (3 tablespoons) butter
3 tablespoons flour
1 teaspoon dry mustard
½ teaspoon garlic powder
⅛ teaspoon kosher salt
1⅓ cups milk, hot
4 large egg yolks (2½ ounces by weight)
6 ounces sharp cheddar
5 egg whites plus 1 tablespoon water (5½ ounces by weight plus ½ ounce water)
½ teaspoon cream of tartar
Directions: Preheat oven to 375 degrees Fahrenheit. Use room temperature butter to grease an 8-inch soufflé mold. Add the grated Parmesan and roll around the mold to cover the sides. Cover with plastic wrap and place into the freezer for 5 minutes. In a small saucepan, heat the butter. Allow all of the water to cook out. In a separate bowl, combine the flour, dry mustard, garlic powder, and kosher salt. Whisk this mixture into the melted butter. Cook for 2 minutes. Whisk in the hot milk and turn the heat to high. Once the mixture reaches a boil, remove from the heat.
In a separate bowl, beat the egg yolks to a creamy consistency. Temper the yolks into the milk mixture, constantly whisking. Remove from the heat and add the cheese. Whisk until incorporated. In a separate bowl, using a hand mixer, whip the egg whites and cream of tartar until glossy and firm. Add ¼ of the mixture to the base. Continue to add the whites by thirds, folding very gently. Pour the mixture into the soufflé. Fill the soufflé to ½ inch from the top. Place on an aluminum pie pan. Bake in the oven for 35 minutes.
4. Artichoke and Mushroom Soufflé
Saveur's recipe creates a stunning soufflé that has a lovely golden hue. Filled with nutmeg, cream, mushrooms, and artichokes, you'll love how hearty and wholesome this dinner dish is. It yields 6 servings.
Ingredients:
6 artichokes, trimmed
Salt
5 tablespoons butter
2 tablespoons olive oil
3 white mushrooms
Freshly ground black pepper
2 tablespoons flour
1 cup milk
3 tablespoons heavy cream
6 eggs, separated
Grated nutmeg
Directions: Preheat oven to 425 degrees Fahrenheit. Cook artichokes in boiling salted water until tender. Drain, remove leaves, scrape off meat with a spoon, and reserve. Remove and discard choke from heart, then trim heart so it sits flat. Put each trimmed heart into a buttered individual soufflé dish. Use 2 tablespoons of the butter to grease six strips of parchment paper or foil, 12 by 4 inches. Wrap and tie buttered parchment collars around soufflé dishes. Keep in place with kitchen string.
Put dishes on a baking sheet. Heat oil in a sauté pan; add mushrooms and reserved artichoke meat. Sauté until mushrooms have released and reabsorbed their juice. Add salt and pepper to taste. Divide mushrooms among artichoke hearts. Melt remaining 3 tablespoons butter in a heavy-bottomed pan and stir in flour. Cook over low heat for 5 minutes, then slowly whisk in milk and cream. Beat in egg yolks one at a time.
Season with salt, pepper, and a bit of nutmeg. Continue cooking until thickened. Beat egg whites with a pinch of salt until they stand stiffly in peaks. Carefully fold egg whites into thickened milk mixture. Divide soufflé mixture among the soufflés. Place in oven for 15 minutes, then lower heat to 375 degrees Fahrenheit; continue cooking for another 15 minutes. The soufflés should be served as soon as they are out of the oven.
5. Spinach, Ham, and Parmesan Soufflé
Lean ham, Parmesan cheese, and spinach create a flavorful dish that's filled with robust ingredients. If you'd like to cut down on calories, you can eliminate the ham from Delish's recipe — it will taste just as delicious! It yields 8 servings.
Ingredients:
10 ounces spinach, fibrous stems removed
1 slice bread, processed in a food processor to make crumbs
½ cup freshly grated Parmesan cheese
4 teaspoons unsalted butter
1 tablespoon canola oil
3 tablespoons all-purpose flour
1½ cups cold nonfat milk
¼ teaspoon salt
¼ teaspoon freshly ground black pepper
3 egg yolks
4 ounces lean ham, julienned
5 egg whites
Directions: Preheat oven to 375 degrees Fahrenheit. Wash the spinach, and place it, still wet, in a skillet. Cook over medium to high heat for 2 minutes, until the spinach is wilted. Remove from heat and cool. When it is cool, drain it, chop it coarsely, and set it aside. Mix the bread crumbs and 3 tablespoons of the Parmesan cheese together in a small bowl. Using 1 teaspoon of the butter, grease the sides and bottom of a 6-cup gratin dish.
Add half of the bread crumb and Parmesan cheese mixture, and shake the dish until the crumbs coat the sides and bottom. Set aside. Melt the remaining 3 teaspoons of butter in a saucepan and add the oil and flour. Mix with a whisk and cook over medium to high heat for about 30 seconds. Whisk in the milk, salt, and pepper, and bring to a boil, whisking continuously until the mixture boils and thickens. Remove from the heat and whisk in the egg yolks. Add the reserved spinach and the ham, and mix well.
In a mixing bowl, beat the egg whites until they are firm but still soft. Fold them into the spinach mixture along with the remaining cheese. Pour the soufflé mixture into the prepared gratin dish, sprinkle the remaining bread crumb and cheese mixture on top, place the dish on a tray, and bake at 375 degrees for about 35 minutes, until the soufflé is set inside and the top is puffy and brown. Spoon the soufflé directly from the gratin dish onto plates; serve immediately.
6. Chocolate Soufflés With Brown Sugar and Rum Whipped Cream
For an indulgent dessert that's easy to make, we recommend preparing Fine Cooking's Chocolate Soufflés With Brown Sugar and Rum Whipped Cream. If you'd like to pair this divine dish with another treat, consider serving pieces of AllRecipes.com's English Toffee with your soufflés. Note: Your soufflés must be frozen for at least 8 hours before baking, so make sure you plan accordingly!
Ingredients:
Soufflés
½ ounce (1 tablespoon) unsalted butter, melted
½ cup plus 2 tablespoons granulated sugar
½ cup plus 1 tablespoon whole milk
6 ounces bittersweet chocolate, preferably 64% cacao, chopped
6 large egg whites, at room temperature
4 large egg yolks
Cream
½ cup heavy cream
1 tablespoon light brown or demerara sugar
1 tablespoon dark rum
¼ teaspoon pure vanilla extract
Directions: Brush eight 6-ounce straight-sided ramekins with the butter and coat evenly with 2 tablespoons of the sugar, tapping out the excess. Set aside. In a 2- to 3-quart saucepan, heat the milk over medium-high heat until steaming hot. Add the chocolate and stir with a rubber spatula until melted. Transfer the chocolate mixture to a large bowl and set aside. Combine the remaining ½ cup sugar and 2 tablespoons water in a 2-quart saucepan and set over medium heat, stirring frequently, until the sugar is completely dissolved. Let sit at room temperature while you whip the egg whites.
In a stand mixer fitted with the whisk attachment, whip the whites on medium speed until soft peaks form, about 3 minutes. With the mixer running, slowly pour the sugar syrup down the side of the bowl into the whites. Increase the speed to high and beat until the whites hold medium peaks, about 1½ minutes. Mix the egg yolks into the melted chocolate until combined. Fold one-third of the whites into the chocolate mixture until totally combined. Add the remaining two-thirds of the whites and fold until no streaks remain. Divide the batter evenly among the prepared ramekins. Freeze until solid, at least 8 hours ahead, then wrap tightly with plastic wrap.
When ready to serve, position a rack in the top third of the oven and heat the oven to 375 degrees Fahrenheit. Remove the ramekins from the freezer and bake until the tops are puffed and cracked, and the soufflés are barely set in the middle, 18 to 20 minutes. While the soufflés are baking, in a medium bowl, whip the cream using a hand mixer on medium speed until thickened enough to hold very soft peaks. Add the brown sugar, rum, and vanilla and continue to mix until soft peaks form. Serve the soufflés, topped with dollops of whipped cream, immediately after baking.
7. Coconut Soufflé
Eating Well delivers a delicate dessert that is filled with sweet coconut flavors. We suggest making Gimme Some Oven's Coconut Whipped Cream to serve with this tantalizing treat.
Ingredients:
3 tablespoons plus ½ cup sugar, divided
1 cup sweetened shredded coconut, toasted if desired
1½ teaspoons coconut extract
1½ cups low-fat milk
2 tablespoons unsalted butter
2 tablespoons canola oil
¼ cup white whole-wheat flour or all-purpose flour
4 large egg yolks, at room temperature
8 large egg whites, at room temperature
⅛ teaspoon salt
Directions: Position rack in lower third of oven; preheat to 375 degrees Fahrenheit. Coat eight 10-ounce ramekins or a 2½-quart soufflé dish with cooking spray. Sprinkle with enough of the 3 tablespoons sugar to generously coat the inside, tilting to evenly distribute; tap out excess. Place ramekins on a baking sheet. Combine the remaining ½ cup sugar, coconut, and coconut extract in a bowl. Heat milk in a small saucepan over medium heat until steaming. Melt butter and oil in a medium saucepan over medium-low heat.
Whisk in flour and cook, whisking, for 2 minutes. Slowly whisk in the hot milk and cook over medium-low heat, whisking, until the mixture is the consistency of thick batter, 2 to 4 minutes. Transfer to a large bowl. Whisk in egg yolks, one at a time, until incorporated. Whisk in the coconut mixture. Clean and dry a large mixing bowl and beaters, making sure there are no traces of oil. Beat egg whites in the bowl with an electric mixer on medium speed until foamy. Add salt; gradually increase speed to high and beat until shiny and stiff, but not dry.
Do not over-beat: Stop when the egg whites hold their shape in the bowl and on the beater but don't look overly dry or lumpy. Using a rubber spatula, stir one-third of the whites into the egg-yolk mixture to lighten it. Gently fold in the remaining egg whites just until evenly distributed. Spoon the batter into the prepared dishes. Bake until puffed and firm to the touch, 20 to 24 minutes for 10-ounce soufflés, 38 to 42 minutes for a 2½-quart soufflé. Once out of the oven, serve it at once.
More from Life Cheat Sheet:
Want more great content like this? Sign up here to receive the best of Cheat Sheet delivered daily. No spam; just tailored content straight to your inbox.