7 Trader Joe's Foods That Are Easy to Make at Home
If you've ever set foot inside a Trader Joe's, then you know the store is packed wall-to-wall with tasty dishes, both savory and sweet. Many of us crave those quirky, naturally-sourced, and delicious foods on a near-daily basis; unfortunately, relying on the store for meals and quick bites can put a serious strain on your wallet. With the help of some innovative cooking and baking tips, however, you'll be whipping up these dishes right in the comfort of your own kitchen — and saving money in the process!
Try these seven copycat recipes for a taste of Trader Joe's goodness fresh from your own kitchen.
1. Kale-Spinach Dip
How Sweet It Is shares a wonderful copycat recipe for Trader Joe's spinach and kale Greek yogurt dip, a snack offering deliciousness and nutritiousness in every bite. As a bonus, the dish is a great way to use up any vegetables that have been sitting in your crisper. The dish is low maintenance and a great last-minute appetizer to serve a hungry — and even health-conscious — crowd. The recipe takes 20 minutes to make and yields 4 to 6 servings.
Ingredients:
1 (17-ounce) container of 2% Greek yogurt
3 tablespoons mayonnaise
2 tablespoons honey
1 cup finely chopped kale
1 cup finely chopped spinach
3 thin green onions, finely chopped
⅓ cup finely chopped red pepper
¼ cup finely chopped carrot
2 garlic cloves, finely minced or pressed
½ teaspoon salt
¼ teaspoon pepper
¼ teaspoon smoked paprika
Chopped water chestnuts and chopped marinated artichoke hearts (optional)
Directions: Combine all ingredients in a bowl and mix well to combine. This dip is extra flavorful after it sits for a few hours in the refrigerator. Taste and season more if desired. Serve with chips, crackers, or vegetables.
2. Vegetable Tempura Nests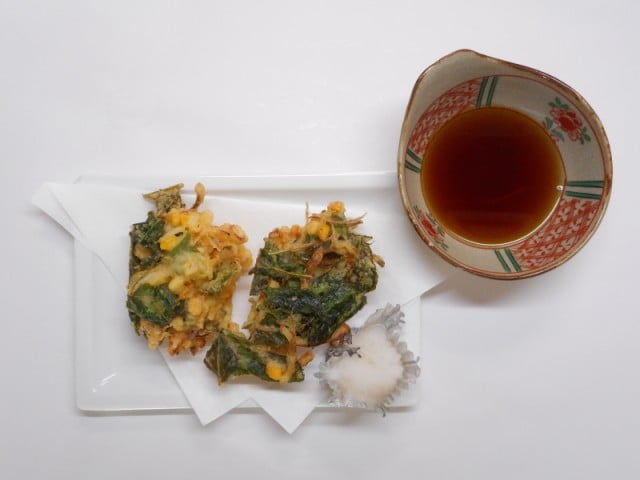 Vegetarians, vegans, gluten-free eaters, and omnivores alike will love these copycat vegetable tempura nests from What A Girl Eats. Your guests will love the crispy-crunchy texture of these fried hors d'oeuvres, and you'll love how much money the homemade variation saves you. For every 16 nests you make, you'll spend about $1.50, while a box of 8 from Trader Joe's will cost you around $3. Serve these Asian-inspired bites along with soy sauce for dipping.
Ingredients:
1 cup gluten-free rice flour or unbleached flour
1 tablespoon corn starch
1½ cups club soda or light beer
Good pinch of kosher salt
1 medium carrot, peeled and finely shredded
1 medium zucchini, finely shredded
3 medium kale leaves, hard stems removed, finely shredded
1 large onion, finely sliced
Vegetable oil for frying
Soy sauce (gluten-free)
Directions: Whisk flour, cornstarch, club soda, and salt into a medium bowl. Toss shredded veggies with the tempura batter to coat.
Heat about 2 inches of oil in a deep-fry pan over a medium high heat, about 350 degrees Fahrenheit.
Drop vegetable nests, by the tablespoonful, into the hot oil, cooking about 2 to 3 minutes per side, or until golden brown. Using a slotted spoon, remove nests from oil and drain on a paper towel-lined plate. Serve immediately with soy sauce.
3. Diner Mac and Cheese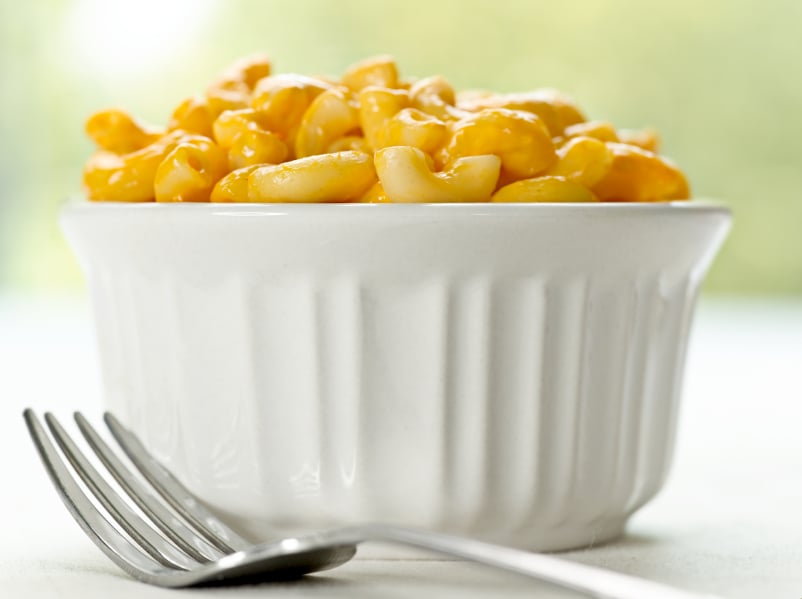 If you're a fan of the creamy diner mac and cheese from Trader Joe's, then you're going to love this imitation recipe from Christina's Cucina. The noodles are coated in a cheesy cream-based sauce and can be seasoned lightly with salt, pepper, and nutmeg for a truly savory taste. The recipe yields about 4½ cups of sauce, which will cover about 2 pounds of pasta.
Ingredients:
¼ cup butter
A little less than ½ cup all-purpose flour
4 ounces white cheddar cheese, grated
3 ounces Havarti cheese, grated
2 ounces Gouda cheese, grated
1 ounce Swiss cheese, grated
¾ teaspoon salt
3 cups whole milk
White pepper
Nutmeg
1 pound elbow pasta
Directions: For the cheese sauce, melt the butter in a medium-size pan over medium heat, then add the flour and stir well. Continue to cook while stirring for about 3 to 4 minutes, but do not let it brown.
Add a drop of milk. If it sizzles immediately, then continue adding a bit at a time, stirring quickly to keep sauce smooth. Start with about 2 tablespoons of milk, then add 2 more. Continue incrementally, letting milk absorb as you add it.
Once the sauce is finished, add salt, nutmeg, and white pepper to taste, and lower the heat. Add the grated cheeses, stirring until melted and adjusting the heat if necessary.
For the macaroni, start by putting a large pot of water on to boil the pasta; make sure to salt it well. Add pasta to the boiling water. Stir well. When the pasta is ready (al dente), drain and return to the pot. Add cheese sauce and serve hot.
4. Chicken Chili Lime Burgers
These chicken chili lime burgers from Iowa Girl Eats are as good as, if not better than, the TJ's original. You'll start off with lean, protein-rich ground chicken, which you'll season with Mexican-inspired flavors such as cilantro, onion, pepper, and lime. The patties are quick to assemble and can be cooked over the stove or grill in just minutes. For an added treat, top each patty with a slice of pepper jack cheese. For best results, whip up a quick batch of guacamole to enjoy alongside — or on top of — your burgers. The recipe yields 4 servings.
Ingredients:
1 pound ground chicken
2 green onions, chopped
¼ cup chopped red bell pepper
2 tablespoons chopped cilantro
2 teaspoons minced garlic
½ teaspoon salt
¼ teaspoon red pepper flakes
1 lime, cut in half
4 slices pepper jack cheese
4 buns, toasted
Guacamole
1 avocado
Garlic powder
Salt and pepper
Directions: Combine chicken, green onions, bell pepper, cilantro, garlic, salt, red pepper flakes, and juice of half a lime in a large bowl. Mix until thoroughly combined, then form into 4 patties and spray each side generously with nonstick spray.
Heat a large grill pan or skillet over medium-high heat. Grill burgers for 3 to 4 minutes a side, or until cooked all the way through. Place a slice of cheese on top of each burger, then cover with a large pot lid, and allow to melt for about a minute. Remove burgers to a plate, tent with foil, and allow to rest for 5 minutes. Place each burger on a toasted thin bun, then top with guacamole.
For the guacamole, mash all ingredients together with a fork.
5. Spicy Lentil Wraps with Tahini Dipping Sauce
You'll love the vibrancy of this Armenian-influenced spicy lentil wrap with tahini dipping sauce from The Kitchn. The recipe incorporates a lentil and bulgur base, enhanced with the flavors of earthy cumin and zesty red pepper flakes. For best results, top the lentils off with a flavorful red pepper paste consisting of red peppers and cayenne pepper. Serve along with homemade tahini dipping sauce (recipe below) for a satisfying and exotic lunch or dinnertime dish. The recipe yields 6 wraps, ¾ cup of red pepper paste, and ¾ cup tahini sauce.
Ingredients:
½ cup red lentils, rinsed
2 cups water
¾ cups fine-grain bulgur
2 tablespoons olive oil
1 onion, finely chopped
2 teaspoons ground cumin
1 teaspoon red pepper flakes
1 scallion, chopped
2 tablespoons chopped flat-leaf parsley
½ teaspoon kosher salt
6 (approximately 9-by-12 inches) sheets lavash, white or whole wheat
¾ cup red pepper paste (recipe below, or use store-bought)
2 cups shredded cabbage
Red pepper paste
6 red bell peppers, cored and chopped
½ teaspoon cayenne pepper
1 teaspoon kosher salt
Olive oil to cover (if refrigerating)
Tahini sauce
¼ cup tahini
⅔ cup or more warm water
2 teaspoons lemon juice
2 teaspoons finely chopped parsley
¼ teaspoon crushed garlic
⅛ teaspoon red pepper flakes
⅛ teaspoon kosher salt
Directions: For the red pepper paste — Combine bell peppers, cayenne pepper, and salt in a food processor and purée. Pour the purée into a skillet over low heat and simmer, stirring occasionally, until reduced to a paste. This can take up to 2 hours. Let cool before using. To store, pack the paste into a jar, pour enough olive oil on top to cover, and refrigerate.
For the tahini — Place all ingredients in a small bowl and mix with a fork until well-combined. Gradually stir in small amounts of additional warm water until the desired consistency is achieved.
For the lentils — Combine lentils and water in a small saucepan over medium heat. Bring to a boil, cover, and reduce heat to low. Simmer until lentils are soft, about 20 minutes.
Turn off heat and stir in bulgur. Let stand until water is absorbed and bulgur is soft, about 30 minutes. Meanwhile, heat olive oil in a pan over medium heat. Add onions and cook, stirring frequently, until soft and translucent. Stir in cumin and red pepper flakes and cook for another minute.
Add onions, scallions, parsley, and salt to lentil-bulgur mixture and stir until well-combined. Let cool before using to make wraps. You can freeze the filling in an airtight container if not using all at once.
To assemble, lay out a lavash sheet with the shorter end closest to you. Spread 1½ tablespoons of red pepper paste across the lower ⅓ of the sheet. Top with the lentil-bulgur mixture, and then the cabbage. Roll from the bottom up, and spread an additional ½ tablespoon of red pepper paste across the top end to help seal the wrap. Repeat for remaining wraps.
To serve, cut each wrap in half and serve with tahini sauce on the side.
6. Thai Chicken Citrus Salad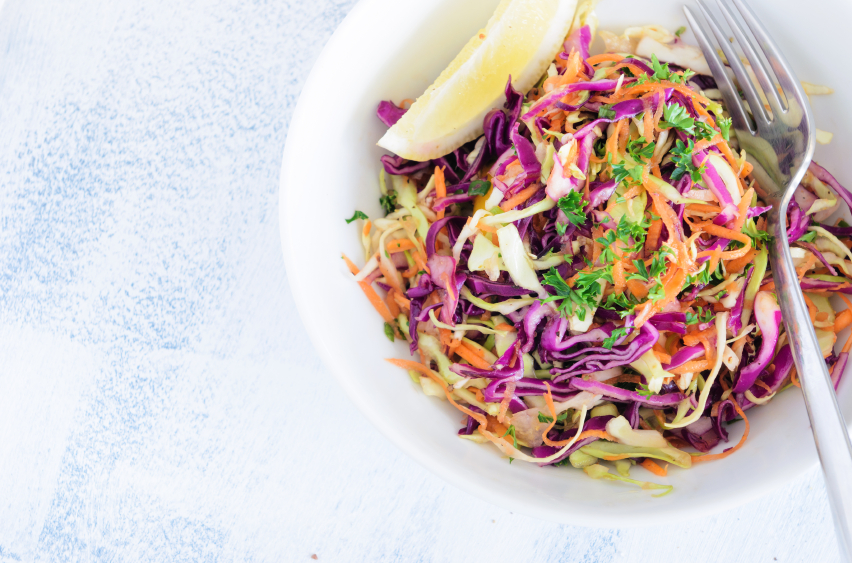 You can save money and calories with this healthy homemade Thai chicken citrus salad from PopSugar. Shredded cabbage, papaya, and radish combine in this crunchy, refreshing dish, all flavored with a tangy homemade Thai dressing. The dish is high in protein and low in calories, meaning you'll be satisfied and energized for the rest of your work day. The recipe yields 3 servings, making it an ideal make-ahead dish to bring for nearly a week's worth of workplace lunches. The dish takes about 25 minutes to make, and you can find the full nutritional details on PopSugar.
Ingredients:
Salad
1 chicken breast, about 7 to 8 ounces, cubed
1 clove garlic, minced
1½ cup Napa cabbage, shredded
1 cup red cabbage, shredded
1 cup papaya, cut into matchsticks
1 cup carrots, shredded
½ cup daikon, shredded
¼ cup green onion, minced
¼ cup cilantro, chopped
1 tablespoon olive oil
Salt
Pepper
½ lime, cut into wedges
Dressing
1 tablespoon fresh lime juice
1 tablespoon soy sauce
1 tablespoon fish sauce
1 teaspoon rice vinegar
1 teaspoon sugar
½ teaspoon olive oil
2 cloves garlic, minced
½ to 1 jalapeño, or to taste
Directions: Sprinkle salt and pepper over cubed chicken breast, and add minced garlic. Set aside for a few minutes.
Over medium-high heat, heat a skillet or pan and add olive oil. When oil is hot, add chicken breast and cook, turning occasionally to brown on both sides. Remove when done, about 7 minutes. Squeeze juice from a wedge of lime on the chicken, and set aside to cool.
In a large bowl, mix together the rest of the salad ingredients (red and Napa cabbage, carrots, papaya, daikon, green onion, and cilantro). Set aside. In a small bowl, combine all salad dressing ingredients and mix together.
For the dressing — Pour ingredients into a blender and blend until emulsified.
Add chicken and dressing to salad, and mix to combine. Serve with a lime wedge.
7. Spiced Cookie Butter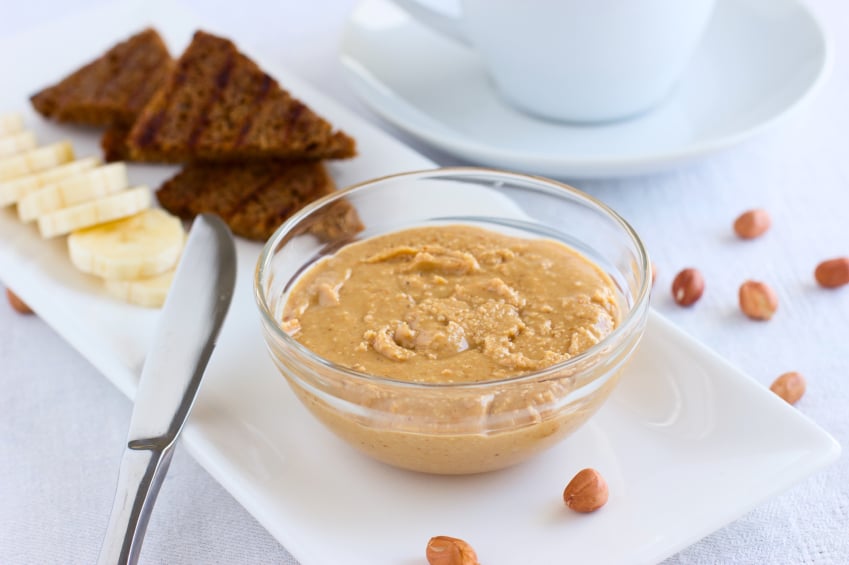 Chowhound's copycat recipe for Trader Joe's speculoos cookie butter hits the nail on the head, offering up the same irresistibly buttery and spiced flavors as the original. The dish relies on the flavors of graham cracker, nutmeg, cinnamon, and brown sugar, all of which culminates in a sweet, toffee-like richness. Blend the ingredients with oil to get a creamy, cookie-inspired treat that can be enjoyed with just about anything — fruits, bread, crackers, cookies, cakes, or simply by the spoonful. The recipe takes just 15 minutes to make and yields 1½ cups.
Ingredient:
15 whole graham crackers (about 8 ounces)
½ cup powdered sugar
2 tablespoons packed dark brown sugar
½ teaspoon ground cinnamon
⅛ teaspoon ground nutmeg
¾ cup vegetable oil
Directions: Break the graham crackers into rough 2-inch pieces and place them in a food processor fitted with a blade attachment. Add the powdered sugar, brown sugar, cinnamon, and nutmeg. Process until finely ground, about 1 minute. Transfer the mixture to a medium bowl and reserve the food processor.
Working in batches, grind the cracker mixture in a spice grinder until very fine. Return the powder to the food processor.
With the motor running, slowly add the oil in a steady stream, stopping and scraping down the sides of the bowl as necessary, until the mixture is smooth, about 1 minute. Transfer to a container with a tight-fitting lid and store at room temperature for up to a month. If the mixture separates, stir to recombine before serving.