Tastes of Thailand: 8 Recipes for Enjoying Thai Food at Home
For anyone who has imagined a fabulous pad Thai served on their own dinnerware — and one that didn't make the journey there via a takeout box — stop fantasizing and start frying. That's right, it's time for Thai at home. But if you solicited the views of Junie Kovacs – like BBC Good Food did – Kovacs would say it's "Time for Lime." That's the name of the Thai cooking school she founded in Koh Lanta, Thailand. Kovacs gave her tips on cooking Thai and a brief overview of aspects of the cuisine.
Thai food uses the freshest ingredients possible, and ones that promote natural healing. Lemongrass, for example, is a great source of iron and potassium. Raw vegetables are commonly served with dishes as a "cooler" between hot bites, and they are a healthy addition to your diet, too. Kovacs explained to the BBC that her love of Thai began because of how quickly dishes could be cooked and because the meals all feature balance between light and heavy foods. Healthy, fresh, quick to cook, and featuring flavors that make a big impact — is there any reason not to make Thai? Get started with one of these eight recipes.
1. Easy Thai Peanut Sauce
When you need a peanut sauce for satays, turn to She Simmers' easy recipe. It makes 3½ cups and is ideal for chicken, pork, tofu, seafood, or whatever other food you can think of serving up satay-style. It can be stored in a glass container in your fridge for several weeks, but the sauce with thicken over time; thin it out by adding water.
Ingredients:
1 (13.5-ounce) can of full-fat, unsweetened coconut milk
2 ounces (approximately ¼ cup) of Thai red or Massaman curry paste (milder)
¾ cup unsweetened (natural) creamy peanut butter (do not use regular peanut butter — it must be natural peanut butter that comes with oil on top and no sugar added)
½ tablespoon salt
¾ cup sugar
2 tablespoons of apple cider vinegar or white vinegar (do not use white wine, red wine, balsamic, or anything else – not even rice vinegar)
½ cup water
Directions: Put everything into a medium heavy-bottomed pot and bring to a very gentle boil over medium heat, whisking constantly. Let the mixture simmer for 3-5 minutes over low heat; be careful not to let the mixture scorch at the bottom of the pot. Take the pot off the heat, let the sauce cool down to room temperature (or slightly warmer), and serve the sauce with satay or fried tofu.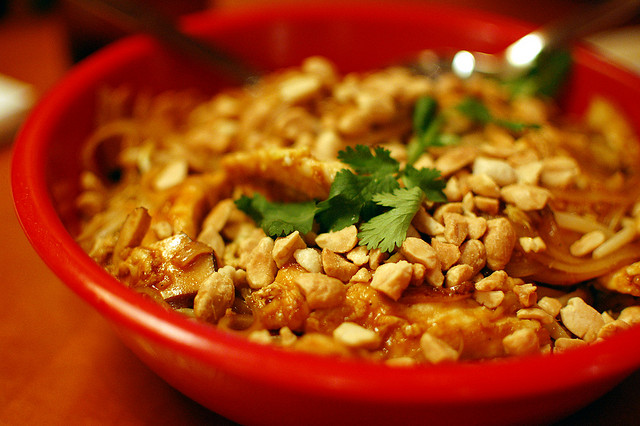 2. Pad Thai
Epicurious posted this recipe, originally from Gourmet, for vegetarian pad Thai. The vegetarian version of this Thai staple is a great place to start, and if you want, you can replace the tofu with chicken, shrimp, or beef. Or leave it as is for a satisfying meatless Monday dinner.
Ingredients:
12 ounces dried flat rice noodles (¼ inch wide; sometimes called pad Thai or banh pho)
3 tablespoons tamarind (from a pliable block)
1 cup boiling-hot water
½ cup light soy sauce
¼ cup packed light brown sugar
2 tablespoons Sriracha (Southeast Asian chile sauce)
1 bunch scallions
4 large shallots
1 (14- to 16-ounce) package firm tofu
1½ cups peanut or vegetable oil
6 large eggs
4 garlic cloves, finely chopped
2 cups bean sprouts (¼ pound)
½ cup roasted peanuts, coarsely chopped
accompaniments: lime wedges, cilantro sprigs, Sriracha
Directions: Soak noodles in a large bowl of warm water until softened, 25-30 minutes. Drain well in a colander and cover with a dampened paper towel. Meanwhile, make sauce by soaking tamarind pulp in boiling-hot water in a small bowl, stirring occasionally, until softened, about 5 minutes. Force mixture through a sieve into a bowl, discarding seeds and fibers. Add soy sauce, brown sugar, and Sriracha, stirring until sugar has dissolved.
Cut scallions into 2-inch pieces. Halve pale green and white parts lengthwise. Cut shallots crosswise into very thin slices with slicer. Rinse tofu, then cut into 1-inch cubes and pat very dry.
Heat oil in wok over medium heat until hot, then fry half of shallots over medium-low heat, stirring frequently, until golden brown, 8-12 minutes. Carefully strain mixture through a fine-mesh sieve into a heatproof bowl. Reserve shallot oil and spread fried shallots on paper towels. (Shallots will crisp as they cool.) Wipe wok clean. Reheat shallot oil in wok over high heat until hot. Fry tofu in one layer, gently turning occasionally, until golden, 5-8 minutes. Transfer tofu to paper towels using a slotted spoon. Pour off frying oil and reserve.
Lightly beat eggs with ¼ teaspoon salt. Heat 2 tablespoons shallot oil in wok over high heat until it simmers. Add eggs and swirl to coat side of wok, then cook, stirring gently with a spatula, until cooked through. Break into chunks with spatula and transfer to a plate.
Heat wok over high heat until a drop of water evaporates instantly. Pour in 6 tablespoons shallot oil, then swirl to coat side of wok. Stir-fry scallions, garlic, and remaining uncooked shallots until softened, about 1 minute. Add noodles and stir-fry over medium heat (use 2 spatulas if necessary) for 3 minutes. Add tofu, bean sprouts, and 1½ cups sauce and simmer, turning noodles over to absorb sauce evenly until noodles are tender, about 2 minutes.
Stir in additional sauce if desired, then stir in eggs and transfer to a large shallow serving dish. Sprinkle pad Thai with peanuts and fried shallots and serve with lime wedges, cilantro sprigs, and Sriracha.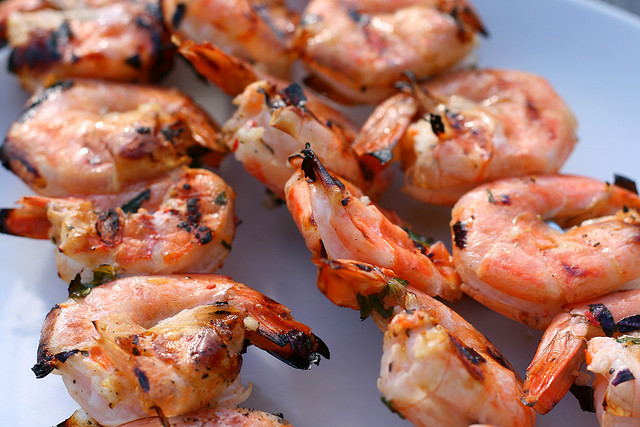 3. Soba Noodles with Grilled Shrimp and Cilantro
In need of some allergy relief? Then follow this recipe and don't be stingy with the lime or cilantro. "The sour juice protects the respiratory system in the early spring, and cilantro helps when you're congested," Su-Mei Yu, who provided the dish to Food & Wine, said. Even if it doesn't clear your sinuses, you'll have a delicious dinner.
Ingredients:
12 ounces soba noodles
¼ cup vegetable oil
3 tablespoons low-sodium soy sauce
3 tablespoons tamari
1 teaspoon agave syrup
2 large shallots, thinly sliced and separated into rings
6 garlic cloves, coarsely chopped
1 teaspoon finely grated lime zest, plus 2 tablespoons fresh lime juice
1 pound large shrimp, shelled and deveined
salt
2 scallions, finely chopped
¼ cup chopped cilantro
¼ teaspoon crushed red pepper
lime wedges, for serving
Directions: Bring a large pot of water to a boil. Add the noodles and cook, stirring until tender, 4 minutes. Drain and rinse under cold water. In a medium bowl, combine 2 tablespoons of the oil with the soy sauce, tamari, and agave syrup. Add the noodles and toss.
In a skillet, heat 1 tablespoon of the oil. Add the shallots and cook over moderate heat, stirring until golden brown and crisp, 3 minutes. Using a slotted spoon, transfer the shallots to paper towels. Add the garlic to the skillet and cook over low heat until golden and crisp, 2 minutes. Transfer the garlic to the paper towels.
Light a grill or preheat a grill pan. In a bowl, combine the lime zest and juice with the remaining 1 tablespoon of oil. Stir in the shrimp and season with salt. Grill the shrimp over high heat, turning once, until glazed and just white throughout, 3 minutes.
Arrange the noodles on a large platter. Sprinkle with the scallions, cilantro, crushed red pepper, and the fried shallots and garlic. Arrange the shrimp on top and serve with lime wedges alongside.
4. Thai Red Curry with Chicken
Just as vegetarian pad Thai can be made according to a carnivore's wishes, Fine Cooking's Thai red curry can be made for a vegetarian using tofu. Complete your meal by serving it with jasmine rice.
Ingredients:
1 tablespoon vegetable oil
3 tablespoons red Thai curry paste
2 cups snap peas, trimmed and cut in half on the diagonal
2 large shallots, thinly sliced (about 1 cup)
1 medium red bell pepper, thinly sliced into 2-inch-long strips
1 (13.5- to 14-ounce) can coconut milk
6 wild lime leaves (magrut or kaffir lime; optional)
1 tablespoon light brown sugar
1 pound boneless, skinless chicken thighs (about 5), cut into 1- to 1½-inch pieces
1 cup loosely packed Thai basil (or regular basil, torn into small pieces)
2 tablespoons fish sauce, more to taste
1 tablespoon plus 1 teaspoon fresh lime juice
kosher salt
Directions: Heat the oil in a 3-quart saucepan over medium-high heat until simmering hot. Add the curry paste and cook, stirring frequently, until fragrant, 20 seconds. Take the pan off of the heat and stir in the snap peas, shallots, pepper, coconut milk, lime leaves (if using), sugar, and 1 cup water. Stir to combine.
Add the chicken, bring to a simmer over medium heat, cover, and cook until the vegetables are tender and the chicken is cooked through, 8-10 minutes. Stir in the basil, fish sauce, and lime juice. Let rest off the heat for 5 minutes. Season to taste with fish sauce or salt.
5. Pad See Ew/Pad Si U
The forgoing recipes may have had you asking "Where's the beef?" and the answer is right here, with AllRecipes.com's pad see ew. The spelling of the dish varies — it is sometimes written as "pad si u," as well.
Ingredients:
1 (8 ounce) package wide rice noodles
1 cup bite-size broccoli pieces
1 tablespoon vegetable oil
1 teaspoon crushed garlic
½ pound rib-eye steak, sliced thin
½ cup water
1 tablespoon cornstarch
3 tablespoons oyster sauce
3 tablespoons soy sauce
1 tablespoon fish sauce
1 tablespoon white sugar
1 pinch salt and ground black pepper to taste
1 egg
Directions: Place the dry rice noodles in a bowl, cover with hot water, and let soak until white and soft but not mushy, about 10 minutes. Drain and set aside.
Bring a small pot of water to a boil; cook the broccoli in the boiling water until cooked and still firm, 5-7 minutes. Drain and set aside.
Heat the oil in a skillet over medium heat; cook the garlic in the hot oil until fragrant, 3-5 minutes. Stir in the sliced steak; cover the skillet and cook until the meat is just turning from pink to grey, 5-7 minutes. Whisk the water and cornstarch together in a bowl; pour into the skillet along with the oyster sauce, soy sauce, fish sauce, and sugar. Add the rice noodles and broccoli and stir to mix evenly. Season with salt and pepper. Allow the mixture to simmer while you prepare the egg.
Prepare a small skillet with cooking spray and heat over medium-low heat. Cook the egg in the prepared skillet until cooked through and the yolk is solid. Add the cooked egg to the other skillet and stir to incorporate. Serve hot.
6. Barbecue Pork/Moo Dang
Thai Table explains that "Moo Dang" translates as "red pork," a reference to the red color of the pork when the dish is prepared. You will not want to use pork chops for this recipe; pork loin is one possibility. Another option, the recipe says, is to go to an Asian markets, where you can normally find the right cut of pork for sale in 4-inch by 5-inch by 3-inch chunks of meat. This makes 10 servings. 
Ingredients:
1 teaspoon Chinese five spice
1 pound pork
1 tablespoon salt
2 tablespoons soy sauce
2 tablespoons sugar
Directions: Cut the pork with the grain into long pieces, 2 inches by 2 inches cross-sectional and any length you like. Marinade with the rest of the ingredients for at least half an hour or overnight.
Preheat the oven to 350 degrees Fahrenheit. Bake for an hour on a tray, cast-iron pan, or piece of aluminum foil. When done, the pork should be reddish, firm and dry, but not burned. Alternatively, you can also cook the pork on the grill.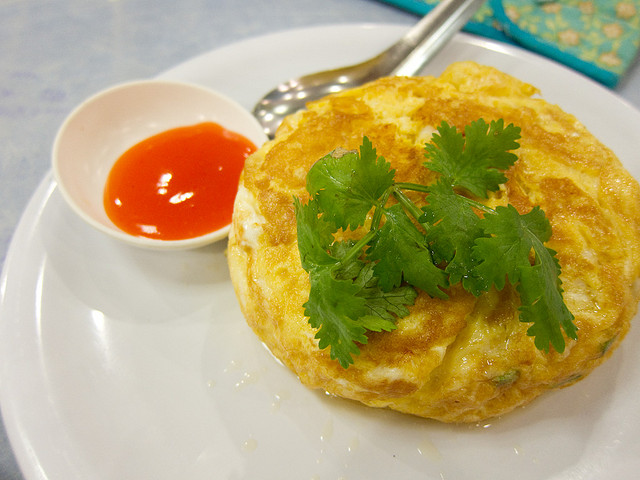 7. Thai-Style Omelet
The Kitchn makes a Thai-style omelet as an easy dinner for one. Crispy and browned, kai jeow is not your average omelet. If a simple omelet isn't going to cut it, add some jasmine rice to the meal, which can also get amped up by sprinkling Sriracha.
Ingredients:
2 eggs
½ teaspoon fish sauce
2 green onions
1 tablespoon vegetable oil
Directions: Thinly slice the green onions. In a bowl, mix together the eggs and fish sauce until frothy. Add the green onions and stir. Heat the oil in a small nonstick skillet over medium heat until very hot. Pour in the egg mixture and cook until browned and crispy on one side, 1-2 minutes. Flip and cook until the other side is browned but the inside is still soft, 1-2 minutes. (The omelet can also be folded in half after about a minute and browned on both sides if you don't feel comfortable flipping it all at once.) Serve with steamed jasmine rice and Sriracha sauce, if desired.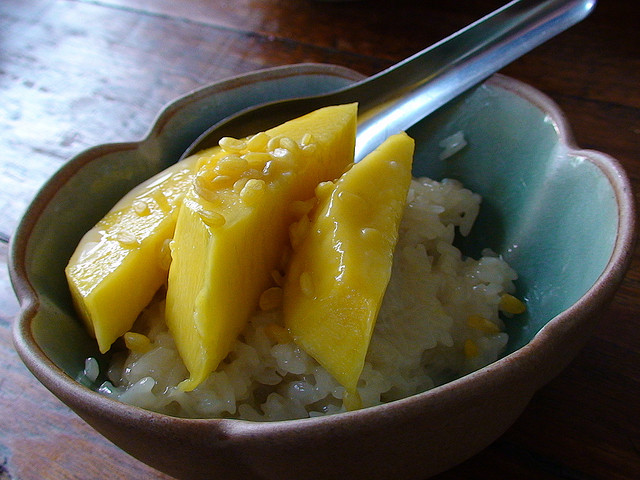 8. Mango and Sticky Rice
When it comes to Thai desserts, you need to get your hands on mangoes and sticky rice. That is where Coffee & Quinoa comes in, with an easy recipe that brings this sweet treat into your home.
Ingredients:
1 (14-ounce) can coconut milk
1 cup sweetened condensed milk
1 cup sweetened shredded coconut, divided
4 cups cooked jasmine rice
3 ripe mangoes
Directions: In a small pot, bring the coconut milk, sweetened condensed milk, and a ½ cup of the shredded coconut to a boil. Reduce heat and simmer for 5 minutes, stirring once or twice. Stir in the cooked rice, cover, and set aside.
While the sticky rice sits, preheat oven to 350 degrees Fahrenheit. Slice the mangoes and remove the skin. Spread the remaining ½ cup shredded coconut on a baking sheet and toast until golden, just a minute or two. Keep a close eye on the coconut, because it burns quickly! You may want to use a toaster oven for this.
To serve, scoop the sticky rice into individual bowls. Top with a sprinkle of toasted coconut and half of a sliced mango. Enjoy!
More From Wall St. Cheat Sheet: