Tex-Mex Breakfasts to Kick Your Day Into Gear
Some mornings, you need a Tex-Mex, Southwest boot in the pants (or tastebuds) to kickstart your day. Walk away from the Velveeta, though, because these dishes are far from being smothered in queso sauce. Full of protein and fiber and assertive flavors, these breakfasts will have you up and running in no time. Cowboy coffee optional.
1. Paleo Tex-Mex Breakfast Scramble
For a quick but hearty meal that will get you on your feet and out the door in no time, a breakfast scramble can't go wrong. This one from Paleo Plan is, as the name suggests, paleo-diet approved, but it could easily be made vegetarian by ditching the chicken and then made vegan by replacing the eggs with tofu.
Ingredients:
1 teaspoon coconut oil
4 eggs
½ teaspoon cumin
½ teaspoon chili powder
¼ teaspoon sea salt
1 tablespoon water
¼ red onion, diced
1 green bell pepper, diced
1 jalapeño, diced
12 ounces chicken breasts, cooked and chopped
1 medium tomato, diced
¼ cup fresh cilantro, chopped
Get recipe directions at Paleo Plan. 
2. Tex-Mex Migas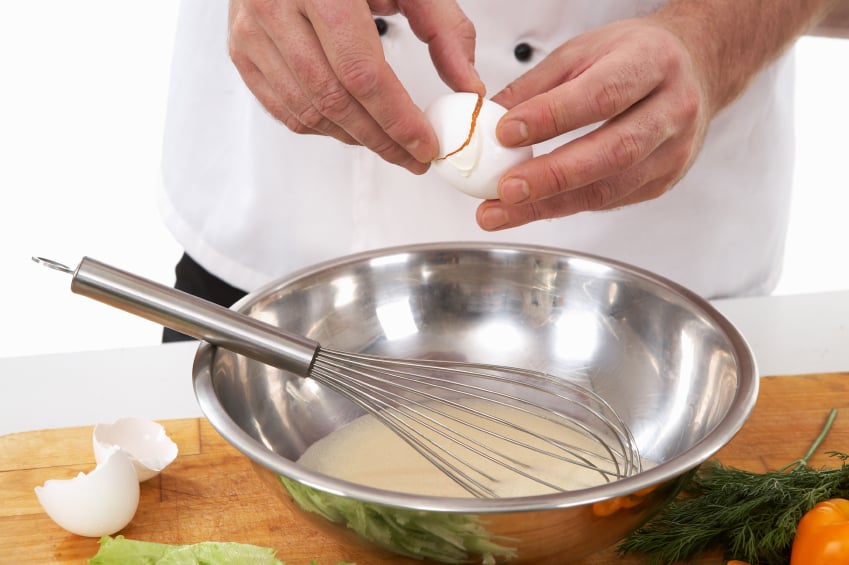 Migas, translating to crumbs in English, is the Tex-Mex cousin of more traditional chilaquiles. Featuring small bits of tortilla, cheese, salsa, and eggs scrambled into a filling breakfast, it's the perfect dish to use up tortilla chips or corn tortillas that have seen a little wear and tear. This recipe comes from Oxmoor House via My Recipes and is lightened by using more egg whites than whole eggs, but the choice is yours.
Ingredients:
3 large eggs
3 large egg whites
1 tablespoon canola oil
4 (6-inch) corn tortillas, cut into ½-inch-wide strips
½ cup chopped onion
¼ cup chopped seeded jalapeño peppers
⅔ cup salsa
⅓ cup Monterey Jack cheese, shredded
½ cup sliced green onions
Optional toppings
Red Salsa
Hot Sauce
Green Salsa
Get recipe directions at Oxmoor House. 
3. Breakfast Tacos With Crispy Potatoes, Chorizo, and a Fried Egg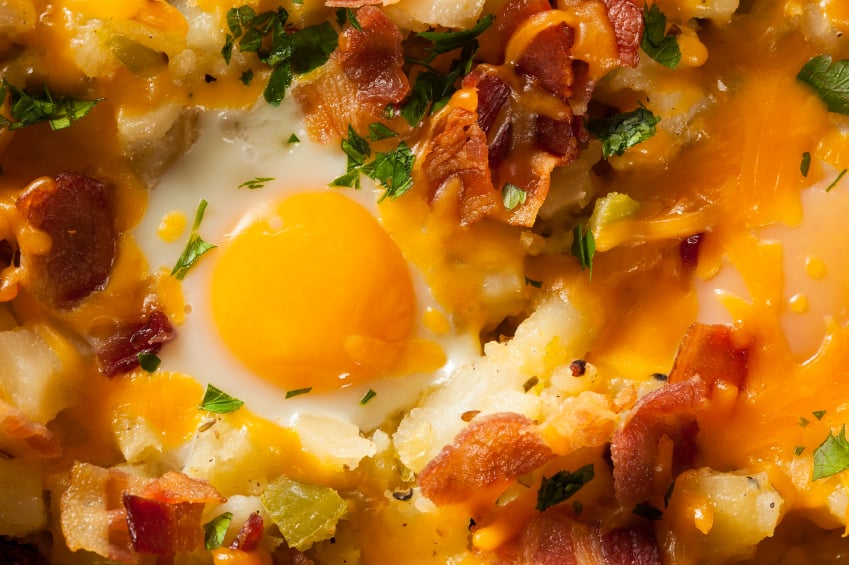 "Breakfast taco" doesn't cover just any old thing wrapped in a tortilla and eaten in the morning. As Serious Eats points out, it should at least include an egg — though it should hardly stop there. This one includes a combination of Mexican chorizo (not to be confused with Spanish chorizo; if need be, make your own), potatoes, and salsa to round it out.
Ingredients:
1 large russet potato, cut into ½-inch cubes
Kosher salt
1 tablespoon distilled white vinegar
1 tablespoon vegetable oil, divided
3 ounces Mexican-style raw chorizo
2 scallions, thinly sliced, whites and greens reserved separately
1 serrano pepper, thinly sliced
Freshly ground black pepper
4 eggs
4 soft flour or corn tortillas, warm
1 cup homemade or store-bought roasted tomato salsa
Chopped cilantro, sour cream or Mexican crema, and lime wedges for serving
Get recipe directions at Serious Eats. 
4. Tex-Mex Omelette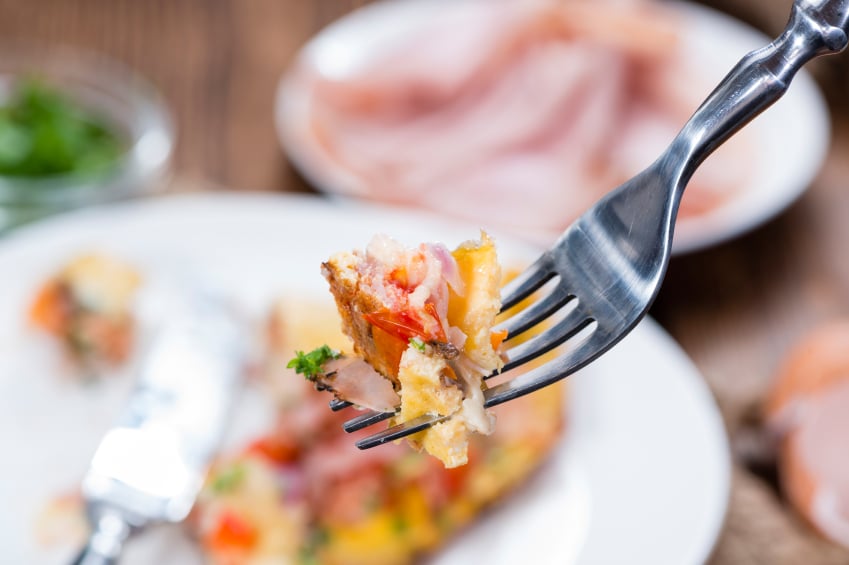 The actual name of this dish as published on The Food Network is "Big Ole Tex-Mex Burrito Omelet" and, while it certainly is a big omelette, we firmly believe that one of the defining characteristics of a burrito is that you can pick it up and eat it with your hands. This, on the other hand, demands a fork. It certainly is stuffed to the brim like a burrito, though, and if you wake up in need of some serious fuel, look no further.
Ingredients:
Salsa
1 pound tomatillos, husked, rinsed and quartered
1 medium Vidalia onion, quartered
1 jalapeño pepper, halved
2 tablespoons extra-virgin olive oil
Kosher salt and freshly ground black pepper
1 small bunch fresh cilantro
Omelet
1 link Mexican chorizo casing removed
½ teaspoon ground cumin
Pinch of cayenne pepper
Pinch of paprika
1 cup mixed canned beans, drained and rinsed
Kosher salt and freshly ground black pepper
1 green bell pepper, chopped
8 large eggs, beaten
1 tablespoon milk
1 tablespoon unsalted butter
½ cup shredded pepper jack cheese
Mexican crema or sour cream, thinned with half-and-half, for garnish
1 plum tomato, seeded and chopped, for garnish
Get recipe directions at The Food Network. 
5. Breakfast Enchiladas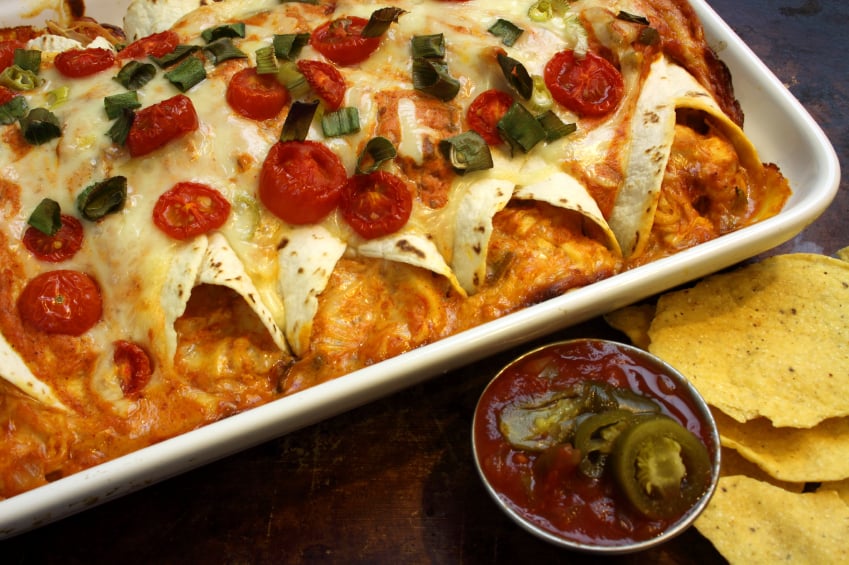 The best thing about breakfast enchiladas is that they let "past you" take care of "future you," which is something that "morning you" appreciates above almost all else. These enchiladas from Julie's Eats and Treats can easily be adapted for your favorite breakfast meat; though they use sausage and bacon bits, they'd be great with real bacon or Mexican chorizo or, for the vegetarian crowd, tempeh.
Ingredients:
1 pound sausage, browned
2 cups shredded cheddar cheese
Eight 8-inch flour tortillas
6 eggs
2 cups half-and-half
1 tablespoon all-purpose flour
½ teaspoon salt
3-ounce package real bacon bits
Get recipe directions at Julie's Eats & Treats. 
6. Huevos Rancheros
Well, sort of. These "Huevos Ree-os" from Ree of The Pioneer Woman are made with flour tortillas rather than corn, and rather than being a melty pile of everything all together, the tortillas are used more as a sopping tool. Though you can use any cheese here, Ree prefers provolone — and since they're huevos Ree-os, that's what we'll go with, too.
Ingredients:
2 or 3 whole eggs per plate
1 slice cheese per egg
1 cup picante sauce or salsa
1 tablespoon butter
Salt to taste
2 flour tortillas per plate
2 tablespoons fresh cilantro
Get recipe directions at The Pioneer Woman. 
More from Culture Cheat Sheet: