5 Thanksgiving Side Dishes You Can Make in 30 Minutes or Less
Vegetable dishes may not get all the love that turkey and stuffing do on Thanksgiving, but it wouldn't be the holidays without loading up our dishes with all those savory sides. Many Thanksgiving cooks prefer to reserve their culinary energies for the entrées, so it's good to have a few quick and easy-to-make vegetable dishes on-hand.
Each of the following 5 veggie recipes can be thrown together in under 30 minutes. Try them out this holiday for a spread your friends and family will love.
1. Italian Roasted Cauliflower
Mild cauliflower can be jazzed up in a cinch with this Italian-style recipe from Cook the Story. Dijon mustard gives the vegetable a zip, while oregano and garlic powder lend a distinctively spiced flavor to the dish. The roasting process is what really elevates this dish above your standard cauliflower option — although the recipe calls for 20 to 25 minutes in a 425-degree Fahrenheit oven, but if you like it extra-tender, try roasting at a lower temperature for a longer period of time. Cook the Story's recipe takes 30 minutes to complete and yields 4 servings.
Ingredients:
3 tablespoons olive oil
5 teaspoons tomato paste
1 teaspoon dijon mustard
¼ to ½ cup grated parmesan cheese, divided
1 teaspoon dried oregano leaves
½ teaspoon garlic powder
¼ teaspoon salt
¼ teaspoon coarse black pepper
Head to Cook the Story for the full recipe.
2. Steamed Carrots with Toasted Cumin and Walnut Oil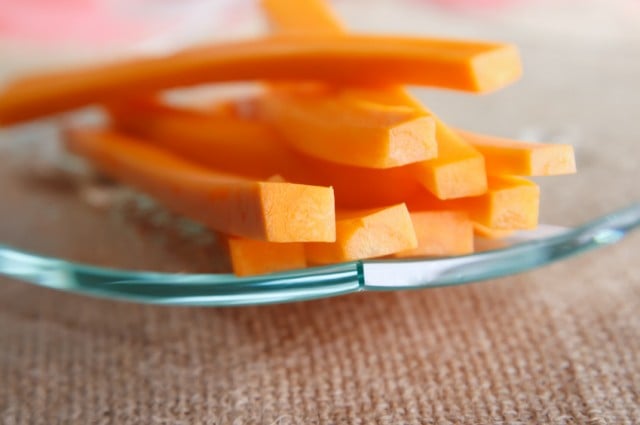 Simple, sophisticated, and ready in 15 minutes. Are there any finer qualities in a Thanksgiving dish? The steaming process brings out the natural sweetness in these carrot batons. The colorful veggies then get a quick walnut oil, lemon, and seasoning treatment before they're ready to serve. The Clean Dish's recipe yields 2 servings and can be multiplied easily for guests.
Ingredients:
½ teaspoon cumin seeds
6-8 large carrots
2 tablespoon flat-leaf parsley, roughly chopped
Juice of ½ fresh lemon
2-3 tablespoon walnut oil
Salt and pepper, to taste
Head to The Clean Dish for the full recipe.
3. Dijon-Maple Green Beans
Sick of green bean casserole? Kickstart your green bean game with Carlsbad Craving's dijon maple green bean dish. It's a lively blend of flavors: a buttery green bean base, topped with an impressive Dijon Maple glaze. Give it a complex finish with the addition of some crumbled feta and caramelized pecans. Non-vegetarians also have the option of topping it all off with a cured meat such as bacon. The dish is a great mix of salty and sweet flavors — sure to become a new family favorite. The recipe takes 16 minutes to make and yields 6 servings.
Ingredients:
1½ pounds fresh green beans, trimmed
2 tablespoons butter
1 shallot, diced
2 garlic cloves, minced
Dash of red pepper
Dijon Maple Sauce:
2 teaspoons pure maple syrup
1½ tablespoons Dijon mustard
1½ tablespoons balsamic vinegar
½ teaspoon salt
⅛ teaspoon pepper
Garnish:
⅓ cup caramelized pecans, chopped
¼ cup Feta cheese
8 slices bacon, crumbled
Head to Carlsbad Craving for the full recipe.
4. Pear and Blue Cheese Roasted Brussels Sprouts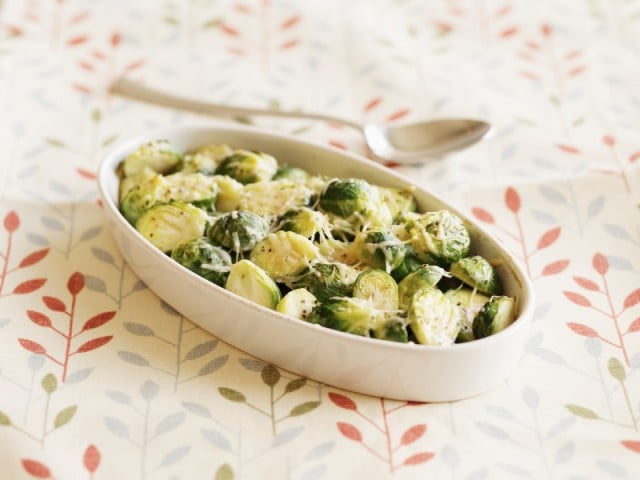 Spruce up your sprouts with the Cookie Rookie's elegant pear and blue cheese roasted Brussels sprouts dish. Just lightly season the veggies and cook, next adding crunchy walnuts and sweet pears for a satisfying combination of flavors and textures. Blue cheese crumbles offer the dish a perfect final touch. Recipe takes 15 minutes to make and yields 4 to 6 servings.
Ingredients:
2 tablespoons olive oil
1 pound halved fresh Brussels sprouts
Pinch of salt and pepper
2 tablespoons chopped walnuts
½ cup blue cheese crumbles
2 pears, sliced and chopped
Head to Cookie Rookie for the full recipe.

5. Turnip Mashed Potatoes
Combine 5 simple ingredients (plus salt and pepper) and you'll have a wonderful turnip- and potato-based side dish on the table in 30 minutes. Paula Deen's take on turnip mashed potatoes is rich and flavorful — perfect for your Thanksgiving feast. Deen's recipe yields 8 side servings, notes the Food Network.
Ingredients:
6 large red new potatoes, skin on
2 large turnips, peeled
½ cup cream, heated
8 tablespoons (1 stick) butter, melted
½ cup sour cream
Salt and pepper
Head to Food Network for the full recipe.