The 7 Best Snacks to Stash in Your Desk at Work
Workplaces can be nesting grounds for sweet treats, snacks, and desserts. Coworkers often bring leftover cookies, brownies, and breads into the office, leaving them in the lunch room to be eaten, and while these treats no doubt sweeten up the day, they also make it that much harder to eat healthy while at work. Because who has the will power to turn down a chocolate cupcake on a particularly stressful workday?
The key to resisting the daily work dessert lies in your preparation. When hunger strikes at 2 p.m., if you have a variety of office snacks stashed in your desk, you're more likely to reach for the healthy stuff, rather than the leftover brownies in the lunch room. Prepare yourself with one of these seven healthy snacks and you'll be satiated enough to turn down your coworker's day-old banana bread. Of course, there's always a time and a place to splurge, but just in case you don't want to do it in the office, keep your belly and waistline happy with these office-friendly snacks.
1. Nuts
One of the best snacks you can keep stashed in your desk is a serving of nuts. Nuts are not only a good source of protein and healthy fat — they also are fibrous, aiding in their ability to keep you full and satisfied throughout the workday. Though this all-natural snack is not low in calories, it's packed with the good fats, and because it is so rich in fiber and satiating, you won't be tempted to overdo it with them, unless you want a stomachache. Watch your nut serving size, and you'll be golden.
2. Hardboiled eggs
Hardboiled eggs are another example of an office-friendly snack that many people forget about. Like nuts, eggs are a great source of protein, and they are full of healthy fats that help keep your heart healthy. In addition, aside from their nutritional benefits, one of the great things about hardboiled eggs is that they're extremely portable, and can be made days in advance. During your Sunday food prep, prepare a handful of hardboiled eggs to keep in your lunchbox for the week ahead and you'll never go hungry midday. One hardboiled egg only yields about 80 calories, and that's a lot less calories than any sweet treat you'll find lurking in the employee lunchroom contains. Make hardboiled eggs a habit and fill your belly with healthy fats instead of sugar.
3. String cheese
Speaking of portability, string cheese is another perfect office snack because it can easily hide in your desk drawer as it waits for your midday craving to strike. String cheese is full of calcium and protein, and it's also already portioned out, making portion control a non-issue. Pair your string cheese with an apple and you really have a satiating snack, or have it by itself and keep your hunger at bay while still saving your appetite for dinner.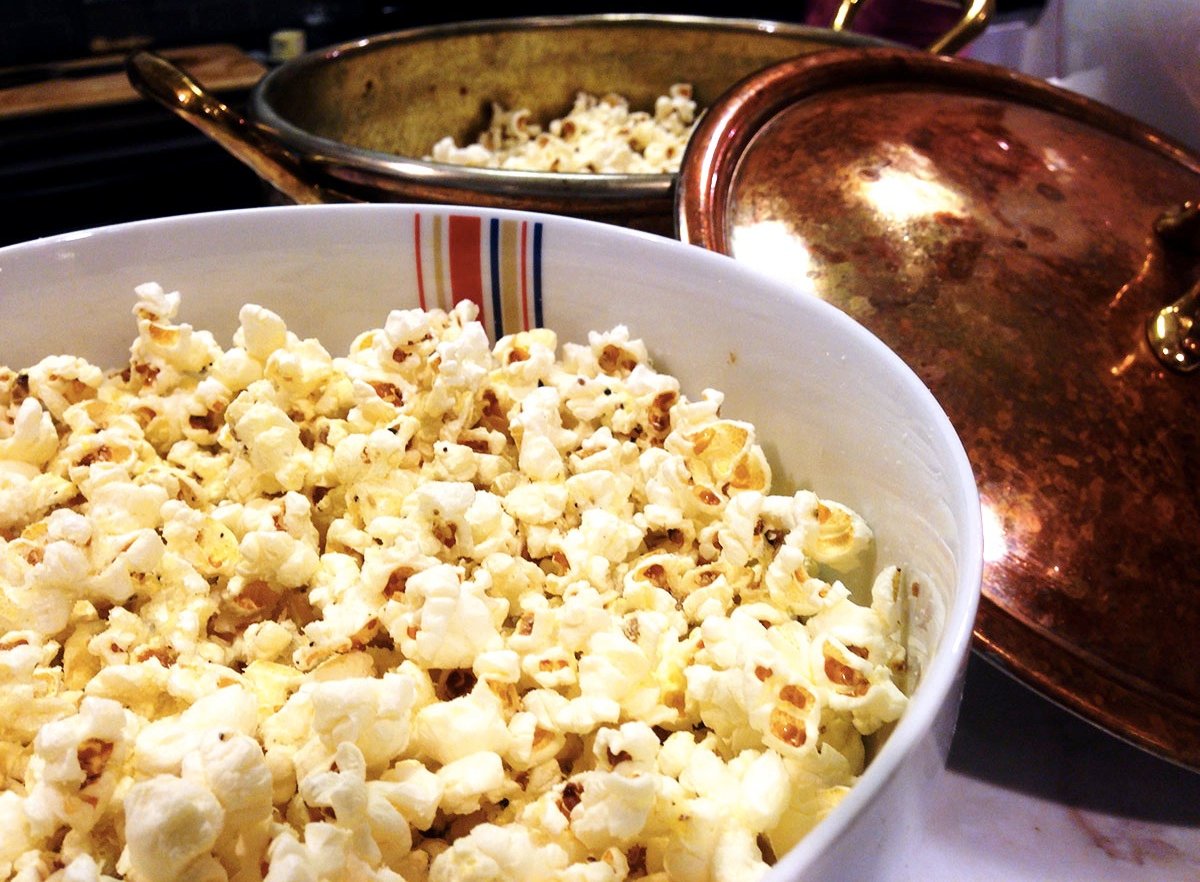 4. Popcorn
Popcorn is also a good option for your office desk because it's a whole grain, and it's satisfying without being diet-devastating. Keep your popcorn healthy by popping your own corn, and then adding a touch of butter or olive oil, and you've got a nutritious, yet delicious snack. Prepare it the night before and you'll be patting yourself on the back come 3 p.m. when you can turn down your coworker's leftover birthday cake with the excuse that you already have a midday nibble.
5. Protein balls
Switching lanes, you can also easily stash homemade protein balls in your office desk to ensure that when your hunger strikes, you'll be armed with something satiating and appetizing. Because everyone knows that healthy protein snacks don't work if you have to force yourself to eat them. A snack can only win over a coworker's cake if it tastes good, so prepare homemade protein balls with this particularly popular recipe from Fitnessista and satisfy your cravings without devastating your diet. These balls taste like cookie dough, and because they're packed with protein, they're guaranteed to keep you full longer than any empty sugar calories will.
Ingredients:
2 tablespoon vanilla or chocolate protein powder of choice
2 tablespoon of almond butter (drippy almond butter works best)
2 tablespoon shredded unsweetened coconut
1 tablespoon pure maple syrup (honey or brown rice syrup would work too)
pinch of sea salt, Stevia and cinnamon
Directions:
In a small food processor, add the protein, almond butter, and coconut, and pulse until the ingredients are well incorporated. Add the cinnamon, sea salt, Stevia, and sweetener (maple syrup or whatever you decide to use) and pulse again — the mixture will start to clump together.
Add in one square of extra dark chocolate (break it apart with your hands), or whatever mix-ins you'd like to use. Dried berries would be delicious, too. Pulse together one more time to finely chop the chocolate, and assess the situation to see if you'll need more liquid sweetener for the balls to stick together. Roll mixture into four balls with your hands. Balls can be stored in a Ziploc bag.
6. Dates or other dried fruit
If you don't have time for food prep, stash some fresh dates in your office desk instead of the protein balls. Dates are naturally sweet, too, and are considered nature's candy for a reason. They'll help you turn down your coworker's offer for a piece of brownie or cake because the sugar in dates can help satisfy any craving for sugar the natural way, and they won't play a role in any inevitable sugar crash later.
Pick up fresh Medjool dates from the grocery store and prepare to be surprised how much you enjoy the naturally sweet fruit that has a taste reminiscent of caramel. Dates are getting hot on the food scene nowadays, and many even incorporate them into their own recipes to cut back on other added sugars. If you're not a fan of dates, store other dried fruit in your desk instead, such as dried berries, apricots, and bananas, but just remember that those fruits have a lot of sugar, too, so you shouldn't go overboard.
7. Roasted chickpeas
Last but not least: roasted chickpeas — a crunchy snack that is fun to eat and even good for you. Crack open your canned legumes and preheat your oven. Chickpeas are loaded with fiber and protein, and they become a portable, finger-friendly snack when you roast them, dehydrating them of the liquid they're canned in and giving them a crisp, crunchy texture. As long as you bake your chickpeas in advance, you can keep them in resealable bags or containers in your desk for when the craving strikes. Roasted chickpeas are like chips in that they satisfy any craving for a salty crunch, but they're also devoid of preservatives and processed ingredients that make the bagged snack so unwholesome.
Heat your oven to 400 degrees Fahrenheit, toss your chickpeas in some olive oil and seasoning, and bake them on a lined baking sheet for about 30 to 40 minutes, until they reach their desired crispiness. Healthy never tasted so good.
More From Wall St. Cheat Sheet: