10 of the Best Roadside Attractions for Your Next Road Trip
For some folks, a road trip is the best way to travel. But while a few hours might be perfectly enjoyable, anything much longer can start to get dull. Taking breaks at rest areas and gas stations to stretch your legs might help, but there's not really much to do other than stroll for a few minutes before getting back to the trip.
Make the journey a lot more enjoyable by seeking out some unique roadside attractions. You'll see plenty of highway signs for various parks and museums, as well as some sights that are a little bit more unusual. A drive through Wyoming could mean a visit to a town with a population of one, while a journey across Missouri might include hiking over a rock-encrusted pile of nuclear waste. These 10 roadside attractions make getting there as great as the getaway itself.
1. Lucy the Elephant (Margate, N.J.)
Lucy is a sight worth seeing if you find yourself driving around New Jersey. The 65-foot creature is more than just one of those stops where you get out and gawk for a while, it's actually a building. The structure was completed in 1881 under the direction of James V. Lafferty, Jr., who was looking for a way to draw more people to the area. Tours run every 30 minutes and only cost $4 for kids and $8 for adults. It's a fun stop for anyone, but this one is particularly great for those traveling with kids.
2. Smallest Town in America (PhinDeli Town Buford, Wyo.)
There are small towns, and then there's this town. With a population of one, PhinDeli Town Buford, Wyo., consists of nothing more than a house, gas station, and post office. The Daily Beast reported the town, originally Buford, was sold by owner and resident Don Sammons in 2012 for $900,000. The new owner, entrepreneur Pham Dinh Nguyen, thought it would be an interesting way to expand a coffee business. Though Ngyuen doesn't live there, the population sign is still accurate thanks to an onsite caretaker. Coffee lovers, this is definitely your ideal roadside attraction.
3. Largest Ball of Paint (Alexandria, Ind.)
Plenty of off-the-beaten-path places like to draw visitors with "the world's largest ____." This one might be one of the most bizarre, though. It all started when Michael Charmichael accidentally dropped a baseball in a bucket of paint. He decided to roll with it, and proceeded to add another coat every day for 1,000 days in a row before he sold it. Interestingly, this is a separate creation that Charmichael started after he found himself itching to do it again. He and his family try to paint it as often as possible these days.
4. Beer Can House (Houston)
This attraction is exactly what it sounds like, except that it includes some bottles as well. John Milkovisch started his project in 1968 when he grew tired of constantly having to mow the yard. It began as inlaid rocks and metal pieces, but once his attention turned to the house, Milkovisch switched over to beer cans. Though both Milkovisch and his wife have since passed, a local nonprofit purchased the property and ensures it stays in top form. The Huffington Post reported that Milkovisch was able to accumulate enough cans for his project by drinking a six-pack every day for 20 years. Admission is just $5 and you can stop by for a visit from noon to 5 p.m. Wednesday through Sunday. Just remember that you'll have to go elsewhere to actually drink some beer.
5. Ben and Jerry's Flavor Graveyard (Waterbury, Vt.)
The Ben and Jerry's flavor graveyard is a fun way to recall some of your favorite flavors that have been discontinued. This attraction is part of the larger factory tour that's $4 or less, depending on age. You can learn about the manufacturing process, but the best part might be visiting the scoop shop for some decadent ice cream creations.
6. Corn Palace (Mitchell, S.D.)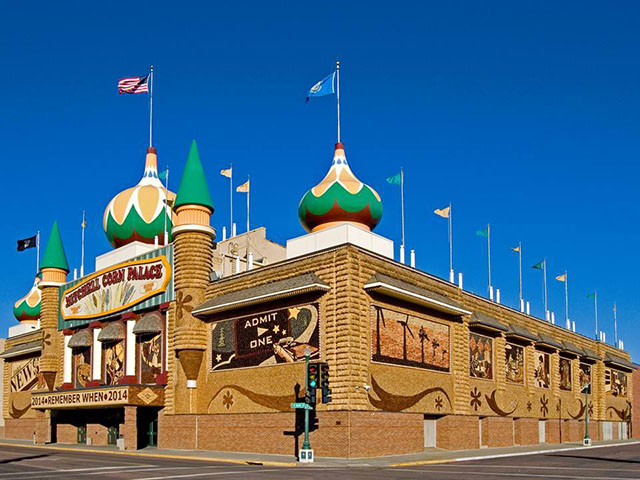 Ancient Greek mosaics might be made out of tiny bits of glass, but folks in South Dakota have managed to get roughly the same effect using corn. According to the stop's website, the building draws around 500,000 visitors each year. And good news if you regularly make the drive through this area, the murals are different every year.
7. Pee Wee Golf and Arcade (Guerneville, Calif.)
When you've tired of sampling different wines around Napa, you can head about an hour west for something completely different with this miniature golf course. Miniature doesn't quite do it justice, though, because this course features 35 holes and plenty of concrete creations. It's certainly a fun contrast to the upscale wine regions nearby. You can also rent bikes if you've been crunched in the car for so long that you're dying to get some exercise.
8. Nuclear Waste Trail and Adventure Museum (Weldon Spring, Mo.)
Once a site used to manufacture explosives, this quarry was placed on the National Priorities List by U.S. Environmental Protection Agency (EPA) in 1987 because of the threat to groundwater contamination from leftover hazardous waste. According to the Weldon Spring site's fact sheet, the remaining waste after cleanup was entombed in a 75-foot-tall disposal cell. Now it's open to the public to come check out some stunning views.
9. Grotto of the Redemption (West Bend, Iowa)
If you had a rock collection growing up, then you'll appreciate the sheer size of this structure made out of all sorts of stones and geodes. Father Paul Matthias Dobberstein fell seriously ill with pneumonia, and he promised to build a shrine to the Virgin Mary if he should get better. After a full recovery, finishing his studies, and moving to West Bend, Iowa, Father Dobberstein set to work creating what is now the largest man-made grotto in the world. Though the site is religious in nature, Time said you don't have to be spiritual to enjoy this structure. The story went on to say that the collection of stones is valued at $4 million.
10. Luray Caverns (Luray, Va.)
Luray Caverns is a pretty astonishing site for any age. The underground structure was discovered in 1878 when a group of men were exploring the area, hoping to find a cave. It's home to The Great Stalacpipe Organ, which uses the formations as a musical instrument. Don't worry if you're traveling over a holiday weekend either, because the caverns are open every day of the year. Feel free to wander yourself, or opt for one of the guided tours.
More from Life Cheat Sheet: