6 Delicious Dip Recipes That Are Perfect For Cinco de Mayo
A party is not a party without good chip and cracker dips, and that is especially the case when it comes to Cinco de Mayo celebrating. People show up to parties expecting to marry their chips with lots of guacamole, queso, and taco dips, and it's up to you to deliver. Fortunately, dips are as easy as they come, and they always taste better when they're homemade. The store-bought variety is easy to place, so as you get prepared for your next get together, give this list a consultation. We've rounded up six of the best dip recipes currently swirling around the Internet and are giving you step-by-step directions on how to make them for your kitchen table.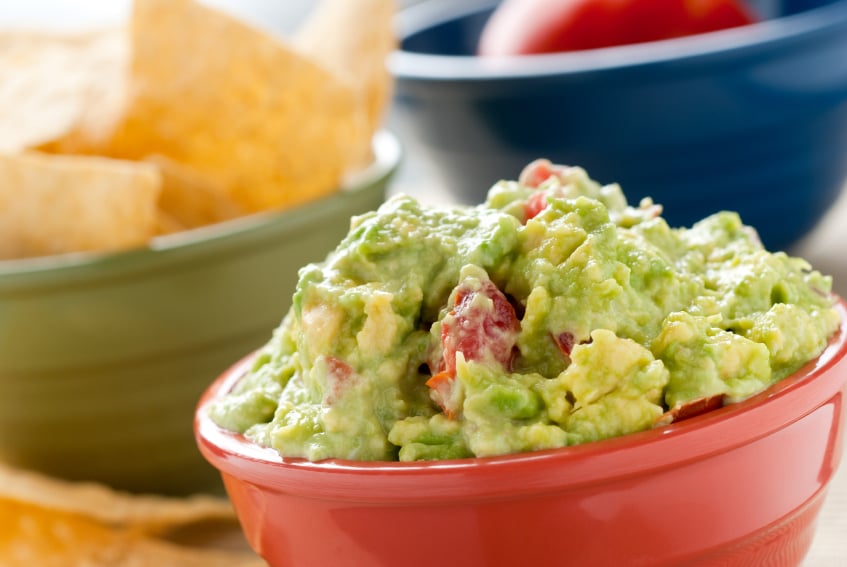 1. Guacamole
Thanks to the ever-praised avocado, guacamole is perhaps the most popular dip as of late, and for good reason. It's creamy thanks to the fruit, it's flavorful thanks to seasoning, and it can easily be made spicy with some peppers and a couple of healthy drops of hot sauce. Guacamole is pretty hard to mess up and it's very easy to make, so use this recipe from Brown Eyed Baker and never buy store-bought avocado dip again. Your guests will go crazy for this guacamole packed with healthy fats, and we guarantee that there won't be any leftover chips.
Ingredients:
2 ripe avocados
1 tablespoon lime juice
¼ cup minced onion or shallot
1 large clove of garlic, minced
1 jalapeño pepper, seeded and minced
¼ teaspoon chili powder
¾ teaspoon coarse salt
freshly ground pepper, to taste
¼ cup seeded and diced tomato (optional)
Directions: Cut the avocados in half, remove the pit, and scoop the flesh into a medium-size bowl. Using a fork or a potato masher, mash the avocados with the lime juice, onion, garlic, jalapeño, chili powder, salt, and pepper. Taste and adjust the seasoning to your liking. Gently stir in the tomato. If desired, you can garnish the guacamole with chopped fresh cilantro. If not serving immediately, cover with plastic wrap, pressing the plastic wrap against the dip, and refrigerate.
2. Texas Queso
And of course, once you have guacamole, you'll definitely need queso, too – because what's a good party without cheese? Many party throwers serve their chip-loving queso from a jar, but real hosts make it from scratch with a recipe similar to this one found on Chow. All you need to do for your queso is grate up some cheese, add some milk, let it simmer, and that's a wrap. Cheese dip has never tasted so good, and your guests have never been so satisfied.
Ingredients:
4 cups grated extra-sharp cheddar cheese (about 12 ounces)
1½ cups grated Monterey Jack cheese (about 6 ounces)
1 tablespoon cornstarch
¼ cup whole milk
1 cup minced white onion (about 1 small onion)
1 (4-ounce) can diced mild green chiles, juices reserved
Directions: Place cheeses in a large bowl, sprinkle with cornstarch, and toss to coat. Transfer cheese mixture to a large saucepan and add milk. Set over low heat and cook, stirring occasionally, until mixture is smooth and melted, about 10 to 15 minutes.
Stir in onion and chiles with reserved juices until well combined. To serve, transfer dip to a slow cooker set on low or keep in the saucepan at a simmer for up to 1 hour, stirring occasionally. Serve with tortilla chips and cut-up raw carrots, jicama, celery, and radishes.
3. Taco Dip
Cinco de Mayo means it's time for taco dip. Get your taco on with this recipe from Taste of Home. Requiring just a handful of ingredients, taco dip takes the difficulty out of awkward taco eating and hands your guests an easier way to chow down on the goodness. Serve your dips with tortilla chips and you'll never go the traditional taco route again.
Ingredients:
1 package (8 ounces) cream cheese, softened
1 cup (8 ounces) sour cream
1 carton (8 ounces) French onion dip
1 envelope taco seasoning
4 cups shredded lettuce
2 cups (8 ounces) shredded cheddar cheese
1½ cups chopped tomatoes
tortilla chips
Directions: In a large bowl, beat the cream cheese, sour cream, onion dip, and taco seasoning until blended. Spread onto a 12-inch round serving platter. Top with lettuce, cheese and tomatoes. Serve with tortilla chips. Yield: 10 to 12 servings.
4. Salsa
We've already highlighted this fresh and spicy salsa recipe from AllRecipes.com, but it's worth another mention. The salsa's tomatoes, cilantro, and garlic ingredients, along with its jalapeños and hot sauce, will have your guests' taste buds dancing. Considering the preparation of this sauce requires only one step, rest assured that you'll have time to get in on the dancing, too.
Ingredients:
5 Roma (plum) tomatoes, seeded and chopped
10 green onions
2 fresh jalapeño peppers, seeded
¼ cup chopped fresh cilantro
2 tablespoons fresh lime juice
2 tablespoons hot pepper sauce
1 teaspoon ground black pepper
1 teaspoon garlic powder
1 teaspoon salt
Directions: In a blender or food processor, pulse the tomatoes, green onions, jalapeño peppers, and cilantro to desired consistency. Transfer to a bowl and mix in the lime juice, hot pepper sauce, black pepper, garlic powder, and salt.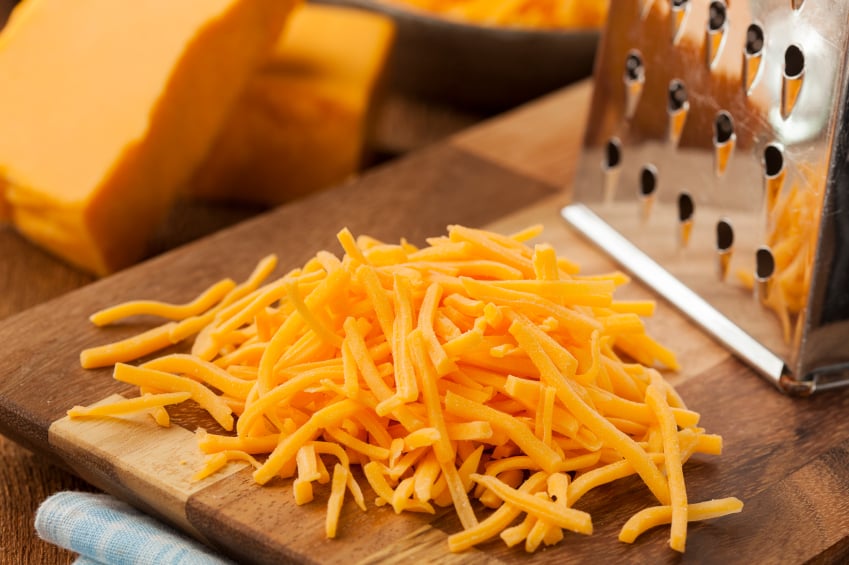 5. Buffalo Chicken Dip
This next one doesn't exactly go with the Cinco de Mayo theme, but it's definitely a crowd favorite, so you should still consider serving it alongside your other dips the next time you throw a party. The Cooking Channel's buffalo chicken dip requires three star ingredients (chicken, hot sauce, and cream cheese), along with a number of other honorable mentions, and it comes together in just 25 to 30 minutes. We promise that this will be one of the dips that needs refilling the quickest.
Ingredients:
2 cups cooked, shredded chicken thighs
1 (8-ounce) package cream cheese, softened
4 ounces sharp cheddar cheese, grated
4 ounces pepper jack cheese, grated
1 (1-ounce) packet ranch dressing powder
½ cup hot sauce
Directions: For the chicken: In a large pot, add chicken, onions, and celery, and enough water to cover. Bring to a boil and reduce heat to a gentle simmer. Skim off any foam as necessary. Cook until meat is tender, 30 to 45 minutes. Remove thighs from the liquid and cool until able to touch. Shred chicken, discarding bones for another use, and set aside.
For the dip: Preheat oven to 350 degrees Fahrenheit. Add the cooked chicken, cream cheese, shredded cheeses, ranch dressing powder, and hot sauce in the bowl of a stand mixer fitted with the beater blade (this can also be done by hand) and mix on low until combined. Spread into a medium baking dish and cook until warm and bubbly, 25 to 30 minutes. Serve with corn chips and celery sticks.
6. Cookie Dough Dip
We're signing off with a dessert dip, because even dips can come in sweet and savory flavors. After your guests inhale your guacamole, queso, and buffalo chicken dip, they're going to to need to indulge their sweet tooth, and that's where this cookie dough dip from Add a Pinch comes in. There's no need to worry about salmonella when you dunk your graham crackers in this delectable cookie dough dip – there are no raw eggs in this recipe, so guests can eat as much as their heart desires. We just hope you make enough to satisfy their cravings.
Ingredients:
1 (8-ounce) package cream cheese
½ cup butter
1 cup powdered sugar
2 tablespoons brown sugar
1½ teaspoons vanilla
1 cup chocolate chips
1 cup toffee bits
Directions: Cream together cream cheese and butter. Add all remaining ingredients and mix until well combined. Serve with graham crackers or apple wedges.
More from Life Cheat Sheet: