The History Behind 7 Traditional Christmas Foods
Most Christmas dinners and desserts are deeply-held and well-loved traditions, but do you know where those traditions came from?
1. Chestnuts
We'll start off with chestnuts, since mentioning chestnuts roasting on an open fire is bound to get a certain theme-appropriate soundtrack stuck in your head for the remainder of this article! Chestnuts are likely one of the first foods eaten by mankind; they're native to the Mediterranean, where other cereal grains like wheat and oats have more trouble growing, and they're a nutritional powerhouse. According to Self Nutrition Data, chestnuts are relatively low in calories while also being packed full of vitamin C, copper, and manganese. Though the exact reason this is such a Christmas classic is a little hazy, it's thought that their humble, versatile nature and cheap nutrition is a factor in their prevalence at the Christmas table. Benedictine nuns in Tuscany traditionally prepare Pieno di Natale, a Christmas dessert made with chestnuts.
2. Fruitcake
If there's one butt-of-the-joke dish at Christmas, it's fruitcake. The fruitcake as we (mostly) know it began, according t0 the Smithsonian, in the Middle Ages when dried fruits became more available. Traditionally, fruitcakes are made well in advance and "aged," wrapped up and left up to a year, with alcohol as a preservative. A tutorial on proper fruitcake making from A World of Baking by Dolores Casella via What's Cooking America claims that a fruitcake must be aged for no less than a month to mellow, though it seems that it will take a lot longer than that since you're supposed to unwrap and brush the cake with alcohol once a week! Want to unearth a fruitcake like you would a celebratory bottle of wine laid down to age for an occasion? Casella offers insight:
Fruitcakes taste better with age! This is called "ripening." Liquor based cakes may be stored several months in advance in a cool place prior to serving. Non-liquor soaked cakes may be kept in a cool place or in refrigerator for short term storage or a or freezer for long storage. Be sure to ripen fruit cakes a few weeks before freezing. For very long storage, bury the liquor-soaked cake in powdered sugar and place in a tightly covered tin in a cool place (fruit cakes can be enjoyed as long as 25 years this way.) Check liquored-soaked cakes periodically and rewrap in liquor soaked cloth.
That's one fruitcake with a history all its own.
3. Christmas goose
Though many modern families sit down to a Christmas meal of turkey or ham, a fatted goose is the traditional centerpiece of the Christmas table. The origins of this are as simple as seasonality: Christmas is when geese are ready to be eaten. According to Delish, geese were the main event during the celebration of Michaelmas, a feast day celebrated during the Middle Ages on the winter solstice to honor the end of the harvest season, and previously roasted as an offering to Thor and Odin in thanks for the year's harvest.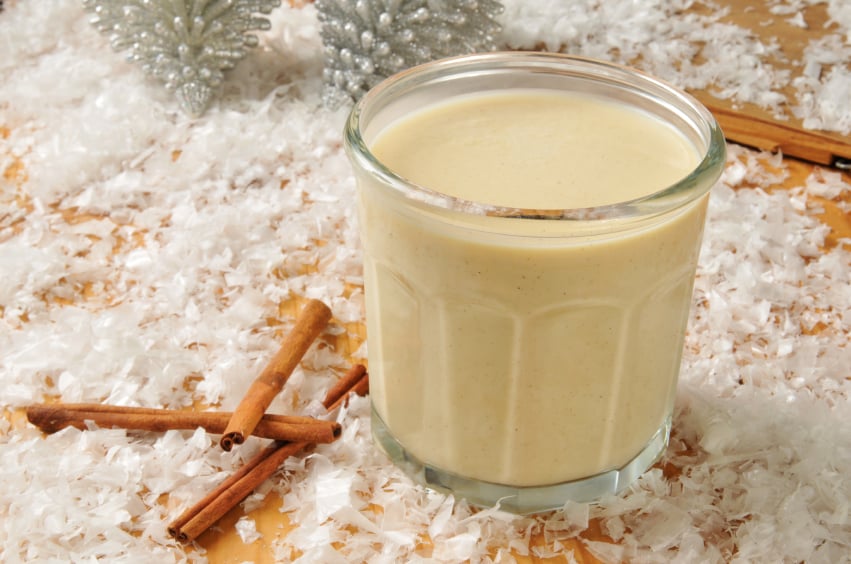 4. Eggnog
There are two possible origin stories for eggnog, according to In Depth Info. Both start with the commonality of old world milk and wine punches. In one, it's theorized that rum, called grog in Colonial America, was a descriptor for the booze in an egg-thickened milk punch. It's easy to see how a drunken slur can turn egg-and-grog into egg-n-grog and then to eggnog. In the second theory, the actual drinking vessel is considered: a small wooden cup used for drinking at tables (versus the fireside) in taverns was call a "noggin." A third possibility is a mashup of the two, which leads to egg-and-grog in a noggin, and it's clear that if that were the case, it would absolutely need to be shortened to eggnog.
Eggnog was reputed to be George Washington's favorite drink. His recipe, found in the Old Farmer's Almanac, is as follows:
One quart cream, one quart milk, one dozen tablespoons sugar, one pint brandy, ½ pint rye whiskey, ½ pint Jamaica rum, ¼ pint sherry — mix liquor first, then separate yolks and whites of eggs, add sugar to beaten yolks, mix well. Add milk and cream, slowly beating. Beat whites of eggs until stiff and fold slowly into mixture. Let set in cool place for several days. Taste frequently.
5. Panettone
An Italian Christmas tradition, panettone is a sweet, enriched, cake-like bread with currants or raisins and citrus peel. Dating back to the 1500s, it is said — according to a story retold by old Italian bakery Flamigni — that a baker named Toni in the service of the Duke of Milan burnt the cake meant to be presented at the Christmas feast. Taking the yeast he'd been saving for his own Christmas meal, he created a bread with flour, eggs, sugar, raisins, and candied fruit. It was such a success that it was named Pan de Toni, or panettone.
6. Candy canes
The lore of a candy cane comes from the difficult task of keeping children quiet during long church services. In particular, the most commonly told story is that of a choirmaster from Germany who created the crooked candied to keep his choirboys silent and appeased during Christmas mass. The shape is either meant to replicate the shepherd's crook or the letter J, for Jesus.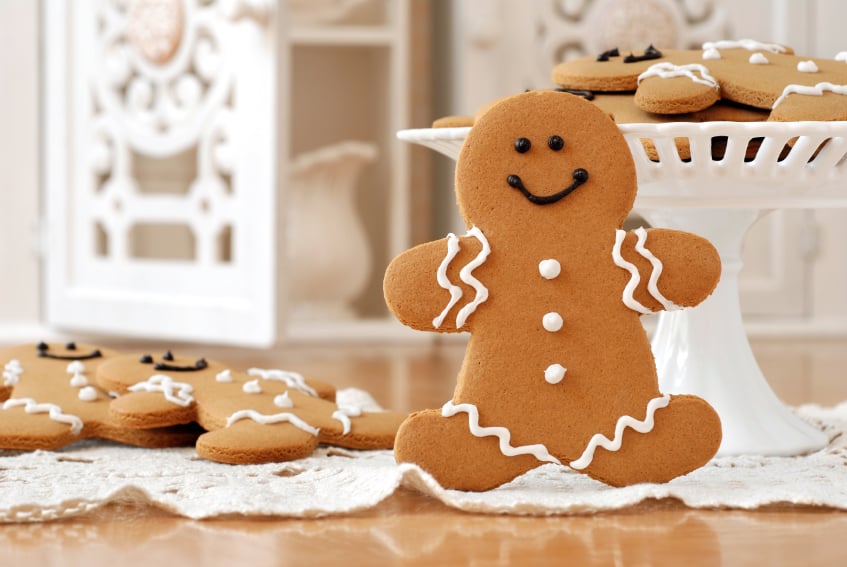 7. Gingerbread
As told by PBS, the first known gingerbread recipe is from Greece in 2400 BC, followed by Chinese recipes in the 10th century, and finally hard gingerbread cookies cut out in shapes sold during medieval fairs in England, France, Holland, and Germany. It is said that Queen Elizabeth I ordered gingerbread cookies made and decorated to resemble visiting dignitaries. Elaborately decorated cookies were a symbol of wealth, often featuring gold leaf. The first gingerbread houses originated in 16th century Germany, though it is unclear whether the Brothers Grimm story of Hansel and Gretel or the houses came first.
More from Life Cheat Sheet:
Want more great content like this? Sign up here to receive the best of Cheat Sheet delivered daily. No spam; just tailored content straight to your inbox.