Transform Your Chili: 6 Creative Recipes Making This Dish Even Better
Cheesy, spicy chili is delicious in all forms, but even the dish's most zealous fans start to tire of the same old presentation. The ability to perk up a dull chili dish requires just a dash of inspiration — fortunately for us, creative ideas can be found online in spades. While many of these delightful methods involve chili made from scratch, you can just as easily incorporate leftover chili for a shortcut to scrumptiousness.
To help you get started, we've collected six of the best recipes for transforming your basic chili from a simple comfort food to a full-on culinary experience.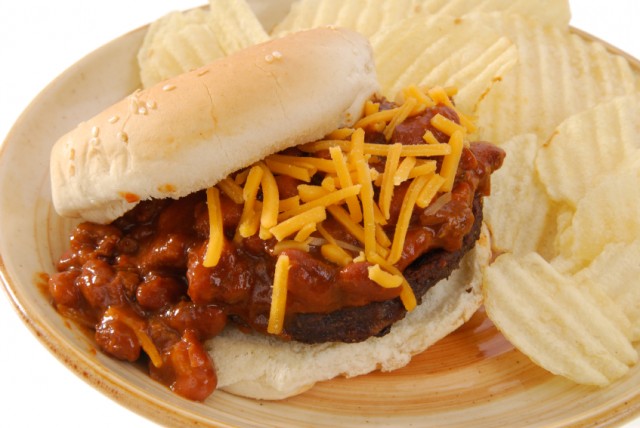 1. Chili Cheese Tot Burgers
"You just can't go wrong with chili, cheese and potatoes," writes A Zesty Bite. This recipe combines hearty ingredients in a wonderful spin on classic cold-weather comfort food. You'll start by cooking up a flavor-packed chili, then ladling that tantalizing bean, veggie, and spice mixture over a freshly cooked burger. The burger is then topped off with crispy, chopped tater tots and cheddar cheese. We promise you this combination of tastes will send you to comfort food nirvana! The recipe yields 8 to 10 burgers.
Visit A Zesty Bite for the recipe.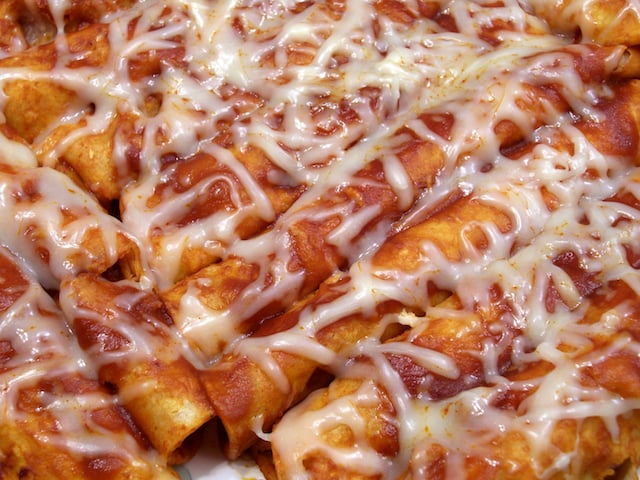 2. Smothered Chili Colorado Burritos
"The sauce for these burritos is so insanely good, I literally couldn't stop eating it straight from the pan," writes Creme de la Crumb. We think you'll share those feelings once you try whip up these Smothered Chili Colorado Burritos. The dish consists of a beefy, cheesy chili that is spiced to perfection with cumin and adobo sauce. Dollops of the piquant mixture are wrapped inside flour tortillas, then smothered in a decadent, velvety cheesy sauce. The recipe takes 30 minutes to make and yields 4 servings.
Visit Creme de la Crumb for the recipe.
3. BBQ Chili Shepherd's Pie
What's better than cooking up one type of comfort food? Cooking up two comfort foods in the same dish, of course! This BBQ Chili Shepherd's Pie combines the best of traditional English shepherd's pie — creamy mashed potatoes and chunks of veggies and beef — with flavorful chili, culminating in a zesty, flavorful meal. As The Recipe Rebel writes: "It's hearty. It's packed with veg. It's completely customizable. It's meaty, saucy, creamy goodness." In other words, it's just about everything you could ask for in a savory dish. The recipe takes 45 minutes to make and yields 6 to 8 servings.
Visit The Recipe Rebel for the recipe.
4. Chili Cheese Stuffed Spaghetti Squash
Spaghetti squash's role in this culinary squash is twofold: The "meat" of the veggie contributes a characteristically pleasing flavor, while the squash's scooped-out shell serves as a serving bowl for your homemade chili.
The flavor combination in this vegetarian dish truly can't be beat, as subtle, sweet squash beautifully complements the smoky flavors of cumin and cayenne. "As you eat your cheesy chili, you scrape strands of the delicious squash into each forkful," Kitchen Treaty writes, referring to the veggie's distinctive texture. This texture makes spaghetti squash an ideal substitution for dieters avoiding gluten, rice, or bread products in general. Kitchen Treaty's Chili-Stuffed Spaghetti Squash takes 90 minutes to make and yields 4 servings.
Visit Kitchen Treaty for the recipe.
5. Cheesy Chili Dip
This Cheesy Chili Dip is, as Pinch of Yum aptly describes it, "so spicy and warm in that mouth-sizzle way." The flavor-loaded chili is mellowed out by a thick, creamy cheese sauce, resulting in sheer party food perfection. Allowing the ingredients to simmer in the slow cooker for a few hours will yield aromatic and mouthwatering results. Serve the dip alongside tortilla chips for a crowd-pleasing, low-maintenance dish. Pinch of Yum's recipe yields about 6 cups, or 12 servings.
Visit Pinch of Yum for the recipe.
6. Chili Baked Potatoes
"These Twice-Baked Chili Cheese Potatoes are essentially a slightly healthier version of the beloved stadium snack — chili cheese fries," observes Neighbor Food Blog. Rather than frying your potatoes, pop them in the oven! After baking, top the potatoes with chili and cheese, then bake again. Sounds easy enough, right? The dish is simple to prepare ahead of time — just prepare the potatoes up to the final step and refrigerate, then pop them in the oven to achieve melty, toasty-warm results right before serving. This recipe for Chili Baked Potatoes takes an hour and 50 minutes to make and yields 20 servings.
Visit Neighbor Food Blog for the recipe.
More from Life Cheat Sheet: