7 Recipes For Heart-Healthy Comfort Food
On the hunt for a new and exciting method for preparing your salads? There's no better way to greet the wintry weather than by heating up those greens on the stove. Sautéing your greens will not only infuse them with the warm, comforting flavors, but will also lend a silky tenderness to even the toughest of veggies (just be sure to keep in mind that your veggies will wilt and reduce in size as they cook).
These 7 wonderful sautéed salad recipes will keep you happy and healthy on even the coldest days of the year.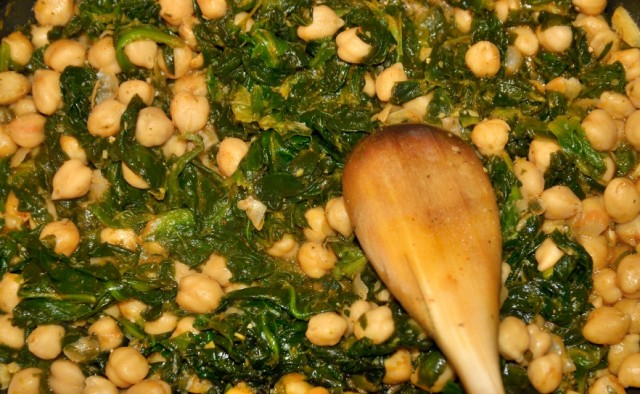 1. Garlicky Winter Greens and Chickpea Salad
This Garlicky Winter Greens and Chickpea Salad from White On Rice Couple makes for a meal that is at once light and satisfying. Your greens will reach a tender consistency as they cook over the stove, while garlic, soy sauce, and other ingredients offer a bit of savory, peppery flavoring to the salad. Finally, protein-rich chickpeas are added to the mix, resulting in a wonderfully filling and well-textured dish. This recipe takes 15 minutes to make and yields 2 to 4 servings.
Ingredients:
2 tablespoons olive oil
4 to 5 medium cloves fresh garlic, minced
About 1 pound of greens, chopped (remove any tough stems or inner ribs)
1 (14.5-ounce) can chickpeas, drained & rinsed
2 teaspoons soy sauce
1 teaspoon sesame seed oil
1 teaspoon rice vinegar
kosher or sea salt, to taste
fresh cracked black pepper, to taste
Directions: Heat large sauté pan on medium-high heat. Add oil, then add the garlic. Cook garlic until translucent and fragrant, about 2 minutes.
Add the greens and cook the greens until they are wilted and tender, folding the greens a couple times while cooking to help them cook evenly. Remove the pan from heat.
Add the chickpeas, soy sauce, sesame seed oil, rice vinegar and season with salt and pepper to taste. Gently fold the chickpeas and seasonings into the greens until everything is combined well. Serve warm or cold.
2. Sauteed Collard Greens Salad with Raisins and Sunflower Seeds
Leafy collard greens offer spectacular nutritional advantages. The United States Department of Agriculture (USDA) reports that you'll be getting 10 grams of nourishing fiber and protein for every 100 calories' worth of this veggie you consume. Now you can turn those nutritive collard greens into a soothing cold-weather dish with nothing but a quick sauté treatment and some light seasonings. Raisins add a pleasant sweetness to the mix, but you'll especially love the crunchy, salty finish provided by toasted sunflower seeds in Natural Noshing's dish.
Ingredients:
2 tablespoons sunflower seeds
1 bunch of collard greens, hard rib and stems removed
2 garlic cloves, minced
2 teaspoons coconut oil (olive oil or butter can be substituted)
2 to 3 tablespoons raisins
1 to 2 tablespoons balsamic vinegar
sea salt to taste
crushed red pepper to taste
Directions: Heat a small skillet over medium heat. Add sunflower seeds and toast over dry heat for 2 to 3 minutes, stirring constantly, or until toasted to your liking. Remove from heat, transfer to a bowl or plate and set aside.
Chop the leaves of the collard greens into large pieces, then wash in a colander and set aside to let drain.
In a large skillet, heat oil over medium-high. Add garlic and cook for 1 minute. Add collard greens and raisins; cook, tossing occasionally, until collards are almost tender, about 5 minutes. Add crushed red pepper, balsamic vinegar, and sunflower seeds, then stir to combine and cook for one more minute or until greens are cooked to your liking. Remove from heat, season with sea salt if needed, and serve!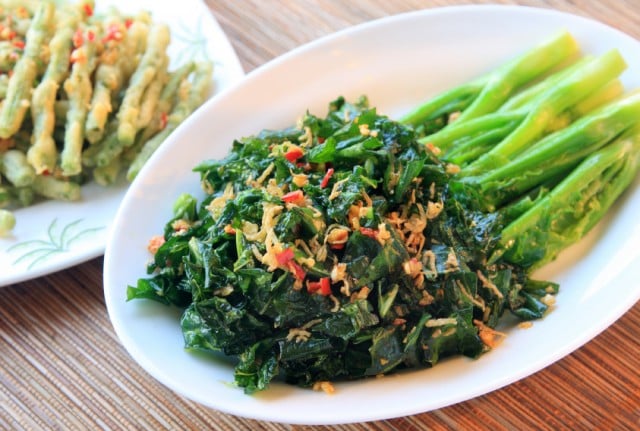 3. Sautéed Greens with Pancetta and Garlic Chips
This recipe from The Hungry Lovers combines the best of all your favorite greens: Spinach, kale, and bok choy. The veggies gain a rich flavor from pan-fried pancetta (bacon can be substituted) in the dish, while red wine vinegar adds an elegant final touch. Sautéing thinly sliced garlic along with the salad will result in crispy golden garlic "chips," making a luscious complement to the dish's many savory flavors. This recipe for Sautéed Greens with Pancetta and Garlic Chips yields 4 to 6 servings.
Ingredients:
2 tablespoons olive oil
5 cloves garlic
1 teaspoon red pepper flakes
1 teaspoon celery seed
1 teaspoon salt
2 teaspoons black pepper
2 ounces pancetta (or 3 slices bacon), diced
2 cups baby bok choy, cores and bottoms removed
3 cups baby spinach leaves
2 cups kale, stems removed
3 tablespoons red wine vinegar
Directions: Peel the garlic and slice it thinly. Place the oil, garlic, pepper flakes, salt and black pepper, and celery seed in a large cold frying pan. Heat the pan on medium until the garlic starts to sizzle; cook for a few minutes until the garlic is golden on both sides but not brown. Brown or black garlic is very bitter, and starting with a cold frying pan will allow you to crisp up the garlic slowly.
Remove the garlic to paper towels and let it drain. Add the pancetta or bacon and cook to the desired level of crispness. Toss in the bok choy and saute for 3 to 4 minutes, until the thick end of the leaves start to soften. Stir in the rest of the greens and sauté until just wilted. Toss with the garlic chips and vinegar before serving.
4. Sautéed Spinach Currant and Pine Nut Salad
This warm spinach salad draws from Sicilian inspirations, incorporating pine nuts for texture, along with currants for a punch of fruity flavor. Shallots offer the dish a hearty, savory bent. This Sautéed Spinach, Currant, and Pine Nut Salad recipe from Williams Sonoma is simple, quick to make, and results in a breathtaking main or side dish. The recipe yields enough salad to serve 4 people.
3 tablespoons olive oil
1 tablespoon minced shallots
2 pounds spinach
Kosher salt and freshly ground pepper, to taste
¼ cup currants
¼ cup pine nuts, toasted
Directions: In a sauté pan over medium-high heat, warm 1 tablespoon of the olive oil. Add the shallots and cook, stirring, until fragrant, 5 to 10 seconds. Add 1 tablespoon of the olive oil and half of the spinach, and season with salt and pepper. Cook, stirring, until the spinach is wilted, 3 to 4 minutes. Transfer to a bowl. Add the remaining 1 tablespoon olive oil to the pan and cook the remaining spinach.
Return all of the spinach to the pan and stir in the currants and pine nuts. Serve immediately.
5. Sautéed Kale Caesar Salad
Leafy green kale takes center stage in this Sautéed Kale Caesar Salad, a satisfying and flavorful dish packed with fiber and protein. Sautéing the kale will take the edge off of its typically bitter taste, while lemon juice and garlic infuse the greens with a light, springy flavor. Pasta, pine nuts, and parmesan offer a simple, delicious finish to this dish from Manu's Kitchen.
Ingredients:
1 cup conchiglie or pasta of your choice
1 large package kale
1 clove garlic, crushed
3 tablespoons lemon juice
Zest from 1 lemon
2 tablespoons toasted pine nuts
Parmesan, grated
Olive oil
Salt and pepper
Directions: Pre-heat oven to 400 degrees Fahrenheit while washing kale. Let kale dry thoroughly.
Boil the pasta per package instructions. Drain the pasta and add 1 tablespoon of olive oil, approximately 2 tablespoons of grated parmesan, and a pinch of salt and pepper. Spread evenly on a baking tray and bake for 10 minutes and then grill for 2 more minutes.
In a large pot, sauté the crushed garlic on a low heat in 2 tablespoons of olive oil, until garlic softens (but before it browns). Add the kale and toss the olive oil and garlic until it's evenly covered.
Remove from heat and continue to toss. The kale should get slightly softer but should still be in leaf form. Add lemon juice, more lemon zest and more of the grated cheese.
Toss in the toasted pine nuts, conchiglie croutons and sprinkle with some more lemon zest and parmesan. Sprinkle with a pinch of salt and pepper.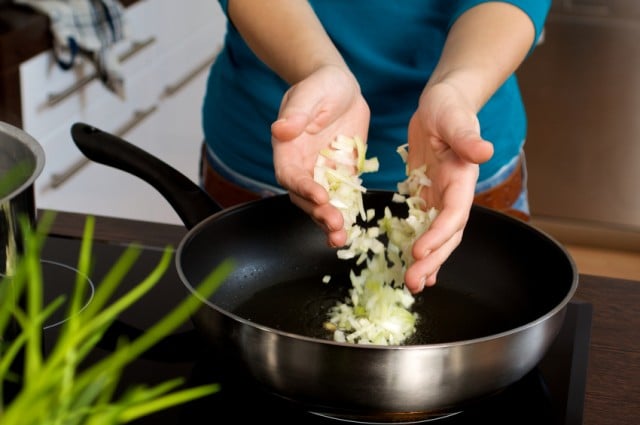 6. Sauteed Fava Bean Salad with Kale
Kale, fava beans, and sweet peas are all featured in this flavorful harvest dish, which gains dimension from the flavors of white wine vinegar and shallots. This Sautéed Fava Bean Salad with Kale from The Fitchen is a vegan-friendly delight, taking less than 20 minutes to create in your own kitchen. It yields 2 heart-healthy servings, each consisting of 200 calories 8 grams of fiber, and 10 grams of protein. Guiltless and delicious — is there any better combination?
2 cups dried fava beans, soaked overnight
1 shallot, sliced thin
2 cups red kale, chopped
½ cup frozen peas, thawed
½ tablespoon white wine vinegar
2 tablespoons olive oil
Directions: If using dried fava beans, soak them in a bowl with water overnight, at least 12 hours. Shell the beans and set them aside.
Thaw the peas, chop the kale into bite-size pieces, and thinly slice the shallot.
Heat 2 tablespoons of olive oil in a skillet on medium heat. Add the shallot and sauté for 3 to 5 minutes until it becomes translucent and start to soften. Add kale and white wine vinegar and sauté for 5 minutes. Kale will soften and become wilted. Add peas and toss with the sautéed mixture until warmed. Serve and enjoy.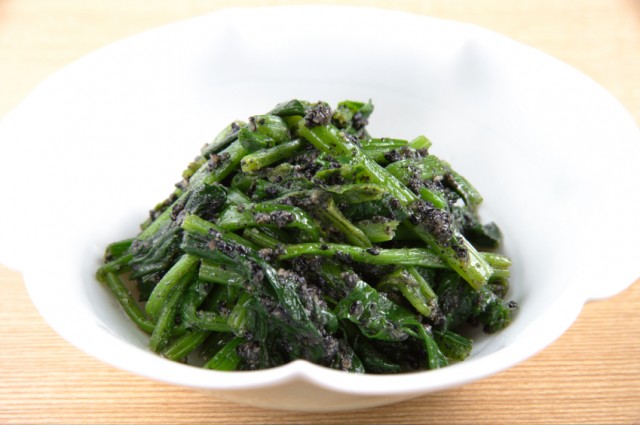 7. Sautéed Spinach Salad
Perhaps the greatest thing about Ultimate Paleo Guide's Sautéed Spinach Salad is its texture. The dish combines the tenderness of sautéed spinach with the satisfying crunch of raw iceberg lettuce, carrots, and cucumbers for a remarkably delicious — and nutrient-loaded — dish. Meanwhile, sautéed mushrooms add another layer of chunky goodness to the salad's warm ingredients, flavored with onion and garlic for a phenomenal finish. This recipe yields 2 servings.
Ingredients:
2 cups iceberg lettuce, torn
¼ cup sliced carrot
¼ cup sliced cucumber
2 cups spinach, roughly chopped
2 cups chopped fresh mushrooms
1 tablespoon minced garlic
¼ cup sliced onion
1 tablespoon extra-virgin olive oil
Directions: In a medium pan, sauté spinach, mushrooms, garlic, and onion for about 3 to 5 minutes on high, until onion becomes translucent and spinach wilts.
Prepare lettuce, carrots, and cucumber, and toss gently. Divide into 2 servings. Once spinach mix is cooked through, top each salad serving with half the spinach. Garnish with additional olive oil, vinegar, or sunflower seeds if desired.
More from Life Cheat Sheet:
Want more great content like this? Sign up here to receive the best of Cheat Sheet delivered daily. No spam; just tailored content straight to your inbox.