Turkey Time: 6 Sandwich Recipes That Taste Like Thanksgiving
It doesn't have to be Thanksgiving in order for you to enjoy all of the tasty food that comes along with turkey day. In fact, with these 6 recipes, you can enjoy a bite of Thanksgiving whenever you'd like. From creamy gravy to flavorful cranberries, these turkey sandwiches will give you a taste of the holidays all year round.
1. Hot Turkey Sandwiches with Sherry Gravy
This is a turkey sandwich like you've never experienced before. Bon Appetit's recipe consists of turkey, sage, onions, chicken broth, cream sherry, and sourdough bread for the ultimate hearty sandwich.
Ingredients:
8¼-inch-thick turkey breast scallops (each about 2½ ounces)
3 tablespoons chopped fresh sage or 3 teaspoons dried
¼ cup (½ stick) butter
3 large green onions, thinly sliced
2 tablespoons all-purpose flour
1 (14½-ounce) can low salt chicken broth
⅓ cup cream sherry
  ½-inch-thick diagonal slices sourdough bread, lightly toasted, buttered
Directions: Sprinkle turkey with half the sage, salt, and pepper. Melt butter in heavy large skillet over medium-high heat. Add 4 turkey scallops and sauté until lightly browned and cooked through, about 1½ minutes per side. Transfer to plate. Repeat with remaining 4 scallops.
Add green onions to skillet and sauté 1 minute. Sprinkle with flour; stir 1 minute. Gradually mix in broth and sherry. Increase heat to high and boil until gravy thickens, whisking constantly, about 2 minutes. Add remaining half of sage. Reduce heat to low.
Return turkey and any accumulated juices to gravy; simmer 1 minute to heat through. Season with salt and pepper. Place 1 bread slice on each plate. Top each with 2 turkey scallops and gravy.
2. Turkey and Cranberry Chutney Sandwich
Combining two of the most delectable Thanksgiving foods, turkey and cranberries, creates a sandwich that is loaded with great flavor. This Real Simple recipe is even better thanks to the toasted pecans, sliced brie, and fresh arugula.
Ingredients:
2 tablespoons cranberry chutney
2 tablespoons chopped toasted pecans
2 slices sourdough bread
2 ounces thinly sliced roasted turkey
2 ounces brie, sliced
¼ cup arugula
Directions: In a small bowl, combine the chutney and pecans. Spread the chutney mixture on the bread and form a sandwich with the turkey, brie, and arugula.
3. Turkey Sandwiches with Cranberry Relish, Stuffing, and Gravy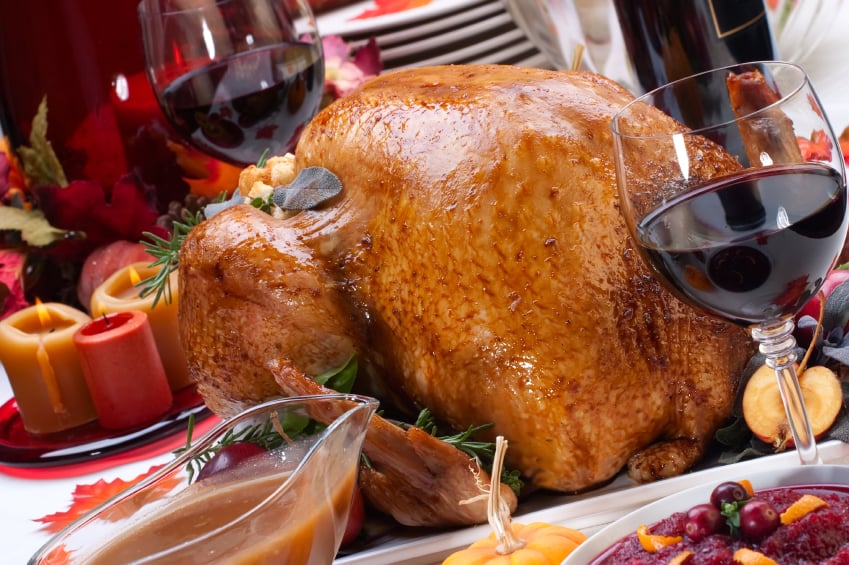 This sandwich will make you think it's turkey day all year long. With a touch of cranberry, stuffing, and gravy piled onto a turkey-packed sandwich, this Food Network recipe, which yields 4 servings, gives you all of the key components that make up a tasty Thanksgiving meal. Note: This recipe calls for leftover stuffing and gravy, but if you don't have leftovers to use, you can always make a fresh batch of both for savory sandwiches all week long.
Ingredients:
4 thick slices French Batard bread
5 tablespoons mayonnaise
10 ounces sliced turkey breast
¼ teaspoon salt
⅛ teaspoon freshly ground black pepper
8 tablespoons cranberry sauce
Leftover stuffing
6 ounces grated Emmenthaler cheese
Leftover gravy
Sweet potato chips for serving
Directions: Preheat the broiler. Lay the bread on a work surface and spread a little over 1 tablespoon of mayonnaise on 4 slices of bread. Place turkey slices on the bread and season with salt and pepper. Spread the cranberry sauce on the turkey slices. Pile some stuffing on top of cranberry sauce and top with some grated cheese.
Place under the broiler for about 5 to 7 minutes, until the open-faced sandwiches are heated through and the cheese is bubbling and golden. Meanwhile, heat the leftover gravy. Remove the sandwiches from broiler, ladle some gravy over the top, and serve immediately.
4. Open-Faced Turkey Sandwich with Mushroom Gravy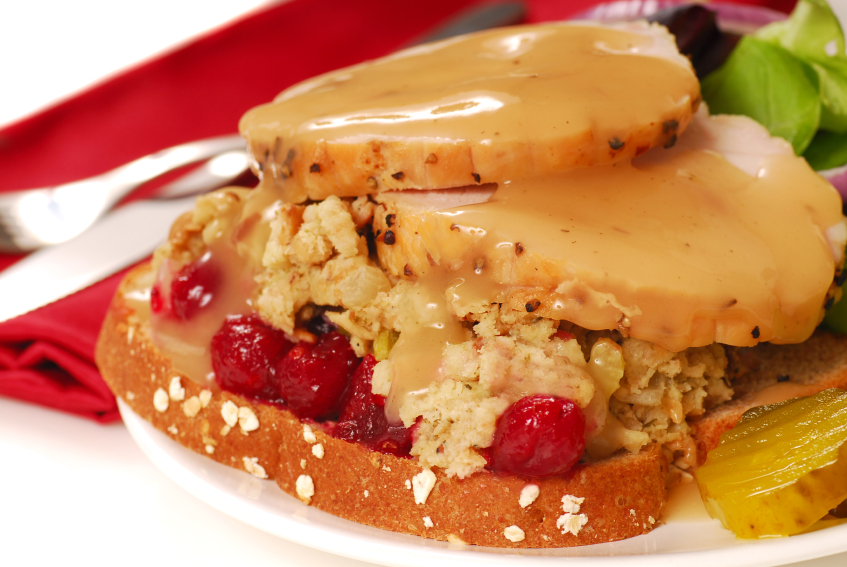 Martha Stewart has created a savory and satisfying turkey sandwich. If you've got turkey and gravy leftovers to use, feel free to incorporate those into this recipe. Otherwise, you can create your own roast turkey breast and gravy, which is filled with onions, carrots, celery, turkey, and chicken stock, creating a rich and flavorful lunchtime treat.
Ingredients:
1 tablespoon unsalted butter
1 shallot, finely chopped
1 teaspoon fresh thyme leaves
1 pound mixed domestic and wild mushrooms
Salt and freshly ground pepper
½ cup Madeira wine
1½ cups gravy
4 thick-cut slices white sandwich bread
3 pounds roast turkey breast and gravy
1 small bunch watercress
Roast turkey breast and gravy
3 large onions, sliced in half
3 carrots, sliced in half lengthwise
3 stalks celery
1 (6-pound) turkey breast
3 tablespoons all-purpose flour
¼ cup Madeira wine
2 cups low-sodium chicken broth, skimmed of fat
Salt and freshly ground black pepper
Directions: To make the roast turkey breast and gravy, heat oven to 425 degrees Fahrenheit. Rinse turkey breast; pat dry. Rub breast with salt and pepper. Strew roasting pan with onions, carrots, and celery; set turkey over vegetables. Roast until breast is cooked through, about 1½ hours; interior temperature should be about 170 degrees. Cut breast in half; transfer one half to a cutting board, tent with foil to warm, and set aside. Reserve other half for later use.
Place roasting pan over two medium-hot burners on range. Sprinkle cooked vegetables and drippings with flour and cook, stirring constantly, until flour forms a golden-brown film over bottom of roasting pan and vegetables are completely coated with film and turkey drippings, 2 to 3 minutes. Do not let pan get too hot, or drippings will burn. Pour Madeira slowly into pan and cook, scraping up film from pan with a wooden spoon until a thin paste forms, about 1 minute.
Slowly add stock, stirring, until paste thins to a thick liquid. Continue adding stock, stirring, until gravy is desired consistency. Season to taste with salt, pepper, and a splash more Madeira if desired. Strain gravy, pressing down on solids with a rubber spatula to extract juices and flavor. Discard solids; transfer gravy to the top of a double boiler to keep warm, or let cool and refrigerate.
To prepare your sandwich, preheat oven to 400 degrees. Melt butter in a large skillet over medium heat. Add shallot and thyme; cook until translucent, about 2 minutes. Add mushrooms; sauté until they release liquid and are soft, 3 to 5 minutes. Season with a pinch of salt and pepper. Add Madeira, raise heat to high, and sauté until liquid is cooked away, 3 to 5 minutes. Add gravy; cook until thick enough to coat the back of a spoon.
Meanwhile, slice turkey into about ¼-inch-thick slices, and add to the gravy. Heat until turkey is hot, about 1 minute. Toast bread under the broiler on both sides until golden but still soft. Place toast on serving plates, spoon 1 or 2 tablespoons gravy over toast, and scatter watercress on top. Arrange turkey over toast, and spoon mushrooms and gravy over meat. Serve warm.
5. Hot Turkey Sandwich
The cranberry-shallot chutney ensures this sandwich has a nice, tangy flavor, while the turkey gravy adds a delicious, creamy texture. Cooking Light's recipe, which yields 4 servings, creates a comforting and hearty sandwich that you'll look forward to for lunch and dinner.
Ingredients:
8 (1-ounce) slices French bread
2 tablespoons light mayonnaise
¼ cup turkey gravy
4 reduced-sodium bacon slices, cooked and cut in half
12 ounces sliced cooked turkey breast
2 slices provolone cheese, halved
1 cup arugula
1 tablespoon cranberry-shallot chutney
Directions: Preheat oven to 400 degrees Fahrenheit. Place bread slices on a baking sheet. Spread light mayonnaise evenly over 4 bread slices. Spread turkey gravy evenly over remaining 4 bread slices. Top the mayonnaise-spread slices evenly with bacon slices, turkey breast, and provolone cheese. Bake at 400 degrees Fahrenheit for 10 minutes or until cheese is melted. Top cheese evenly with arugula. Drizzle with cranberry-shallot chutney. Top with gravy-spread bread slices. Press sandwiches together.
6. Cranberry Thanksgiving Turkey Sandwich
Everything about this AllRecipes.com sandwich screams Thanksgiving. The best part? It is extremely easy to pull together. All you'll need is a few pieces of sliced turkey, mayo, bread, lettuce, and this recipe's secret ingredient: whole berry cranberry sauce.
Ingredients:
2 slices wheat bread
2 tablespoons mayonnaise
¼ cup shredded lettuce
4 ounces sliced maple honey turkey
2 tablespoons whole berry cranberry sauce
Directions: Spread each slice of bread with mayonnaise. Top with lettuce, turkey, cranberry sauce, and remaining slice of bread.