Unbelievable Ice Cream Desserts You Have to Try
Nothing satisfies your sweet tooth like ice cream on a hot summer day. Though frozen yogurt has experienced quite a bit of growth in recent years, the low-fat treat doesn't even come close. Fortune reported Americans eat ice cream 24 times as often as fro-yo, which equated to folks shelling out $13.7 billion on the creamy stuff in 2013 alone.
While a simple scoop is always a nice treat, it might be time to take your ice cream game to the next level. These five recipes transform the chilly sweet into standout desserts you have to taste to believe. They make anything else seem kind of vanilla.
1. Homemade No-Churn Peanut Butter Cup Ice Cream Cake
Homemade ice cream is a fantastic dessert, if you can find the time to cook the custard, chill it overnight, churn it in an ice cream maker, then pack it into the freezer to harden. For everyone else, this easy ice cream concoction from Cupcakes and Kale Chips is the way to go. It's loaded with peanut butter cups, rich ganache, and plenty of whipped cream.
To make the frozen base, just whip some cream, and fold in sweetened condensed milk that's been mixed with peanut butter. It will stay perfectly soft and scoopable, even after hours in the freezer. If you're not a peanut butter cup fanatic, or just want to try something else, you can use this recipe as a guide for any of your other favorite flavors. Try adding a few drops of peppermint extract to the condensed milk, and swap chocolate chips for the peanut butter cups. Or, try lemon curd and fresh fruit.
Ingredients:
Cake
2 cups heavy cream
1 (14-ounce) can sweetened condensed milk
2 teaspoons vanilla extract
¼ cup plus ¼ cup creamy peanut butter
20 miniature peanut butter cups, coarsely chopped, plus more
Ganache
1 cup semisweet chocolate chips
⅓ cup heavy cream
Whipped Cream
1½ cups heavy cream
2 tablespoons powdered sugar
1 teaspoon vanilla extract
Directions: Line a 9-inch springform pan with plastic wrap. Using a stand mixer fitted with the whisk attachment, whip cream to stiff peaks. In a medium bowl, whisk condensed milk, 2 teaspoons vanilla, and ¼ cup peanut butter to combine. Gently fold into whipped cream. Dollop remaining peanut butter on top of cream, and fold to create a swirl. Spread into prepared pan, and freeze until firm, at least 4 hours.
Place chocolate chips and ⅓ cup cream in a microwave safe bowl, and microwave for 1 minute. Whisk until smooth, and let cool. Remove ice cream from freezer, and spread cooled ganache on top. Return to freezer to harden.
Combine remaining cream, powdered sugar, and vanilla in bowl of stand mixer fitted with whisk attachment. Whip until stiff peaks form. Remove ice cream from pan, and spread whipped cream evenly over entire surface and sides. Return to freezer, and freeze until firm, at least 2 hours. Garnish with additional peanut butter cups, slice, and serve.
2. Pecan Pie-Ice Cream Pie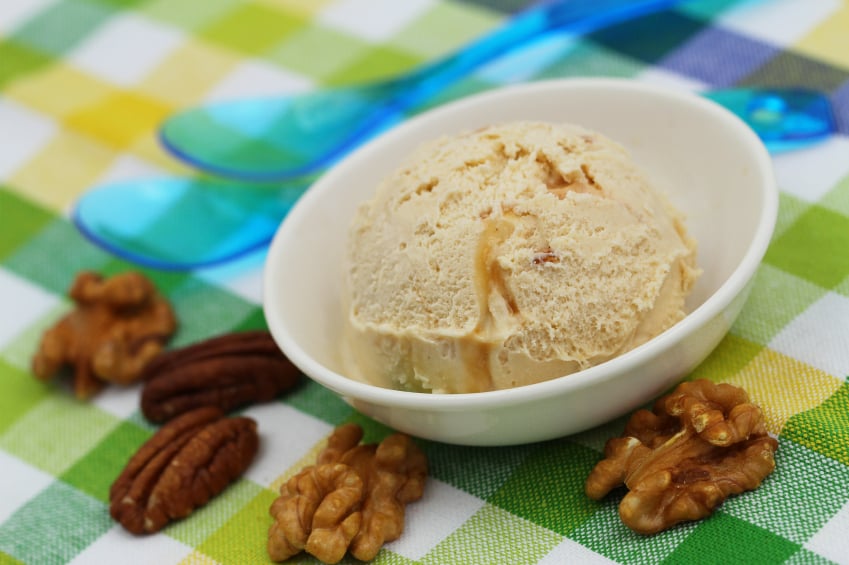 The most sweltering summer days can make a sticky, sweet slice of pecan pie sound way too heavy. Introduce the flavors of the southern classic to your freezer with Saveur's ice cream pie. You'll get a double dose of nuts since they're in the crust as well as the filling. Don't be tempted to skip the candied pecans, because the coating will help them stay crisp inside the frozen custard.
While this recipe includes a delicious recipe for vanilla ice cream, it will work just as well with a purchased version. For the best results, go with a premium brand. They have less air, so the resulting dessert will be super creamy.
Ingredients:
 Crust
¾ cup pecans
¼ cup sugar
1½ cups flour
6 tablespoons unsalted butter, cubed, and chilled
1 egg yolk
¼ cup cold water
Filling
1 egg white
2 cups whole pecans, plus more
2 tablespoons sugar
Directions: Combine pecans and sugar in food processor, and pulse until finely ground. Add flour, and process to combine. Add butter, and pulse until pea-sized crumbles form. Add yolk and water, and pulse just until combined. Transfer to counter, and knead gently into a disk. Wrap in plastic wrap, and refrigerate 1 hour. Preheat oven to 375 degrees Fahrenheit. On a floured surface, roll dough until ⅛-inch thick. Line a 9-inch pie plate with the dough, and prick evenly with a fork. Bake until crust is golden, about 20 minutes. Remove and let cool completely.
Whisk egg white in a medium bowl until frothy, but still pourable. Add pecans and sugar, and toss to coat. Transfer to parchment-lined baking sheet. Spread into an even layer. Bake until lightly toasted and dry, about 10 minutes. Let cool completely.
Mix candied pecans into softened ice cream, then transfer to pie crust, and smooth top. Decorate with additional pecans, and freeze until firm, at least 4 hours. Slice and serve.
3. Oreo Blizzards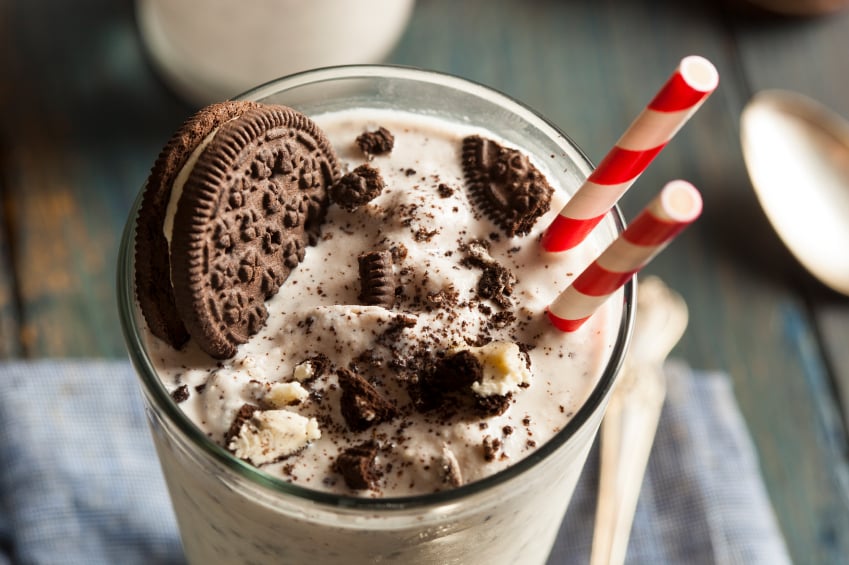 Americans' love affair with the Dairy Queen Blizzard started long ago. The chain began churning the famous treat back in 1985, and sold 175 million in the first year. The next time you have a craving for the creamy dessert, skip the line and whip up Port and Fin's recipe. All you need are cookies, ice cream, and a decent food processor. Now that the secret's out, you can make any of your favorite flavors right in your own kitchen.
Ingredients:
2 cups vanilla ice cream
3 chocolate sandwich cookies
Directions: Place cookies in food processor and chop until desired consistency, being sure to leave some larger pieces. Add ice cream, and blend to combine. Scoop into a large glass and eat at once.
4. Bananas Foster Split with Bourbon Whipped Cream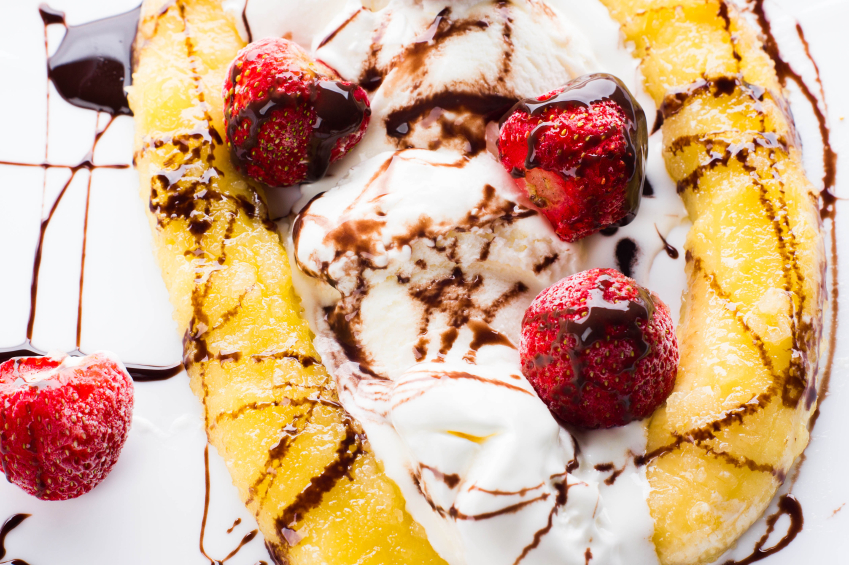 Once you get past a certain age, banana splits just don't have the same appeal. Every Day with Rachael Ray's decadent dessert addressed that issue by caramelizing the fruit in a bourbon caramel, topping with plenty of homemade chocolate sauce, and crowning the dessert with boozy whipped cream. Because this recipe is best served while the bananas are still warm, you'll want to save it for an indoor gathering.
Ingredients:
6 ounces bittersweet chocolate, chopped
1½ cups heavy cream
3 tablespoons plus 1 teaspoon honey
8 tablespoons unsalted butter, cut into pieces
¼ cup plus 1 tablespoon bourbon
1 teaspoon vanilla extract
Salt
4 bananas, peeled, halved lengthwise, and halved crosswise
1 quart vanilla ice cream.
Directions: In a medium bowl set over a pan of simmering water, heat chocolate, ½ cup cream, and honey, stirring, until smooth, about 5 minutes. Cover, and keep warm.
In a large skillet set over medium-high heat, melt butter and brown sugar, stirring to combine. Whisk in ¼ cup bourbon, vanilla, and salt. Add bananas, and cook, turning to coat, until warm, about 3 minutes.
Using an electric mixer, whip cream with 1 tablespoon bourbon until soft peaks form.
Arrange two banana slices and some of sauce on each of eight plates. Top with three scoops of ice cream, a drizzle of sauce, and a dollop of bourbon cream. Serve at once.
5. Strawberry Shortcake Ice Cream Pie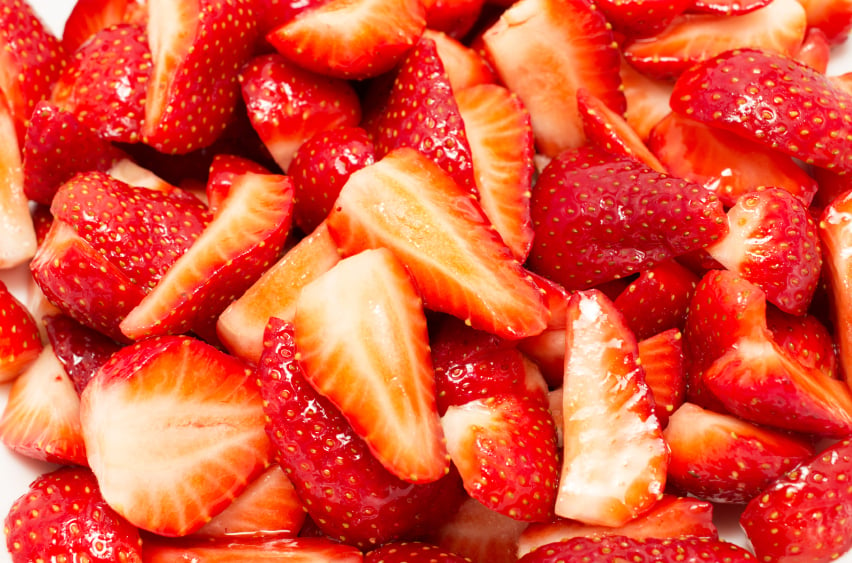 Just because you're not a master baker doesn't mean you can't pull off an impressive dessert. This towering strawberry ice cream pie from One Sweet Mess is completely delicious, and you don't even need to turn on your oven. You just fold some macerated berries, purchased pound cake, and whipped topping into some softened ice cream, then spread into a no-bake crust. A sprinkle of almonds completes the look.
If you're new to macerating fruit, it's a lot easier than it sounds. All you have to do is toss chopped berries with lemon juice and sugar. The most important part is letting time get to work on the fruit. This recipe recommends an hour in the fridge, but 15 minutes at room temperature will also do the trick. And this method works with just about any fruit. Try it with peaches, cherries, or blackberries.
Ingredients:
Berries
1 pound strawberries, hulled, and chopped
2 teaspoons lemon juice
2 teaspoons sugar
Pie
2 cups graham cracker crumbs
8 tablespoons unsalted butter, melted
1 (1.5-quart) container vanilla ice cream
1 (8-ounce) container whipped topping
2 cups pound cake, cut into ½-inch cubes
½ cup sliced almonds, toasted
Directions: Combine berries, lemon juice, and sugar in a medium bowl; stir to combine. Cover, and refrigerate 1 hour. Using a fork or pastry cutter, mash berries until coarsely chopped.
Stir cracker crumbs and butter in a medium bowl. Press into bottom and up sides of a 9-inch springform pan.
Combine softened ice cream and whipped topping in a large bowl. Fold in mashed berries and cake cubes. Spread evenly over crust. Sprinkle with almonds. Cover, and freeze at least 4 hours. Slice, and serve.
More from Culture Cheat Sheet: