It's Time to Try These Unique Macaroni and Cheese Recipes
Macaroni and cheese is an old standby and comfort food that never gets old, but it can always benefit from a little excitement. If you're making the same boxed or old family recipe mac, it may be time for a sprucing-up. The possibilities are really endless — if it tastes good with cheese, it will be good in a big bowl of mac and cheese (everything goes with pasta). According to the Cheese Society, in any given period of 12 weeks, one-third of the American adult population and half of kids will eat mac and cheese at least once. We're thinking that calls for something new and exciting; that's where these six recipes come in.
1. Chicken Enchilada Mac and Cheese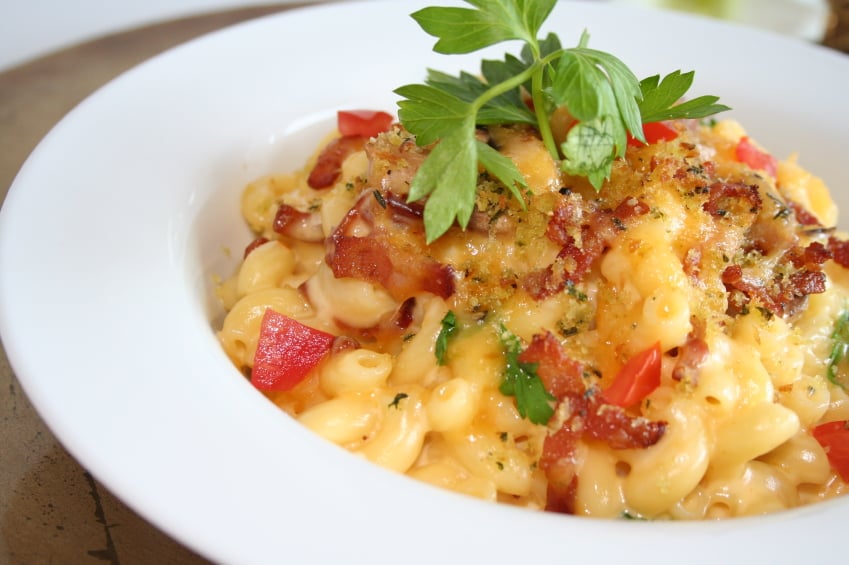 Whereas mac and cheese is the epitome of long, harried day dish when you can't imagine cooking but don't want to order out, this mac and cheese is a full meal you can feel good about eating. It's packed with veggies and protein, but it feels like a cohesive dish rather than someone just dumped a bunch of one dinner into another. Best yet, this recipe from Host the Toast comes together entirely on the stovetop in about 30 minutes.
Ingredients:
½ pound elbow macaroni
2 eggs
6 ounces evaporated milk
6 ounces enchilada sauce
1 teaspoon kosher salt
½ teaspoon fresh black pepper
12 ounces shredded American cheese
6 ounces shredded Monterey Jack cheese
6 ounces canned corn
4 tablespoons butter
½ teaspoon chili powder
½ teaspoon cumin
1 (4-ounce) can diced green chiles
½ pound chicken breast, boiled and shredded
2 tablespoons cilantro, chopped, plus extra to top
1 avocado, halved, seeded, peeled, and diced, to top
Chopped tomatoes, to top
Directions: Whisk the enchilada sauce, evaporated milk, eggs, and seasonings to combine. Meanwhile cook chicken in a large pot of simmering, salted water. Remove when cooked through and let cool. Shred.
Increase heat to high to bring pot of water to a boil. Cook pasta until al dente, then drain. Set same pot over low heat, then add pasta, butter, and corn. Stir to combine, then add enchilada sauce mixture. Add cheeses and stir until creamy. Finally, stir in chiles, chicken, cilantro, and green onion. Serve garnished with avocado, tomato, and more cilantro.
2. Beer Mac and Cheese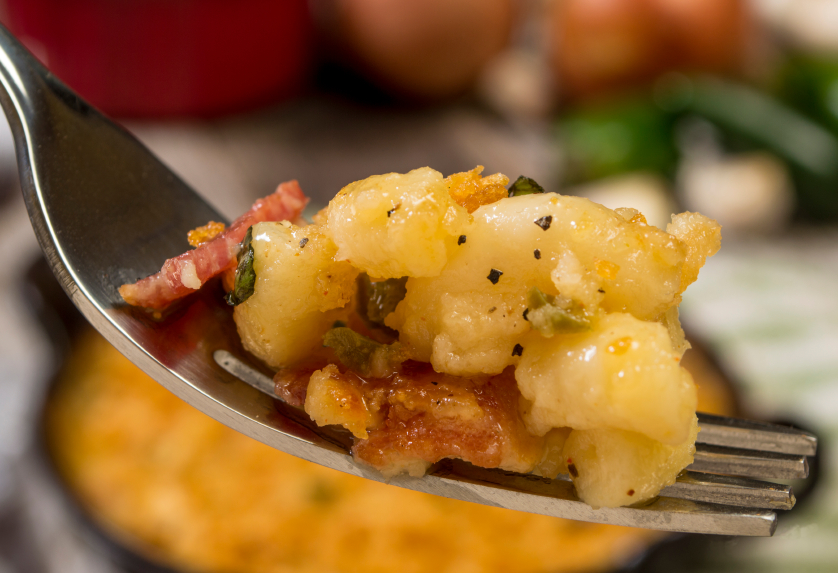 Though maybe not for a family dinner, this dish from A Spicy Perspective is perfect for beer-loving adults. We know you love the beer cheese dip at restaurants, so why not make it at home and smother a pile of macaroni with it? It's really simple and has all the rich, malty qualities of a great beer cheese sauce using just 3 ingredients.
Use a strong cheese that's good for melting. Though cheddar works here, you could also use fondue favorites like Gruyère or Emmental — they'd be particularly good with a Belgian wheat beer. When it comes to beer, choose a lighter, crisp beer that you enjoy drinking. Flavorful pilsners, lagers, and Belgian-style wheat beers all work well. To top it all off, cook up some bacon and crumble it over the dish!
Note: Don't use pre-shredded cheese for this dish. The shreds are coated in a fine layer of anti-sticking material (often cornstarch) that will affect how it melts and comes together into a sauce.
Ingredients:
1 pound macaroni noodles
12 ounces beer
8 ounces cream cheese
1 pound cheddar, shredded
1 cup crumbled bacon
Directions: Cook the macaroni according to package instructions in a large pot of boiling, salted water. Drain and set aside.
Meanwhile, add beer to another large pot, then set over high heat and add cream cheese. As beer warms, mix cream cheese into it. Add shredded cheddar and whisk until smooth. Add pasta, reduce heat to low, and cook, stirring for about 3 minutes. Season with salt and pepper.
Transfer pasta to bowls and serve with bacon over the top.
3. Creamy Cauliflower Mac and Cheese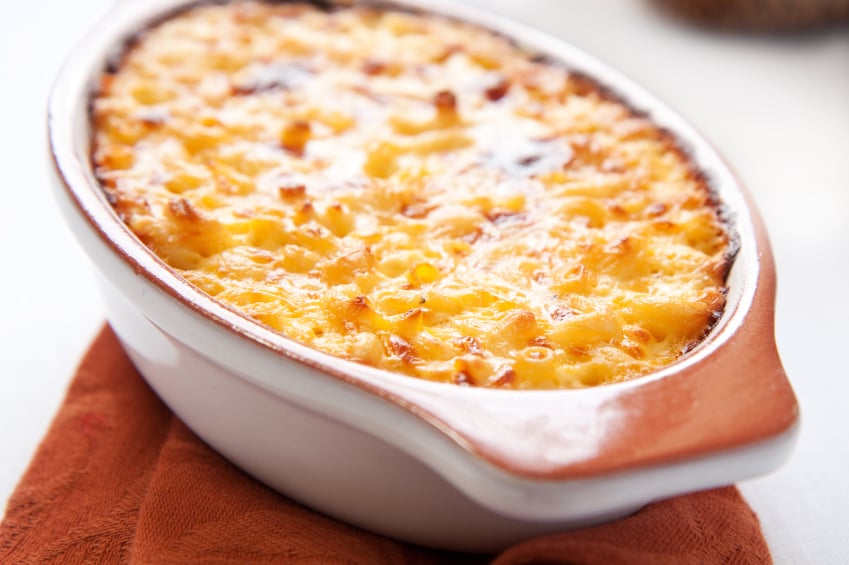 Cauliflower is a wonder vegetable. While there are plenty of recipes out there to replace the macaroni with vegetables, this recipe replaces a lot of the calorie-laden cream and cheese with vitamin rich, low-calorie cauliflower puree. When cauliflower is cooked and pureed, it becomes wonderfully silky and a perfect canvas for other flavors, whether it's cauliflower alfredo sauce or this mac and cheese from Momtastic.
Ingredients:
Butter for greasing a baking dish
Salt
2½ cups vegetable or chicken stock or water
2 bay leaves
1 cauliflower, cored and separated into large pieces
8 ounces macaroni
¾ cup grated cheese; sharp cheddar, Gruyère, Emmental, or a combination
¼ cup low-fat or fat-free sour cream
1 tablespoon Dijon mustard
⅛ teaspoon nutmeg, or to taste
Black pepper
½ cup or more bread crumbs
Oil spray, optional
Directions: Preheat the oven to 400 degrees Fahrenheit. Grease a 9-inch baking dish with butter and bring a large pot of water to a boil. Salt water. Meanshilw heat stock with bay leaves in a small saucepan set over medium-low heat. Once simmering, turn off heat and let steep for several minutes, then remove bay leaves.
Cook the cauliflower in the boiling water until very tender, the transfer to a food processor using a slotted spoon. Add pasta to same pot of water and cook until almost done. Drain well.
Add stock to cauliflower in food processor, then add 2 tablespoons oil, cheese, sour cream, mustard, nutmeg, salt, and pepper. Blend until smooth, adding more stock to thin, if needed. Toss sauce with cooked pasta, then transfer to prepared baking dish. Top with breadcrumbs and lightly mist with oi. Bake until bubbling and brown, 15 to 20 minutes.
4. Roasted Red Pepper and Chorizo Mac and Cheese
To give your mac and cheese a little kick, toss in some spicy Mexican chorizo. The roasted red peppers here add depth to the flavor of the dish as well as a little smoky sweetness, which does a great job offsetting the spicy meatiness of the ground sausage. To make this dish from Little Leopard Book vegetarian, swap the chorizo for a soy-based replacement like Soyrizo from Trader Joes and trade the chicken broth for vegetable broth or water.
Ingredients:
16 ounces jar roasted red bell peppers, drained
1 pound macaroni noodles
12 ounces chorizo
1 cup chicken broth
1 cup milk
1 cup ricotta cheese
¼ teaspoon ground nutmeg
1 teaspoon black pepper
½ teaspoon salt
2 cups cheddar cheese, grated
1 cup panko breadcrumbs
1 tablespoon dried parsley
Directions: Preheat the oven to 325 degrees Fahrenheit. In a large pot of boiling, salted water, cook noodles according to package directions. Drain and set aside. Meanwhile blend red peppers in a food processor until smooth. Set aside.
Cook chorizo in a skillet over medium-high heat until well browned and heated through, about 5 to 7 minutes.
In a large pot or Dutch oven, bring the chicken broth and milk to a boil. Reduce the heat to medium, then add blended peppers, ricotta, nutmeg, salt, and pepper. Stir in cheddar and mix well to combine. Stir in pasta and chorizo.
Place in an oven-safe dish and top with the panko breadcrumbs and parsley. Bake for 10 to 12 minutes, then turn on broiler and broil until browned, about 2 to 3 minutes. Serve.
5. Sweet Potato Mac and Cheese
For a pop of color and an extra dose of vitamin A with your macaroni, make this recipe from Eating Well. Fiber-rich sweet potato is used for the base in this creamy sauce, giving it a lovely orange hue. While it still has enough cheese to satisfy, it only has about half as much as a traditional recipe. For added nutrition, the recipe swaps out the usual white-wheat macaroni for whole-wheat macaroni and adds peas.
Ingredients:
8 ounces whole-wheat elbow noodles
1 medium sweet potato
2 cups nonfat milk
2 tablespoons all-purpose flour
1 small clove garlic, minced
1¼ cups shredded sharp cheddar cheese
1 tablespoon Dijon mustard
¼ teaspoon salt
¼ teaspoon freshly ground pepper
½ cup frozen peas, thawed
3 tablespoons coarse dry whole-wheat breadcrumbs
1 teaspoon extra-virgin olive oil
Directions: Position a rack in upper third of oven; preheat broiler. Coat a 2-quart broiler-safe baking dish with cooking spray.
Cook noodles in a large pot of boiling water until just tender, 7 to 9 minutes. Drain; set aside.
Meanwhile, prick sweet potato with a fork in several places. Microwave on high until tender all the way to the center, 7 to 10 minutes.
Whisk milk, flour, and garlic in a large saucepan. Heat over medium heat, whisking frequently, until steaming and hot, but not boiling. Remove from heat.
As soon as the sweet potato is cool enough to handle, cut open and scoop the flesh into the steaming milk. Puree with an immersion blender until smooth.
Add cheese, mustard, salt, and pepper and stir until the cheese melts. Add the pasta and peas to the sauce and stir to coat. Transfer to the prepared baking dish. Combine breadcrumbs and oil and sprinkle on the pasta. Broil on the upper rack until the top is lightly browned and crispy, 1 to 2 minutes.
6. Vegan Caramelized Onion Mac and Cheese
It sounds like mac and cheese is one of those dishes that, like scrambled eggs, vegans will just have to say goodbye to, but they're a crafty and resourceful bunch. That's how we get amazingly good alternatives like tofu scramble and this mac and "cheese" from Minimalist Baker. It's even on the healthy side; while many vegan dishes like this rely on calorie-dense and high fat cashew cream or cashew cheese, this recipe uses pureed, roasted eggplant and cheesy-tasting nutritional yeast to coat the macaroni.
The eggplant gets a quick roast in a hot oven to soften and develop deeper flavors, and then gets a spin in a blender or food processor with some spices to become a creamy sauce perfect for noodles. The caramelized onions add a note of sweetness to the dish, and the panko breadcrumbs on top add a delightful crunch. If you want to really switch up your mac and cheese routine, try taking the cheese all the way out of it!
Ingredients:
1 small to medium eggplant
Olive oil
1½ yellow onions, sliced in ¼ inch rings or wedges
10 ounces macaroni noodles
3 to 4 tablespoons nutritional yeast
1¾ cups unsweetened plain almond milk
1 to 2 teaspoons garlic powder
1 tablespoon cornstarch
Sea salt
¼ cup panko or regular breadcrumbs
1 tablespoon olive oil or vegan butter
Directions: Heat a large skillet over medium heat and add 1 tablespoon olive oil and the onions. Truly caramelized onions will take upwards of 45 minutes, so cook onions to your desired level of caramelization. Turn down the heat if browning too quickly.
While the onions are cooking, slice eggplant in slightly less than ½-inch rounds, preheat the oven to a high broil with a rack in the very top, and set a large pot of salted water to boil.
Arrange on a baking sheet in a single layer and drizzle both sides with olive oil. Broil on high for 3 to 4 minutes on each side until the eggplant is browned, not burned. Remove eggplant from oven and wrap in foil to steam for 5 minutes. Then peel off skin and add to a blender with almond milk, nutritional yeast, cornstarch, and garlic powder. Start with a pinch of salt and add more as you need.
Blend until creamy and smooth. Taste and adjust seasonings as needed, adding more salt, nutritional yeast or garlic powder if desired.
Once pasta water is boiling, add noodles. Cook according to package instructions, then drain well and set aside.
Pour the eggplant sauce into the same saucepan used for onions set over meidum heat. Cook to thicken for about 5 minutes. Once bubbling, lower heat to low simmer and stir occasionally until noodles are ready.
If topping dish with breadcrumbs, heat a small saucepan over medium-high heat and add 1 tablespoon olive oil or vegan butter. Then add breadcrumbs and stir. Cook for about 5 minutes until light brown and toasted. Set aside.
Add noodles to the eggplant sauce along with half of the caramelized onions, and stir to coat. If your saucepan is not oven safe, transfer the mixture to an oven-safe dish. Smooth the top with your spatula or spoon and top with remaining caramelized onions and the toasted panko bread crumbs. If desired, broil for a few minutes to toast topping. Serve.