7 Desserts for Spice Rack Spring Cleaning
Today's Waste-Me-Not PSA: Your spices don't last forever. They typically have a shelf life of no more than a year before they turn into colorful sawdust, faint whispers of what they once were. Black pepper loses its snap, garlic loses its pungency, and dried herbs lose their earthiness. Vanilla beans — precious pods of flavor — dry up and become all but unusable. The volatile oils in ground spices like cinnamon and cumin, in particular, tend to fade more quickly than whole dried spices like peppercorns, whole nutmeg, and whole allspice.
Buying certain spices from "boutique" dealers like Juliet Mae Fine Spices and Herbs can help extend the shelf life of shorter-lived spices like cumin, cinnamon, paprika, and cumin. Not only is the quality probably higher than your typical supermarket brand, but the spices from specialty shops have smaller inventories and higher turnover rates than big chain stores.
Have you ever felt like paprika was nothing but the tasteless, dull red decoration sprinkled over deviled eggs? Chances are, you've never experienced paprika that isn't stale; good paprika will be bright red and range from sweet to spicy to smoky in flavor. If your red spices are browning, your green herbs are graying, or your powders are scentless, it may be too late. Don't store spices in the freezer; every time you take them out to use, a little bit of condensation builds up and deteriorates the flavor prematurely. Don't shake them directly over hot, steamy pots either, because the heat and moisture will also quickly cause the flavor to deteriorate.
Spices are not always the cheapest ingredient in a dish, but they are always important ingredients for developing flavor. If you're using spices — especially more expensive ones like saffron threads and whole vanilla beans — so sparingly that they lose their flavor before you use them up, you've wasted your money and your spices. Instead, dedicate to clearing out your spice rack at least once a year to make good on your investment and use the spices to their full potential. You could make chili, curry, or chili oil to use up your spices at the end of their tenure, but why not experiment and feel good about the new life you're giving your old spices? These seven desserts may seem like unorthodox flavors (bay leaves in pound cake?) but they're sure to make the best of an old jar or two.
Bay Leaf Pound Cake
Bay leaves, usually confined to soups and sauces, may seem like a strange ingredient in pound cake, but it actually has a delicate herbal note complementing the citrusy punch of orange. Steeping the leaves in butter is especially important. The volatile oils in spices that give them flavor are often only fat-soluble, so giving them a little heat and fat (oil or butter) will draw out their flavor. With potentially old spices, this step could make or break your recipe.
This recipe comes via Heidi at 101 Cookbooks, but it is David Lebovitz's recipe in his new cookbook, My Paris Kitchen.
6 tablespoons / 3 ounces / 85 g unsalted butter, cubed at room temperature, plus 1 tablespoon butter for piping
10 fresh or dried bay leaves
1 2/3 cups / 230g all-purpose flour
1 cup / 200 g granulated sugar
1 teaspoon aluminum-free baking powder
1/2 teaspoon fine grain sea salt
3 large eggs, at room temperature
1/2 cup / 125 g sour cream
Finely grated zest of one orange
1/2 teaspoon vanilla extract
Orange Glaze
1 cup / 140 g powdered sugar
1 1/2 – 2 1/2 tablespoons orange juice
1 teaspoon orange liquor, such as Grand Mariner or Cointreau (optional)
Directions: Melt 6 tablespoons (85g) of butter in a small saucepan. Remove from the heat and add 3 of the bay leaves. Let steep for 1 hour. Preheat the oven to 350 degrees Fahrenheit (180 degrees Celsius.) Butter a 9-inch loaf pan (or equivalent.) Dust with flour and tap out any excess. If possible, line the bottom with parchment paper. If you have a flat-bottomed pan, dab one side of the remaining 7 bay leaves with a little bit of butter and place the leaves, evenly spaced, on the bottom of the prepared pan, buttered side down. If your pan doesn't have a flat bottom, you can wait and place the remaining bay leaves atop the batter just before placing in the oven.
In a large bowl, whisk together the flour, sugar, baking powder, and salt. In a small bowl, whisk together the eggs, sour cream, orange zest, and vanilla until combined. If needed, rewarm the butter to liquify it and pluck out the bay leaves. Whisk the butter into the egg mixture.
With a spatula, gently stir the egg mixture into the dry mixture, just until the batter is smooth. Do not over mix. Scrape the batter into the prepared pan, being careful not to disturb the leaves. Put the remaining 1 tablespoon of softened butter into a plastic bag, snip off a corner, then draw a straight line of the butter down the center of the cake (alternately, a circle if your pan is round.) Bake for 40 to 50 minutes until a toothpick inserted into the center comes out clean. It's better to slightly under bake than over bake this cake.
Remove from the oven and let cool for 10 minutes. Run a knife around the perimeter of the cake and then tip out onto a cooling rack, remove leaves, and let cool completely before glazing.
Directions for the glaze: Combine the powdered sugar, orange juice, and orange liquor (if using.) Stir until smooth, then spread the glaze over the cooled cake, allowing it to drip down the sides and harden. Makes one 9-inch cake.
Spiced Maple Pecan Pie With Star Anise
If you bought star anise for a recipe and don't know what to do with the remaining dried berries, this may be the pie for you. Although this would certainly fit in on a Thanksgiving dessert table, it's perfectly in season at the beginning of spring; maple syrup season is just coming to a close and new batches of this year's syrup are flooding stores, co-ops, and farm stands. Do be sure to use real maple syrup for this recipe. Aunt Jemima and her flavored corn syrup aren't welcome here. Not even in a pinch.
If using rum, a dark spiced rum would do well here. Food52 says to be sure to keep an eye on the maple syrup as you're reducing it — syrup, with its high sugar content, boils at 219 degrees Fahrenheit. When it maintains that temperature or climbs, it can turn into maple candy (delicious, but not right for this recipe and a pain to scrub out of your pot.)
Piecrust
1 1/4 cup all-purpose flour
1/4 teaspoon salt
10 tablespoons unsalted butter, chilled and cut into ½-inch pieces
2 to 5 tablespoons ice water
Filling
1 cup maple syrup
1/2 cup Demerara or raw sugar
8 whole star anise
2 cups pecan halves
3 large eggs
4 tablespoons (1/2 stick) unsalted butter, melted
2 tablespoons dark aged rum
1/4 teaspoon kosher salt
Whipped crème fraîche, for serving
Directions for the crust: In a food processor, briefly pulse together the flour and salt. Add the butter and pulse until the mixture forms lima bean-size pieces (three to five 1-second pulses.) Add ice water 1 tablespoon at a time, and pulse until the mixture is just moist enough to hold together. Form the dough into a ball, wrap with plastic, and flatten into a disc. Refrigerate at least 1 hour before rolling out and baking (up to a week, or freeze for up to 4 months.)
On a lightly floured surface, roll out the piecrust to a 12-inch circle. Transfer the crust to a 9-inch pie plate. Fold over any excess dough, then crimp decoratively as desired.
Prick the crust all over with a fork. Freeze the crust for 15 minutes or refrigerate for 30 minutes. Preheat the oven to 400 degrees Fahrenheit. Cover the pie with aluminum foil and fill with pie weights (you can use pennies, rice, or dried beans for this; I use pennies.) Bake for 20 minutes; remove the foil and weights and bake until pale golden, about 5 minutes more. Cool on a rack until needed.
Directions for the filling: In a medium saucepan over medium-high heat, bring the maple syrup, sugar, and star anise to a boil. Reduce to a simmer and cook until the mixture is very thick, all the sugar has dissolved, and the syrup measures 1 cup, 15 to 20 minutes. Remove from the heat and let sit for 1 hour for the anise to infuse.
While the syrup is infusing, toast the nuts. Preheat the oven to 325 degrees Fahrenheit. Spread the pecans out on a baking sheet and toast them in the oven until they start to smell nutty, about 12 minutes. Transfer to a wire rack to cool.
Remove the star anise from the syrup. Warm the syrup if necessary to make it pourable but not hot (you can pop it in the microwave for a few seconds if you've moved it to a measuring cup.) Do not stir the syrup as you reheat it, as it may crystallize and harden. In a medium bowl, whisk together the syrup, eggs, melted butter, rum, and salt. Fold in the pecan halves. Pour the filling into the crust and transfer to a rimmed baking sheet. Bake until the pie is firm to the touch but jiggles slightly when moved, 35 to 40 minutes. Let cool to room temperature before serving with whipped crème fraîche.
Saffron Cardamom Ice Cream
Saffron is a special kind of spice. The threads are the stigmas of the saffron crocus flower. Each flower only produces three stigmas, and they must all be plucked by hand. Only buy full threads when choosing saffron in the store, as many ground saffron containers include paprika or tumeric as a filler. Though saffron is the most expensive spice per pound, it's well worth the expense — as long as you don't let the delicate flavor fade. Letting the threads steep in this ice cream by Blogging Over Thyme complemented by the gentle spice of cardamom and the crunch of pistachios makes for a truly remarkable homemade ice cream as well as a great homage to the back-breaking work of harvesting the delicate threads.
1 cup whole milk
1 cup heavy cream
1/4 teaspoon saffron threads
4 whole large egg yolks
1/4 cup + 2 tablespoons granulated sugar
1 teaspoon ground cardamom
1/2 cup shelled pistachio meat
Directions: Combine milk, cream, and saffron in a small saucepan. Bring to mixture just to a rolling boil. Remove from the heat and allow to sit, covered, for at least one hour (or alternatively, overnight in the fridge.)
In a separate small bowl, whisk together the sugar and egg yolks until well combined. Meanwhile, bring milk/cream mixture back to a boil. Add the milk/cream mixture slowly into the eggs, whisking constantly with one hand, to temper.
Place this mixture into a medium saucepan and cook the mixture over low heat, stirring continuously with a wooden spoon, until it reaches 170 degrees Fahrenheit. The mixture should leave a nice thin coating on the back of a spoon.
Remove from the heat and strain through a fine-meshed sieve into a shallow, wide heatproof bowl, preferably over an ice bath Stir in the ground cardamom and cool completely. Freeze the mixture in an ice-cream maker according to manufacturers directions.
In the last few minutes or so of churning, when the ice cream is almost finished, add the pistachios. Store in an ice cream container or other container (covering surface with plastic wrap or parchment paper) and allow to freeze for an additional 4-6 hours to firm before serving.
Honey and Spice Poached Pears
After the heavy, butter-laden desserts of late fall and winter, poached pears are a perfect transition to spring time. They feel both decadent and light at the same time with the sweet flesh of the pears holding a mouthful of flavor from the spiced poaching liquid. This recipe from The Kitchn calls for fresh ginger, which tends to be fruitier and sharper than ground, dried ginger, though for the sake of culling your old spices, you can replace the 4-inch knob of fresh ginger for one and a half teaspoons of ground ginger.
Ingredients:
4 ripe yet very firm Bosc or Bartlett pears
4 cups water
1/3 cup honey
1/3 cup sugar
4-inch piece fresh ginger, sliced
1 teaspoon whole cloves
1 star anise pod, broken in half
1 cinnamon stick, broken in half
Directions: Peel the pears and cut them in half from top to bottom, leaving the stems intact. Core each pear half by scooping out the center with a melon baller or spoon.
Add the water, honey, and sugar to a 4-quart pot and bring to a boil over high heat. Stir until the sugar and honey are dissolved, then add the ginger, cloves, star anise, and cinnamon stick. Slip the pears into the liquid and turn the heat down to a simmer. Cover and cook for 20 to 30 minutes, or until the pears can be just pierced with a fork.
Transfer the pears and the poaching liquid to a smaller container, cover, and refrigerate overnight to develop flavor. Drain the pears before serving. If you wish you can reduce the poaching liquid into a syrup; place in a wide saucepan and simmer for 30 minutes or until syrupy and reduced by half.
Pfeffernüsse Cookies
Speculoos cookies might be super "in" right now (they're even available from Trader Joe's as a spreadable cookie butter), but pfeffernüsse is where it's at. One of the oldest German cookies out there, this cookie recipe from Chow packs some serious spice and will go a long way to helping you clear out some older spices. Not only are there five different spices in the cookie itself, including black pepper, but even the powdered sugar coating is spiced.
Ingredients:
Spiced Sugar
1 cup powdered sugar
1 teaspoon ground cinnamon
1 teaspoon ground ginger
1/2 teaspoon ground nutmeg
1/4 teaspoon ground allspice
Cookies
3 cups all-purpose flour
1 teaspoon ground cinnamon
1/2 teaspoon baking soda
1/2 teaspoon baking powder
1/2 teaspoon ground ginger
1/2 teaspoon ground nutmeg
1/2 teaspoon fine salt
1/4 teaspoon ground allspice
1/4 teaspoon freshly ground black pepper
1/2 cup sliced almonds, toasted
8 tablespoons unsalted butter (1 stick), at room temperature
2 teaspoons packed finely grated lemon zest (from about 2 medium lemons)
2 teaspoons packed finely grated orange zest (from 1 medium orange)
1 cup packed dark brown sugar
1 large egg
3/4 cup honey
1/4 cup finely chopped candied lemon or orange peel (or a combination)
Directions: Sift all the spiced sugar ingredients together into a large bowl; set aside. Then sift together flour, cinnamon, baking soda, baking powder, ginger, nutmeg, salt, allspice, and pepper into a large bowl; set aside. Place the almonds in the bowl of a food processor fitted with a blade attachment and process until finely ground, about 25 to 30 seconds. Do not over-grind or you will make almond butter. Add the almonds to the flour mixture and stir to combine; set aside.
Place the butter, lemon zest, and orange zest in the bowl of a stand mixer fitted with a paddle attachment and beat on medium speed until fluffy and combined, about 1 minute. Add the brown sugar and beat until incorporated and lightened in color, about 1 minute. Add the egg and beat until incorporated, about 30 seconds more. Add the honey and candied lemon or orange peel (or mixture thereof) and beat until just incorporated, about 1 minute. Stop the mixer and scrape down the sides of the bowl and the paddle with a rubber spatula.
With the mixer on low, add the flour mixture in three additions, mixing until just combined, about 1 1/2 minutes total. (Do not overmix.) Cover and refrigerate the dough until firm, at least 1 hour. Heat the oven to 350 degrees Fahrenheit and arrange 2 racks to divide the oven into thirds. Line 2 baking sheets with parchment paper; set aside.
Roll the chilled dough into 24 (3/4-inch) balls and space them 1 1/2 inches apart on the prepared baking sheets. Bake the cookies for 8 minutes, then rotate the sheets from front to back and top to bottom. Continue baking until the cookies are very lightly browned around the edges, about 5 to 6 minutes more. (The tops will be soft, but they will firm up as the cookies stand.) Transfer the baking sheets to 2 wire racks and let the cookies sit until cool enough to handle but still warm, about 3 minutes.
Drop the warm cookies into the spiced sugar, making sure to coat them all over, then shake off any excess sugar and transfer to a wire rack to cool completely. Repeat baking and sugarcoating with the remaining dough. Store the cookies in an airtight container, layered between pieces of waxed paper, for up to 3 weeks.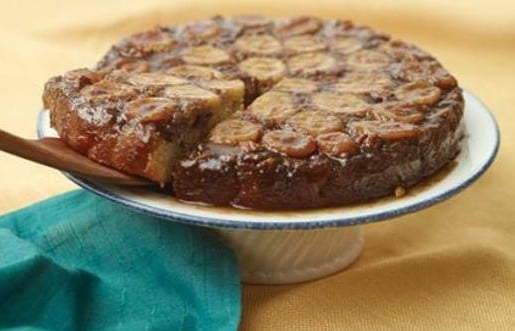 Bananas Foster Upside-Down Cake
A little cayenne adds a new kind of kick to this bananas foster and spice cake combo, but you don't have to worry about running for a glass of milk to calm the burning you might associate with the spice. Instead, the cayenne and black pepper add just a bit more depth to the caramel topping on the cake.
Be sure to use ripe bananas for this Serious Eats cake. Not only will the sweetness of a spotted banana go a long way here, but the texture is important as well. A still-green banana isn't quite ready for this cake.
Ingredients:
Topping
4 ripe bananas
Juice of 1 lemon
2 tablespoons unsalted butter
1 1/4 cups dark brown sugar
1/2 teaspoon cinnamon
1/4 teaspoon cayenne
1/4 teaspoon nutmeg
1/8 teaspoon allspice
1/2 teaspoon salt
1/4 teaspoon black pepper
Juice of 1/2 orange
3 tablespoons dark rum
1/2 cup pecans, chopped
Cake
1 3/4 cups all-purpose flour
1 1/2 teaspoons baking powder
1/2 teaspoon baking soda
1/2 teaspoon salt
1/2 teaspoon cinnamon
1/8 teaspoon allspice
1/8 teaspoon nutmeg
1/2 cup unsalted butter
1/3 cup dark brown sugar
1 cup granulated white sugar
Zest of 1 orange
2 eggs
4 tablespoons dark rum
1 teaspoon vanilla extract
1 cup mashed bananas (about 2 large bananas)
Directions for the topping: Preheat oven to 350 degrees Fahrenheit. Make the topping by slicing bananas into 1-inch thick rounds, tossing them with lemon juice, and setting aside. In a wide saucepan, melt the butter, sugar and spices together until thickened, bubbling and dark.
Remove the pan from the heat, and carefully add dark rum and orange juice — it will bubble up. Return the pan to the stove and whisk the mixture thoroughly, then pour it into a 10-inch round cake pan. Carefully arrange the banana slices on top of the caramel, then sprinkle pecans on top of the bananas. Set aside.
Directions for the cake: In a medium bowl, whisk together flour, baking powder, baking soda, and spices, and set aside. Using a mixer, cream butter, zest, and sugar together until light and fluffy. Add eggs, one at a time, scraping down the sides of the bowl before adding the second egg. Also add the dark rum, vanilla extract, and mashed bananas.
Add the dry ingredients to the wet, mix until just combined — batter will look curdled — and pour into cake pan. Smooth batter with a spatula, making sure batter evenly reaches all sides of the pan. Bake at 350 degrees Fahrenheit for 40 to 50 minutes, until a toothpick inserted in to the center comes out clean. Invert onto serving platter while still warm, and serve while still warm or at room temperature.
Ginger Spiced Molasses Cookies
In case your spices aren't quite as potent as they should be for pfeffernüsse, these ginger molasses cookies from Food52 are the way to go. The deep flavor of the molasses gives the cookies enough oomph that even if your other spices aren't totally up to bat, they'll still be able to play a strong supporting role. Molasses cookies tend to be one of the spice-cleaning power houses, as the dough used is hungry for mounds of cinnamon, ginger, allspice, and cloves. The cookie dough freezes well, which means that this is the kind of cookie you can divide into balls, freeze, and then pull out to bake two or three at a time.
For the molasses, you can use light or dark, but do not use blackstrap. It's too powerful for the flavor of this cookie.
Ingredients:
2 1/4 cups all-purpose flour
2 teaspoons baking soda
1 teaspoon ground cinnamon
1/2 teaspoon ground ginger
1/2 teaspoon allspice
1/2 teaspoon salt
1/4 teaspoon ground cloves
3/4 cups unsalted butter, room temperature
3/4 cups packed dark brown sugar
1 large egg
1/2 cup unsulfured molasses
1/3 cup finely diced candied ginger (optional)
Granulated sugar for rolling
Directions: Combine flour, baking soda, cinnamon, ground ginger, allspice, salt, and cloves in a bowl and mix well. Beat butter and sugar together in bowl of electric mixer until light and fluffy, 3 minutes. Add egg and molasses. Mix to combine well. Stir in dry ingredients. Stir in candied ginger if using. Refrigerate batter 1 hour.
Preheat oven to 375 degrees Fahrenheit. Roll dough into 1 1/2-inch balls. Roll balls in granulated sugar. Arrange on baking sheets lined with parchment paper and gently flatten. Bake in oven until set and crinkled on top, about 12 minutes. Remove and cool.
More From Wall St. Cheat Sheet: