Recipes to Cook With Budget-Friendly Cabbage
Cabbage, the forgotten green, is getting sexy again. It was only a matter of time; with other brassicas like cauliflower and Brussels sprouts in vogue, veg-next-door cabbage is coming back out of the shadows — and for good reason. It's sturdy, it's cheap, and it's versatile. A cabbage left in your crisper can last weeks longer than a pepper or head of lettuce. It'll be there for you, waiting patiently, until you need it again. It's full of vitamins C and K, but also really low in calories, clocking in at 22 per cup. It can add some needed textural variety and crunch when raw, or it can cook down into caramelized silkiness.
Forget about the boiled cabbage and mayo-drenched coleslaw that may come to mind; this vegetable is back in style and ready to impress. Stop thinking so hard about what you're going to make for dinner and go grab a cabbage. These seven recipes will make your life easier, cheaper, and way more delicious.
1. Roasted Cabbage Wedges with Bacon
As a general rule, there are three things that go well with just about any brassica: garlic, chilies, and bacon. Here in a recipe from The Kitchn, chunky wedges of cabbage are roasted at a high heat and self-basted in rendering bacon, softening the cabbage to a mellow, caramelized side dish. It's crispy at the edges, al dente in the middle, and tender in between. In just 30 minutes with 4 ingredients, you can have a cheap, miraculous dish perfect with chicken and pasta alike.
Ingredients:
1 head green or Savoy cabbage, outer leaves removed
Olive oil
Coarse kosher salt and freshly ground black pepper
4 slices thick bacon, 6 to 8 ounces
Directions: Heat the oven to 450 degrees Fahrenheit. Cut the cabbage into quarters and slice the bottom of each quarter at an angle to partially remove the stem core. Cut each quarter in half again so you have eight wedges. Lay these down on a large roasting pan or baking sheet and drizzle very lightly with olive oil. Sprinkle generously with salt and pepper.
Cut each slice of bacon into small strips and lay on top of the cabbage.
Roast for 30 minutes, flipping the cabbage wedges once halfway through. If you like the edges browned more, put them back in for five-minute increments until they are.
Serve immediately; The Kitchn warns that the wedges cool down fast.
2. Pasta with Caramelized Cabbage, Anchovies, and Breadcrumbs
WAIT!
Many of you are going to see the word anchovy and immediately skip to the next page. Those of you who like anchovies, skip ahead to the recipe — it's divine. But for those of you who don't, before you brush this recipe off entirely because you don't like the salty little fish, give the recipe a chance without them. You could leave them out entirely and just throw in an extra dash of salt, or you could replace their briny flavor with some smashed capers. Just give it a chance, because this wicked easy pasta recipe from The New York Times with its tender cabbage and garlicky, buttery breadcrumbs is one you'll come back to time and time again.
Ingredients:
5 garlic cloves, peeled and crushed
2 tablespoons unsalted butter
4 anchovy fillets
½ cup coarse breadcrumbs
1 tablespoon finely chopped fresh sage
¼ teaspoon black pepper, plus more, to taste
Kosher salt, to taste
1 pound dry penne
⅓ cup extra virgin olive oil
½ teaspoon red chile flakes
8 cups shredded cabbage
⅔ cup grated pecorino or Parmesan
Directions: Mince one garlic clove. Melt the butter in a small skillet over medium heat. Add the anchovies and cook, mashing with a spatula, until they dissolve into the butter. Stir in the minced garlic and cook until fragrant. Stir in the breadcrumbs and sage and cook until bread is golden brown, about 2 minutes. Season with black pepper.
Bring a large pot of heavily salted water to a boil. Add the pasta and cook according to package instructions until barely al dente. Drain.
While the pasta cooks, heat the oil in a large skillet over medium-high heat. Add the remaining garlic and cook until golden brown. Add the chile and cook until fragrant. Stir in the cabbage and cook, stirring occasionally, until it begins to caramelize, about 10 minutes. Toss in the pasta and breadcrumb mixture and heat through, then quickly toss in the cheese and remove from heat. Season with salt and more pepper, if desired, and serve immediately.
3. Okonomiyaki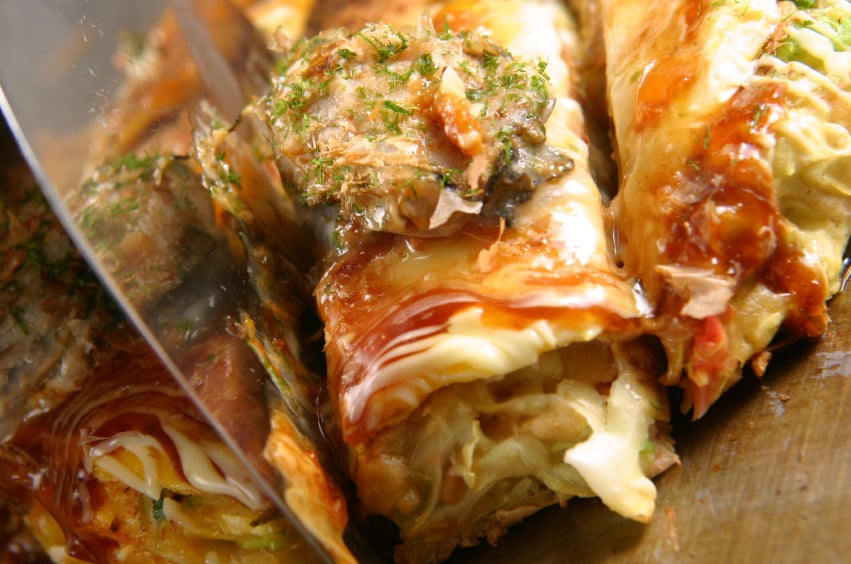 Okonomiyaki are Japanese vegetable pancakes that can really be made with any bits of vegetable you have laying around in your fridge. They're less like the scallion pancakes of take-out restaurants and more like Asian flavored scrap latkes. Here in this recipe from Serious Eats, they're made with cabbage for sturdy sweetness.
In the same vein as other vegetable pancakes, this recipe is infinitely adaptable: Don't like shrimp? Leave it out. Like shrimp but don't like bacon? Forgo the bacon. Have bits of carrot or pepper or beet hanging about your fridge? Shred them up and throw them in. Almost anything goes.
Notes about ingredients: Dashi is a broth made from kombu, a dried sea kelp. It's delicate and reminiscent of the sea without being in your face about it. Dashi can be found in powdered form, like bouillon. Kewpie mayo is a Japanese mayo made with rice vinegar rather than distilled white vinegar. It's less gelatinous than Hellmann's, making it creamier. It's an optional topping, but you can sub with any mayo. Tonkatsu is a Japanese-style barbecue sauce that takes about 3 minutes to pull together. A recipe for tonkatsu is here. This recipe, by the way, is a great time to break out that griddle you only use for bacon and eggs.
Ingredients:
2 cups all-purpose flour
1⅓ cups dashi or low-sodium chicken stock
4 eggs, beaten
8 cups finely chopped cabbage
2 cups chopped raw shrimp
8 scallions, sliced, divided
Kosher salt, to taste
8 slices bacon, sliced in half
2 tablespoons vegetable oil
Optional toppings
Kewpie mayonnaise
Okonomiyaki or tonkatsu sauce
Toasted sesame seeds
Pickled ginger
Directions: In a large bowl whisk together flour, dashi or stock, and eggs. Add chopped cabbage and mix so that the cabbage is gently crushed into the batter. Fold in shrimp and scallion whites then season with salt.
Heat ½ tablespoon vegetable oil in a large non-stick skillet over medium-high heat until shimmering. Add ¼ of the batter, gently pushing the batter down with a spatula until flattened. Cook until underside is browned, about 4 minutes, then place 4 pieces of halved bacon on the top side. Gently flip the pancake so that the side with the bacon is now cooking. Cook until the bacon is crisp and the pancake is cooked through, about 5 more minutes. Serve immediately.
4. Kimchi-Style Sautéed Cabbage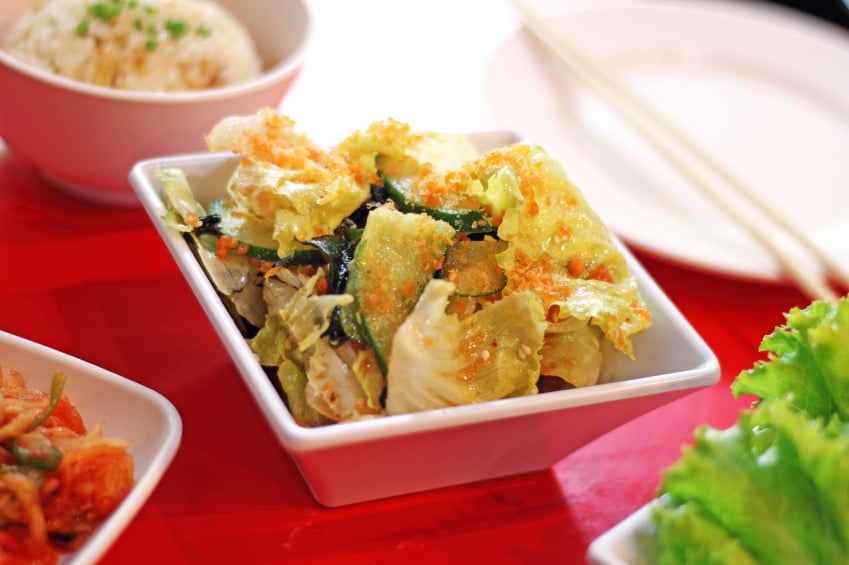 If you're not a fan of (or yet brave enough to try) the pungent Korean counterpart to Sauerkraut, try this version from Bon Appétit. It still features all of the base flavors, but it's not fermented and it comes together in no time. It's great with pork chops or fish, though it's also a great condiment for ramen or a tofu stir fry.
Ingredient notes: Gochujang is basically a spicy Korean miso. It can be found in some grocery stores, in Asian markets, or on the Internet.
Ingredients:
2 scallions, cut into ½-inch pieces, plus more for serving, sliced
2 garlic cloves
One 1-inch piece peeled ginger, chopped
2 tablespoons gochujang
1 tablespoon fish sauce
1 tablespoon unseasoned rice vinegar
2 tablespoons vegetable oil
½ head green cabbage, cut into 1-inch strips
Kosher salt
Directions: Purée scallions, garlic, ginger, gochujang, fish sauce, and rice vinegar in a blender. Heat oil in a large skillet over high heat. Cook cabbage, tossing often, until crisp-tender, about 5 minutes. Add scallion mixture and sliced scallions; season with salt.
5. Roasted Cabbage with Chive Mustard Vinaigrette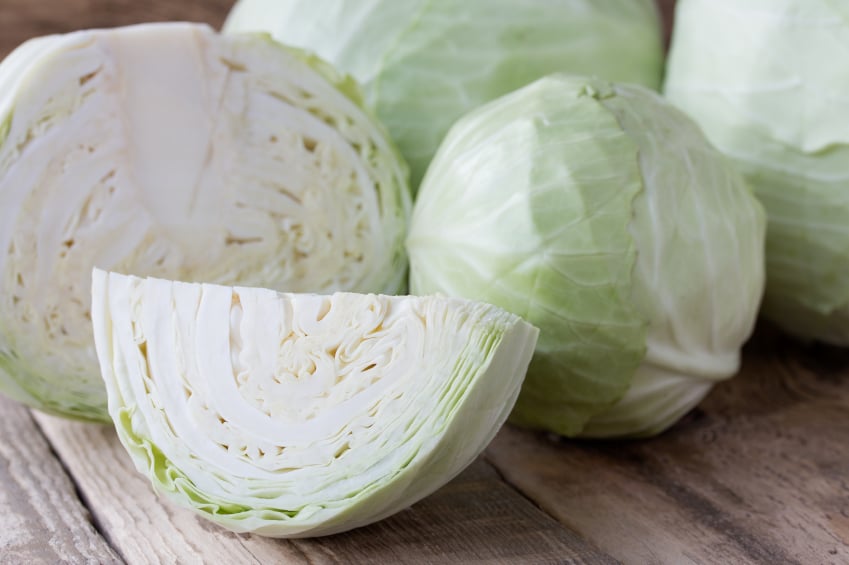 Like in the first recipe, this dish is crisp and toasted on the outside, tender in the middle, and al dente closer to the core, but deliciously soft and mellow throughout. The chive-mustard vinaigrette adds a brightness to the comforting pile of cabbage beneath. This recipe from Eating Well could be a great accompaniment to roast poultry, meat, or fish, but could be a wonderful, light lunch with a piece of crusty bread.
Ingredients:
Cabbage
½ medium green cabbage, outer leaves removed
1 tablespoon extra-virgin olive oil
¼ teaspoon salt
¼ teaspoon freshly ground pepper
Vinaigrette
2 teaspoons Dijon mustard
2 teaspoons white balsamic or white-wine vinegar
1 teaspoon lemon juice
¼ teaspoon freshly ground pepper
⅛ teaspoon salt
3 tablespoons minced fresh chives
2 tablespoons extra-virgin olive oil
Directions: Preheat oven to 450 degrees Fahrenheit. Coat a large baking sheet with cooking spray.
Cut cabbage half into four wedges and cut out any thick core, leaving the wedges as intact as possible. Drizzle the cut sides with 1 tablespoon oil and sprinkle with ¼ teaspoon each salt and pepper. Place the wedges flat-side-down on the prepared baking sheet.
Roast the cabbage for 12 minutes. Carefully flip over and roast until browned on both sides, about 8 minutes more.
While the cabbage is roasting, combine mustard, vinegar, lemon juice, pepper and ⅛ teaspoon salt in a small bowl. Add chives and oil; stir until well combined. Serve immediately, drizzled with vinaigrette.
6. White Beans and Cabbage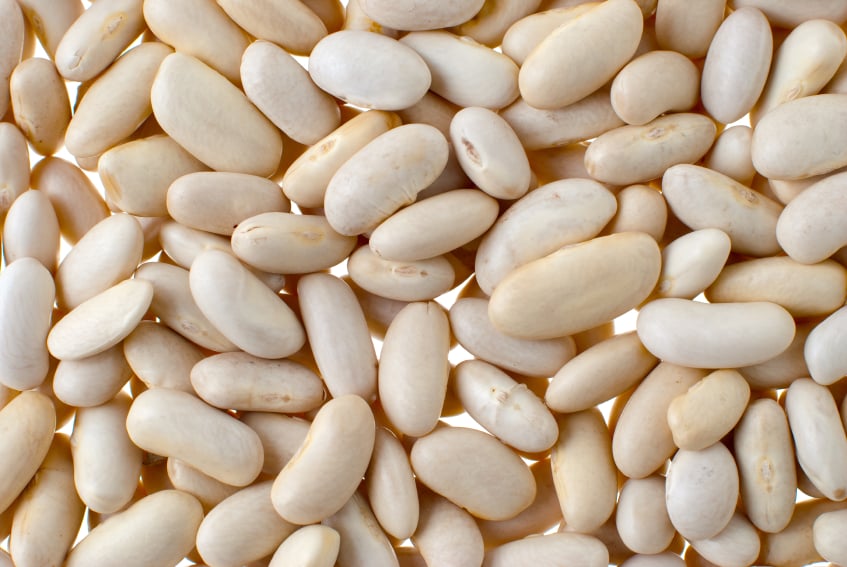 Jaden of Steamy Kitchen considers white beans and cabbage with potatoes the best Western comfort food ever, and we're ready to agree with her. This recipe only takes about 15 minutes but is so tender and filling and sumptuous that we can't stop eating it. The secret to the short cooking time is dicing the potato small, so they cook through quickly. The only two things that could possibly make this better are a fried egg and a hunk of crusty bread.
Ingredients:
2 tablespoons extra-virgin olive oil
1 medium potato, scrubbed and cut into tiny dice
3 to 4 sprigs fresh thyme or ½ teaspoon dried thyme
½ onion, minced
1 (15-ounce) can white beans, rinsed and drained
3 cups very finely shredded green cabbage
Fine-grain sea salt
Directions: Heat olive oil in a skillet set over medium-high heat. Add potatoes and spread into an even layer. Cook, tossing occasionally, for about 5 minutes, or until cooked through. Add thyme, onion, and beans. Continue to cook for about 2 minutes, without stirring, until just beginning to brown. Stir to combine and cook until beans have browned all over.
Stir in cabbage and cook for 1 minute. Season with salt and pepper. Toss to combine, then serve.
7. Lime and Peanut Coleslaw
We couldn't get through an article about cabbage without suggesting a replacement slaw for the sad, mayo-drenched one you may be used to. Heidi of 101 Cookbooks makes this one based off a street snack from Mexico City, salted peanuts flavored with lime juice. The resulting slaw is great for fajitas and tacos but also amazing on burgers, chicken, or fish. It's versatile enough to be used seamlessly in either Latin or Asian cuisines.
Ingredients:
1½ cups unsalted raw peanuts
½ of a medium-large cabbage, cored, halved, and shaved thin
1 basket of tiny cherry tomatoes, washed and quartered
1 jalapeño chile, seeded and diced
¾ cup cilantro, chopped
¼ cup freshly squeezed lime juice
2 tablespoons olive oil
¼ teaspoon plus fine-grain sea salt
Directions: In a skillet, toast peanuts over medium heat until golden and fragrant, tossing often. Alternatively, toast in a 350-degree Fahrenheit oven for about 5 to 10 minutes.
In a large bowl, combine the cabbage, tomatoes, jalapeño, and cilantro and toss to combine.
In a small bowl, whisk together lime juice, olive oil, and salt. Pour dressing over cabbage and toss to combine. Just before serving, add peanuts. Adjust seasoning, if needed, and serve at once.