Scrumptious Pork Chop Recipes You Have to Try
Despite a general love for all things pork, many of us still look to chicken breasts for easy meals. No offense to the popular poultry, but our taste buds are crying out for some more variety. This is where pork chops come in. They're just as simple to prepare as chicken and readily take on any flavor you throw their way. Taste what you've been missing with these seven recipes.
1. Crockpot Maple-Dijon Pork Chops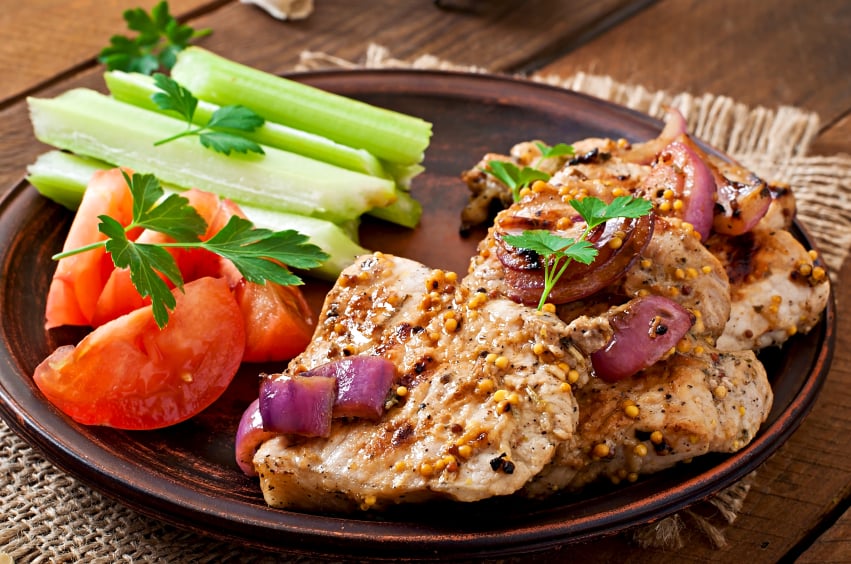 Maple and mustard might be the most sophisticated version of sweet and savory. This is good news because you can use the duo to effortlessly elevate these crockpot pork chops from Eat, Live, Run. Just sear the meat, cook some onions, then add everything to your slow cooker. Add some crusty bread and a green salad to quickly complete the meal.
Ingredients:
2 large, bone-in pork chops
1 large yellow onion, chopped
3 tablespoons maple syrup
2 tablespoons Dijon mustard
¼ cup cider vinegar
¼ teaspoon salt, plus more
⅛ teaspoon pepper, plus more
1 tablespoon vegetable oil
Directions: Heat oil in a large, heavy skillet set over high heat. Season chops with salt and pepper, add to pan, and cook until browned on both sides, about 2 minutes per side. Transfer chops to slow cooker.
Reduce pan heat to medium low. Add onions and cook until just beginning to soften, stirring. Add vinegar, syrup, and mustard. Season with salt and pepper. Cook mixture for 2 minutes, then transfer to slow cooker.
Cover and cook on low setting for 6 to 7 hours. Serve pork chops with sauce drizzled over top.
2. Panko Pork Chops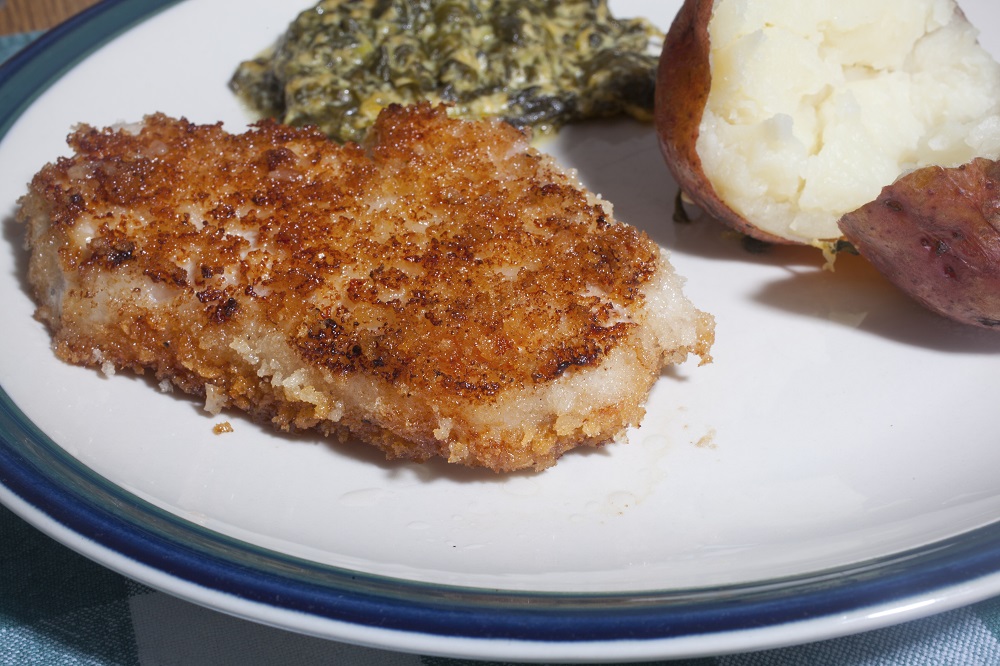 When you're craving something with texture, go for some crispy chops with this easy recipe from The Kitchn. The secret to the addictive texture is panko breadcrumbs, which develop a great crunch when browned. This recipe stays pretty simple, opting for just a bit of Parmesan and parsley to flavor the coating, but feel free to add any herbs you have on hand.
Ingredients:
Canola or safflower oil
2 (1-pound) bone-in pork chops
½ cup panko breadcrumbs
2 tablespoons grated Parmesan cheese
1 heaping tablespoon minced Italian parsley
¼ cup all-purpose flour
2 eggs, lightly beaten
Kosher salt and pepper
Directions: Preheat oven to 375 degrees Fahrenheit. Season chops with salt and pepper on both sides. Combine panko, cheese, parsley, and ½ teaspoon salt in a shallow dish. Add flour to another shallow dish and egg to one last shallow dish.
Heat 3 tablespoon oil in a heavy skillet set over medium-high heat. Dredge pork in flour, shaking to remove excess, then egg, letting excess egg drip back into the dish. Lastly, coat chops in breadcrumbs, pressing to adhere. Add to skillet and cook until golden, about 2 minutes per side.
Transfer pork chops to a baking sheet. Bake until an instant-read thermometer inserted into the thickest portion of the chop registers 130 degrees Fahrenheit, or a bit higher if you prefer your meat more well done, about 15 minutes. Let chops rest for 5 to 10 minutes. Serve.
3. Cocoa-and-Chile-Rubbed Pork Chops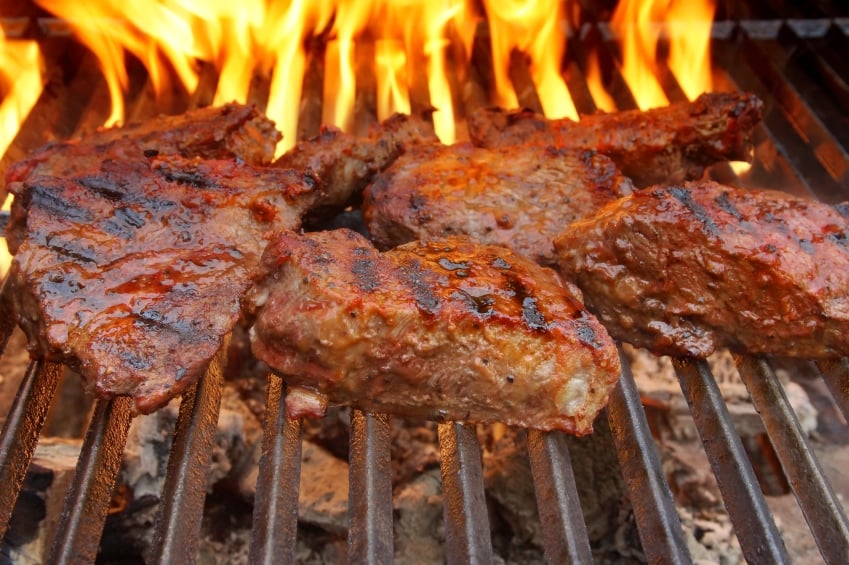 Grocery store shelves boast an impressive display of rubs to use on your favorite proteins. Truthfully, they're a waste of money because you can make your own with ingredients you already have on hand. Try it with chef Tim Love's flavor-packed pork chops, featured on Food & Wine. The rub includes cocoa powder, red pepper flakes, brown sugar, and ancho chile powder, which makes an otherwise basic meal taste special.
If you can't find ancho powder, a regular chili powder will work. Many of these specific chile powders are easy to purchase online. You can even find them in the bulk sections of some stores, which makes them significantly less expensive.
Ingredients:
2 quarts water
1½ teaspoons crushed red pepper
Kosher salt
4 (1½-inch-thick) boneless pork loin chops
1 tablespoon unsweetened cocoa powder
1 tablespoon light brown sugar
1 tablespoon ancho chile powder
Extra-virgin olive oil
Directions: Combine water, red pepper flakes, and 1½ teaspoons salt in a large bowl and stir to dissolve. Add pork and brine at room temperature for 1 hour.
Light a grill with a hot and cool zone by banking goals to one side on a charcoal grill or leaving one side unlit on a gas grill. Combine cocoa, sugar, ancho powder, and 1 tablespoon of salt in a small bowl.
Drain pork and pat dry, removing any bits of crushed red pepper. Brush with olive oil, then generously rub with cocoa mixture. Grill over medium-high heat for 4 minutes, turning once or twice, until lightly browned. Transfer to cool zone, cover, and grill for 15 minutes, or until and instant-read thermometer registers 135 degrees Fahrenheit for medium. Let rest 10 minutes. Serve.
4. Balsamic-Glazed Pork Chops and Polenta
Like the Italian version of grits, polenta can easily pair with just about any protein. We especially like the side in this pork dish from Cooking Light because it acts like a sponge to soak up all the delicious juices. For even more more flavor, stir a little bit of Parmesan cheese into the polenta before serving.
If you find yourself with leftover polenta, pour it into a shallow dish and chill the the fridge. Later in the week, you can cut it into pieces and cook it on the grill or in a hot skillet. Just add your favorite meat sauce, and you have another easy meal.
Ingredients:
2 cups whole milk
1 cup low-sodium chicken broth
¾ cup uncooked polenta
3 ounces ⅓-less-fat cream cheese, softened
6 tablespoons balsamic vinegar
1½ teaspoons chopped fresh rosemary
¼ teaspoon kosher salt
½ teaspoon freshly ground pepper
2 large garlic cloves, minced
4 (4-ounce) boneless, center-cut pork chops, trimmed
Directions: Bring milk and broth to a simmer im a medium saucepan over medium heat. Gradually whisk in polenta and cook for 20 minutes, whisking frequently, or until thickened. Remove from heat and stir in cream cheese. Keep warm.
Place vinegar in a small saucepan and set over medium-high heat. Bring to a boil and reduce by half, about 5 minutes.
Place a grill pan over medium-high heat. Combine rosemary, salt, pepper, and garlic in a small bowl and rub over pork. Cook pork in pan to desired degree of doneness, about 5 minutes per side, basting with reduced vinegar. Let rest for 5 minutes. Slice pork and serve with polenta.
5. Soy-and-Ginger Marinated Pork Chops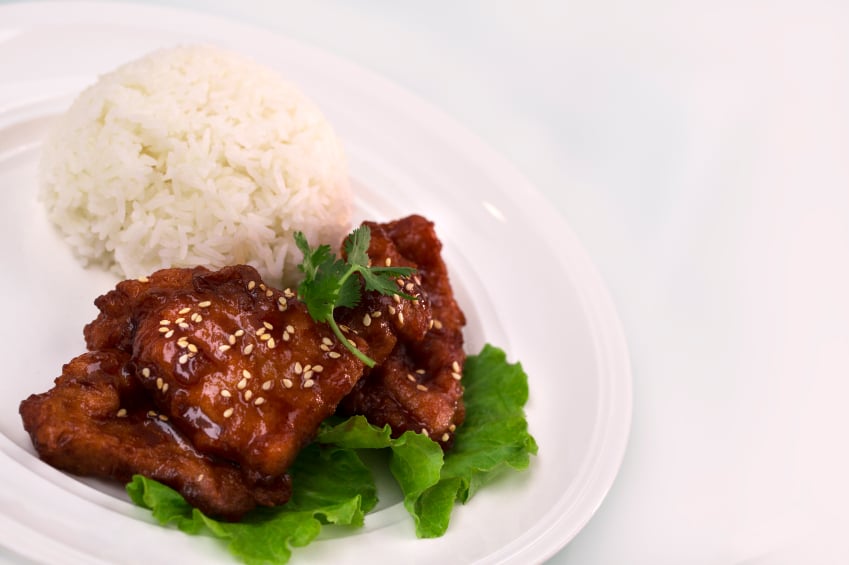 Some recipes use slow-simmered sauces to give a simple piece of meat a delicious finish, but this method isn't always practical. When you want great taste in a fraction of the time, look to marinades. All you have to do is whisk together some ingredients, let the protein soak up the flavors, then cook. Try it with some soy and ginger chops from Martha Stewart Living. It might become a regular recipe in your weeknight rotation.
Ingredients:
¼ cup plus 2 tablespoons low-sodium soy sauce
¼ cup vegetable oil, divided
3 tablespoons finely grated fresh ginger
3 tablespoons light brown sugar
2 scallions, 1 finely chopped, 1 thinly sliced
Freshly ground pepper
4 (8-ounce, ¾-inch-thick) bone-in pork chops
Directions: Whisk soy sauce, 3 tablespoons oil, ginger, sugar, chopped scallion, and ½ teaspoon pepper to combine in a bowl.
Arrange pork in a 9-by-13-inch, nonreactive baking dish. Reserve 3 tablespoons of marinade, then pour remaining over pork. Marinate, covered with plastic wrap, flipping halfway through, for 45 minutes.
Heat remaining oil in a large skillet over medium-high heat. Remove pork from marinade and sear for 3½ to 4 minutes, reduce heat to medium, flip chops, and sear until just cooked through, about 3½ to 4 minutes longer. Transfer to a board and let rest for 5 minutes.
Add reserved marinade to skillet and simmer just until thickened, about 30 seconds. Spoon sauce over chops, garnish with sliced scallions, and serve.
6. Pork Chops Stuffed with Sun-Dried Tomatoes and Spinach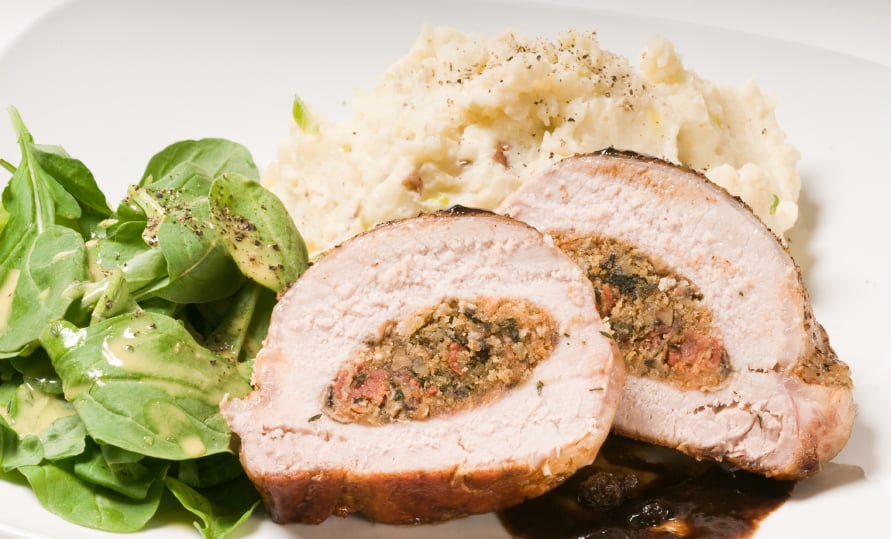 The next time you need an impressive dish for date night that doesn't make you feel like pulling your hair out, try Giada De Laurentiis's stuffed pork chops, featured on Food Network. The spinach has an earthy flavor that goes wonderfully with the slightly sweet tomatoes and tangy goat cheese. But the best part? You can make this recipe in just over 30 minutes.
Ingredients:
2 tablespoons olive oil, divided
2 garlic cloves, minced
6 sun-dried tomatoes, diced
1 (10-ounce) bag frozen spinach, thawed and squeezed dry in a clean kitchen towel
½ teaspoon salt, plus more
½ teaspoon freshly ground pepper, plus more
¼ teaspoon dried thyme
¼ cup goat cheese
⅓ cup reduced-fat cream cheese
4 (4-ounce) center-cut pork chops
1½ cups chicken broth
½ lemon, zested
2 tablespoons lemon juice
2 teaspoons Dijon mustard
Directions: Heat 1 tablespoon oil in a medium skillet over medium heat. Add garlic and cook, stirring, until fragrant, about 1 minute. Add tomatoes, spinach, salt, pepper, and thyme. Cook until combined, about 2 minutes. Transfer to a medium bowl and add both cheeses. Stir to combine and set aside.
Use a sharp knife to cut a pocket into the thickest portion of each pork chop and stuff evenly with filling. Close pork around filling. Season pork with salt and pepper.
In a small bowl, combine broth, lemon zest, lemon juice, and mustard.
Heat remaining oil in a large, heavy skillet over medium-high heat. Add pork and cook until golden and cooked through, about 4 minutes per side. Transfer to a plate and tent with foil. Add broth mixture to skillet and simmer, scraping up any browned bits from bottom of pan, until reduced by half, about 8 minutes. Spoon sauce over pork and serve.
7. One-Pan Ranch Pork Chops and Veggies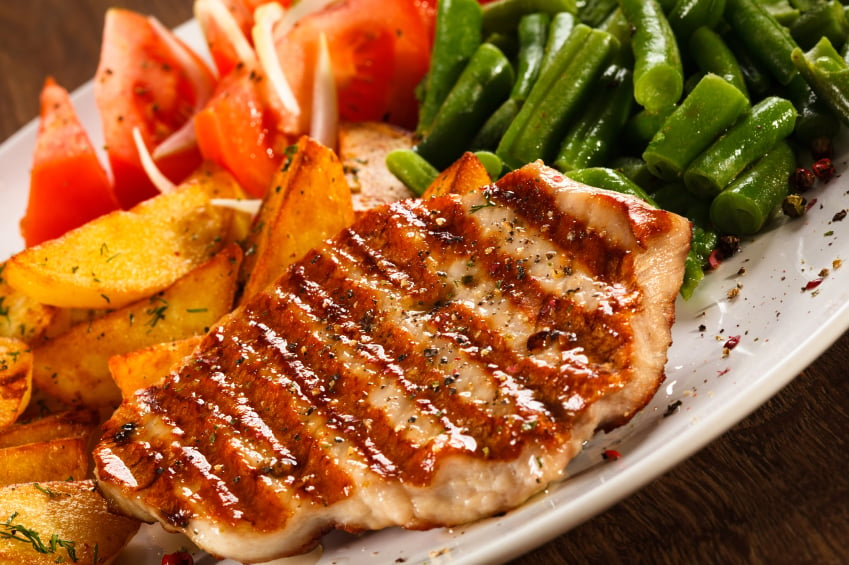 Forget one-pot meals; one-pan meals are quickly becoming our favorite. Using the oven guarantees great taste since it helps to brown everything from the vegetables to the meat. Give the method a go with these ranch-seasoned chops and vegetables from Damn Delicious. With just a handful of ingredients and a simple method, it's one of the easiest ways to get dinner on the table.
Ingredients:
4 (8-ounce, ¾- to 1-inch-thick) bone-in pork chops
1 pound baby red potatoes, halved
1 pound green beans, trimmed
2 tablespoons olive oil
1 (1-ounce) packet ranch seasoning mix
3 garlic cloves, minced
Kosher salt and freshly ground pepper
2 tablespoons chopped fresh parsley
Directions: Preheat oven to 400 degrees Fahrenheit. Lightly grease a baking sheet. Arrange chops, potatoes, and beans in a single layer on prepared sheet pan. Drizzle with oil and season with salt, pepper, and ranch seasoning.
Transfer baking sheet to oven and bake until pork registers 140 degrees Fahrenheit on an instant-read thermometer, 20 to 22 minutes. Turn oven to broil and cook 2 to 3 minutes longer, or until browned. Serve pork and veggies garnished with parsley.
Follow Christine on Twitter @christineskopec