You're Doing It Wrong: 6 Recipes to Make Better Brussels Sprouts
Brussels sprouts are polarizing. People either love them or hate them, and until recently, many naysayers refused to believe that anyone actually liked the baby cabbages until they started popping up on menus everywhere. Then, there was no denying the fact that diners loved the leafy green vegetable — not only because of its nutritional profile, but also because of its irresistible earthy flavor.
Spoiler alert: The secret to eating Brussels sprouts and enjoying them is making sure they're prepared correctly. And when in doubt, always enlist bacon. Here are six recipes found around the Web that showcase Brussels sprouts in their best light.
1. Classic Roasted Brussels Sprouts
The easiest way to make your Brussels sprouts delectable is by simply roasting them. You may not believe us, but you should believe Ina Garten. Roasting the sprouts pulls out their smoky flavor and makes their leaves crispy and reminiscent of chips. A side of roasted Brussels sprouts is one dish that couldn't be easier or more delicious.
Ingredients:
1½ pounds Brussels sprouts
3 tablespoons olive oil
¾ teaspoon kosher salt
½ teaspoon ground pepper
Directions: Preheat oven to 400 degrees Fahrenheit. Cut off the brown ends of the Brussels sprouts and pull off any yellow outer leaves. Mix them in a bowl with the olive oil, salt, and pepper. Pour them on a sheet pan and roast for 35 to 40 minutes, until crisp on the outside and tender on the inside. Shake the pan from time to time to brown the sprouts evenly. Sprinkle with more kosher salt, and serve immediately.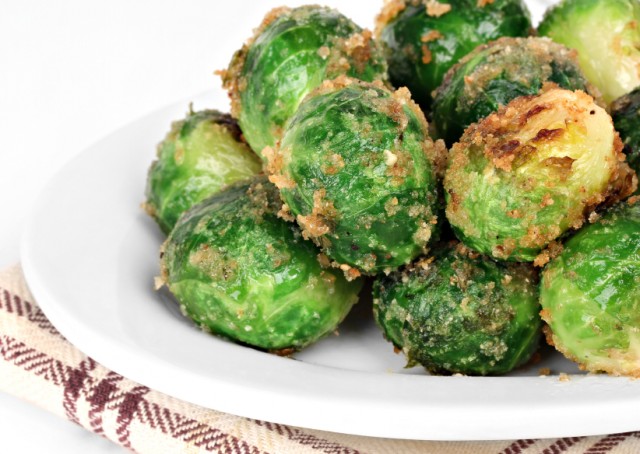 2. Roasted Brussels Sprouts With Bacon, Mustard, and Walnut Vinaigrette
If you still want to roast your sprouts but kick your dish up a notch, follow this recipe for Roasted Brussels Sprouts With Bacon, Mustard, and Walnut Vinaigrette from Cooking Channel TV. You're still cooking your baby cabbages in the oven with this food formula, but you're also adding the smoky flavors of bacon to the mix, making this dish undeniably delicious.
Ingredients:
1½ pounds Brussels sprouts, halved
3 tablespoons extra-virgin olive oil
Salt and freshly ground black pepper
8 ounces slab bacon, cut into lardoons
½ cup walnuts, coarsely chopped
2 cloves garlic, sliced
2 shallots, sliced
2 tablespoons red wine vinegar
1 tablespoon honey
1 tablespoon grainy mustard
Directions: Preheat oven to 450 degrees Fahrenheit.
Toss the Brussels sprouts with 2 tablespoons of the oil and sprinkle with salt and pepper on a rimmed baking sheet. Spread the Brussels sprouts out on the baking sheet and roast, stirring once or twice during the cooking process, until tender and charred in spots, 35 to 40 minutes.
Add the bacon to a medium sauté pan and render over medium heat, 1 to 2 minutes. Add the remaining 1 tablespoon oil, walnuts, garlic, shallots, and a pinch of salt. Cook until the bacon is crispy, being careful not to burn the walnuts. Stir in the vinegar, honey, and mustard with a fork. Whisk into the bacon fat until emulsified. Taste and season with salt and pepper. Transfer the Brussels sprouts to a large mixing bowl, add the bacon mixture, and toss well. Serve.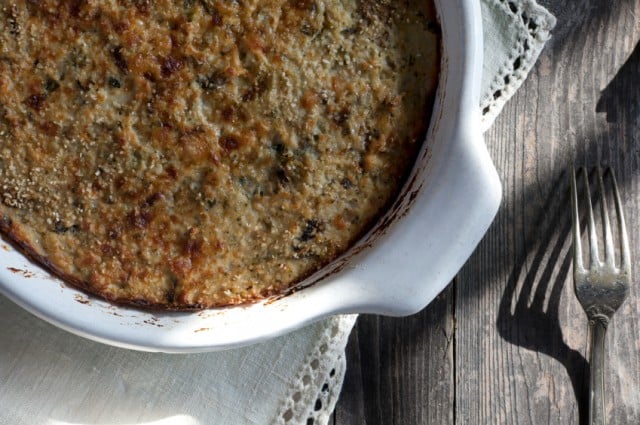 3. Brussels Sprouts Gratin
Gratins are always in season, and this Brussels Sprouts Gratin from Cooking Light will satisfy everyone at the dinner table, even those who profess to hate vegetables. Change the naysayers' minds with this combination of Brussels sprouts, bacon, butter, and bread, and be ready to serve up seconds.
Ingredients:
2 hickory-smoked bacon slices
4 large shallots, thinly sliced
2 pounds Brussels sprouts, trimmed and halved
1 cup water
½ teaspoon kosher salt, divided
¼ teaspoon freshly ground black pepper
Cooking spray
1 (2-ounce) slice French bread baguette
3 tablespoons butter
Directions: Preheat broiler. Cook bacon in a large skillet over medium heat until crisp. Remove bacon from pan, reserving drippings; crumble. Increase heat to medium-high. Add shallots to drippings in pan; sauté for 2 minutes or until tender, stirring occasionally. Add Brussels sprouts and 1 cup water; bring to a boil. Cover pan loosely with aluminum foil; cook 6 minutes or until Brussels sprouts are almost tender. Uncover and remove from heat. Sprinkle with ¼ teaspoon salt and pepper; toss to combine. Spoon Brussels sprouts mixture into a 2-quart broiler-safe glass or ceramic baking dish coated with cooking spray.
Place bread in a food processor and process until finely ground. Melt butter in skillet over medium-high heat. Add breadcrumbs and remaining ¼ teaspoon salt to pan; sauté for 2 minutes or until toasted, stirring frequently. Add cooked, crumbled bacon to toasted breadcrumb mixture. Sprinkle the breadcrumb mixture over Brussels sprouts mixture. Broil 3 minutes or until golden and thoroughly heated.
4. Shredded Brussels Sprouts Salad
Some people like to eat their Brussels sprouts whole; others prefer them shredded and thrown in a salad. For those in the latter camp, serve this Shredded Brussels Sprouts Salad from What's Gaby Cooking. Gaby's salad is delicious thanks to a combination of shredded sprouts, cranberries, avocado, and cheese, topped off with a homemade vinaigrette.
Ingredients:
Salad
1 pound Brussels Sprouts
½ cup dried cranberries
1 avocado
¼ cup shredded Parmesan cheese
Lemon vinaigrette
2 tablespoons freshly squeezed lemon juice
6 tablespoons extra-virgin olive oil
Kosher salt and freshly cracked black pepper
Directions: Shred the Brussels sprouts using a mandolin, or finely shred the Brussels using a sharp knife. Toss the shredded Brussels with the dried cranberries, avocado, and Parmesan cheese. Drizzle with the lemon vinaigrette and season with salt and pepper as needed.
For vinaigrette — Whisk together the lemon juice and olive oil, and season with salt and pepper.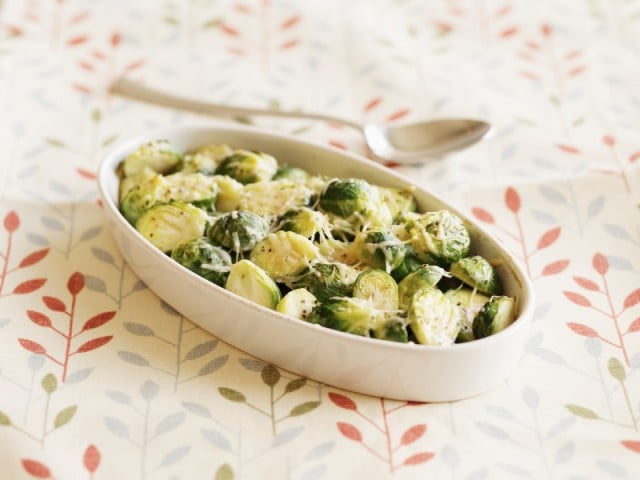 5. Brussels Sprouts With Lemon and Thyme
Here's a recipe from Food & Wine that has you sautéing your Brussels sprouts rather than roasting them. If you're in a time crunch and need a healthy dish, this is the ticket. Ready in 20 minutes, this is one dish you definitely don't want to miss.
Ingredients:
1 teaspoon Dijon mustard
2 tablespoons sherry vinegar
¼ cup plus 1 tablespoon extra-virgin olive oil
1 teaspoon thyme leaves
¼ teaspoon finely grated lemon zest
Salt and freshly ground pepper
1 pound Brussels sprouts, thinly sliced lengthwise
Directions: In a small bowl, whisk the mustard with the vinegar. Gradually whisk in the ¼ cup of oil until emulsified. Add the thyme and lemon zest and season with salt and pepper.
In a large skillet, heat the remaining 1 tablespoon of oil, until shimmering. Add the Brussels sprouts and cook over moderately high heat, stirring occasionally, until crisp-tender and charred in spots, about 5 minutes. Remove from the heat and stir in half of the dressing. Transfer to a bowl. Serve warm or at room temperature, passing the extra dressing at the table.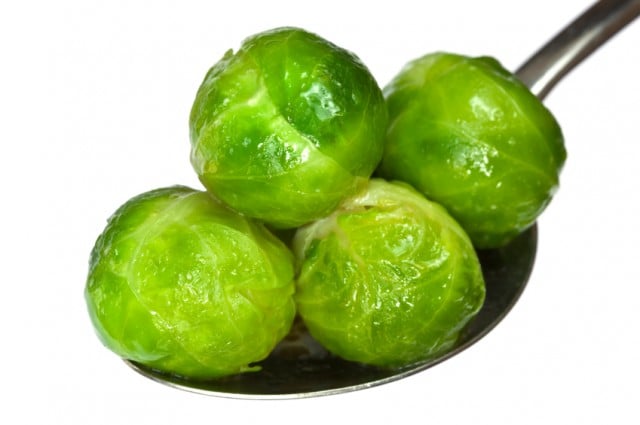 6. Glazed Brussels Sprouts With Browned Butter and Cream
Last but not least is this recipe from Food 52 for Glazed Brussels Sprouts With Brown Butter and Cream. Who knew the leafy green vegetable paired well with so many different flavors? For this recipe, you'll need bacon, butter, cream, apples, and apple cider. The dish may not be the most calorie-friendly, but it's definitely delicious.
Ingredients:
1 pound Brussels sprouts
⅛ teaspoon celery salt
4 ounces butter
2 ounces heavy cream
2 pieces bacon, cut into lardons
1 apple, peeled, cored and chopped
4 teaspoons apple cider
½ teaspoon fresh grated nutmeg; more to sprinkle at the end
Directions: Wash, cut off the stems, and halve the Brussels sprouts. Discard any discolored leaves. Steam Brussels sprouts over salted water until tender. Drain and lightly sprinkle, and toss with celery salt. Set aside. Fry the bacon lardons until crispy. Drain and set aside. Over low heat, melt butter in a heavy pot. Once the butter is completely melted, turn heat to medium high; it will quickly begin to foam. Keep the butter and foam moving around. As it browns, the foam will subside. Once the butter hits the color and flavor you want, immediate reduce the heat to low and add the cream. Stir to completely incorporate the cream.
Immediately add the apple pieces, lardons, and Brussels sprouts. With a large metal spoon, keep turning the Brussels sprouts mixture in the cream/noisette sauce while the sauce thickens and the Brussels sprouts mixture becomes glazed with the sauce (5 to 10 minutes). The apple pieces should be just cooked, not mushy. Add the apple cider and nutmeg. Continue to carefully turn the mixture in the glaze for another 2 to 3 minutes. Turn out in a serving dish or the individual plates and rub a pinch of nutmeg with your palms over the dish.
More from Life Cheat Sheet:
Want more great content like this? Sign up here to receive the best of Cheat Sheet delivered daily. No spam; just tailored content straight to your inbox.