10 Best Christmas Desserts Old and New
Christmas is quickly approaching — what are you baking this year? Many Americans go all out on the cookie front, but no one is too stuffed during the holiday for dessert, so you need to start strategizing early.
If you celebrate Christmas and are hosting your relatives this year, will you go the traditional route and try your hand at grandma's specialty, or will you bake this year's sweets with new-age flair?  Whichever route you choose, we can equip you with recipes no matter what your tastebuds crave.
Drawing from old traditions and hopefully creating some new ones, here are 10 of the best Christmas desserts you can serve this year when Santa Claus comes to town.
1. Buche de Noel
First is a dessert that has been enjoyed by many generations and will likely continue to be devoured for many more. Buche de Noel is one of many traditional cakes baked during Christmastime, and if you couldn't guess from the name, it has a French origin. Though the cake dates back to the 19th century, it is still enjoyed across the globe today as a thinly rolled sponge cake filled with jam or cream and covered with some form of buttercream icing. Though there is now an influx of new and improved dessert favorites, there's nothing like a traditional dessert to remember that good food never goes out of style. See for yourself by making this Betty Crocker recipe.
Ingredients:
Cake
3 eggs
1 cup granulated sugar
1/3 cup water
1 teaspoon vanilla
3/4 cup all-purpose flour
1 teaspoon baking powder
1/4 teaspoon salt
Filling

1 cup whipping cream
2 tablespoons granulated sugar
1 1/2 teaspoons instant coffee granules or crystals
Chocolate buttercream frosting

1/3 cup unsweetened baking cocoa
1/3 cup butter or margarine, softened
2 cups powdered sugar
1 1/2 teaspoons vanilla
1 to 2 tablespoons hot water
Directions: Heat oven to 375 degrees Fahrenheit. Line 15 x 10 x 1-inch pan with foil or waxed paper; grease with shortening or cooking spray. In small bowl, beat eggs with electric mixer on high speed about 5 minutes or until very thick and lemon colored. Pour eggs into large bowl; gradually beat in 1 cup granulated sugar. Beat in 1/3 cup water and the vanilla on low speed. Gradually add flour, baking powder and salt, beating just until batter is smooth. Pour into pan, spreading batter to corners.
Bake 12 to 15 minutes or until toothpick inserted in center comes out clean. Immediately loosen cake from edges of pan; invert onto towel generously sprinkled with powdered sugar. Carefully remove foil. Trim off stiff edges of cake if necessary. While hot, carefully roll cake and towel from narrow end. Cool on cooling rack at least 30 minutes.
Bake for 12 to 15 minutes in preheated oven, or until the cake springs back when lightly touched. Dust a clean dishtowel with confectioners' sugar. Run a knife around the edge of the pan and turn the warm cake out onto the towel. Remove and discard parchment paper. Starting at the short edge of the cake, roll the cake up with the towel. Cool for 30 minutes.
In chilled medium bowl, beat all filling ingredients on high speed until stiff. Unroll cake; remove towel. Spread filling over cake. Roll up cake.
In medium bowl, beat cocoa and butter on low speed until thoroughly mixed. Beat in powdered sugar until mixed. Beat in vanilla and enough of the hot water until frosting is smooth and spreadable.
For tree stump, cut off a 2-inch diagonal slice from one end of cake. Attach stump to one long side using 1 tablespoon frosting. Frost cake with remaining frosting. With tines of fork, make strokes in frosting to look like tree bark. Garnish with nuts.
2. Fudgy Peppermint Truffle Chocolate Cake
Next, we're coming at you with a less traditional dessert, but one that won't require you to toil in the kitchen as long on Christmas Day. Americans have somewhat of an infatuation with chocolate paired with peppermint, and Starbucks' poplar peppermint mocha drink proves. Buckle up: It's time to feed the addiction. Make Betty Crocker's peppermint truffle chocolate cake and impress your relatives with your skills in the kitchen. No one has to know that you cheated with packaged devil's food mix.
Ingredients:
Filling
1 1/2 cups (9 ounces) semisweet chocolate chips
1 cup sweetened condensed milk (not evaporated)
1/2 teaspoon peppermint extract
Cake

1 box devil's food cake mix
1 cup water
1 cup butter, softened
4 eggs
1 box (four serving size) chocolate instant pudding and pie filling mix
Icing
3/4 cup powdered sugar
1 1/2 ounces cream cheese, softened
1 to 2 tablespoons milk
6 hard peppermint candies, finely crushed
Directions: Heat oven to 350 degrees Fahrenheit. Grease and flour 12-cup fluted tube cake pan or spray with baking spray with flour. In medium microwavable bowl, microwave filling ingredients uncovered on high for 30-40 seconds; stir until melted and smooth. If necessary, microwave 10-20 seconds longer. Set aside.
In large bowl, beat cake ingredients with electric mixer on low speed for 30 seconds, then on medium speed for 2 minutes, scraping bowl occasionally. Spoon half of batter into pan; spread evenly.
Bake 15 minutes. Remove from oven; immediately drop spoonfuls of filling over batter, keeping filling away from sides of pan and pressing down lightly. Carefully spoon remaining batter over top; spread evenly. Bake 42-47 minutes longer or until toothpick inserted near center comes out almost clean and cake springs back when lightly touched in center. Cool in pan 15 minutes. Loosen cake with knife around center and edges of pan. Turn cake upside down onto cooling rack or heatproof serving plate. Cool completely, about 1.5 hours.
In medium bowl, beat powdered sugar, cream cheese and, 1 tablespoon of the milk with whisk until smooth, adding additional milk until of desired drizzling consistency. Drizzle icing over cooled cake. Sprinkle with crushed candy. Store loosely covered in refrigerator.
3. Pumpkin pie
Back to an old favorite, we come to pumpkin pie thanks to this recipe from Cooking Light. As Perry Como would say, there's no place like home for the holidays. When your relatives come "home," they may be expecting some pumpkin pie, just like the man who lives in Tennessee and was headin' for Pennsylvania for some homemade pumpkin pie.
Pumpkin pie is a classic dessert, and it's easy (and healthy) to boot. Whether you're an overachiever and are set on making your own crust or would rather go the preprepared crust route, use the following foolproof recipe for the filling.
Ingredients:
3/4 cup packed brown sugar
1 3/4 teaspoons pumpkin pie spice
1/4 teaspoon salt
1 (12-ounce) can evaporated low-fat milk
2 large egg whites
1 large egg
1 (15 ounce) can unsweetened pumpkin
Directions: Preheat oven to 425 degrees Fahrenheit. To prepare filling, combine first six ingredients in a large bowl, stirring with a whisk. Add pumpkin and stir with a whisk until smooth.
If making your own crust, roll dough into an 11-inch circle; fit into a 9-inch pie plate coated with cooking spray. Fold edges under and flute.
Pour pumpkin mixture into the crust. Place pie plate on a baking sheet. Place baking sheet on lowest oven rack.
Bake at 425 degrees Fahrenheit for 10 minutes. Reduce oven temperature to 350 degrees Fahrenheit (do not remove pie from oven); bake an additional 50 minutes or until almost set. Cool completely on wire rack.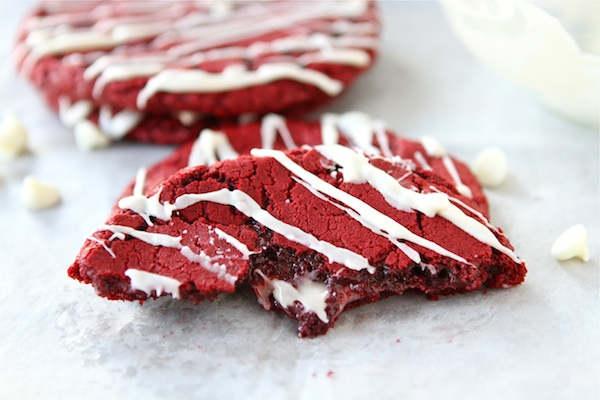 4. Red Velvet Cheesecake Cookies
This next dessert takes an old tradition and gives it a twist. Americans have enjoyed the red velvet flavor for a while now (regardless of whether or not they understand it), but while it can usually be found paired with some cream cheese frosting on a decadent cupcake, this cookie recipe from Two Peas & Their Pod hides the sweet treat in the middle of the dough, giving diners a surprising burst of flavor when they bite into these seemingly innocent confections.
Like the previous recipe, these cookies offer the opportunity of a shortcut: red velvet cake mix. The prepared mix gives the cookies a delightfully cakey texture that is usually reserved for a different dessert altogether. With this recipe, you get the best of both worlds.
Ingredients:
Cookies
1 box red velvet cake mix
2 tablespoons all-purpose flour
2 large eggs
1/2 cup canola oil
1 teaspoon vanilla extract
Cheesecake filling

4 ounces cream cheese, at room temperature
2 cups powdered sugar
1 teaspoon vanilla extract
White chocolate drizzle

1 1/2 cups white chocolate chips, melted
Directions: To make the cookies, combine cake mix and flour in a large bowl. Whisk until clumps disappear. In the bowl of a stand mixer, mix together cake mix, flour, eggs, oil, and vanilla extract. Mix until smooth. Wrap the dough in plastic wrap. The dough will be oily. Refrigerate for at least 2 hours.
To make the cheesecake filling, using a mixer, combine cream cheese, powdered sugar, and vanilla extract. Mix until smooth. Using a teaspoon, scoop out cheesecake filling and place on a plate. Continue scooping out cheesecake filling into teaspoon balls until you have 10. Place plate in freezer and freeze for at least 2 hours.
Preheat oven to 350 degrees Fahrenheit. Line a large baking sheet with parchment paper or a silicone baking mat. To assemble cookies, take about 1/4 cup of red velvet cookie dough and flatten in your hands. Place a teaspoon of cheesecake filling in the center and wrap the cookie dough around the filling. Gently roll into a ball and place on prepared baking sheet. Scoop onto lightly greased or parchment lined baking sheets. Only bake 3 cookies at a time — the cookies are large and will spread. Bake for 11-13 minutes or until the cookies begin to crackle. Let the cookies cool on the baking sheet for 5 minutes. Remove from baking sheet to a wire cooling rack and cool completely.
Melt the white chocolate chips in a microwave-safe bowl or over a double boiler. Drizzle the white chocolate over the cooled cookies. Let the cookies set until the chocolate hardens.
5. Gingerbread Cake
Next up is another old favorite: gingerbread. Gingerbread is the epitome of a holiday treat, and whether you prefer your gingerbread in the form of a cookie, a cake, or a man, it's hard to resist the poignant taste of molasses, ginger, and dark brown sugar mixed together with a touch (read: a lot) of butter. But it's the holidays, after all, and considering it almost feels wrong to eat gingerbread any other month besides December, you might as well indulge Bon Appétit's Gingerbread Cake while you can.
Ingredients:
Cake
Nonstick vegetable oil spray
1 1/2 cups all-purpose flour
1 teaspoon ground ginger
3/4 teaspoon ground cinnamon
3/4 teaspoon kosher salt
1/2 teaspoon baking powder
1/2 teaspoon baking soda
1/2 cup (1 stick) unsalted butter, cut into 1/2′ pieces
1/2 cup (packed) light brown sugar
1/2 cup mild-flavored (light) molasses
1 large egg, beaten to blend
2 teaspoons grated peeled ginger
Topping

1 cup chilled heavy cream
1 tablespoon powdered sugar
1/4 cup store-bought lemon curd
Finely grated lemon zest
Directions: Preheat oven to 350 degrees Fahrenheit. Coat pan with nonstick spray. Line bottom with parchment paper; spray paper. Whisk flour and next five ingredients in a medium bowl.
Place butter in a large bowl. Pour 1/2 cup boiling water over; whisk until melted. Whisk in sugar and next three ingredients. Add dry ingredients; whisk to blend. Transfer to prepared pan.
Bake until a tester inserted into center of cake comes out clean, about 25 minutes. Let cool in pan for 10 minutes. Invert onto a wire rack; let cool. Remove parchment.
For topping, beat cream and sugar in medium bowl until firm peaks form. Fold in curd, leaving swirls. Spread over cake. Garnish with zest.
6. White Chocolate Cranberry Blondies
Let's switch lanes and throw out a recipe for blondies from Taste of Home. Giving a holiday flair to brownies, this iteration tastes great, looks better, and gives off an air of pretense that will convince your relatives you're a better baker than they are. The contrast between the red cranberries and white chocolate morsels perfect the seasonal profile, and, hey, if we're using cranberries, we might as well call them healthy.
Ingredients:
Blondies
3/4 cup butter, cubed
1 1/2 cups packed light brown sugar
2 eggs
3/4 teaspoon vanilla extract
2 1/4 cups all-purpose flour
1 1/2 teaspoons baking powder
1/4 teaspoon salt
1/8 teaspoon ground cinnamon
1/2 cup dried cranberries
6 ounces white baking chocolate, coarsely chopped
Frosting
1 package (8 ounces) cream cheese, softened
1 cup confectioners' sugar
1 tablespoon grated orange peel, optional
6 ounces white baking chocolate, melted
1/2 cup dried cranberries, chopped
Directions: In a microwave, melt butter; stir in brown sugar. Transfer to a large bowl and cool to room temperature. Beat in eggs and vanilla.
Combine flour, baking powder, salt, and cinnamon; gradually add to butter mixture. Stir in cranberries and chopped chocolate (batter will be thick).
Spread into a greased 13 x 9-inch baking dish. Bake at 350 degrees Fahrenheit for 18-21 minutes or until a toothpick inserted near the center comes out clean (do not over-bake). Cool on a wire rack.
For frosting, in a large bowl, beat the cream cheese, confectioners' sugar, and orange peel if desired until blended. Gradually add half of the melted white chocolate; beat until blended. Frost brownies. Sprinkle with cranberries. Drizzle with remaining melted white chocolate. Cut into bars.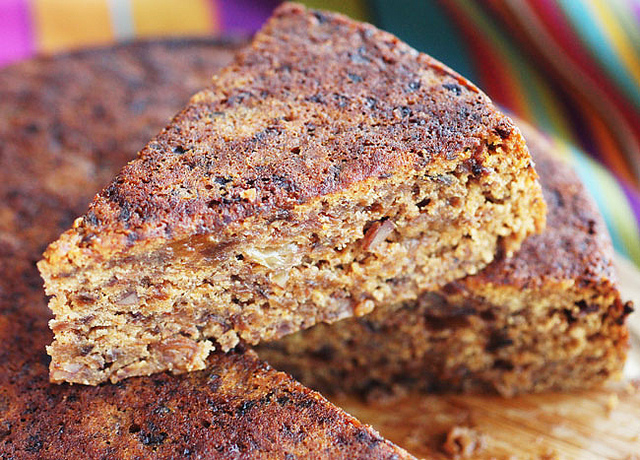 7. Holiday Fruitcake
You knew we had to include fruitcake on this list. The traditional dessert can get a bad rap, but homemade fruitcakes can help debunk the myth that this dessert was only made to be involuntarily swallowed by the Egyptians. Yes it's 2013, but butter and rum are still just as popular as they've ever been, so we encourage you to try this recipe and give fruitcake a fair chance. Many find that once they get over the initial shock of eating fruit embedded in a cake, they actually find the dessert to be quite delightful.
Don't be scared away by the ingredient list in AllRecipes.com's version. The 20-minute prep time is worth it, and think of it as paying tribute to your ancestors.
Ingredients:
1/8 cup chopped dried cherries
1/8 cup chopped dried mango
1/4 cup dried cranberries
1/4 cup dried currants
2 tablespoons chopped candied citron
1/4 cup dark rum
1/2 cup butter
1/4 cup packed brown sugar
1/2 cup all-purpose flour
1/8 teaspoon baking soda
1/4 teaspoon salt
1/4 teaspoon ground cinnamon
1/4 cup un-sulfured molasses
2 tablespoons milk
1/4 cup chopped pecans
1/4 cup dark rum, divided
Directions: Soak cherries, mango, cranberries, currants, and citron in 1/4 cup rum for at least 24 hours. Cover tightly and store at room temperature.
Preheat oven to 325 degrees Fahrenheit (165 degrees Celsius). Butter a 6 x 3-inch round pan or loaf pan and line it with parchment paper.
In a large bowl, cream together butter and brown sugar until fluffy. Beat in egg. Whisk together flour, baking soda, salt, and cinnamon; mix into butter and sugar in three batches, alternating with molasses and milk. Stir in soaked fruit and chopped nuts. Scrape batter into prepared pan.
Bake in preheated oven for 40 to 45 minutes. Cool in the pan for 10 minutes, then sprinkle with 2 tablespoons rum.
Cut out one piece parchment paper and one piece cheesecloth, each large enough to wrap around the cake. Moisten cheesecloth with 1 tablespoon rum. Arrange cheesecloth on top of parchment paper and un-mold cake onto it. Sprinkle top and sides of cake with remaining rum. Wrap the cheesecloth closely to the surface of the cake, then wrap with paper. Place in an airtight tin and age for at least 10 weeks. If storing longer, douse with additional rum for every 10 weeks of storage.
8. Pumpkin Bread Pudding
Here's another recipe that takes a classic dessert and gives it a new-age spin. If you're already pumpkin pie'd out from Thanksgiving, why not try pumpkin bread pudding? The much-loved pumpkin season is already on its way out, so you might as well take advantage of what you can with this bread pudding. What's more, Gourmet's recipe, via Epicurious, is the easiest on this list, meaning you can simply pop your pudding in the oven and go relax with family. That is, unless you can't resist the aroma coming from your kitchen.
Ingredients:
1 cup heavy cream
3/4 cup canned solid-pack pumpkin
1/2 cup whole milk
1/2 cup sugar
2 large eggs plus 1 yolk
1/4 teaspoon salt
1/2 teaspoon ground cinnamon
1/4 teaspoon ground ginger
1/8 teaspoon ground allspice
Pinch of ground cloves
5 cups cubed (1-inch) day-old baguette or crusty bread
3/4 stick unsalted butter, melted
Directions: Preheat oven to 350 degrees Fahrenheit with rack in middle. Whisk together cream, pumpkin, milk, sugar, eggs, yolk, salt, and spices in a bowl.
Toss bread cubes with butter in another bowl, then add pumpkin mixture and toss to coat. Transfer to an un-greased 8-inch square baking dish and bake until custard is set, 25 to 30 minutes.
9. Figgy Pudding
Next up in our roundup of classic desserts, we come to Foodviva.com's figgy pudding, a staple that even enjoys its own verse in a popular Christmas carol. Figgy pudding is another dessert that many have heard and fewer have tried, but we can bet that if you give this offering a shot, you won't be disappointed. Plus, how happy would your older relatives be to find this on their dessert plate this holiday season?
Oh, and spoiler alert: Figgy pudding is more like a cake than pudding.
Ingredients:
1 cup chopped dried figs
1 cup pitted and chopped dried dates
2 cups water
1/2 cup brandy
1 1/2 cups self-raising flour
1 teaspoon baking soda
1/2 cup butter
1 cup powdered sugar
2 eggs
1 cup breadcrumbs
1/2 teaspoon ground nutmeg
1/2 teaspoon grated orange zest
100 grams grated dark chocolate
Directions: Preheat oven to 325 degrees Fahrenheit. Sieve flour and keep aside until required. Grease and flour 9-inch diameter baking pan. Mix chopped dates and chopped figs in a bowl. Heat water in a saucepan until it starts to boil and pour over dates and figs in a bowl. Stir in baking soda and keep aside to cool for 7-10 minutes.
Transfer date and fig mixture to blender, add brandy, and make a puree. Take another bowl, beat butter and sugar in it until smooth. Add eggs and beat again until fluffy and light.
Fold in flour, breadcrumbs, ground nutmeg, grated orange zest, pureed date and fig mixture, and grated dark chocolate. Pour prepared batter in a greased baking pan and place in a preheated oven.
Bake until pudding is perfectly set or for around an hour. To see if pudding is fully backed, insert toothpick in center and check if it comes out clean. If it does, then it is properly cooked; otherwise, cook it for 5-10 minutes more.
After verifying it is fully cooked, take out backing pan from oven and let cool for 15 minutes. Turn out the prepared figgy pudding onto a serving plate and serve with cream or ice cream.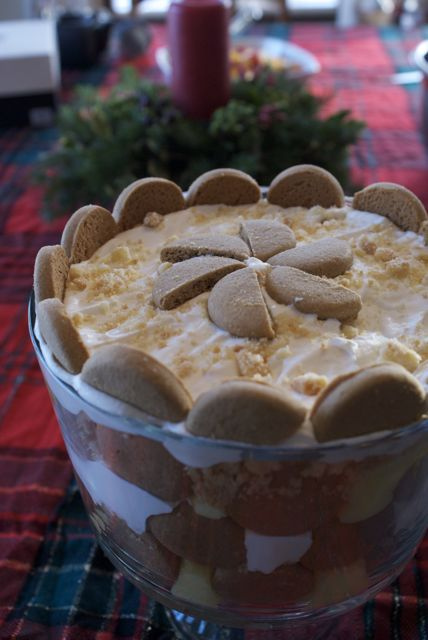 10. Eggnog gingerbread trifle
We're going out with a bang with this last dessert, because if AllRecipes.com's Eggnog Gingerbread Trifle doesn't scream Christmas, then we don't know what does. This decadent dessert combines two undeniably holiday flavors in gingerbread and eggnog, and the presentation alone will wow your guests. This indulgence will be the perfect way to toast to Christmas this holiday season, as it allows you to eat, drink, and be merry.
Ingredients:
1 (14.5 ounce) package gingerbread cake mix
3 cups eggnog
1 (5.1 ounce) package instant vanilla pudding mix
2 cups heavy cream
1/4 cup white sugar
2 teaspoons vanilla extract
1/4 cup sweetened dried cranberries, chopped (optional)
2 tablespoons gingersnap
Directions: Prepare gingerbread cake mix and bake according to package directions (any size pan). Cool completely. Place the pudding mix in a large bowl. Pour in the eggnog and whisk for about 2 minutes. Refrigerate pudding until gingerbread cake is cool and you are ready to assemble the trifle.
In a large bowl, whip cream until stiff peaks are just about to form. Beat in sugar and vanilla until peaks form.
Crumble 1/2 of the gingerbread into the bottom of a trifle bowl or a large glass bowl. Spread 1/2 of the eggnog pudding over the gingerbread, then spread 1/2 of the whipped cream on top of the pudding. Repeat the layers with the remaining gingerbread, pudding, and whipped cream.
Refrigerate 6 hours or overnight. Sprinkle the top with the cranberries and cookie crumbs before serving.
Don't Miss: 8 Great Children's Gifts for Charities This Holiday Season