10 Car Brands Millennials Really Want but Probably Can't Afford
Millennials are not known for their material possessions. After all, millennials are the student loan generation and already have enough money problems. They'd rather own a social media account than a large financial commitment that will take years to save for or pay off. In fact, an increasing number of millennials are willing to bypass car ownership in favor of lower monthly payments.
Nearly a third of young car shoppers are turning to leases. A new analysis from Edmunds finds millennials are leasing their rides at a higher rate than the overall car-buying population. Leasing accounted for 28.9% of all new car purchases by millennials (age 18-34) in 2015, compared to the industry-wide rate of 26.7%. Although the difference is minimal, the trend has a clear direction. Over the past five years, the share of millennials using leases surged 46%. Millennials are most likely to lease in Grand Rapids-Kalamazoo, Minneapolis-St. Paul, Milwaukee, Portland, Ore., and Salt Lake City.
"Most Millennials understand and accept that they're on a tight budget and that they need to stick to it," said Edmunds.com Director of Industry Analysis Jessica Caldwell, in a press release. "But it doesn't mean that their financial constraints limit them only to the most basic vehicles to get from Point A to Point B. If they see a chance to get into a nicer car while staying within their budget, they're likely to explore that opportunity. In most cases, leasing opens the door to the bells and whistles that they couldn't otherwise afford."
Leasing may be an attractive choice if you want to maximize monthly cash flow, drive new models, and like to keep your options open, but consumers often use leases to live above their true means. For example, Edmunds finds shoppers wishing to keep their monthly payments under $300 are generally limited to vehicles priced at under $20,000. Shoppers using leases can apply the same monthly budget toward driving vehicles priced as high as $35,000. Of course, when you lease a car, you typically return it after three years and don't enjoy years of zero payments.
The millennial leasing rate outpaces that of the total population in every one of Edmunds' 24 vehicle segments except for one: compact cars. As the list below shows, millennials tend to prefer quite expensive brands, including Lexus, Jaguar, and Cadillac. Topping the list is a new Ram truck, as millennials are 30.5% more likely to lease it than the general population. Are millennials more industrious than we think, or are they over-inflating their spending?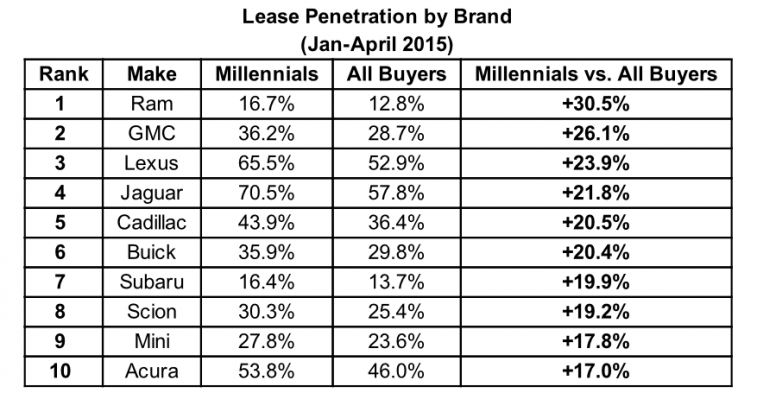 Follow Eric on Twitter @Mr_Eric_WSCS
More from Money & Career Cheat Sheet: