10 Financial Services Stocks with Top Stories from the Week
Here's your Cheat Sheet to some of this week's top financial industry business headlines:
Essex Property Trust (NYSE:ESS): Current price $154.28
Barclays commented that, "An apartment company focused on high barrier to enter West Coast markets, Essex, is our top stock pick for 2013. In our view, Essex is poised to generate better-than-average same-store NOI growth in 2013 and 2014, driven by the company's exposure to northern and southern California and Seattle – all markets with better than average employment growth, often technology related. Our $181 12-month price target implies a 21.4 percent total return, including the 2.9 percent dividend yield. Further, we project a 7.6 percent annual five-year dividend growth rate."

Invesco Mortgage Capital (NYSE:IVR): Current price $21.65
Late Monday, Invesco announced the conclusion of its public offering of 15 million shares of common stock and issuance of 2.25 million shares of its common stock pursuant to the underwriters' full exercise of their option to buy additional shares. The total offering of 17.25 million shares brought aggregate proceeds of about $362.2 million, prior to deducting underwriting discounts and estimated offering expenses.

HSBC Holdings (NYSE:HBC): Current price $56.83
American International Group has made 10-year bancassurance agreements with HSBC Group firms to which AIG will become the exclusive supplier of non-life insurance products to HSBC Group customers in Turkey and France, along with other countries in Continental Europe as may be required. AIG anticipates paying an aggregate amount of about $55 million for the exclusive distribution access in Turkey and France, and expects to initiate the partnerships in the first half of this year.
HSBC's arrangement to divest its $7.4 billion interest in China number two insurer, Ping An Insurance Group Co., to the Thai billionaire Dhanin Chearavanont is scheduled to expire at 11:59 p.m. Thursday night. On December 5th, HSBC made an agreement to sell its 15.6 percent holding to Dhanin's Charoen Pokphand Group Co. for around $9.4 billion and the first phase of $1.9 billion was completed two days later. However, should China's insurance regulator not okay the deal by the deadline and if the parties fail to agree to an extension, the rest of the pact will expire.

Fifth Third Bancorp (NASDAQ:FITB): Current price $16.49
On Tuesday, Fifth Third was raised to Outperform from Market Perform at Wells Fargo Securities, as its earnings-per-share forecast for 2013/2014 was changed to a range of $1.67 to $1.80 from $1.65 to $1.70 due to "recent management guidance and enhanced capital return potential." At the same time, PNC Financial Services Group (NYSE:PNC) was downgraded to Market Perform from Outperform by Wells Fargo.

Walker & Dunlop (NYSE:WD): Current price $21.42
The firm announced Tuesday that it recently supplied $120 million in Fannie Mae financing to TF Cornerstone Equities for 45-40 Center Boulevard, a high-rise residential multifamily property in Long Island City, New York. The loan was structured with a 10-year term with 5-years interest only, which will be followed by a 30-year amortization period.

Morgan Stanley (NYSE:MS): Current price $23.51
The company's top cross-asset strategist, Gregory Peters, is exiting the bank. Back in 2007, Peters warned that mortgage losses risked igniting a financial crisis and prior to that, he was the chief of fixed-income research and led domestic credit strategy. His responsibilities will be assumed by the firm's committee of global strategists and economists, according to an internal memo obtained by Bloomberg News.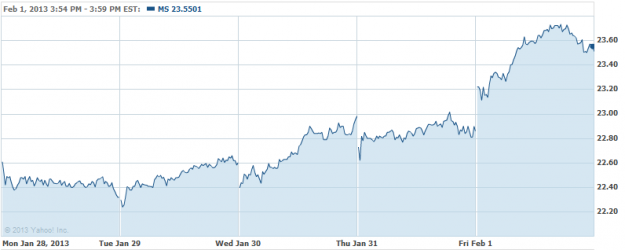 Investing Insights: How High Will Blackstone Soar?
Lender Processing Services (NYSE:LPS): Closing price $24.16
Lender  said Thursday that it has reached settlement agreements with the attorneys general of 46 states and the District of Columbia. The resolution includes an total payment by LPS of $127 million, and settles inquiries in regards to the firm's default operations, among which include former document preparation, verification, signing and notarization practices of certain operations. Lender is a leading provider of integrated tech and services to the mortgage and real estate industries.

Gramercy Capital Corp. (NYSE:GKK): Closing price $3.71
Gramercy will transfer the collateral management and sub-special servicing agreements for its three collateralized debt obligations, CDO 2005-1, CDO 2006-1 and CDO 2007-1, to CWCapital Investments LLC (CWCapital) for roughly $9.9 million, subtracting adjustments and closing costs. However, the firm keeps its equity interests in the three CDOs, which will give it the potential to recoup additional proceeds over the remaining life of the CDOs, based upon resolution of underlying assets within them. The transfer should close in March.

Don't Miss: Is the Financial Crisis Still Haunting Deutsche Bank?
Banco Bilbao Vizcaya Argentaria (NYSE:BBVA): Current price $10.01
In 2012, the Spanish bank earned €1.68 billion, which was down by 44.2 percent year-over-year from 2011, following its completion of all real estate-related provisions in Spain. Subtracting such charges and the bad PR brought by Unnim's incorporation, the adjusted profit was €4.41 billion, down a far less onerous 2.2 percent for the same period. All of the group's business areas added to income growth in 2012.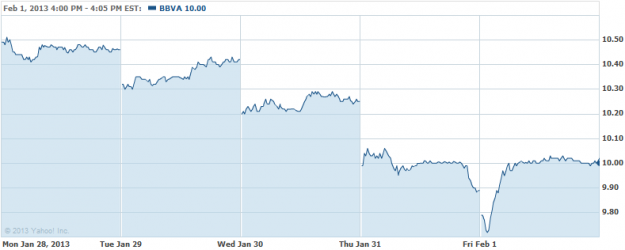 Capital One Financial Corporation (NYSE:COF): Current price $56.50
On Friday, the corporation announced that Stephen S. Crawford will join the company as its chief financial officer designate on February 4th and will also become a member of the Executive Committee, reporting to Capital One's Chairman and Chief Executive Richard D. Fairbank. In May, Crawford will replace Chief Financial Officer Gary L. Perlin who will retire. Perlin will continue to work with Capital One as a Senior Advisor to the CEO through February 1, 2014.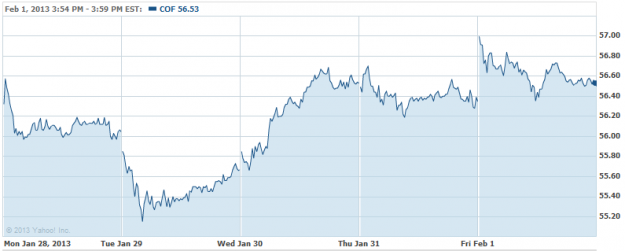 Don't Miss: Here's What the Jobs Report Says About the Economy.