10 States Where Retirees Have the Biggest Drops in Income
Many people assume that as you get older, you become more financially stable. This assumption is correct, at least to some degree. A 2009 study called The Age of Reason: Financial Decisions over the Life-Cycle with Implications for Regulation, found that people make their best financial decisions at age 53.
When first starting out in their 20s, people make some of their worst financial decisions. But as time goes on, this usually improves. At age 53, it reaches a peak, and then it declines again after that — especially when people are in their 60s and 70s. National median income estimates reported by the Census Bureau are in line with this study.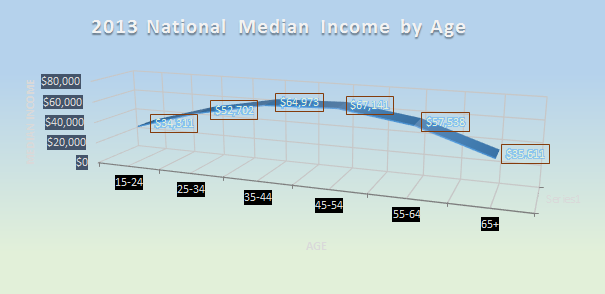 Median income follows the same pattern, as households headed by 15- to 24-year-olds earn the lowest incomes — $34,311 each year. The older age groups have higher median incomes, with household headed by 25- to 34-year-olds earning $52,702, and households headed by 35 to 44 year olds earning $64,973. Income peaks in the 45 to 54 age group, when median income reaches $67,141. This is the time when people are at high points in their careers, and their life experience lends to better financial decision making. Median income jumps down to $57,538 between ages 55 and 64, as some people end their careers or halt their climb up the corporate ladder.
Then in the retirement years, median income declines starkly to $35,611 — almost back down to the same level as the youngest group. Few people retire with the same earnings and purchasing power capabilities they had before retirement. A general rule of thumb is that people can live comfortably during retirement if they bring in about 70% of their working income. Therefore, a person who lived on $100,000 each year pre-retirement could live comfortably on $70,000 annually during retirement.
Interest.com recently conducted a retirement study which examined the differences in pre-retirement and post-retirement median incomes in each state. The results indicate that only two states — Nevada and the District of Columbia — have retirees with median incomes that are at least 70% of their typical pre-retirement earnings.
The remainder of U.S. states show median income numbers that do not meet this threshold. We created a list of states where retirees ages 65 and older have the biggest drops in income. These states all have replacement income percentages of around 55% or below — a far cry from the recommended 70% figure or even the national average figure, which is around 60%.

Rhode Island
Median income for pre-retirees (ages 45 to 64): $71,756
Median income for those ages 65 and over: $39,577
Replacement income percentage: 55.15%
Percent of households in the 65 and over age group: 23.9%
New York
Median income for pre-retirees (ages 45 to 64): $68,696
Median income for those ages 65 and over: $37,769
Replacement income percentage: 54.98%
Percent of households in the 65 and over age group: 23.7%
Pennsylvania
Median income for pre-retirees (ages 45 to 64): $64,401
Median income for those ages 65 and over: $35,009
Replacement income percentage: 54.36%
Percent of households in the 65 and over age group: 26.2%
New Hampshire
Median income for pre-retirees (ages 45 to 64): $78,157
Median income for those ages 65 and over: $42,406
Replacement income percentage: 54.26%
Percent of households in the 65 and over age group: 23.5%
Wisconsin
Median income for pre-retirees (ages 45 to 64): $64,563
Median income for those ages 65 and over: $34,721
Replacement income percentage: 53.78%
Percent of households in the 65 and over age group: 23.6%
New Jersey
Median income for pre-retirees (ages 45 to 64): $85,778
Median income for those ages 65 and over: $45,092
Replacement income percentage: 52.57%
Percent of households in the 65 and over age group: 24%
Connecticut
Median income for pre-retirees (ages 45 to 64): $84,757
Median income for those ages 65 and over: $44,240
Replacement income percentage: 52.2%
Percent of households in the 65 and over age group: 24.7%
Minnesota
Median income for pre-retirees (ages 45 to 64): $74,284
Median income for those ages 65 and over: $38,531
Replacement income percentage: 51.87%
Percent of households in the 65 and over age group: 22.4%
North Dakota
Median income for pre-retirees (ages 45 to 64): $72,043
Median income for those ages 65 and over: $35,293
Replacement income percentage: 48.99%
Percent of households in the 65 and over age group: 22.1%
Massachusetts
Median income for pre-retirees (ages 45 to 64): $82,112
Median income for those ages 65 and over: $40,020
Replacement income percentage: 48.74%
Percent of households in the 65 and over age group: 23.9%
More from Personal Finance Cheat Sheet: