10 States With the Highest Energy Prices
Energy, as we all know, is the world's most valuable resource. It's traded, speculated upon, and bet on by Wall Street brokers, private enterprises, and legislators almost every day. Enormous effort is put in to ensure that prices remain low and affordable for U.S. residents, but as the country is a mish-mash of federal and local governments all putting their own rules into play, things can become muddled.
Each state has its own advantages; places like Texas and North Dakota have separated themselves as leaders in the production of crude oil and natural gas, driving in lots of commercial activity and making stacks of money in tax revenue. Other states, notably those located far from traditional centers of production, have a hard time keeping costs down. Places like the New England and far-flung states like Hawaii have always been ranked toward the bottom when it comes to energy prices, and that still holds true today. Many of those states have implemented nuclear sources, along with solar and wind to help reduce their dependence on imports, but its still a work in progress.
We recently took a look at the states with the lowest energy prices, most of which are big-time producers of crude oil and natural gas. North Dakota and Texas were headliners, as mentioned previously, and the Gulf Coast states were also places where energy costs remain low. The U.S. Energy Information Administration has supplied numbers showing the average cost per one million BTUs, or British Thermal Units, for each state. Using those numbers, we can determine the states with the highest average energy costs.
Here are the ten states with the highest energy prices in the nation. There are a variety of factors that play into each state's circumstances, but many share commonalities. Resources, land area, and proximity to production hubs are the major elements, but there are a lot of things at play.
Read on to see the top ten states for high energy prices.
10. Maryland
The Mid-Atlantic region of the U.S. is highly populated, and states aren't swimming with natural resources. Maryland is one of those states, and due to a lack of big-time production, residents are stuck with higher-than-average prices of $25.41 per one million BTUs. The state does produce some coal and natural gas, but doesn't have any crude oil production to help lower prices. It is home to the Mid-Atlantic's lone liquefied natural gas import terminal, and generates 40 percent of the state's electricity from the Calvert Cliffs nuclear facility.
Ninety-eight percent of the state's electricity is generated by independent producers. There is also a mandate in place that will require 20 percent of the Maryland's electricity to come from renewable sources by 2022. In 2013, that number was less than 7 percent. Wind and solar are areas primed for growth, as well as expansion in the nuclear field.
9. Florida
Surprisingly, Florida has pretty high prices for energy. The state pays $25.41 per one million BTUs, the same as Maryland, despite its close proximity to the Gulf of Mexico, a huge area for production of oil and natural gas. Florida ranks 4th in the country in terms of electricity production, and ranks in the middle of the pack in production of oil, gas, and total energy. There is always potential for more exploratory drilling off the Continental Shelf, which could lead to increased commercial production and smaller prices in the long-term.
Only Texas produced more electricity from natural gas in 2013 than Florida, which generated 62 percent of its power from that specific resource. Coal also pulled some weight, generating 21 percent, and nuclear power supplying an additional 12 percent. A high demand for power during the summer months for air conditioning has spurred lots of electricity sales to the residential, again second only to Texas. If production can ramp up over the next decade, Floridians can expect prices to drop. But as of right now, the state still cracks the top ten for most expensive energy in the country.
8. District of Columbia
The District of Columbia isn't technically a state, but it still qualifies in the rankings. Since it is so small, it virtually has no resources and no energy production, making it rank dead last in terms of generating power. Energy isn't cheap in Washington, as it all has to be imported in from other areas. The city is not the location of a major port or industrial centers, and its economy is mostly based in government and administrative sectors. Due to this, 77 percent of electricity sales went to commercial users, and only 2 percent to the industrial sector.
The District's only power plant closed in 2012, but solar energy is starting to make headway within the city. Many government buildings are installing PV panels to help reduce their carbon footprint and take the pressure off of taxpayers. Residents of the District of Columbia pay $25.83 per one million BTUs, making it one of the more costly places to live in the U.S. in terms of energy prices.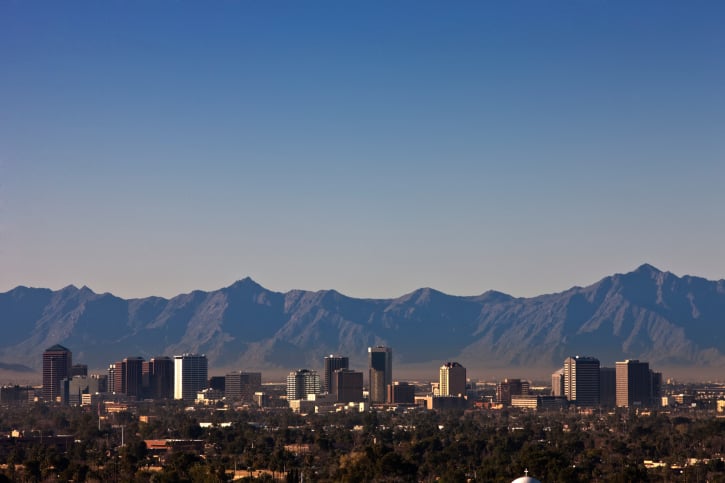 7. Arizona
Arizona is stuck at a crossroads; it's a large state with lots of resources, but is so hot and arid that energy demand is almost always through the roof. Residents pay $25.98 per one million BTUs of energy in Arizona, most of it going towards residential dwellings. One-quarter of the energy consumed in the state is used to power air conditioners, four times the national average. Further, 7.8 percent of the state's electricity is generated at the Glen Canyon and Hoover Dams, helping satisfy environmental standards put into place by local legislators.
The nation's largest nuclear power plant — the Palo Verde Nuclear Generating Station — calls Arizona home, and provides a solid portion of energy. Arizona ranks 16th in the country in both electricity and coal production, all of its coal coming from one operating mine located on the Navajo and Hopi Indian reservations. The biggest issue facing Arizona residents is the oppressive heat due to its desert location, making prices spike when air conditioners need to be running constantly.
6. Massachusetts
Massachusetts is hit with the same issues facing all states in the northeast: small land area and limited natural resources. Fortunately, Massachusetts is home to Boston and other import hubs, as well as three liquefied natural gas import terminals. Natural gas generates 63 percent of the state's electricity, and coal picks up the tab for another 12 percent. Further, 9.3 percent of electricity generation came from renewable sources, including hydroelectric.
Residents of Massachusetts pay $26.04 per one million BTUs of energy, far from the top, but very far from the bottom as well. Prices should see decreases in coming years thanks to a variety of projects reaching fruition. Offshore wind turbines and biomass are two growing areas of energy production that should help alleviate the pain of high fuel prices.
5. Rhode Island
The smallest state in the union comes with a fairly large energy budget. Rhode Island, due to its small size, has the lowest amount of energy consumption out of all of the states, but is also almost dead last in production. With a lot of imported resources coming in, it ultimately ends up meaning residents are stuck with a higher bill. In all, Rhode Islanders are faced with a price tag of $26.35 per one million BTUs.
One advantage Rhode Island does have is the Port of Providence, which is a key hub for fuel and regional transportation. It's also one of two deep water ports in New England. Independent power producers supply almost all of the state's electricity needs, which in turn was generated almost entirely by natural gas. Like the rest of the northeastern states, Rhode Island is faced with a lack of resources and a long distance from big-time energy production, and residents end up paying extra for it.
4. Connecticut
Sticking in New England, Connecticut is another northeastern state with high energy prices, as residents pay $28.25 per one million BTUs. The folks in Connecticut don't use an awful lot of energy, the third lowest in fact in the entire country during 2011. Along with several other states in the northeast, Connecticut relies heavily on nuclear power to meet its residents' demand. Around half of the state's overall electricity production came from nuclear sources in 2013.
Connecticut is making real headway in trying to make most of its energy from renewable sources. Being away from the Gulf Coast and the heartland (where most energy production takes place) has disadvantages, so Connecticut and its neighboring states are doing what they can to offset their footprint. The state implemented a goal of generating 20 percent of its overall electricity from renewable sources by 2020, which would be a whopping increase from the paltry 3 percent in 2013.
3. New Hampshire
One drawback to living in a small states is that it typically means you have less resources to draw from. Take a look at Texas, for example, which has an incredible amount of natural resources but is also immense in size. New Hampshire is on the other end of the spectrum. The state has very little in terms of resources to take advantage of, and is thus left with expensive alternatives. Nuclear power is the largest provider of electricity to New Hampshire residents, supplying 55 percent of the state's electric power.
New Hampshire ranks 44th in the country in total energy production, meaning most of the state's resources are imported from other areas of the country. The transportation sector ate up a large portion of the state's energy consumption in 2011 with 35 percent, and unfortunately all of those resources needed to be imported. With little in the way of production and high costs from nuclear energy, New Hampshire residents are faced with energy prices much higher than the national average, coming in at $28.35 per one million BTUs.
2. Vermont
New England is home to high energy prices, and Vermont is the state at the top. The good news is that Vermont residents don't actually require a lot of energy to keep going, as the state ranks 41st in total energy consumption. They are also very clean and environmentally friendly, ranking the best in the country in the levels of carbon dioxide emitted statewide. Vermont also has set some pretty notable goals for itself, aiming to generate 25 percent of the state's electricity from renewable sources over the next three years. Residents pay $29.11 per one million BTUs.
One of the biggest factors playing into Vermont's high energy costs are that 70 percent of the state's electricity is generated by nuclear power. That's a higher percentage than any other state. Nuclear power requires an immense amount of structural investment, but is also one of the cleanest energy sources available. Another 20 percent of Vermont's power comes from hydroelectric sources. Vermont can produce electricity, but doesn't have many natural resources to take advantage of.
1. Hawaii
Hawaii has the highest energy costs by a long shot. It's not all that surprising when you think about it, as it's incredibly isolated location and limited resources make for a logistical nightmare for energy companies. The state has all kinds of sun, wind, and tidal potential, but those technologies have yet to hit their stride. The only real energy production that the Hawaiian Islands are able to provide is in electricity, and everything else needs to be imported. Ninety-three percent of its energy was imported in 2011, in fact.
Hawaii has the highest prices for both natural gas and electricity in the country, which isn't too bad considering the tropical climate makes it so that resident's don't demand a lot of energy for heating. The islands are volcanic, making for opportunities to take advantage of geothermal resources. Solar energy is really becoming the next big thing, as utility scale power generation increased by six times just last year. Residents pay $40.04 per one million BTUs, considerably higher than any other state.
More From Wall St. Cheat Sheet: