10 Surprising Work-From-Home Jobs That Hire Moms
While being a stay-at-home mom sounds ideal to a lot of women, not every mother has that option. Brittney Rivers, a Texan mother of twin 8-year-old boys, one of whom is autistic, was struggling with a three-hour daily commute, when she decided to make a change. "I would leave before they got up, and I'd get home after they went to bed," said Rivers. She found a home-based job as a project manager for ADP through a listing on FlexJobs, a flexible job search website, and while she said she works long hours, she's glad to have the opportunity to spend more time with her family.
Work-from-home positions are gaining popularity among all kinds of Americans, including millennials, semi-retirees, caregivers, people with disabilities, and military spouses. Another group that can certainly appreciate flexibility in a career is parents, especially single parents. Telecommuting is not for everyone, Rivers warned, explaining that it can be tempting to sit on the couch and watch TV all day. But for the independent and self-motivated, working from home can mean sweet relief from a hard commute and missing your children.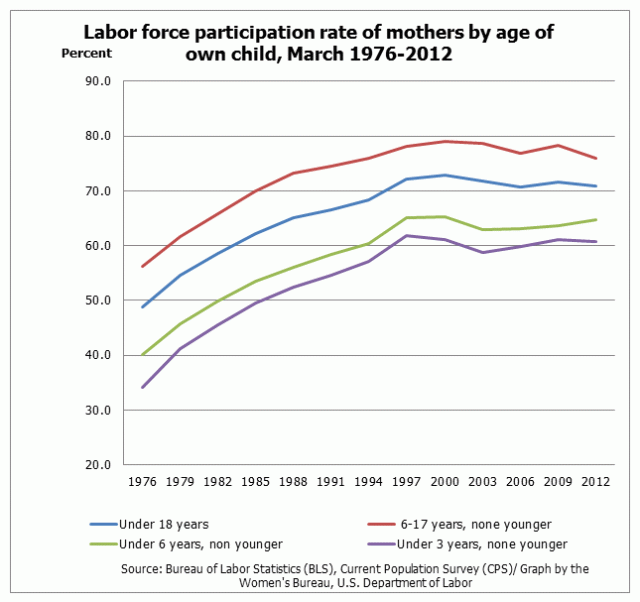 While the percentage of mothers actively participating in the workforce has failed to rise significantly since the year 2000, there is still a large share of working mothers out there, according to the Department of Labor. There are certainly a lot more than there were 40 years ago. In 2014, 70% of mothers with children under age 18 were working or looking for work.
"Many mothers have a need or a desire to work professionally while also being more available for their families than traditional jobs have allowed," said Sara Sutton Fell, founder and CEO of FlexJobs, "and telecommuting jobs provide more opportunity to be successful in both of these roles."
The working world in America hasn't been easy to navigate since the recession, and parents are among the most concerned. According to research from EY, one-third of full-time workers say managing work-life balance has grown more difficult in the last five years, with young generations and parents being hit the hardest. The study also found 38% of millennials said they would "move to another country with better parental leave benefits."
For working moms seeking a better work-life balance, FlexJobs has five pieces of advice. The first is to unplug at the end of the day. That means leaving your work at the office (whether it's your home office or not). Keeping up with your health, staying organized, and prioritizing can also help moms stay successful both in their personal and professional lives. Finally, stay positive and breathe. Parents who work full-time are essentially balancing two-full time jobs, so it's definitely important they give themselves props and take moments to relax.
All of this can be made much easier if your job is flexible and you can telecommute. If you're looking for a new position where you can work from home and tend to your little ones, there are more opportunities out there than ever. For remote job positions, FlexJobs has seen everything from sound designers, professors, event producers, travel counselors, outpatient coders, entrepreneurs, and nurse case managers. Most people think of the typical work-from-home jobs like writers, graphic designers, and consultants. FlexJobs compiled 10 of the more surprising home-based positions for working moms across a variety of industries, as well as a sample of companies hiring telecommuting jobs.
Here are some unexpected jobs and companies helping moms work from home.
Work-from-home jobs for moms
Public affairs — communication specialist
Senior director, fundraising
Staff attorney
Online associate faculty
Nurse care manager
Human resource business partner
SEC football writers
Vice president — business development
American sign language adjunct teacher
Associate creative director
Companies commonly hiring for remote positions
University of Maryland University College
American Express
CEO Connection
Github
Dell
Anthem, Inc.
Environmental Defense Fund
Amazon
American Heart Association
CACTUS Communications
More from Personal Finance Cheat Sheet: